UFC 143 Fight Card: Final Main Card Betting Odds and Predictions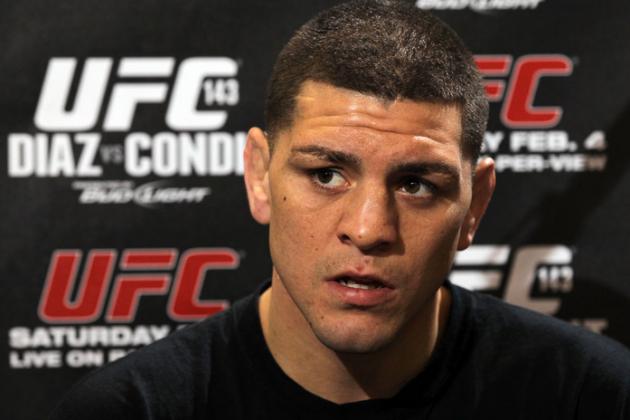 Josh Hedges/Zuffa LLC
At UFC 143, two of the most exciting welterweights in the world, Nick Diaz and Carlos Condit, will fight for the interim belt and a shot at top 170-pound fighter Georges St-Pierre.
Although all the talk heading into this fight is geared toward Diaz winning and setting up a highly anticipated fight with rival St-Pierre, the Stockton, Calif. native will have his hands full with an evenly matched opponent in Condit.
This Saturday's event in Las Vegas will also feature a number of other fights with future title implications, as heavyweight contenders Roy Nelson and Fabricio Werdum will meet in the main event, and Renan Barao will look to potentially become the next bantamweight contender with a win over Scott Jorgensen.
With only one day remaining until the UFC's annual Super Bowl weekend fight card, let's take a look at all the final betting odds and predictions for the event's main card bouts.
Begin Slideshow

»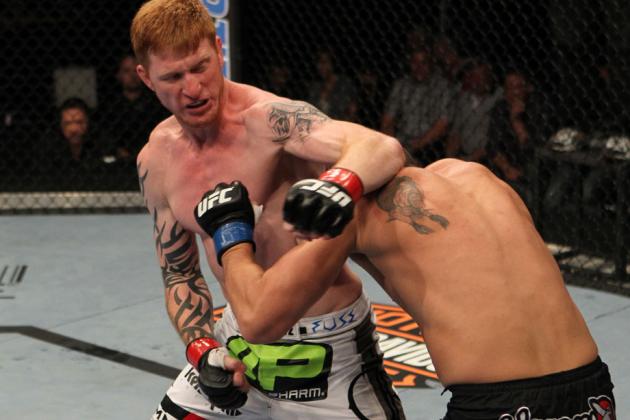 Josh Hedges/Zuffa LLC
Betting Odds
Ed Herman -300
Clifford Starks +230
Fight Breakdown
Starks is undefeated in eight career fights and coming off of a victory in his UFC debut against Dustin Jacoby. However, the former Arizona State University wrestler will have his hands full with an experienced mixed martial artist in Ed Herman.
Though the Team Quest product is also more of a ground fighter, Herman has spent more time refining his striking game than Starks, who only began competing in MMA two years ago.
Starks may be able to secure takedowns in this matchup, but he will be putting himself in harm's way in the process, as 11 of Herman's 19 wins have come via submission.
With a few more fights under his belt, Starks could be a serious threat to a fighter like Herman. However, at this point in time, Herman simply has more ways to finish the fight, both on his feet and on the ground.
Prediction
Herman defeats Starks by submission in the first round.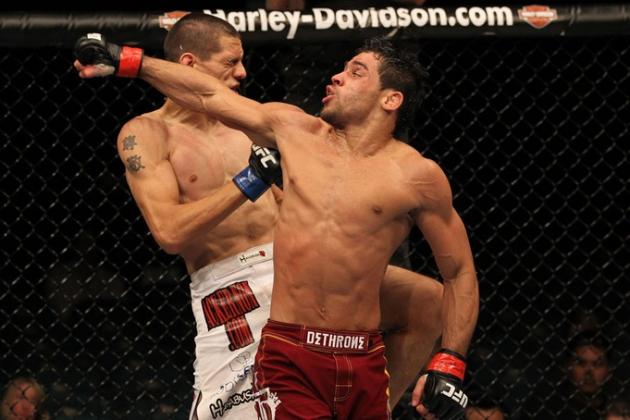 Al Bello/Zuffa LLC
Betting Odds
Renan Barao -225
Scott Jorgensen +175
Fight Breakdown
A fight that is flying under the radar, this matchup between Barao and Jorgensen could produce the next 135-contender.
Undefeated in 27 fights since his MMA debut in April 2005, Barao would be more than deserving of a fight with the winner of a title fight between champion Dominick Cruz and Urijah Faber if he is able to defeat Jorgensen in impressive fashion.
Jorgensen primarily uses his wrestling to get in the face of his opponents and overwhelm them with aggression. Stylistically, Barao matches up well against the former WEC title contender.
A teammate of featherweight champion Jose Aldo at Nova Uniao, Barao has developed a simlar combination of effective striking and deadly submissions.
Should he keep the fight standing, Barao should be able to best Jorgensen with ease in a striking matchup. In the more likely scenario that he gets taken to the canvas, Barao has the ability to pick up his fourth submission win in his past five fights.
Prediction
Barao defeats Jorgensen by submission in the second round.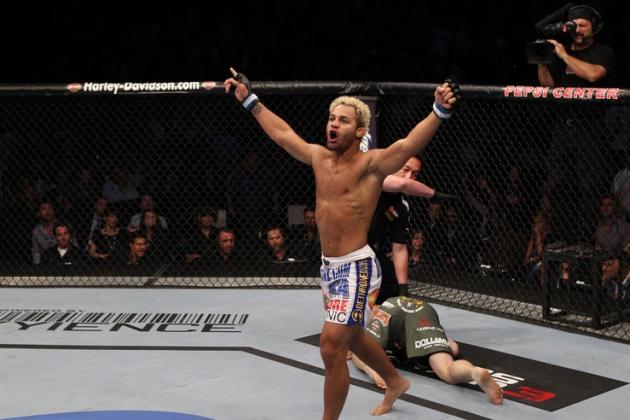 Jed Jacobsohn/Zuffa LLC
Betting Odds
Josh Koscheck -265
Mike Pierce +205
Fight Breakdown
Originally, Koscheck was scheduled to meet top welterweight contender Carlos Condit at UFC 143. However, a Georges St-Pierre injury forced Condit out of that matchup and into an interim title fight with Nick Diaz.
While Pierce isn't an opponent to take lightly, Koscheck has to be somewhat disappointed that he isn't fighting Condit on Saturday. Instead of letting the change of opponent affect his performance, Koscheck will do everything he can to beat Pierce in impressive fashion to ensure his next fight will come against a big name.
Koscheck may look for a takedown or two of his his own, but, for the most part, he is going to look to stuff Pierce's attempts to take the fight to the ground and land his right hook any time he gets the chance.
Given his ability to keep fights close with fighters who have similar skill sets as Koscheck, Pierce should be able to take this fight to a decision, but his inability to take Koscheck to the ground will result in another loss for a fighter who can't seem to break through and get recognition as a welterweight contender.
Prediction
Koscheck defeats Pierce by unanimous decision.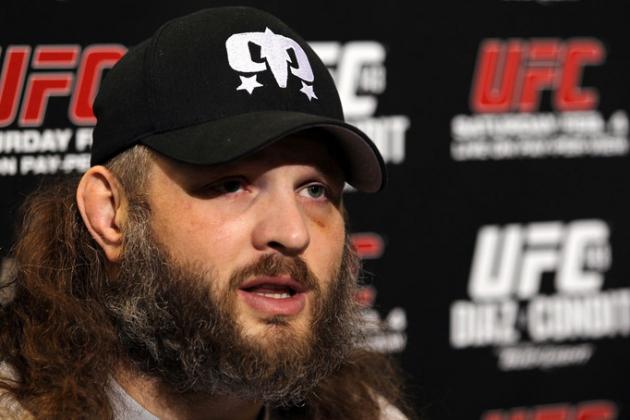 Josh Hedges/Zuffa LLC
Betting Odds
Roy Nelson +120
Fabricio Werdum -150
Fight Breakdown
Making his return to the Octagon at UFC 143, Werdum could find himself in the title hunt with a victory over Nelson.
A world class jiu-jitsu practitioner, Werdum would obviously prefer to go to the ground with Nelson. However, the Brazilian's takedown attempts are notoriously sloppy and telegraphed, so he may be forced to stand with the former TUF winner.
Though Nelson possesses knockout power, Werdum should be able to hold his own in the striking department.
Werdum landed some good shots against former K-1 Grand Prix champion Alistair Overeem in his most recent fight and his striking game should have only improved since then under the tutelage of Kings MMA coach Rafael Cordeiro.
Should Werdum take this fight to the ground he could become the first fight to ever submit Nelson, but, even if this fight stays standing, "Vai Cavalo" has the tools to pick up his first UFC win since June 2008.
Prediction
Werdum defeats Nelson by unanimous decision.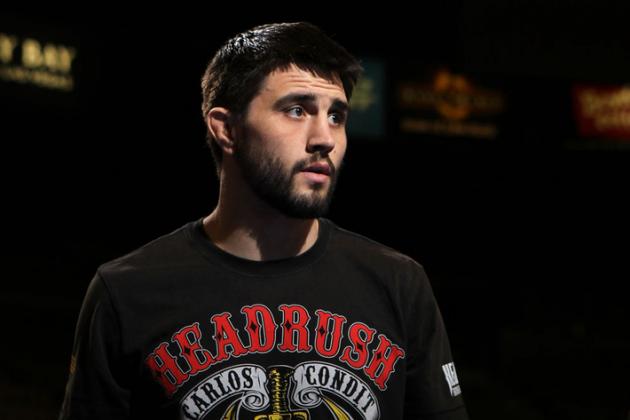 Josh Hedges/Zuffa LLC
Betting Odds
Nick Diaz -225
Carlos Condit +175
Fight Breakdown
In Saturday's main event, Diaz and Condit will attempt to prove they are worthy of an interim title belt and a future fight with welterweight king Georges St-Pierre.
Both Diaz and Condit are extremely durable fighters capable of producing Fight of the Night performances every time they step inside the Octagon, so expect a fast pace from the matchup's start.
Confident in their striking, both fighters will likely look to stand early on, but Diaz will frustrate Condit with his high volume of punches and force a takedown attempt from the Greg Jackson-trained fighter.
Condit is no slouch on the ground, but three of his five career losses have come via submission, so the Cesar Gracie-trained Diaz will make Condit pay for taking the fight to the ground, as he will lock up a triangle choke and set up one of the most intriguing title fights in recent memory.
Prediction
Diaz defeats Condit by submission in the third round.