National Signing Day 2012: 5 Schools to Watch Out For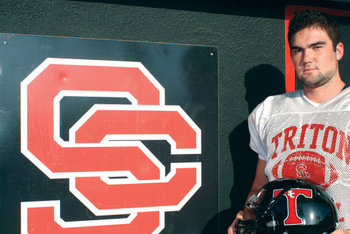 Offensive tackle Kyle Murphy could make Stanford fans very happy by committing to the Cardinal program today
With national signing day 2012 upon us, it's only a matter of time until the madness unfolds. Davonte' Neal, Stefon Diggs, Andrus Peat, and several other top prospects will be changing the futures of college football programs throughout the day today and into this week, much to the delight of football fans everywhere.
For college football fans, today is one of the best days of the year. We sit anxiously on the edge of our seats, waiting to see if our favorite school will be landing the 5-star defensive end we've been hoping for, or if the 4-star safety will switch his commitment at the last minute to play for his hometown school.
It's also an exciting day for college colleges as well. It's one of the few instances when they don't have complete and total control over their schools fortunes, and they also sit on pins and needles waiting to see if their recruiting prowess over the past year has paid off.
Here are five programs who could be primed for a momentous day on this sacred college football holiday.
5. Miami Hurricanes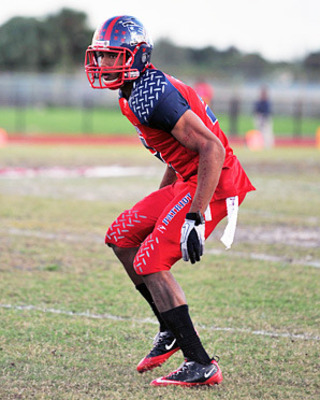 The Miami Hurricanes received huge news this morning with the commitment of the best cornerback in the state of Florida, Tracy Howard.
The 5'11" shutdown corner made huge news by electing to stay in his home city instead of packing his bags for Florida or Florida State. The Miramar High School star is without a doubt the most significant recruit that head coach Al Golden has landed in his short tenure in Hurricane country, but the day isn't over.
Offensive tackle Avery Young could be next for the Hurricanes. The 6'6", 300-pound Sunshine State native will be picking between Auburn, Florida, Georgia, and Miami. He is rated as one of the 10 best offensive tackle prospects in the senior class, and his addition to Miami's class would be huge.
4. Washington Huskies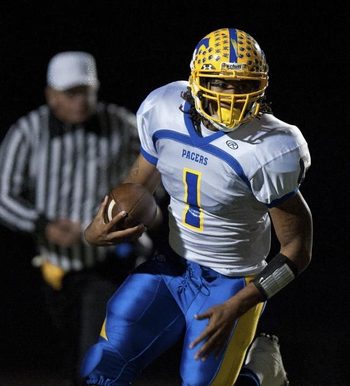 The Washington Huskies have been a pleasant surprise under young coach Steve Sarkisian. Just a few days ago, they landed a commitment from Shaq Thompson, the superstar safety out of Sacramento's Grant High School.
He is one of the top 20 players in the country, regardless of position, which is a statement recruiting signature for the up-and-coming Huskies. They snagged him from Cal, which will intensify their on field rivalry this season. As if the loss of Thompson wasn't bad enough for the Golden Bears, the Huskies also landed another one of their former recruits in 4-star wide receiver Jordan Payton.
Now, Washington has their eyes on a few more promising recruits to close out their 2012 class. U.S. Army-All American game cornerback Brandon Beaver could fax his intent to play for U-Dub today. They have the momentum in their favor right now, so watch out for the Huskies.
3. Rutgers Scarlet Knights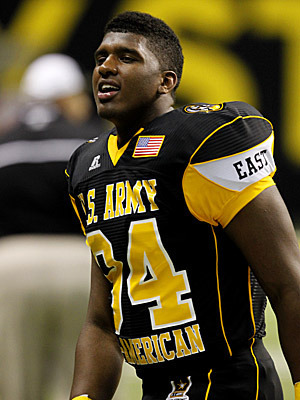 With the loss of head coach Greg Schiano to the NFL's Tampa Bay Buccaneers last week, one of the best classes in school history was on the verge of falling apart. However, the hire of their former offensive line and assistant head coach Kyle Flood has seemed to ease the minds of at least one of Rutgers star incoming recruits.
Last night they were able to breathe a sigh of relief when defensive end Darius Hamilton reaffirmed his commitment to the Scarlet Knights. The star defensive end will serve as a beacon of hope for the program, one that could keep their other 2012 recruits in the fold. He is a hulking prospect at 6'3", and has the tools to become a Big East star.
A number of their other commitments could choose to follow Hamilton's lead, or go their own way. The beauty of it all is that nothing is guaranteed on national signing day.
2. Nebraska Cornhuskers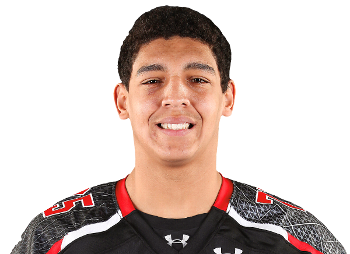 The fate of the Nebraska Cornhuskers class will fall squarely on the decision of mammoth offensive line prospect Andrus Peat. The 6'7", 280-pound Corona Del Sol (AZ) prep star would be a monumental recruit for head coach Bo Pelini.
He will be choosing between Nebraska, the Stanford Cardinal, and the Southern California Trojans. If he opts to choose either one one of the Pac-12 programs, it will be a huge blow for Nebraska.
His brother, Todd, who is currently playing his college football in Lincoln, is the primary reason the Cornhuskers are in such a favorable position to land the young phenom.
If Nebraska wants to contend with the likes of Michigan, Ohio State and Penn State not only on the field, but in the recruiting game as well, they need Andrus Peat to commit to their program today.
1. Stanford Cardinal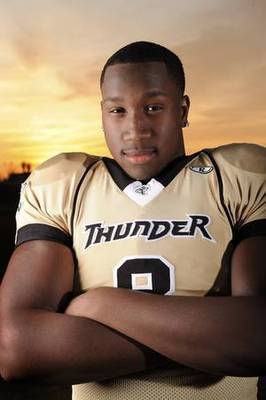 Stanford's 2012 recruiting haul is a very impressive one. It is comprised of 10 different 4-star commitments already, and its class could become much stronger after today.
They are in the running for two of the best players left in America. Aziz Shittu, one of the most highly rated defensive tackles in the country, will be choosing between Stanford, California, USC, and UCLA. He is one of the five best tackles in America, and has good size at 6'2", 275 pounds.
Offensive tackle prospect Kyle Murphy is also on the radar for Stanford today. The 6'6", 275-pound California prospect is one of the top 30 prospects in the nation, regardless of position. Cardinal head coach David Shaw will be sweating out his decision, along with USC's Lane Kiffin.
Keep Reading