UFC 143 Fight Card: Power-Ranking Every Fight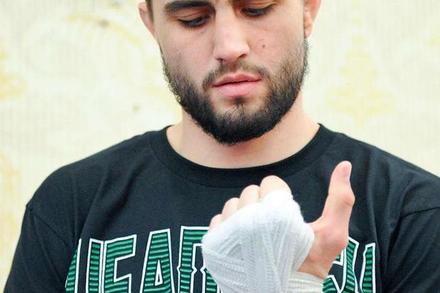 UFC 143 will host a welterweight tilt pitting contenders Nick Diaz and Carlos Condit in a welterweight headliner, where the winner will be crowned the organization's new interim champion.
The two 170-pound notables will serve as the main event for the pay-per-view event, which takes place at the Mandalay Bay Events Center in Las Vegas.
Though the dynamic duo will eclipse the talent-laden event, many other battles on the card should garner the attention that they deserve while others, needless to say, are not exactly the most sought-after of the bunch.
Begin Slideshow

»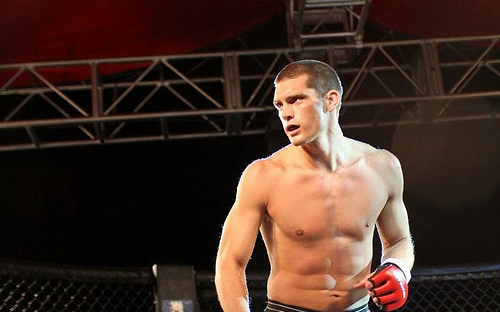 Stephen Thompson; photo cred: Action Fighter
UFC newcomers Dan Stittgen and Stephen Thompson will engage one another in a welterweight affair on the preliminary portion of the event, live on Facebook.
Thompson, a world-class karate specialist, will put his undefeated record on the line against Stittgen, who stepped up on short notice for an injured Justin Edwards. The once-beaten Stittgen is riding a three-fight win streak heading inside the Octagon.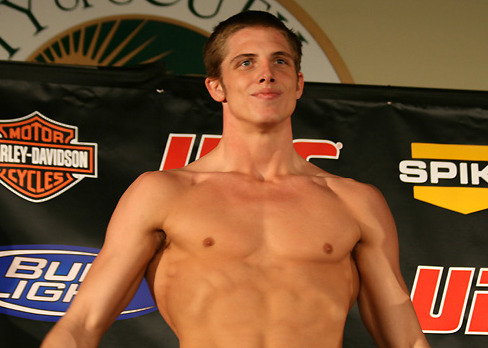 Matthew Riddle; photo cred: mmajunkie.com
A Season 7 veteran of The Ultimate Fighter, Matt Riddle will look to keep his job intact with the UFC when he takes on newcomer Henry Martinez.
Riddle is currently riding a two-fight losing streak after dropping a close decision to the touted Lance Benoist, though both men earned "Fight of the Night" for their efforts.
Martinez, meanwhile, will be making his Octagon debut this Saturday against the towering Riddle. The Greg Jackson product is once beaten and will be stepping up to the welterweight class after fighting in the lightweight division for the majority of his career.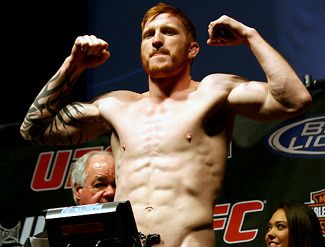 Ed Herman; photo cred: MMAJunkie.com
In a middleweight affair, the resurgent Ed Herman takes on Clifford Starks, who returns to the Octagon for his second time with the promotion.
Since battling back from mounting injuries that kept Herman out of action for nearly two years, "Short Fuse" is now riding on the heels of a two-fight win streak, finishing both Tim Credeur and Kyle Noke within the first round.
Starks first made his way to the UFC last October where he bested fellow newcomer Dustin Jacoby in a lackluster decision.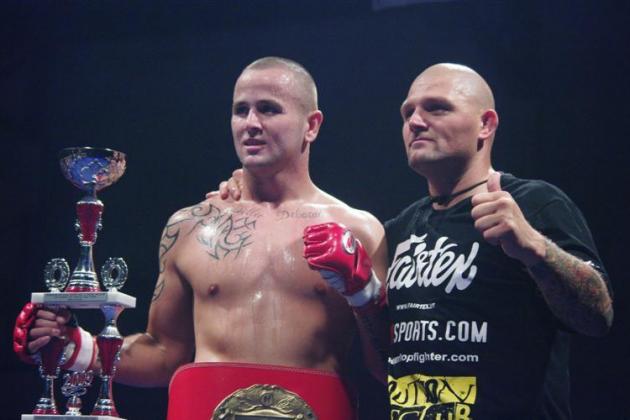 Michael Kuiper (left); photo cred: kempenactueel.be
Three-time UFC veteran Rafael Natal, who is fresh off his first Octagon win, will be welcoming in 22-year-old phenom Michael Kuiper.
The Brazilian was last seen in action in August of last year, where after three rounds of action the jiu-jitsu ace earned a close decision against wrestler Paul Bradley.
Kuiper remains undefeated at 11-0, with only one of his bouts having reached the judges' score cards. The Dutchman has secured six fights by knockout and four by submission.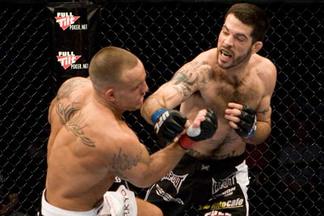 Matt Brown (right); photo cred: udirt.com
Veterans of The Ultimate Fighter, both Matt Brown and Chris Cope find themselves in a do-or-die situation as they meet in this welterweight collision.
Brown was last seen in the cage last November, where "The Immortal" was submitted by Seth Baczynski in the second round. The loss was Brown's fourth in his last five fights, bringing his record to a pedestrian 12-11 overall.
After a decision victory over fellow TUF teammate Chuck O'Neil, Cope was emphatically finished by British heavy hitter Che Mills last November, recording just 40 seconds of cage time.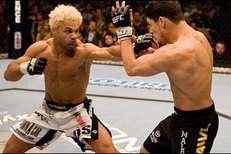 Josh Kosheck (left); photo cred: devotedmma.com
Welterweight standouts Josh Koscheck and Mike Pierce will be prominently featured on the main card for the PPV event, though neither are exactly in good standing in their division as far as contendership is concerned.
Kosheck recently returned from a broken orbital suffered in his title tilt with Georges St-Pierre. Upon his foray back to the cage, the AKA star bested UFC Hall of Famer Matt Hughes last September, earning "Knockout of the Night" for the first-round finish.
Pierce recently bounced back from a close-decision loss to Johny Hendricks by besting rival Paul Bradley after three rounds of action, this time taking home a split-decision win of his own. Pierce has won four of his last five fights inside the Octagon.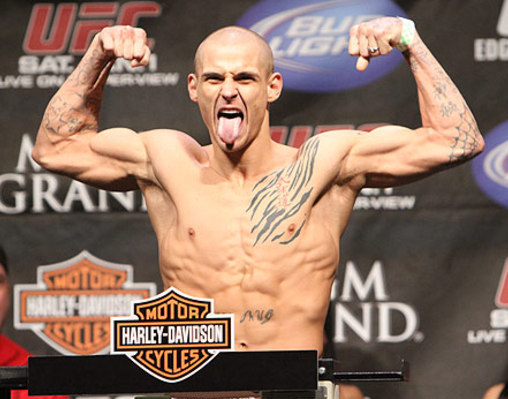 Dustin Poirier; photo cred: MMAWeekly.com
Budding featherweight contender Dustin Poirier welcomes UFC newbie Max Hollaway to the Octagon.
A veteran of X-1, Hollaway is undefeated at 4-0 and was last seen in action in July when he defeated Eddie Rincon after three rounds of action.
"Lil Evil", a Hawaii native, will have the tall task of derailing Poirier, who looks to be just a big win or two away from a shot at the 145-pound title.
"The Diamond" is currently riding a four-fight win streak and recently submitted then-rising contender Pablo Garza, submitting the wily fighter with a second-round d'arce choke this past November.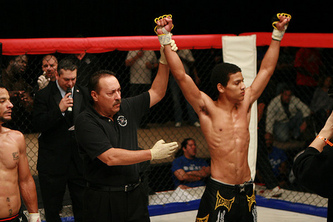 Alex Caceres (right); photo cred: MMABay.co.uk
In a fan-friendly bantamweight affair, The Ultimate Fighter Season 12 veteran Alex Caceres will look to go 2-0 in the division with a victory over the tough Edwin Figueroa.
Caceres, aka "Bruce LeRoy" recently fought out of a career-worse 0-3 slump, besting former WEC champion Cole Escovedo in a three-round thriller, earning a decisive and clear-cut decision win.
Figueroa has since picked up his first Octagon win as well, finishing off 23-fight veteran Jason Reinhardt with a second-round TKO, courtesy of punches and elbows galore.
If not for Nick Diaz and Carlos Condit, these two would be a shoo-in for "Fight of the Night."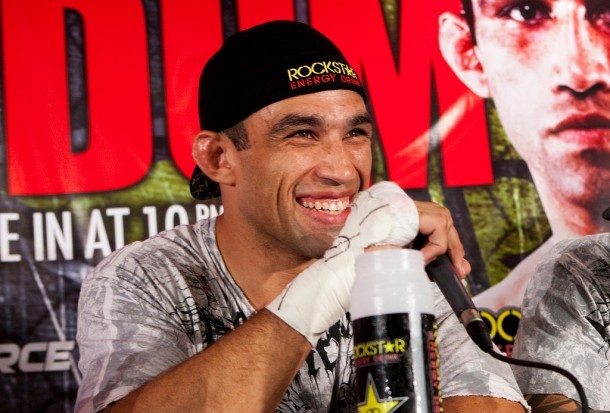 Fabricio Werdum; photo cred: sports.sho.com
A Season 10 winner of The Ultimate Fighter, Roy Nelson will be welcoming back the touted Fabricio Werdum.
The Brazilian makes his return to the UFC after a successful run in Strikeforce, where victories over Mike Kyle and heavyweight great Fedor Emelianenko—submitting the former Pride champion in the first round—anchor his recent list of accolades.
Nelson recently returned to the win column when he bested K-1 and Pride vet Mirko Cro Cop, TKO'ing the Croatian in the third round last October.
Both "Big Country" and "Vai Cavalo" are both black belt jiu-jitsu aces, though both have become well-adept strikers, with Werdum training under the heralded Rafael Cordeiro, the former head coach of the famed Chute Boxe Academy.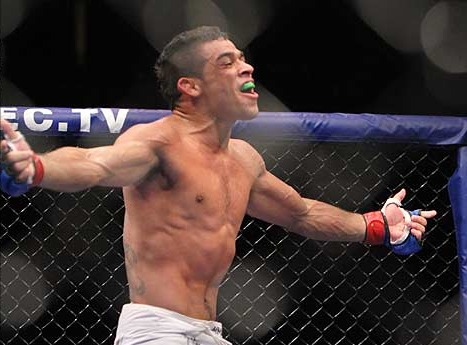 Renan Barao; photo cred: MMAWeekly.com
Though there's been no official word on the relevancy of the bout, but for all intents and purposes, both Renan Barao and Scott Jorgensen are likely battling for the No. 1 contender spot in the bantamweight class.
Jorgensen, a former title challenger, is looking to build upon a two-fight win streak that began with a vicious knockout victory over Ken Stone. "Young Guns" was last in the cage this past October, earning a decision over veteran Jeff Curran at UFC 137.
Barao is undefeated in his last 28 outings and is a perfect 4-0 under the Zuffa banner. The WEC transplant recently earned a first-round rear-naked choke over perennial contender Brad Pickett, submitting the Brit in his own backyard last November when both earned "Fight of the Night" for their fan-friendly battle.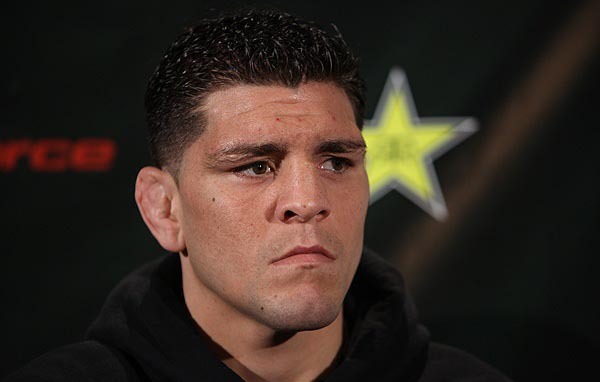 Nick Diaz; photo cred: sherdog.com
The consummate "Fight of the Night" candidate, Nick Diaz will take on former WEC champion Carlos Condit in the main event of the evening.
Both men have quickly risen the welterweight ranks of the UFC thanks to their exciting style of fighting, which have since garnered both men much praise in the mixed martial arts community.
Condit recently capped off a four-fight win streak with a vicious "Knockout of the Night" performance against then-undefeated contender Dong Hyun Kim, sending the Korean reeling to the canvas with a flying knee to the chin.
Diaz is undefeated in his last 11 outings, which included an undefeated run in Strikeforce, where the Stockton, Calif., fighter earned the promotion's welterweight title, defending it three times against KJ Noons, Evangelista Santos and Paul Daley.
The Cesar Gracie product recently made a successful return to the UFC last October when he bested former two-time world champion BJ Penn, battering and bruising the Hawaiian after three rounds to take home the decision win in a "Fight of the Night" performance.