Chicago Blackhawks: Kyle Beach's Big Chance to Shrug off the Bust Tag
March 20, 2012

Gregory Shamus/Getty Images
The Chicago Blackhawks drafted Kyle Beach with the 11th overall pick in the 2008 NHL Draft. Nearly four years later, the big forward is trying to get his professional career on track when he rejoins the active roster in Rockford after a season-long shoulder injury.
Beach could return to the Ice Hogs' lineup as soon as tonight when Rockford hosts Hamilton at the BMO Center. It is believed that Beach will be taking the ice by the end of March as he hopes to salvage something out of a season that showed early promise.
Beach skated in eight games for Rockford with three goals and three assists. As opposed to the hot-headed skater prone to mental errors he was the season before, Beach was playing a smarter game that showed signs of a maturing player after a rocky first professional season.
On October 28 in Peoria, Beach came off the ice after a third-period fight with Stefan Della-Rovere holding his right arm in obvious pain. The injury, diagnosed as a dislocated shoulder, was thought to be season-ending.
Beach, who hasn't exactly been a mainstay in the weight room in his tenure with the organization, must have worked hard to rehab his shoulder in order to be nearing the point of an early return. Could it be that the oft-criticized first-round pick has done some growing up?
All 10 players drafted ahead of Beach have seen NHL action. Only seven of the 30 first-round selections in 2008 have failed to get a sniff of the league.
Several notables drafted in the first round following Beach are Ottawa defenseman Eirk Karlsson and Edmonton center Jordan Eberle. Both could have filled some needs on the 'Hawks this season, as could several other players drafted after Dale Tallon gambled on Beach's upside.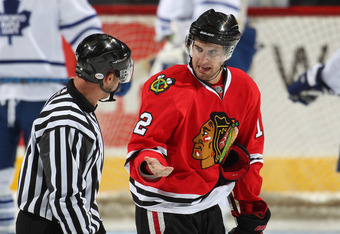 Claus Andersen/Getty Images
In his better moments in Rockford, Beach has shown that he is capable of being a fine combination of size and scoring. He has a wrist shot that can find the net from anywhere inside the blue line. He also can finish a check.
As opposed to last season, Beach seemed to understand that while he needs to keep a rugged edge to his game, taking dumb penalties wasn't going to be his ticket to the NHL. This is why the handful of games in which Beach skates take on so much importance.
If Beach comes back and plays as he did in the season's first couple of weeks, I would not be at all surprised to see him skating with the Blackhawks as a Black Ace next month. It's hard to believe that the organization would have him work to get back into shape and not find a way to extend his season.
Rockford, as they did last season, has been finding the right gear late in the season. They've gone 8-2-0-1 in their last 11 games and have an outside chance at making the playoffs. Beach could be a difference maker with the Ice Hogs, which could turn some more heads throughout the organization.
A lot of eyes are going to be on Beach when he does get back to hockey. That looks to be happening very soon.