UFC 143: Nick Diaz's 10 Most Entertaining Moments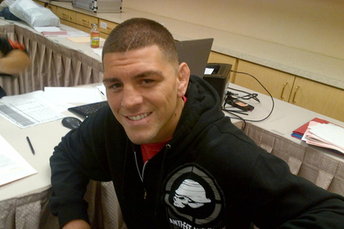 photo cred: mmamania.com
UFC 143 heads back to the Mandalay Bay Events Center in Las Vegas this Saturday, where the enigmatic Nick Diaz takes on Carlos Condit for the organization's interim welterweight title.
While a looming battle with Condit and a possible match with Georges St-Pierre is in Diaz's future, the Strikeforce transplant has a lot on his plate.
However, one way or another, Diaz has always made time to produce some controversial, but always entertaining moments both in and out of the cage.
Begin Slideshow

»
If you weren't familiar with Diaz's love for nunchucks, then you are now. The thing is, the dude's pretty slick with them, as he demonstrates here with some of his friends at home.
After hearing word that he was pulled from his main event tilt against Georges St-Pierre at UFC 137, Diaz did his Diaz thing, recording a video on the fly while driving and battling traffic somewhere in California. I think it's safe to say that the Stockton fighter was a bit "perturbed."
Here, Nick is candid enough to admit that if there is anyone worthy of a beating from the aforementioned Georges St-Pierre, it's probably him, given everything that happened in the media as of late.
He's embarrassed of the way he's come across, sure, but it's gotten the job done.
It's gotta be a nice change of pace for the mixed martial arts veteran to be able to step back and watch a fight for once, rather than being engaged in them. It got heated at one point, but all cooler heads prevailed.
Best part? "Hey girlie, what are you doing?"
I think it's safe to say that all associated parties were not exactly "of the right state and mind" when this priceless gem was recorded and intentionally uploaded for the world to see.
Just because you're friends with Nick Diaz doesn't mean he'll go easy on you if you try and mess with him. Here, a colleague of Mr. Diaz gets throttled by the jiu-jitsu specialist.
Nick Diaz wears many hats. Here, he is shown preparing a fancy meal with his bare hands, climbing a palm tree just to do it and is seen sparring a friend who would like nothing more than the striking aficionado to knock him out.
To be honest with you, I'm not even 100 percent sure what's going on here. Here, it looks like Nick Diaz is practicing his acting chops whilst shadow boxing in his bedroom with brother Nathan.
After missing out on two previous pre-fight press conferences, UFC President Dana White has happy to see Nick Diaz at the final leg of their media duties before UFC 137 last October.
A quick quip didn't go unnoticed by the Californian.
After their less-than-cordial encounter in Nashville, Tenn., in April of 2010, both Nick Diaz and Jason "Mayhem" Miller have not been on the best of terms.
Several times, a fight between the two was seemed all but cinched, though it never came to fruition. After many disparaging interviews from Miller, Diaz took it upon himself to settle the beef and tell his side of the story once and for all in this eloquent and well thought out monologue.