Ranking Every NFL Stadium by Atmosphere for Fans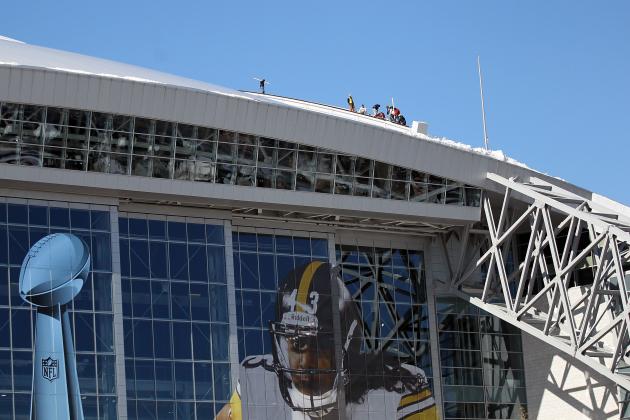 Mike Ehrmann/Getty Images

In the days leading up to Super Bowl XLVI, fans will be gearing up for their trip to Lucas Oil Stadium for an experience of a lifetime. Many NFL fans everywhere go to the Super Bowl just to experience the atmosphere surrounding the event. The NFL carefully selects the venue for each Super Bowl based on location and stadium accommodations.
As the NFL does during its Super Bowl stadium selections, let's take an inside look at each of the 31 stadiums (remember, the Jets and Giants share one) ranked according to their atmosphere for fans.
Begin Slideshow

»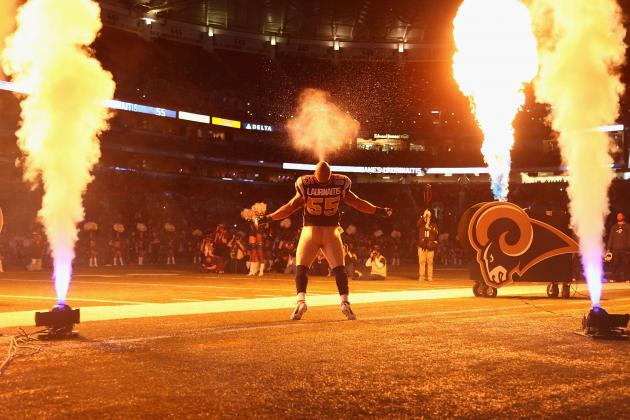 Dilip Vishwanat/Getty Images

The Edward Jones Dome, which opened in 1995, has been home to some great teams in its short history, though none of them too recent. Many remember the "Greatest Show on Turf" teams from 1999-2001 that featured players like Kurt Warner, Marshall Faulk, Torry Holt and Isaac Bruce. However, the Rams have come across tough times recently, which has created a lull amongst Ram fans.
Since the early 2000s the Rams have experienced dips in attendance, and at many games now, the Edward Jones Dome has just as many visiting fans as home ones. The fans have completely lost interest in St. Louis, which has the Rams ranked last amongst stadium atmospheres.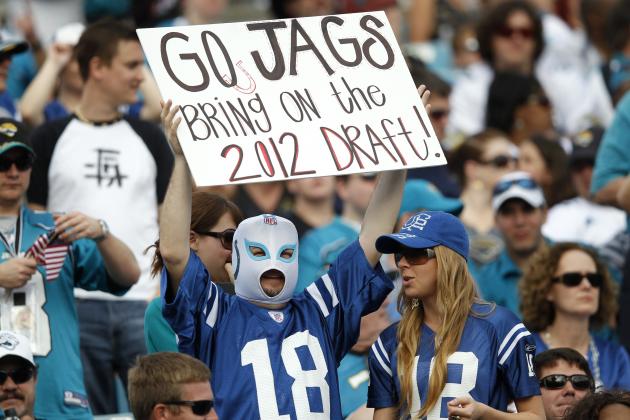 Joe Robbins/Getty Images

Let's face it, the Jaguars haven't been truly relevant since, well, never. Without a Super Bowl appearance in its brief history, the people of Northern Florida have better things to do. Although the Jags have featured some exciting players over the years like Jimmy Smith, Mark Brunell, Fred Taylor and currently Maurice Jones-Drew, they alone haven't been enough to draw crowds.
Jacksonville, whose stadium just received a sponsor and avoided continuing to be called "Jacksonville Municipal Stadium," is another home for visiting fans. There are always a lot of seats open, which attracts many visiting fans, especially of large-market teams, to sit alongside their disinterested and mild-mannered fans. There aren't too many people aside from diehard Jags fans itching to head to EverBank Field.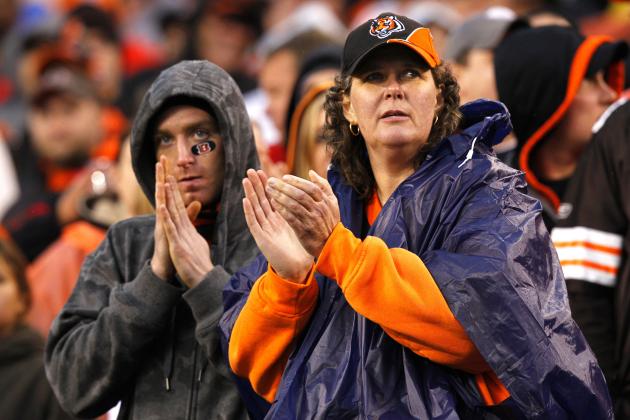 Tyler Barrick/Getty Images

The Bengals have had a long and disappointing history that has seen its ups and many more downs. Most recently they've had their disputes with franchise quarterback Carson Palmer that led to his exit. They have promising young players in Andy Dalton and A.J. Green, but the morale is still in check. For a fanbase that has learned not to expect much they have grown pretty sour.
When the Bengals fans decide to show up they are a rowdy bunch that can get somewhat unruly. The fans can often take out their frustration in less-than-kind manners, but even for the "Who Dey" fans who do behave themselves, the stadium is an average one to see. Paul Brown Stadium may be beloved by the Bengal faithfuls, but it isn't one to put on your bucket list.
Tom Hauck/Getty Images

Back in the days of Bernie Kosar, the Browns were a competitive team on the cusp of bringing home a Super Bowl. However, since the team came back to Cleveland in 1999 after a three-year hiatus, the Browns have only made it to the playoffs once. The "Dawg Pound" is still at every game and cheers on its Browns, but the rest of the stadium has lost its voice.
The Browns, largely due to a bad team and an average stadium, rarely every draw a large crowd—for the home team at least. With a rowdy crowd and uninspired fans, Cleveland Browns Stadium leaves a lot to be desired.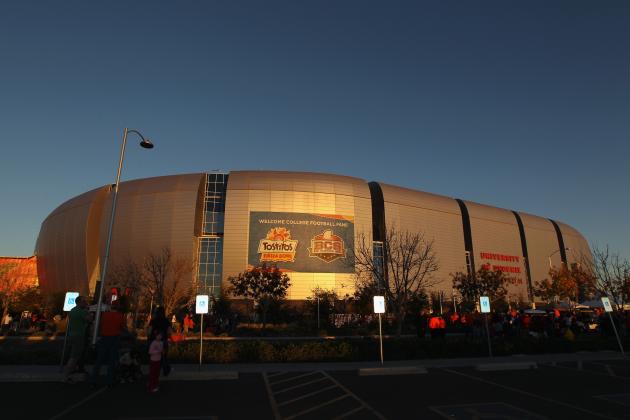 Christian Petersen/Getty Images

Despite their relatively recent successes that include a trip to Super Bowl XLIII, the Cardinals can't help the fact that they're pretty much in the middle of a desert. Despite having a newer stadium and one of the most exciting players in the league in Larry Fitzgerald, fans are hard to come by.
The retractable roof and updated seating make it an enjoyable venue, but for a football game, this deserted stadium is not the best place to watch. Home fans are often matched in number and even when they are in the majority, they are usually unenthusiastic. There are definitely much cooler (literally) places to enjoy a game.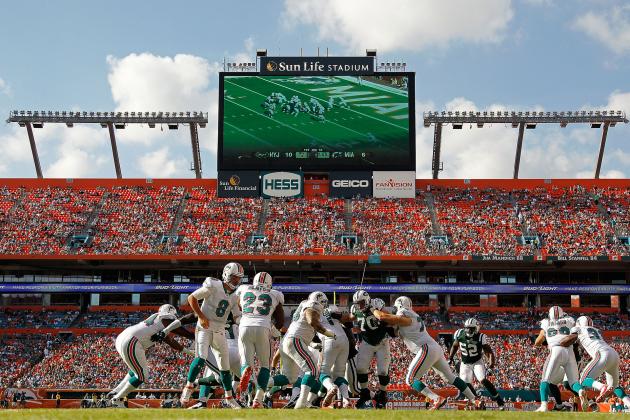 Mike Ehrmann/Getty Images

Despite the warm weather, this sun-kissed stadium usually shows more empty seats than full ones. While the Dolphins have been a mediocre team of late, they haven't put a product on the field that excites the people down in South Beach. A new coach is on his way in Joe Philbin, which means there could be some growing pains in the near future.
When down in Miami feel free to catch a 'Fins game, but there's no guarantee the weather and beaches won't be more of a distraction. Until the Dolphins get their act together and there is a quality team on the field, there won't be too much excitement in this lackluster facility.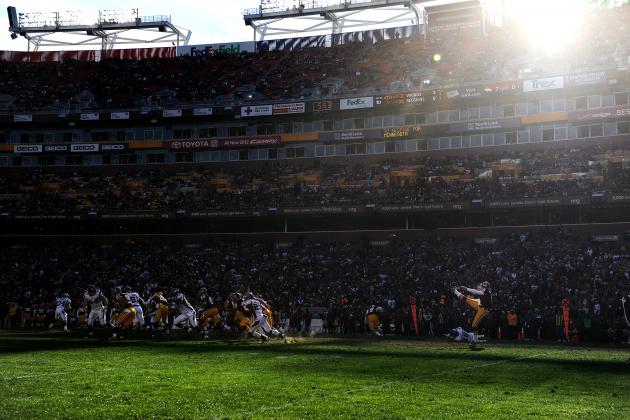 Patrick Smith/Getty Images

Led by the Hogs, the Redskin fans have been through a lot in recent years. They're a loyal bunch, but they can get a little out of hand at times with the best of them, especially in divisional games. While the team has struggled, the 'Skins haven't been able to fill all 91,000 seats, which is hard to do regardless, and the atmosphere around the team has been tempered.
Seeing as though the stadium is aging, the team is often hard to watch and the fans are less than welcoming, Washington may not have the best atmosphere. Along with the historical aspect of the nation's capital, FedEx Field wouldn't make too many people's list of must-see landmarks.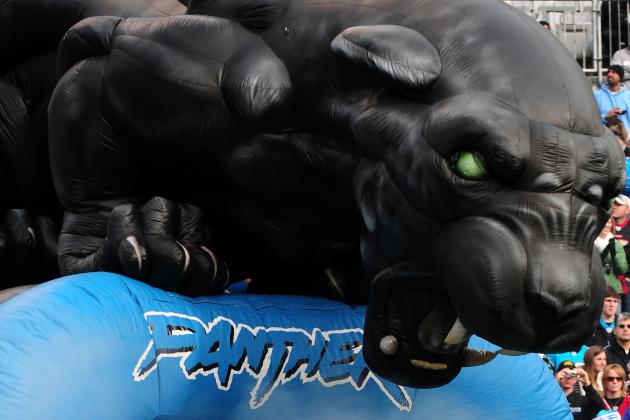 Scott Cunningham/Getty Images

Last season, the selection (and performance) of Cam Newton brought some buzz around the Panthers. The media was slightly more apt to cover them and the team was brought somewhat out of irrelevance. Newton and some younger players may make this team exciting again because it sure needs something to get some attention.
Panther games often attract more visiting fans than they do their own fans, which can just be downright discouraging. It is still a young franchise that maybe needs some more time to dig its roots into the area, but there is not much exciting about the Panther games from its 15-year-old stadium to its poor performance off the field. There are plenty of other NFC South teams to watch that are much more exciting and provide a better atmosphere.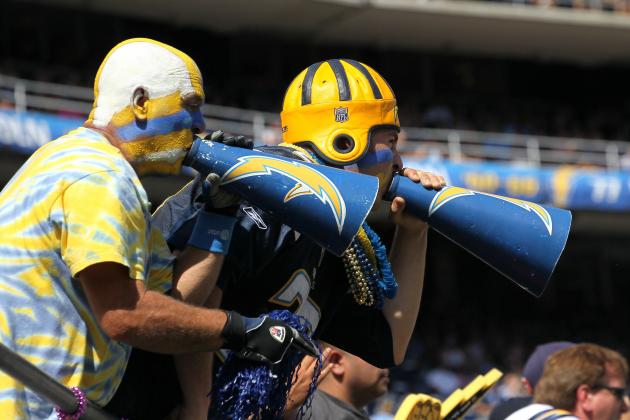 Stephen Dunn/Getty Images

Despite having some of the better uniforms in all of football, the Chargers, and especially Qualcomm Stadium, fall somewhere short in the way of performance. Built in 1967, Qualcomm is getting old and the Chargers are in serious need of a new stadium. They have a team that always seems to be in the hunt and they need somewhere legitimate to play.
Even with a new stadium, the Chargers are still the little brother of California teams behind the San Francisco 49ers and Oakland Raiders, and their fans don't have the same tenacity that you find in other cities. Combining the quiet nature with a bad stadium, there isn't a whole lot to see; maybe wait for the new one.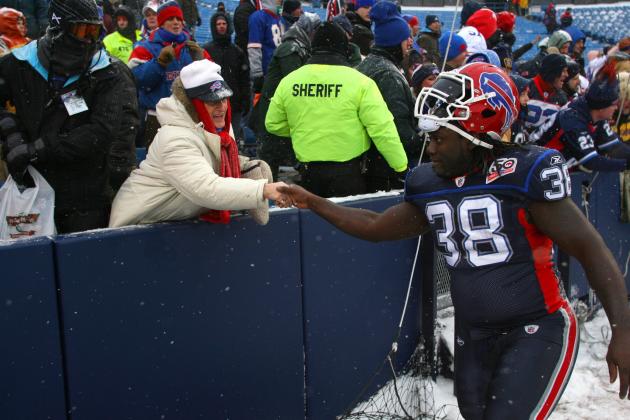 Rick Stewart/Getty Images

In upstate New York resides the oft-forgotten team in the area, the Buffalo Bills. The Bills had some great teams in the early '90s, but unfortunately none in very recent memory. Their consistently bad play and miserable weather that rolls into Buffalo quite early provides a place that not too many people want to visit.
The Bills fans usually lose interest quickly and are more focused on hurling snowballs at opposing fans than what is happening on the field. While there are many loyal and behaved fans, these ones are the ones who lack the enthusiasm to make Buffalo an exciting place to come for both players and fans. Ralph Wilson Stadium was built in 1973 and the Bills will be needing a new one soon—that is, if they don't relocate.
Joe Robbins/Getty Images

The Titans have a great group of fans that generally have a high football IQ and rarely disrespect the opposing fans like is seen in many other stadiums. Maybe it's that southern hospitality or the good food making everyone happy, but the Titans fans show up and cheer their team on the right way. They may not be the loudest or the most enthusiastic, but they are sound supporters.
The team on the field has regressed some since their Super Bowl run in 1999, but they have the electrifying Chris Johnson to fill some seats. While the rest of the team may not be too exciting, it is a nice place to visit. There isn't a terrible amount of history of allure to the facility, but you could do much worse than watching a game at LP.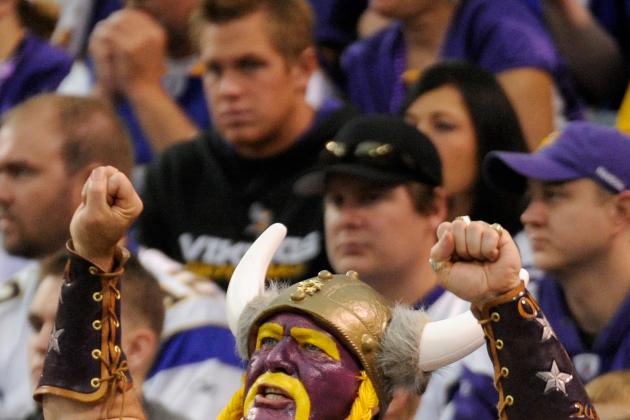 Hannah Foslien/Getty Images

A candidate for relocation, the Vikings came close to the Super Bowl two seasons ago. They since have come back down to earth and the buzz around the team has died down. Their fanbase is solid, but not like others, and they play in an outdated dome.
Reluctant to build a new one without any promise that the Vikes will be around for the long-haul, Minnesota may not be the ideal place many would want to see a football game. In an old stadium in front of mild fans, there isn't a great sense of importance. The dome gives a really cool feel and there is definitely some elements to like, especially for Viking fans, but the Mall of America is a more likely destination in Minneapolis.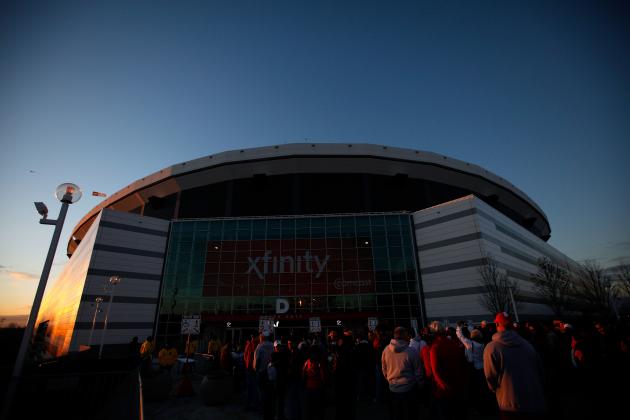 Chris Graythen/Getty Images

Not generally known as the fans with the highest all-around football IQ, the Falcons fans still do their best to cheer on their Dirty Birds. The Dome can get bumping during a big game, but there are often a lot of visiting fans in the stands for a contending team.
An older facility, the Georgia Dome isn't a great one to visit but it does provide a good atmosphere with some good fans to rally around. The Falcon fans rarely harass opposing fans too badly and it's usually a good environment for all. There are much cooler places to go, but there's nothing wrong than seeing some Falcon football in the Georgia Dome.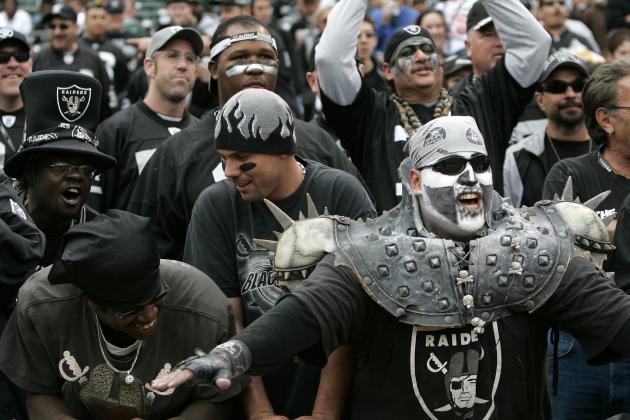 Robert B. Stanton/Getty Images

Depending on who you root for, going to see a game in Oakland can be one of the coolest or scariest things on earth. For a Raider fan, sitting in with the rest of the "Black Hole" is a blast and all Raider fans stick together. However, it can get ugly for those rooting for opposing teams. Raider fans have been known to get a little unruly and sometimes don't take out their frustrations in stellar manners.
The casual fan may want to avoid Raider games, but if you do root for these bad boys then it's something you definitely want to do in your lifetime. The dark and tough aspect of the Coliseum is great and provides a great atmosphere, but it is very rough around the edges.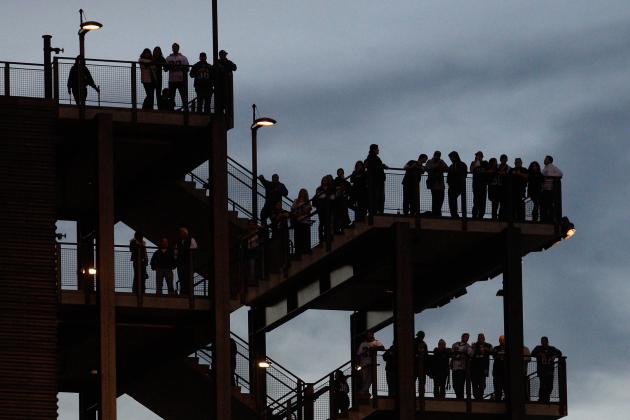 Rich Schultz/Getty Images

See Raiders, Oakland. Everything that was said about the Raiders, substitute Eagles and it's practically the same situation. Eagle fans are some of the most passionate fans in the league and are a very lively and active bunch, but catch them after a tough loss while wearing an opposing jersey and you may be in for some surprises.
Located in a nice, newer stadium, Eagle fans love coming to the "Linc" cheer on their team. Then again, anything is better than the old Veterans Stadium. Eagle fans, definitely get to a game if you haven't already.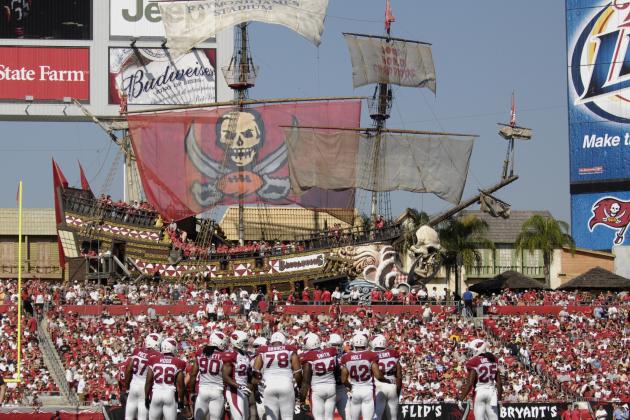 Al Messerschmidt/Getty Images

Raymond James Stadium has become known for its pirate ship that sets off cannons with each Bucs touchdown. It keeps the crowd into it and is beginning a tradition. The players have begun to feed off the energy, giving a home-field advantage.
In the nice weather and great atmosphere, Raymond James Stadium is a cool sight for all ages. Kids love to see the pirate ship, as well as everyone else who hasn't gotten a chance to visit. Tampa still doesn't have all the fans to keep some higher numbers of visitors out, but it has a real theme central to their name.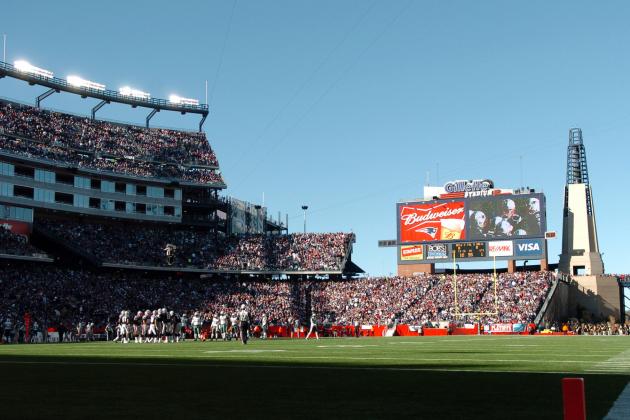 A. Messerschmidt/Getty Images

Foxborough has gotten spoiled by hosting home playoff games almost every season now due to the successes of its Patriots. There are few harder places to play in the NFL than Gillette, where the air gets cold and crisp and the crowd gets loud and rowdy.
For a Patriots fan, joining your brethren at Gillette is one of the coolest things. There are few better things than feeling the camaraderie amongst the other fans while watching Tom Brady sling the ball downfield.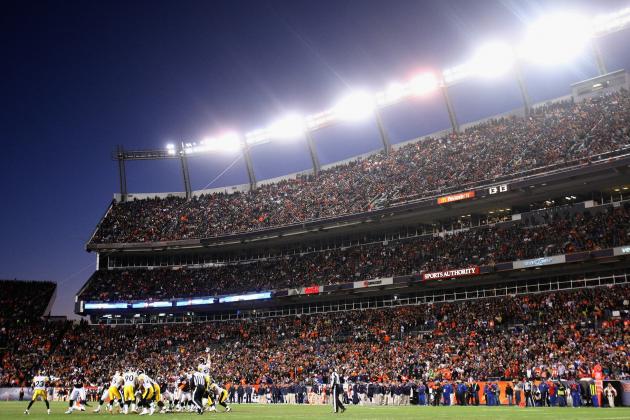 Jeff Gross/Getty Images

Being at Mile High at such a high altitude is really a different experience than any other. The thin air doesn't stop the Broncos fans from coming out to witness "Tebow Time" and to get loud. Since the John Elway days, this place has welcomed the "Mile High Salute" and it's really embracing Tim Tebow.
Being there to witness a come-from-behind victory in the fourth quarter is truly a spectacle. The sound resonates through the thin Rocky Mountain air and echoes around the stadium. The Denver fans are some of the more welcoming ones, which adds to the fan atmosphere.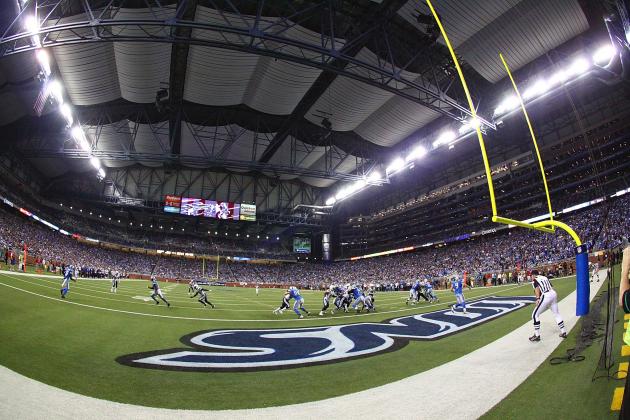 Dave Reginek/Getty Images

A couple years ago this would be one of the worst places to visit to watch a game. The team was bad and the fans were growing indignant. Going winless for a whole season can take its toll on fans, but when the team began its turnaround, the Lions showed they sure didn't lose any fans in the process.
Matt Stafford and Calvin Johnson have brought the Lions back into relevance again and given the fans something to be excited about. Getting to see a game with this newly restored hope is something really special to be a part of. The roar has been restored!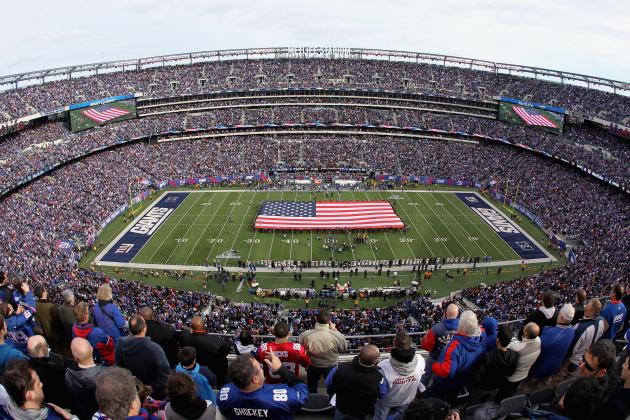 Nick Laham/Getty Images

The brand-new, beautiful arena is always filled wall to wall with passionate New York fans. Whether it be for a Giants or a Jets game, the fans are always out and excited. They laugh and cry by their boys, and they aren't afraid to let the team know when they're disappointing.
This astonishing new building is already the host for the 2014 Super Bowl and has drawn praise from many. Replacing the old Giants Stadium, MetLife has quickly become a favorite place to visit. Opposing fans should beware of the New Yorkers at times, but at such a nice place, it's somewhere to definitely check out.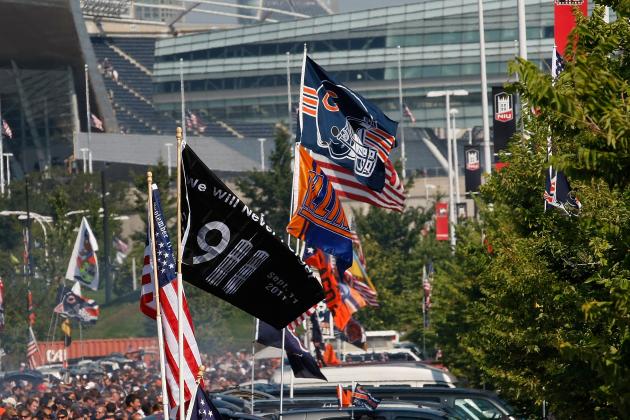 Scott Boehm/Getty Images

Known for its rugged field conditions and windy weather, Soldier Field has become one of the hardest places for visiting teams to come to play. Bears fans are some of the best and they come out and support their team week in and week out.
Especially when the division-rival Green Bay Packers come to town, Soldier Field is one of the most entertaining places to catch a game. Windy and chilly weather contribute to the overall experience of Soldier Field, and it is to be expected at game time anymore. Bears fans never seem to quit, which is why every week is an adventure.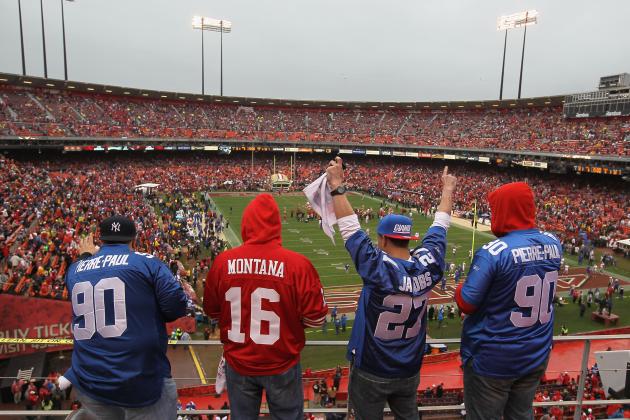 Justin Sullivan/Getty Images

While Candlestick isn't a newer or nicer facility, it is the history that adds to its allure. Having hosted legendary games featuring Joe Montana, Jerry Rice and Steve Young and those coached by the legendary Bill Walsh, Candlestick is just as much of a museum.
Niner fans have been rejuvenated by the new style of football that coach Jim Harbaugh has brought and there is a buzz around the arena. The noise is back and as strong as ever, and the feel the fans got during the Montana days is being restored. Candlestick may be like a museum, but there is plenty to see live in person as well.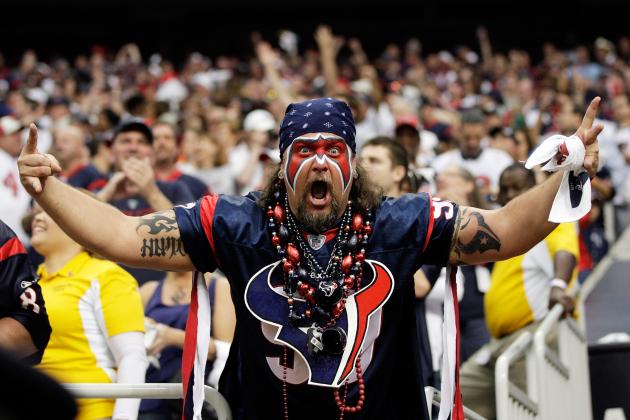 Jamie Squire/Getty Images

For a young franchise with little experience, 2011 brought new firsts to the team. The Texans reached, and won, their first playoff game in franchise history, which gave the fans in Texas something to really get excited about. The Texans were always the backseat rider in the AFC South to the Colts, and in their own state behind the Cowboys.
With their own history being made as they go, Houston has become the up-and-coming team that is very fun to watch. Reliant Stadium, a newer building, is a great place to watch a game already and with the emergence of a fun team, Houston is a great spot to visit.
Andy Lyons/Getty Images

Just opened in 2008, Lucas Oil Stadium is the host of Super Bowl XLVI this weekend. The dome gets packed on Sundays when Peyton Manning and Company take the field, which didn't happen this past season, but normally the place gets up for game day.
The Super Bowl selection committee obviously saw the new stadium in a metropolitan setting as a prime spot for the big game, and the beautiful new building will surely not disappoint. The noise Colts fans bring on game day will surely be matched by New England Patriot and New York Giant fans as they duel it out in the Super Bowl this weekend. Lucas Oil Stadium will be ready.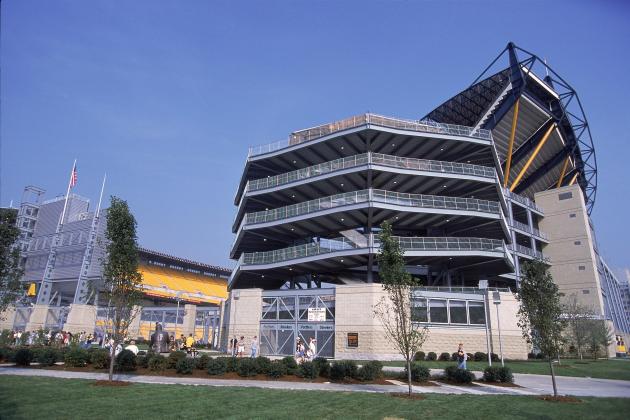 Scott Halleran/Getty Images

Steeler fans are a group that support their team the same if they're losing 31-0 or they're winning 31-0. They expect excellence day in and day out from this team, and there aren't any excuses. For a team with so much history of excellence, losing isn't an option. Anything less than a Super Bowl victory is a failure.
This is the mentality that makes Steeler football games so much fun. With the Terrible Towels waving in unison and the noise filling Heinz Field, there are few stadiums that match up with Heinz Field. Sometimes things can get edgy during rivalry games, but opposing fans usually know their place at Heinz.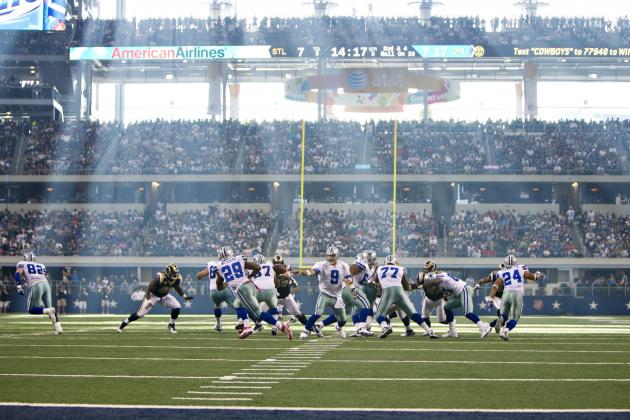 Wesley Hitt/Getty Images

Complete with a 75-yard long HDTV that hovers over the field, "America's Team" has one of the biggest, most expensive stadiums in the league. The arena was already home to last year's Super Bowl and has amenities one would expect from a hotel.
A Cowboy game here is loud and proud, and the comfort level of the new stadium in unparalleled. From a fan's standpoint, you can't go wrong with seeing one of the most historic franchises in all of football at such a state-of-the-art facility.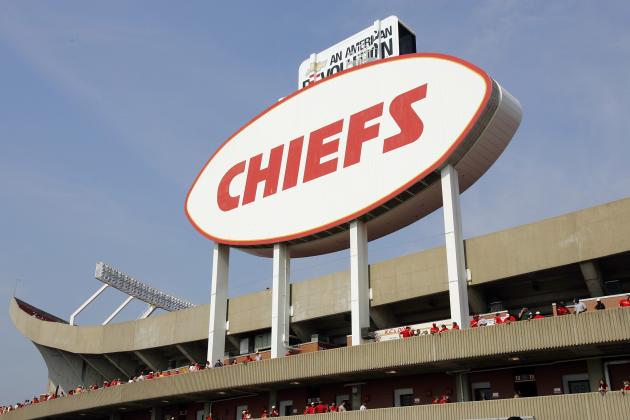 Brian Bahr/Getty Images

Arrowhead Stadium is notorious for being one of the hardest places to come into and play. Just ask the 2011 Packers, whose lone loss during the regular season came at Arrowhead. A stadium built to keep noise in and bellowing, Arrowhead also boasts some of the most passionate and dedicated fans in the business.
Despite the lack of recent success by the Chiefs, their fans have been out and showing the league why playing at Arrowhead is so tough. To come in and sit amongst the fans in such a stadium is an experience that is almost next to none. The atmosphere is awesome and what true football fans really love about the sport.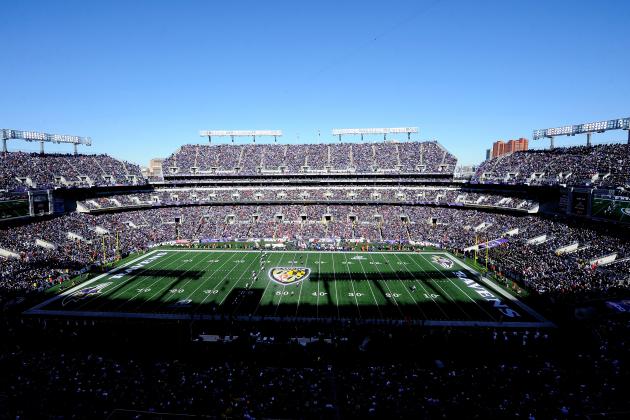 Patrick McDermott/Getty Images

Known for its purple seats visible from I-95, M&T Bank Stadium is known around the league as one of the most beautiful and accommodating venues in all of football. Ravens fans are some of the best, and the atmosphere they create is one to experience.
For such a beautiful building, the fans don't let it go to waste. Especially during playoff runs, the stadium is packed and ready to go for kickoff. Baltimore knows how to do it right with their stadiums, as the Orioles' Camden Yards is also known as one of baseball's best. If M&T is half as good as advertised, it should be at or near the top on the list to visit.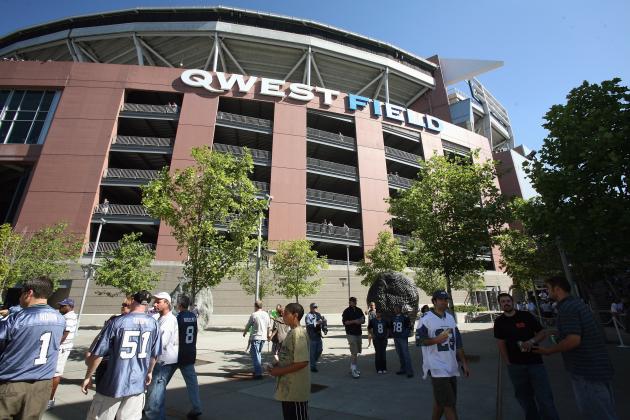 Otto Greule Jr/Getty Images

Seahawks fans, or "The 12th Man" as they call themselves, provide the loudest atmosphere of any stadium in the league. Responsible for more false start penalties of any arena in the NFL, Qwest Field has gotten a reputation as one of the hardest places to play, if not the hardest.
In the playoff game in which the Seahawks hosted the heavily favored New Orleans Saints, RB Marshawn Lynch broke off a long touchdown run that sealed the game for the home team. The noise shook the stadium and registered a reading on the Richter scale a mile from the stadium. This is how loud the building gets almost every week, and is something that can only truly be experienced in person.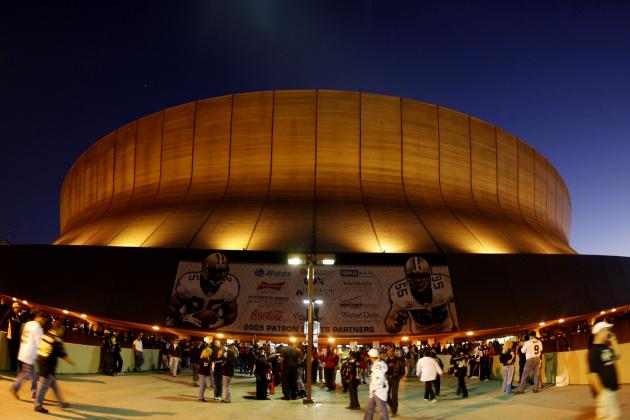 Chris Graythen/Getty Images

The Superdome's reputation speaks for itself. There is perhaps no stadium and no city that lives through its team like New Orleans. The Saints have become one of the best home teams in the league largely in part to the home crowd and the atmosphere they create. It is a hostile environment for opposing players and it's tough to ever get a rhythm going against the Saints and their fans.
The noise level is matched by only Qwest Field, but the football and excitement to be seen in this building is one of a kind. With the Saints becoming one of the league's best teams each year, the excitement only continues to grow. It should be a goal for all football fans to visit the Superdome at least once in their lifetime.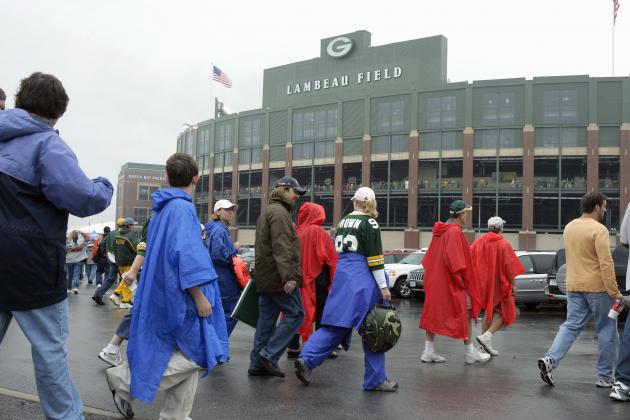 Brian Bahr/Getty Images

The frozen tundra of Lambeau Field. Vince Lombardi. Bart Starr. Brett Favre.
All of these contribute to what make Lambeau Field the best stadium in the NFL. The history in Lambeau and all that it has come to embody make it a landmark as much as a stadium.
Games at Lambeau in December and January are bitterly cold, and it doesn't faze the cheeseheads in the slightest. It usually affects their opponents as temperatures can often drop below zero, but that plays to the Packers' advantage. To see a game at Lambeau where it isn't freezing would just take away from the experience. One day everyone should get to see what true football is like and pay Lambeau Field a visit. Who knows, maybe you catch a player doing the Lambeau Leap!