Fantasy Baseball 2012: Ranking the Top 20 Shortstops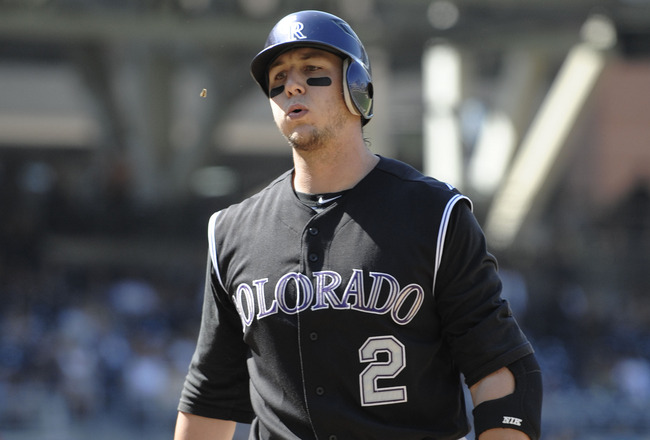 Denis Poroy/Getty Images
So far, out of all my fantasy baseball pieces, this one has been the hardest.
Shortstop is baseball's thinnest position (even catcher has more talent!), and coming up with a list of 20 players worth a glance on draft day proves that theory.
This year's class offers a lot of high-upside players, and those are the guys that can give you a leg up in fantasy.
My hope is that this list will somewhat aid you come draft day (seriously, shortstop is a tough position).
*Writer's Note: I chose not to include Hanley Ramirez in this list. Even with the move to third, I assume he'll still have shortstop eligibility in most fantasy formats. Nonetheless, I decided to absolve him from my rankings for those formats that only have him at third.
20. Rafael Furcal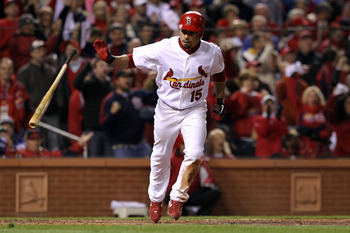 Jamie Squire/Getty Images
2011 Stats: .231/.298/.348, 44 R, 8 HR, 28 RBI, 9 SB
At 34, Furcal is a far way from providing fantasy value.
Even steals (the category he used to excel at) has a lackluster outlook.
19. Cliff Pennington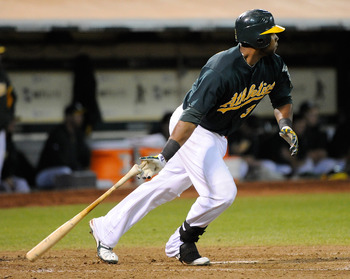 Thearon W. Henderson/Getty Images
2011 Stats: .264/.319/.369, 57 R, 8 HR, 58 RBI, 14 SB
Not your A-typical Oakland player (HA HA, get it?), Pennington has the outlook of your usual shortstop candidate.
He won't provide much outside of stolen bases, but once he gets going, he can steal a lot of them.
18. Jed Lowrie
Jim Rogash/Getty Images
2011 Stats: .252/.303/.382, 40 R, 6 HR, 36 RBI, 1 SB
An upside pick more than anything else, Lowrie doesn't offer much to fantasy owners.
He's flashed some brilliance, but continues to fall short (another good one, right?).
Now that he's finally got a starting position in Houston, let's see what he can do with it.
17. Alcides Escobar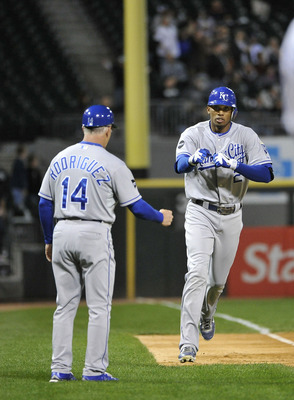 Brian Kersey/Getty Images
2011 Stats: .254/.290/.343, 69 R, 4 HR, 46 RBI, 26 SB
Another underwhelming option at an increasingly thinning position.
Some might see a poor man's Elvis Andrus, but Escobar has a long ways to go to even reach that level.
Could be worth some steals, but not much else.
16. Zack Cozart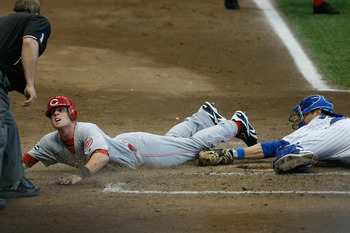 Scott Boehm/Getty Images
2011 Stats: .324/.324/.486, 6 R, 2 HR, 3 RBI, 0 SB
Cozart has some great tools and offers huge dividends as a late-round sleeper.
At full ceiling, Cozart has the makings of a .300 hitter with 20-30 potential.
Just keep in mind the job is his to lose in spring training.
15. Stephen Drew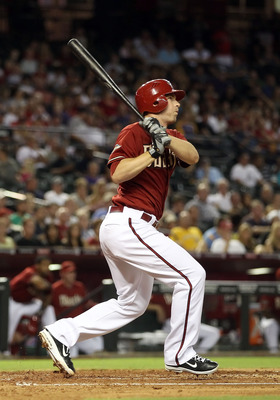 Christian Petersen/Getty Images
2011 Stats: .257/.317/.396, 44 R, 5 HR, 45 RBI, 4 SB
One of the more enigmatic players on this list, it seems we'll never again see the fantasy stud that was Stephen Drew in 2008.
While the potential is there, at 29, the picture gets bleaker by the second.
14. Ian Dsmond
Drew Hallowell/Getty Images
2011 Stats: .253/.298/.358, 65 R, 8 HR, 49 RBI, 25 SB
Ian Desmond has some potential, but is he worth drafting?
There's very little power, no patience and underwhelming speed at a position rampant with base stealers.
Desmond's upside is one for the waiver wire to sort out.
13. Alexei Ramirez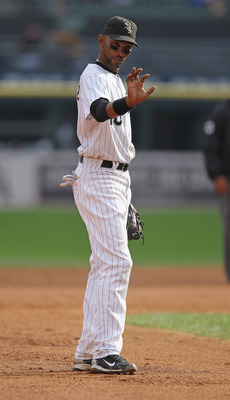 Jonathan Daniel/Getty Images
2011 Stats: .269/.328/.399, 81 R, 15 HR, 70 RBI, 7 SB
Ramirez doesn't excel in one category, but offers a little bit of value in each 5x5 category.
Since hitting the majors, Ramirez's numbers have been consistent, making him one of the safer shortstop picks in 2012.
With 15-10 potential and the chance for solid run and RBI numbers, Ramirez is a good choice at short.
12. Jhonny Peralta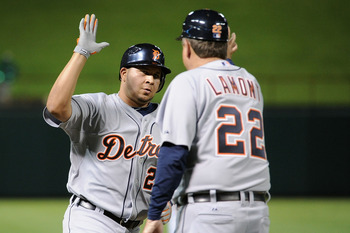 Harry How/Getty Images
2011 Stats: .299/.345/.478, 68 R, 21 HR, 86 RBI, 0 SB
I'm not completely sold on Jhonny Peralta, who managed to hit a career-high .299 despite moving to a notorious pitcher's park.
Nonetheless, Peralta has always been a great source of home runs.
Because of the uncertainty with his batting average, avoid reaching for Peralta, but know he's worth a look.
11. Eric Aybar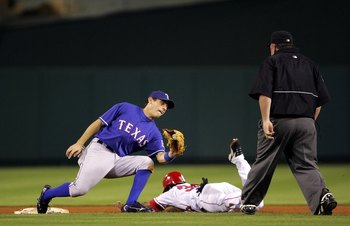 Stephen Dunn/Getty Images
2011 Stats: .279/.322/.421, 71 R, 10 HR, 59 RBI, 30 SB
Eric Aybar continues to steal more and more bases, and it's helped his fantasy value exponentially.
A solid source of average, runs, RBI and stolen bases, Aybar remains one of the more under-the-radar options at shortstop.
10. J.J. Hardy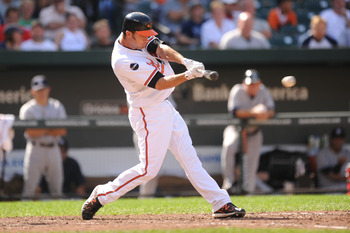 Mitchell Layton/Getty Images
2011 Stats: .269/.314/.459, 76 R, 30 HR, 80 RBI, 0 SB
Your first instinct might be to call Hardy's power into question. Well, let's look at the stats.
Between 2007 and 2008, Hardy hit 50 home runs. Between 2009 and 2010, he hit 17. What people are skipping over is that Hardy was hardly healthy between '09 and '10, and even applying that adjective to his 2011 campaign might be a stretch (he only played in 129 games).
I think Hardy has it in him to hit 30 home runs, and at shortstop, that carries a lot of weight. Even so, the uncertainty relegates him into late-round worthiness.
9. Derek Jeter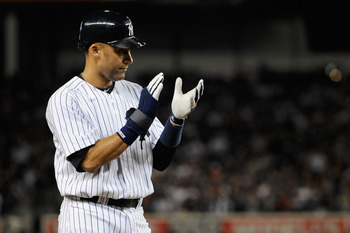 Patrick McDermott/Getty Images
2011 Stats: .297/.355/.388, 85 R, 6 HR, 61 RBI, 16 SB
At 37, Derek Jeter is a shell of the superstar he used to be. And yet, he keeps garnering fantasy value.
You're not going to see a lot of home runs or stolen bases, but Jeter continues to put up solid run and RBI numbers. The .297 average could be a byproduct of a good second half, but it shouldn't be discounted.
With Jeter, the best you can do is look at what he has to offer and evaluate him on your own terms.
8. Yunel Escobar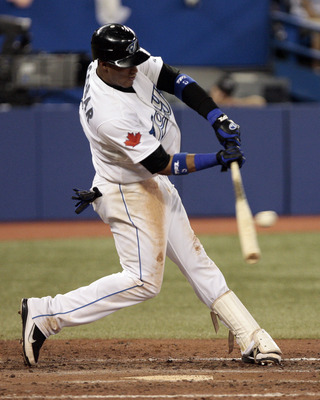 Abelimages/Getty Images
2011 Stats: .290/.369/.413, 77 R, 11 HR, 48 RBI, 3 SB
Escobar's 2011 line was a far cry from his stellar 2009, but a huge upgrade over a disappointing 2010. The move to Tornoto has reinvigorated his bat, and I expect more fantasy value this season.
Escobar is a solid hitter, capable of taking 15 balls deep, and he could even reach 20 bombs playing half his games at the Rogers Centre.
I really like the value and upside here. Most will sleep on Escobar; don't be one of them.
7. Jimmy Rollins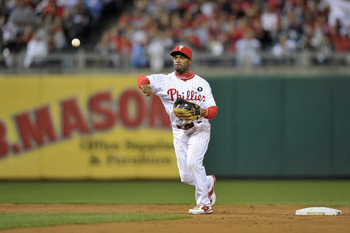 Drew Hallowell/Getty Images
2011 Stats: .268/.338/.399, 87 R, 16 HR, 63 RBI, 30 SB
Rollins' value is tied to him being healthy. At 33 and with a history of injuries, you can't count on J-Roll staying off the DL.
Rollins isn't a bad player, posting a solid slash line with 15-30 potential. However, the injury bug is too big a concern to waste an early pick.
It's also worth noting that the Philadelphia lineup is in decline. It's just a matter of time before Rollins loses run and RBI potential.
6. Dee Gordon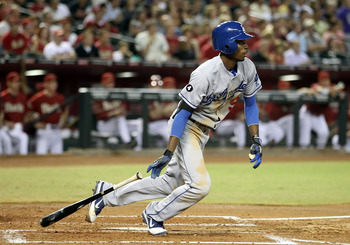 Christian Petersen/Getty Images
2011 Stats: .304/.325/.362, 34 R, 0 HR, 11 RBI, 24 SB
This is an aggressive ranking, but with as thin as shortstop is, I really like Dee Gordon.
He won't provide anything in the power department, but he has blistering speed. That means steals, but can also translate into cheap doubles and triples.
Set over a full season, Gordon's 2011 pace could easily garner 60-70 steals.
Gordon is a three-category player, but he has tons of upside as a late-round pick.
5. Elvis Andrus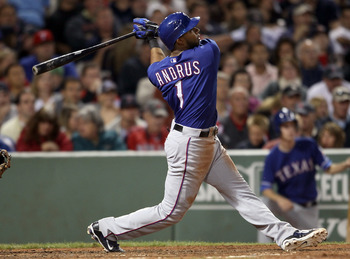 Elsa/Getty Images
2011 Stats: .279/.347/.361, 96 R, 5 HR, 60 RBI, 37 SB
Despite being mostly known for his stellar glove, Andrus caries lot of fantasy value.
He won't win you over with power, but his speed has provided three consecutive seasons of 30-plus steals. Batting on top of that Rangers lineup doesn't hurt either, making Andrus a valuable supplier of runs.
As he matures, Andrus continues to cut his strikeouts while increasing his batting average. I wouldn't be surprised if he broke the .280 plateau this season.
Andrus is a three-category player, but at a thin position like shortstop, that in no way mitigates his value.
4. Starlin Castro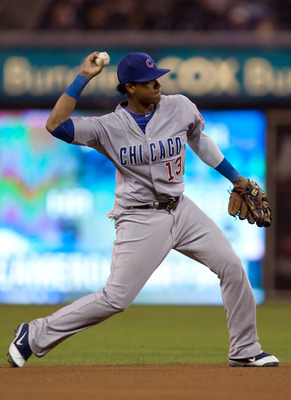 Kent Horner/Getty Images
2011 Stats: .307/.341/.432, 91 R, 10 HR, 66 RBI, 22 SB
Amongst all shortstops, I'm comfortable saying that Starlin Castro caries the most fantasy upside.
His numbers look okay, but not great. Well, factor in that he had 207 hits, eight second-half home runs and is only 21 years old. Intrigued yet?
Castro has the ability to win a batting title, the speed to steal 25-30 bases and the potential for 20 home runs (once he adds a bit more bulk to his frame).
If things start to come together for the young shortstop, he could very easily emerge as the best shortstop in baseball. I don't see that happening quite yet, but he's still going to be one of your best options on draft day.
3. Asdrubal Cabrera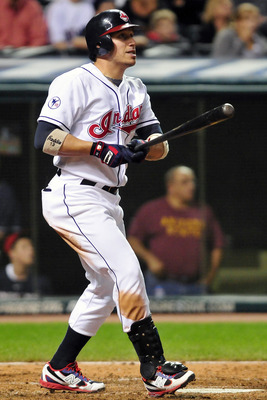 Jason Miller/Getty Images
2011 Stats: .273/.332/.460, 87 R, 25 HR, 92 RBI, 17 SB
In 2009, Asdrubal Cabrera established true doubles power, but he's never shown much penchant for the home run.
Enter 2011.
Last season, Cabrera posted career highs in home runs, slugging percentage, runs and RBI. If that will continue into this season has yet to be seen.
Cabrera is your prototypical high-risk, high-reward player. The power could flop, making Cabrera a much less intriguing option. If the power stays, he becomes a 25-20 threat at a position lacking players of that caliber.
Cabrera's bat caries risk, but the rewards could be great in 2012.
2. Jose Reyes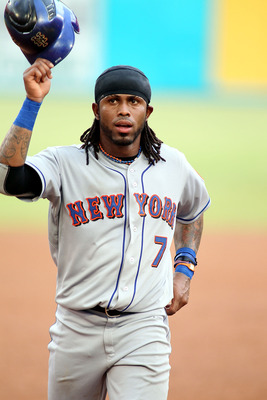 Marc Serota/Getty Images
2011 Stats: .337/.384/.493, 101 R, 7 HR, 44 RBI, 39 SB
There were a lot of things to like about Reyes in 2011 and a lot of things not to like. But, at a thin position like shortstop, he's still a No. 2 option.
First, what we should like. 2011 saw Reyes come into his contact skills, striking out 3.4 percent less than in 2010 while winning a batting title.
Despite a lowly seven home runs, Reyes still managed to post the highest slugging percentage of his career (aided by 31 doubles and 16 triples).
Now, what to be scared of. For the third season in a row, Reyes failed to eclipse 150 games (he played in 126). Swiping only 39 bags, Reyes continues to lack the burst that made him a 60-70 steal threat.
When healthy, Reyes is a force, and I like his prospects batting on top of the Miami lineup. However, injuries are a concern, and if the legs go, so does most of his value.
All I can say: Draft at your own risk.
1. Troy Tulowitzki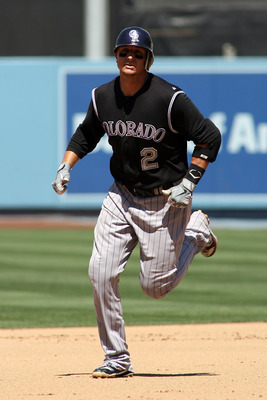 Jeff Golden/Getty Images
2011 Stats: .302/372/.544, 81 R, 30 HR, 105 RBI, 9 SB
At a thin position, Troy Tulowitzki shines above the rest. He's incredibly consistent, posting near-identical home-run rates three seasons in a row, and it doesn't hurt that he plays in Colorado.
He lacks prototypical shortstop speed, but can be counted on for between 10-20 steals.
One thing to note is that Tulowitzki is a second-half player. His .794 first-half OPS is well eclipsed by his .944 second-half mark.
Another concern could be injures. Tulo has only topped 150 games twice in his six-year career, with nagging injuries being the cause.
Nonetheless, it's not often you see a legitimate 30-20 threat at short. If position scarcity is your biggest concern on draft day, you could do no worse than taking Tulowitzki with your first-round pick.
Keep Reading