2012 NFL Combine: Why the Denver Broncos Will Target These 10 Players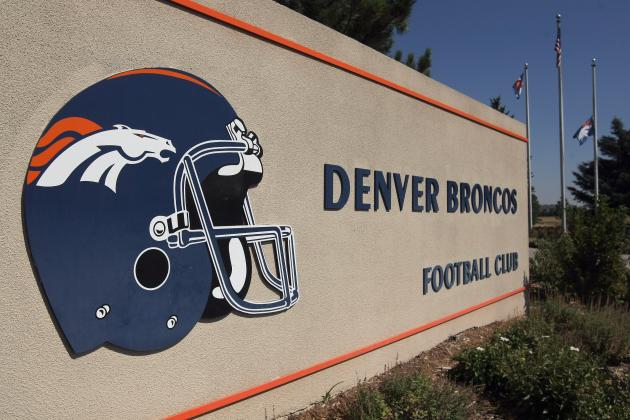 Doug Pensinger/Getty Images

The Denver Broncos were one of the most exciting stories in the NFL this season.
After starting the season just 1-4, they won seven of their final eleven games, including six wins in a row.
The NFL playoffs this season were a mirror image of the regular season for the Broncos.
While the Wild Card win over the Pittsburgh Steelers showed some of the promise that this team has, the following week's loss to the New England Patriots in the Divisional Playoff game showed that this is still a team with flaws.
The Broncos possess seven picks in the 2012 NFL Draft.
Here are ten players that they will be targeting in the NFL Combine and why.
Begin Slideshow

»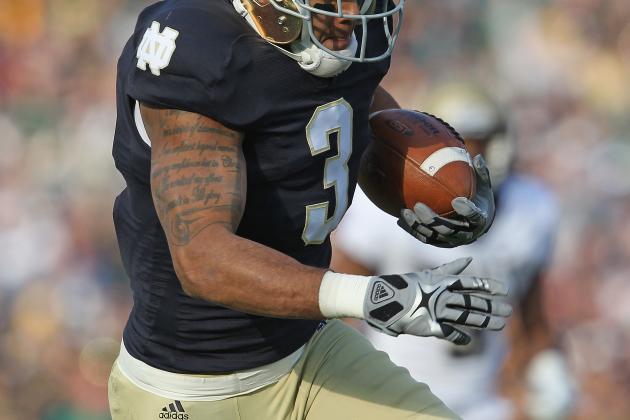 Jonathan Daniel/Getty Images

The Denver Broncos definitely need help at wide receiver.
Michael Floyd has the talent to be a big-time player in the NFL. At 6'3" and 224 pounds, he caught 100 balls this season and scored nine touchdowns.
While it's not certain Floyd will still be on the board when the Broncos' twenty-fifth pick comes up, he has had some off-field issues that could cause some teams to pass on him.
The Broncos will definitely look at Floyd in the NFL Combine.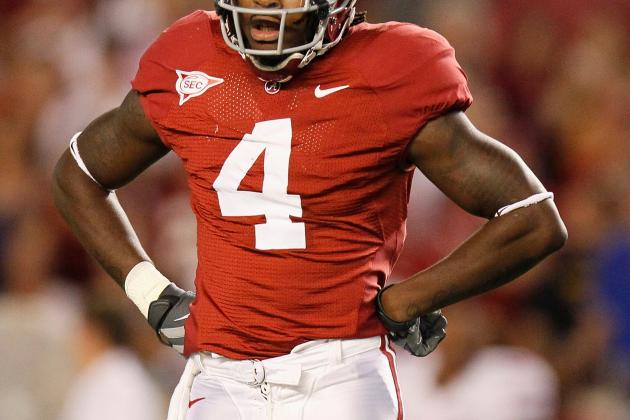 Kevin C. Cox/Getty Images

Alabama safety Mark Barron should be available should the Broncos choose to select him. He may go late in the first round or possibly fall to the second.
I don't think that Denver will select him with their first round pick, having taken safeties Rahim Moore and Quinton Carter in last year's draft. However, if he is available later, he will be on the Broncos' radar.
With Brian Dawkins aging and coming to the end of his career, Barron, a big-hitting safety who doesn't mind helping stop the run, may be worth taking a look.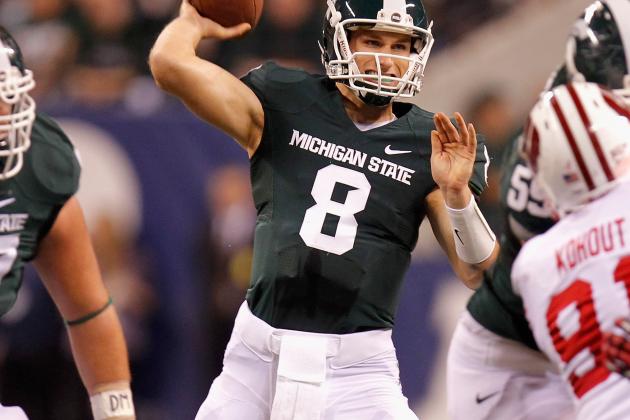 Gregory Shamus/Getty Images

I think the Broncos are better off looking for a savvy veteran to backup young signal caller Tim Tebow, but if a talent like Cousins is still on the board I think they check him out.
Cousins may fall as late as the third or fourth rounds so it wouldn't be a huge reach for Denver to take a shot at him.
With Tebow playing as physically as he does, this may just be an injury insurance policy. Cousins is a game manager who is used to handing the ball off and making high-percentage throws.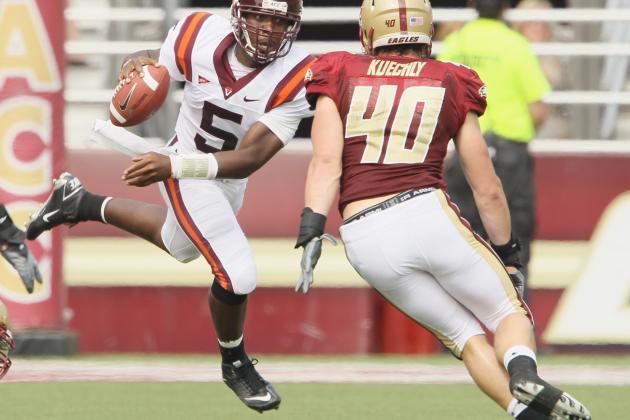 Elsa/Getty Images

Luke Kuechly is a football player. This is probably wishful thinking on the Broncos' part, but they will look at Kuechly and hope he falls to them.
Kuechly led the nation in tackles this season with 191.
A hard worker with great instincts, he should be a highly productive NFL player.
John Fox and Jack Del Rio would love to have Luke Kuechly.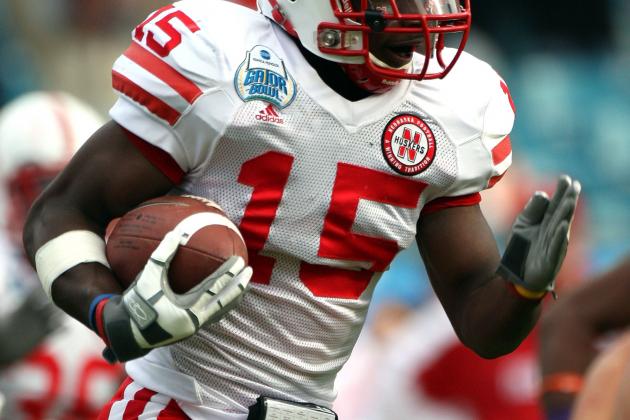 Sam Greenwood/Getty Images

The Broncos have two solid cornerbacks, but both Champ Bailey and Andre Goodman are getting up there in age.
Dennard is a bit undersized at just 5'10", but he is a playmaker and has shown the ability to shut down big-name wide receivers.
Dennard is strong and has the ability to jam a wide receiver at the line of scrimmage. With the Denver defense finishing just 18th in pass defense, Dennard will definitely be looked at by the Denver personnel.
Gregory Shamus/Getty Images

There are other defensive tackles that may rank ahead of Worthy, but Worthy does make sense for Denver to observe.
Just a junior, he has shown the ability to collapse the quarterback pocket as well as stuff the run.
Worthy hasn't been consistent enough to gain early first round attention, but as young as he is, that may just be a maturity issue.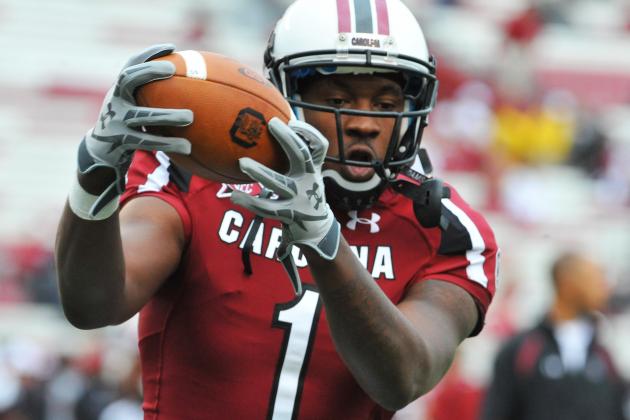 Al Messerschmidt/Getty Images

The top wide receiver in the 2012 NFL Draft will undoubtedly be Oklahoma State's Justin Blackmon.
The next two or three best wide receivers are up for debate.
The Broncos will take a long look at Alshon Jeffery. A 6'4", 233-pounder that has shown an ability to block, he would seem to fit in with the Broncos' offensive scheme the best.
Due to its poor quarterback play, South Carolina struggled to get the ball to Jeffery at times, but he managed to have an impact when he did get some balls thrown his way.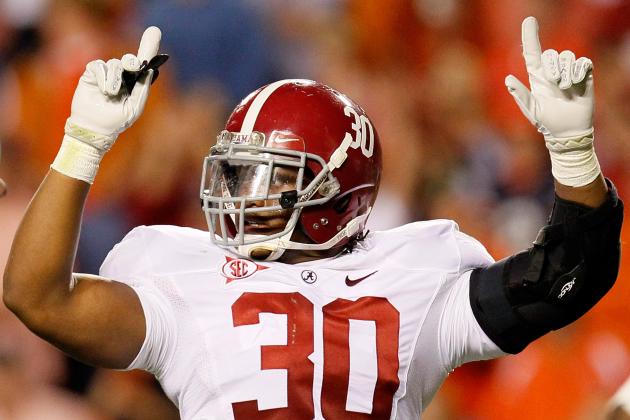 Kevin C. Cox/Getty Images

Dont'a Hightower is an inside linebacker that may fit the scheme of new Bronco defensive coordinator Jack Del Rio better than anyone else.
Hightower is a smart player who excels at making the tough inside tackles.
Hightower is also a player that has shown an ability to rush the quarterback on the blitz.
As a junior playing at Alabama, he recorded 81 tackles as well as three sacks.
The Broncos' defense needs that type of production.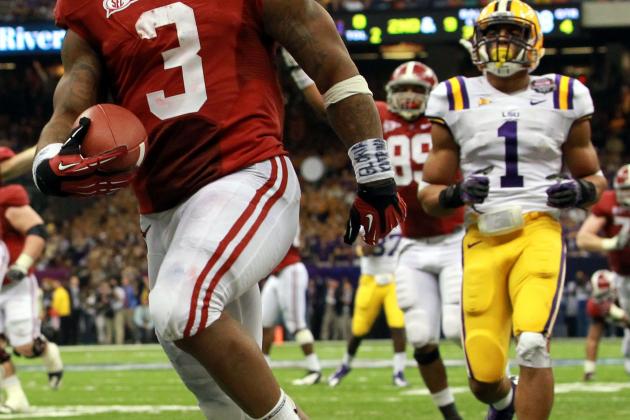 Ronald Martinez/Getty Images

Trent Richardson should be a top-fifteen pick. That would be just outside of the Broncos' range, but they will definitely take a look at the big running back from Alabama.
With Willis McGahee seemingly on the backside of his NFL career and Knowshon Moreno proving himself to be very undependable, the Broncos need to add a running back to the fold.
The Denver offense led the league in rushing and they will need to lean heavily on their run game in the future.
With seven picks in their control, the Broncos could work their way into a position to get Richardson.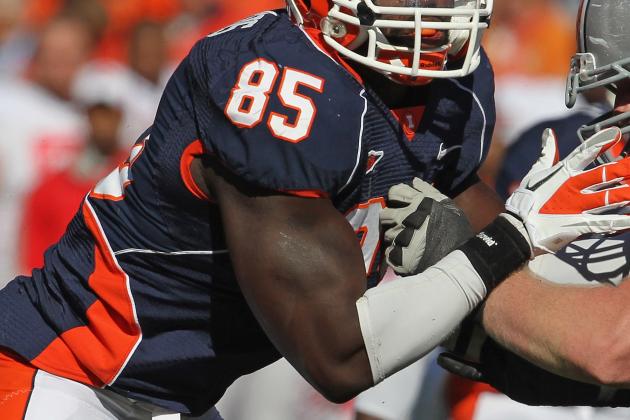 Jonathan Daniel/Getty Images

Whitney Mercilus can play the outside linebacker or defensive end spot in the NFL.
In just his junior year he managed to make 52 tackles and sack the quarterback 14.5 times.
He also caused nine fumbles.
With the Broncos's defense struggling to consistently generate pressure on the quarterback, Denver has to take a look at a player like Mercilus.
With Elvis Dumervil, Von Miller and Whitney Mercilus, the Broncos' defense would be a group that would suddenly be feared by many quarterbacks in the league.