Virginia-Clemson: Cavaliers Shoot Down Tigers, Stay One Game Back in ACC
February 1, 2012

Elsa/Getty Images
(The next line must be recited in your best Jeff Foxworthy voice).  If your hands look like they are in bad need of a manicure.........you might be a UVA basketball fan!
For the fifth time in seven ACC contests, the Virginia men's basketball team was involved in a nail biter, this time prevailing over Clemson, 65-61.
The Cavaliers overcame a four-point halftime deficit by scoring 39 points in the second half.  It was their most productive half thus far this ACC season.
Mike Scott, who is starting to get serious consideration as the potential ACC Player of the Year, led all scorers and rebounders with 23 and 10, respectively.
But, where Scott's contributions were sometimes enough by themselves in pre-conference games, he needed some big time help to put away this stubborn Clemson Tigers team. 
This night, that help came from Joe Harris.
Harris' offensive output had suffered noticeably since Coach Tony Bennett had started using more four-guard offense in the absence of center Assane Sene.  In that alignment, Harris was asked to play the second interior defender and to play the four on offense. 
But after Virginia was demolished on the boards at NC State, Bennett decided to discard that offense in favor of a more traditional lineup.  That change paid dividends all around, starting with a decisive 34-19 edge in rebounds for the Cavaliers 
Reinstalled on the perimeter, Harris responded with 19 points, his highest scoring game of the season.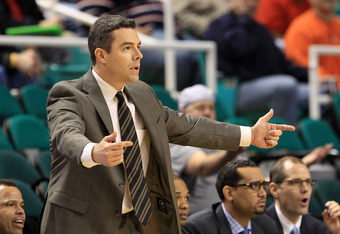 Streeter Lecka/Getty Images
Voted the AP Washington High School Player of the Year, Harris followed Bennett to UVA where he was primarily a spot-up three point shooter as a freshman. 
In the offseason the coaching staff asked him to work on getting his shot off the dribble and with some penetration.  Harris' diligent effort has been obvious this season, but his accuracy from three-point range has been a victim of the change in his offensive game.
Not on this night, however.
Able to roam the arc again, Harris connected on 5-6 three-point shots, with four of them coming in the second half, when the 'Hoos wrested control from the Tigers.
Clemson had extended their halftime lead to 35-30 when the Cavs went on a 19-3 blitz that included scoring contributions from five different players.
Virginia led by 10 points after a Harris three-pointer with just under seven minutes to go.  But, just as they did in Raleigh on Saturday night with the same lead at the same point in time, the Cavs couldn't shut the door.
A Devin Booker three-point jumper closed the gap to 61-58 with just under a minute to go.  And after a Sammy Zeglinski miss, Clemson had the ball with 21 seconds to go and a chance to tie.
After Coach Brad Brownell called timeout, Clemson inbounded to Andre Young, who used a screen at the top of the key to get a clean look at a tying basket. 
Mike Scott grabbed the missed shot and was quickly fouled.
Scott, an 80 percent foul shooter, drained both attempts to extend the lead to five.
The Tigers still weren't done, however, as Tanner Smith hit a difficult step-back three-pointer to narrow the margin to just two points with 13 seconds remaining.
The Cavs got the ball to Scott, who was again fouled with six seconds left and again hit both free throws to create the final score of 65-61.
Clemson played its first game without former McDonald's All-American, Milton Jennings, who was suspended indefinitely for "failure to comply" with academic standards.   Jennings was Clemson's fourth-leading scorer and was third on the team in rebounds.
Both Scott, with 23 points, and Harris, with 19, equaled their ACC career-high games.
It was also Scott's 30th career double-double.
Akil Mitchell played 35 minutes, by far his longest stint as a Cavalier, and responded with eight points and seven rebounds, as Coach Bennett stayed with his three-out and two-in lineup the entire game.  
Virginia, ranked 16th in this week's AP poll and 18th in the ESPN/USA Today poll, improved to 18-3 overall and to 5-2 in ACC play. 
This was the 100th game played by the Virginia men in John Paul Jones Arena.  UVA is 71-29.
The 'Hoos hit the road, traveling to Florida State on Saturday.  Clemson heads down the road to Blacksburg, where they'll meet Virginia Tech, also this Saturday.