Why Dana White Should Give Josh Barnett Another Shot in the UFC
February 1, 2012

In 2002, Josh "The Warmaster" Barnett was unceremoniously handed his walking papers after testing positive to several banned substances following his clash with the now-retired Randy Couture, in which he upended the latter to relieve him of the UFC heavyweight crown.
That was also the first and last time he'd be the division's champion, as he was subsequently stripped of the title.
That said, almost 10 years have passed and Barnett is still the scourge of the Zuffa-based promotion and everything Dana White; however, it's high time the company's president gave the once-wayward star a pass back into the UFC's fold.
For one, Barnett is still involved with pro wrestling, which per se constitutes a fanbase (which I'm sure he has) and in turn adds up to pulling power, something that can't be said for the majority of UFC heavyweights, let alone the companies' fighters in general.
He might not be a Brock Lesnar with regards to pay-per-view clout, but he'll most definitely cause some damage.
In addition to the aforementioned wrestling, he's plied his trade in various MMA organizations, such as Pride, Sengoku, Affliction and presently Strikeforce, which I'm sure has also furthered his celebrity.
Barnett is world renowned on the mixed martial arts circuit—a warhorse of 36 fights with only five defeats—he's also a top 10-ranked heavyweight and would give any of his contemporaries a run for their money.
At present, the Ultimate Fighting Championship's heavyweight assemblage is mightily shorn of talent. If Barnett is added to the equation then the division is bound to light up that little bit more.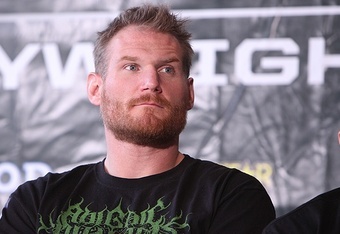 Also, the UFC is supposed to house the best competitors in the realm of MMA. Well, if that's the case, White has one who might be looking for a home in the not too distant future and that's regardless of the outcome of his fight with Daniel Cormier in the Strikeforce Heavyweight Grand Prix finale.
While it's been well-documented that White and Barnett have had their differences in the past (and seemingly the present), that's just what it was: the past.
Barnett's arrival to UFC's enclave will be a win-win situation for all parties concerned. It should be business first and deal with the personal stuff at a later date—if ever, for that matter.
And if White has any reservations of Barnett putting pen to paper in view of his past transgressions, he should fret not—though his last infraction (a metabolite of Drostanolone) was a catalyst in the folding of Affliction Entertainment, that however, was almost three-years ago.
I think Barnett must've learned his lesson by now, and if not, he'll never learn. But something tells me he ain't that stupid.
"Forgiveness is a virtue of the brave," and it's time for White to bury the hatchet, man up and give the Warmaster another shot at the UFC and all the glory that comes with it.
For additional information, follow Nedu Obi on Twitter.