Pistons vs. Knicks: New York Looks to Avoid Embarrassment at MSG Against Detroit
January 31, 2012

Mike Ehrmann/Getty Images
In their last home stand, the New York Knicks lost four straight games. They now return home for tonight's game against the Detroit Pistons and Thursday's game against MVP Derrick Rose and the Chicago Bulls.
The last time the New York Knicks played the Detroit Pistons, New York won easily, 103-80. That win came in the middle of a four-game winning streak when all was good in New York.
It should not be too much to ask for a win against the Pistons, but the way things are going, it is.
Now, they are playing on the same level as the 4-18 Pistons. 
The Knicks enter the game with only three more wins than Detroit, sitting at 7-13.
This is the battle of two teams who cannot get anything going at this point in the season. Both teams have lost nine out of 10 games.
After tonight, one of these teams will be in a deeper hole, while the other will try to turn their season around.
For the Knicks, they might also be fighting to keep Mike D'Antoni as their head coach. There has been speculation that his time in New York is running out if the Knicks do not turn it around soon.
A loss at the Garden against the lifeless Detroit Pistons might seal the deal.
The electricity at MSG on Christmas Day will all be forgotten with a loss tonight. That same joyous electricity will be turned into utter displeasure with a loss tonight.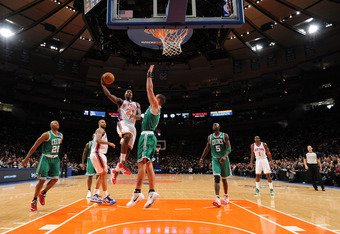 Christopher Pasatieri/Getty Images
The Garden might shower the Knicks with boos even with a less-than-dominant win against Detroit. There is a negative vibe from the Knicks and they better blow out Detroit tonight if they want to avoid a depressing atmosphere at MSG.
They will also have to avoid looking past Detroit with the Bulls coming into town Thursday night.
It looks as though the Knicks will be without Carmelo Anthony again, so they are going to have to find another way to win.
Believe it or not, this is a must-win game for the New York Knicks.
For more on Mike D'Antoni, visit here.