Top 10 Fantasy Forwards: Players Finding Their Game
January 31, 2012

Richard Wolowicz/Getty Images
Each week, we will look at a top-10 fantasy forward list. The list will be based on fantasy impact over the past few days and weeks. Most elite stars are consistent scorers, but there are several players who are very streaky, so keep an eye on their stats so that you can dress them while they are on a hot streak.
No. 10: Vaclav Prospal (Columbus Blue Jackets) is pointless in his last eight games and is one of many reasons why the Blue Jackets failed to turn the corner this season. Prospal is on pace for 50 points; however, the chance of that happening is very slim. If you have been holding onto Prospal hoping for things to change, it's time to drop him and move on.
No. 9: Mathieu Perreault (Washington Capitals) is showing he is capable of being a top-six forward on the Capitals; however, once Alexander Ovechkin gets off his suspension, expect Perreault to be move into the bottom six. Perreault has five points in the last two games, including a hat trick against the Boston Bruins. Perreault has the potential to be a second-line player with a career high of 65 points.
No. 8: David Desharnais (Montreal Canadiens) is potentially the only bright spot this season for Montreal. He has points in nine of the last 12 games, including two three-point games. Desharnais has already smashed his rookie totals and is on pace for 58 points. He is not yet a protectable player, but if you have a farm system, you can stash him on do it.
No. 7: Vincent Lecavalier (Tampa Bay Lightning) is on pace to return to the 30-goal and 70-point range. Lecavalier is on a six-game point streak with 10 points, and for the month of January, was held pointless in only one game. Lecavalier has 15 points in 11 January games, including six goals.
No. 6: Justin Williams (Los Angeles Kings) has been a regular contributor once Darryl Sutter took over the coaching duties. Under Sutter Williams has scored at least a point in 11 of 17 games.  Williams has points in eight straight games, three goals and 10 points. As long as Williams can stay healthy, expect him to continue to put up points.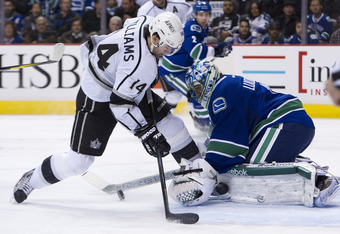 Rich Lam/Getty Images
No. 5: Mikhail Grabovski (Toronto Maple Leafs) has been linked to many trade rumours, but all he continues to do is put up points on the Leafs second line. He scored career highs last year with 29 goals and 58 points; this season, he is on pace for 28 goals and 56 points. The NHL named Grabovski first star of the week after scoring five points in two games, including a four-point night against the New York Islanders.
No. 4: Pavel Datsyuk (Detroit Red Wings) is sitting third overall for total points, just five points behind leader Evgeni Malkin. He is also third overall for assists leader, just two behind leader Henrik Sedin. Datsyuk has not gone pointless in back-to-back games since the middle of November. Datsyuk is on pace for another 87-point season.
No. 3: John Tavares (New York Islanders) has been on an offensive tear lately, as he is finally starting to put up the numbers many hoped for when they drafted him for their fantasy team. Tavares has nine goals and 22 points in the last 14 games. Over that span, Tavares has recorded multiple points in seven games. 
Since December, Tavares has been held pointless in just six games and only once pointless in back-to-back games. He is on pace for a career-high 34 goals and 83 points, but those numbers won't stay career highs for very long.
No. 2: Marian Hossa (Chicago Blackhawks) has rebounded this season back to the offensive player he once was. After two seasons of scoring around 0.88 points per game and dealing with injuries, Hossa is back over a point-a-game and is on a nine-game point streak with 11 points. He has made it on the score sheet in all but four games since Dec. 3, scoring 11 goals and 29 points in 24 games.  Hossa is on pace for 33 goals and 87 points.
No. 1:  Evgeni Malkin (Pittsburgh Penguins) has saved the Penguins this season. With Sidney Crosby out, someone had to step up, and Malkin has done just that. He has eight goals and 12 points in the last six games, including a five-point game against the Lightning. He looks to return to the 100-point plateau for the third time in his career and is scoring at a 1.38 point-per-game rate, which is tied for NHL career high.
Aaron Brouwer is the co-creator of www.fantasyhockeycoach.com. FHC is a free fantasy hockey service that developed a ranking system combining post-lockout statistics, current factors and our own hockey knowledge. Brouwer writes about fantasy hockey on Bleacher Report. You can contact Coach Brouwer at brouwer@fantasyhockeycoach.com.