NFL Draft 2012: The 7 Most Controversial Players Who Will Be Selected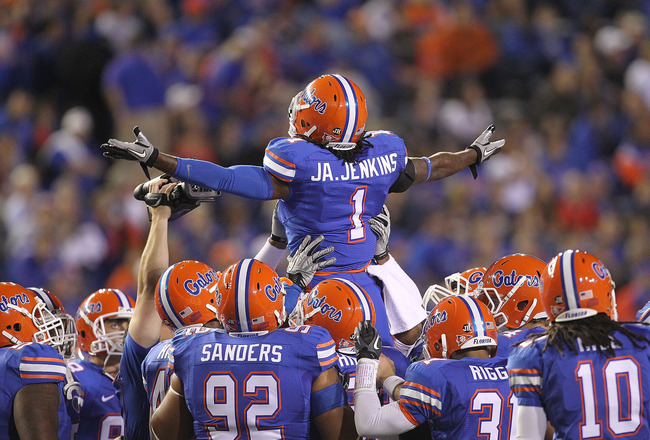 Mike Ehrmann/Getty Images
With the Super Bowl just around the corner, the NFL Draft is closely approaching.
There are always noteworthy prospects who are drafted too soon due to injuries or who have some character issues. Just to be clear, it seems the less politically-informed way of saying character issues is they either have been or have a chance of being arrested in the near future.
The other controversial players fit in the "Tim Tebow category" because they have loads of intangibles, but haven't put it all together and may never.
The next seven players listed can be labeled potential stars, draft busts or anywhere in between.
However, one moniker is for sure with a potential range like that; these players are wild cards to say the least.
No. 7: Ryan Tannehill, QB, Texas A&M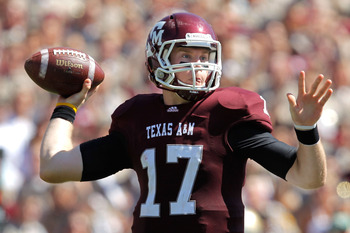 Sarah Glenn/Getty Images
Ryan Tannehill had an intriguing career at Texas A&M, considering he played his first two years at wide receiver. Tannehill brings a lot of intangibles with him to the NFL Draft, and I consider him to be Tim Tebow without the flawed release. He is quick on his feet, has relatively good accuracy and he definitely showed that he can win at A&M.
In 2011, he had his strongest showing in a victory over the highly-touted Heisman winner, Robert Griffin III, and Baylor, managing 415 yards, six TDs and only one interception. Tannehill took No. 3 Oklahoma State down to the end, losing on a game-winning TD throw, 30-29. His resiliency and drive to win is rivaled only by Tebow before he was drafted.
Now here comes the downside. Tannehill lacks the mechanics, footwork and ability to throw the deep ball that an average NFL quarterback would have to be able to do. He is a project player thought of as a mid to late first-round pick, but given his downside and the time it would take to show him the way at QB, the risk/reward should actually make him a late second to early third-round pick.
No. 6: LaMichael James, RB, Oregon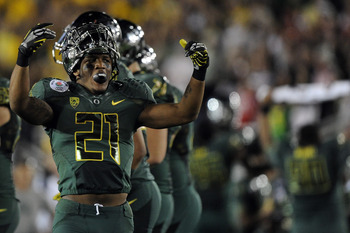 Harry How/Getty Images
LaMichael James is the classic case of a player who comes out too early and isn't ready for the NFL level yet. James is 5'9" and only 185 lbs., making him one of the smallest players in this year's draft, but of course, size doesn't matter when you're a running back. Just ask Ray Rice, Maurice Jones-Drew or Darren Sproles.
James found himself in the middle of Heisman talks throughout his career at Oregon, even finishing third in 2010. However, in what should have been his best season to date, James was bogged down by a couple of injuries in 2011. Though he finished strong, the Oregon tailback is widely known as fragile, and that is not exactly something teams want in the NFL.
However, showing the explosiveness and speed he showed when he was healthy, James has warranted a mid-round draft selection this year. I believe that if he stayed for his final season and proved he could stay healthy, he may have been able to push himself into the first-round draft in 2013.
No. 5: Vontaze Burfict, LB, Arizona State

Witness the power of Vontaze Burfict

Vontaze Burfict, the aggressive, powerful ILB, is the best defensive player to come out of ASU since Terrell Suggs and is largely thought of as a late first-round pick. His raw talent, size and speed could have made him a top-10 pick, but his tendency to hit anyone anytime he wants to has put many NFL teams on notice.
Burfict has a problem keeping his cool on the field too, getting into fights and slamming his helmet on the sidelines. In his time at ASU, he had zero discipline and was a master at capturing the yellow flag on multiple occasions. He could easily become a locker-room cancer if he is on a losing team or when things aren't going his way.
I hope he lands on a team like the Eagles, Steelers or Ravens that can wrangle him in and really help him hone his ability, because if he goes to the wrong situation, he could be looking at the draft-bust tag really soon.
No. 4: Chris Polk, RB, Washington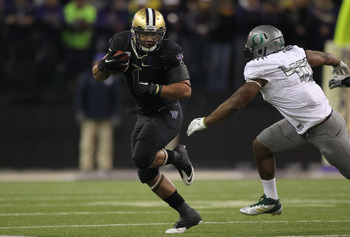 Otto Greule Jr/Getty Images
Chris Polk is not just your average running back, he is THE average running back. Polk is a strong example of not being particularly bad at anything, but he doesn't excel anywhere. Most scouts mark him as having average speed, hands and explosiveness. Of course, who's to say that when he does get drafted, he doesn't develop one of his slightly above average skills like breaking tackles and become a strong short-yardage option.
He is currently projected somewhere between the late second and early fourth round, but with his all of his average ability, who wouldn't draft him, right?
No. 3: Jared Crick, DT, Nebraska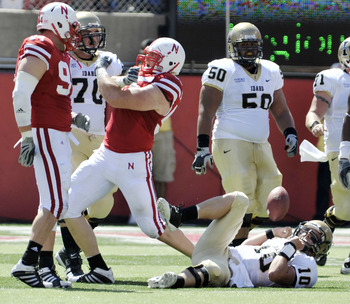 Eric Francis/Getty Images
The last DT drafted out of Nebraska, Ndamukong Suh, was also controversial, but for a different reason then Crick, whose injury lands him on this list. Crick's senior season ended in October after tearing his pectoral muscle against Ohio State. He has been rehabbing and preparing for the NFL Draft ever since, and according to KETV Omaha, the injured standout will likely have a chance to show scouts just how injured he is at the combine in February.
If the injury proves to be an issue, Crick would be an incredibly risky first-round pick, drawing comparisons to Da'Quan Bowers, who slipped all the way from a high first-round pick to a late second due to his knee injury.
However, on the flip side of that, if the Cornhusker can come back at full strength, he will be a high pick come draft time.
No. 2: Brandon Weeden, Oklahoma State, QB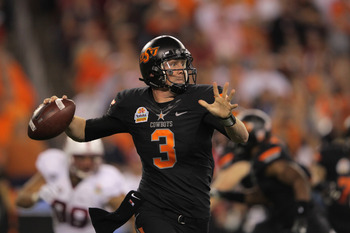 Doug Pensinger/Getty Images
Weeden is easily one of the most debated about topics coming into the NFL Draft because by midseason this coming year, he will be 29. There are so many questions surrounding him. For instance, if your team needs a QB, do you draft him, how quickly can he develop, should he be drafted as a back-up and what kind of deal do you sign him to once he is drafted?
His skill at the position definitely will see him get drafted, but who can take the chance on him while potentially wasting a first or second-round pick? I think the best fits for Weeden, if he gets drafted that early, are the New York Jets or Seattle Seahawks because they both have question marks at QB, and the arrival of Weeden could push them to the next level if he develops quickly.
No. 1: Janoris Jenkins, North Alabama (Formerly Florida), CB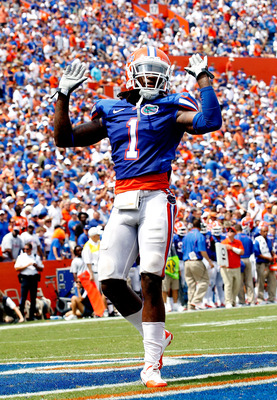 Raise your hands if you have character issues
Sam Greenwood/Getty Images
Finally, Janoris Jenkins, arrested three times, kicked out of Florida and forced to join North Alabama, all in a two-year span. Surprisingly, this cornerback has the most talent of all of the aforementioned players and the most issues. Jenkins will likely land somewhere in the middle of the first round despite all of his issues because of how talented of a player he is.
Obviously, any team is really risking a lot taking him because he got into trouble without money. What do you think will happen when he gets money? Interestingly enough, though, based on an interview Jenkins had recently with the Chicago Sun-Times, it seems as though his time in North Alabama may have humbled the once-troubled prospect.
Keep Reading