Michigan Football Recruiting: 5 Recruits Who Will Make a Difference in 2012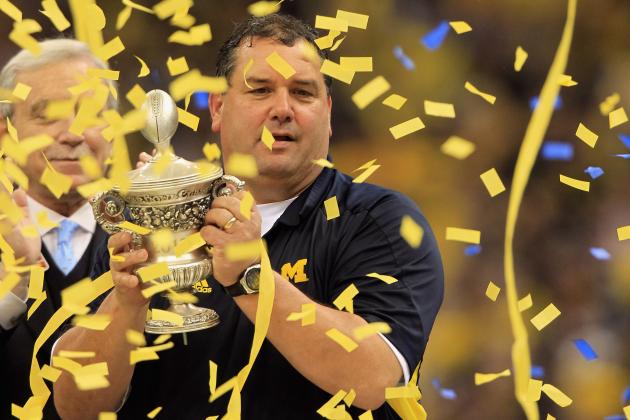 Matthew Stockman/Getty Images

Coming off a Sugar Bowl victory and with 24 commitments in his second recruiting class, University of Michigan head coach Brady Hoke has gotten the program back on track with what looks to be a bright future.
Currently ranked by Rivals.com with the No. 5 recruiting class and eighth-best class by ESPNU, Michigan's class could potentially grow with a few signing-day decisions.
Looking at the commitments they have right now before national signing day 2012, here is a list of five of Michigan's recruits from the class of 2012 that can make a difference for the Wolverines next fall.
Begin Slideshow

»
With Junior Hemmingway graduating and Darryl Stonum dismissed by Hoke for a violation of team rules, the Wolverines will have openings at wide receiver in 2012.
Incoming freshman Amara Darboh of Dowling High in West Des Moines, Iowa, is a big receiver with good height and speed who has the opportunity to put some points on the board for Michigan.
Listed at 6'2" and 190 lbs, Darboh is good at using his size to his advantage and can be tough to bring down.
U-M quarterback Denard Robinson will welcome a target like Darboh to throw to. Darboh has good leaping ability to catch balls thrown over his head and adjusts his position and movement well for poorly thrown balls.
Rivals.com lists Darboh as a 4-star prospect and the 30th-best wide receiver in his class.
A tough-as-nails linebacker, Royce Jenkins-Stone is rated as the ninth-best outside linebacker of his class and the 113th overall prospect in the ESPNU 150.
Jenkins-Stone has a good football sense and strong instincts against the run and the pass. He has the strength to beat blockers through gaps and congested lanes to put pressure on quarterbacks and running backs. He also is solid in zone and man coverage and reads quarterbacks well.
He plays every down until the whistle is blown and should never be counted out of a play.
If anything, he should be a strong contributor on special teams early on, though he already has the size and athleticism to play right away in the Big Ten.
A month after Royce Jenkins-Stone committed to coach Brady Hoke, his Cass Tech teammate, Terry Richardson, also decided he would play football for the Wolverines.
A cover corner, Richardson will add athleticism to the shaky Michigan secondary. While much improved under defensive coordinator Greg Mattison, U-M has little depth at defensive back, something that Richardson will improve.
While lacking size, listed at only 5'9" and 160 lbs, Richardson plays much bigger than he is. He is quick in zone coverage but is just as good at turning and running with receivers in man-to-man coverage.
Richardson is smart player with great hands, leaping ability and timing with the ball.
Ranked as the fifth-best cornerback and 68th overall recruit in the ESPNU 150, Alabama, Ohio State, LSU, Notre Dame and USC are some of the schools he turned down to stay home and play for the Wolverines.
Second-team All-Big Ten selection defensive tackle Mike Martin has graduated, leaving a big hole to fill on an already-thin defensive line at Michigan.
Ranked by Rivals.com as the No. 3 defensive tackle in the class and a 5-star recruit, Ondre Pipkins has a shot to do what Martin did and play a significant amount of snaps as a true freshman.
Pipkins, out of Park Hill High in Kansas City, Missouri, turned down offers from powerhouses Alabama, Tennessee, Ohio State, Florida and Oklahoma, among others, to play for the Maize and Blue.
He has great size (6'3", 325 lbs) and is more than capable of collapsing the pocket. He needs to work on his consistency, though, as he has shown flashes of his great potential.
The other Rivals.com 5-star recruit committed to Michigan, Kyle Kalis is a huge body that can help protect Robinson and open lanes for Fitz Toussaint and the Michigan running backs.
Listed at 6'5" and 302 lbs., Kalis is athletic enough to play offensive tackle, but could end up playing as a guard.
Ranked as the 132nd-best recruit in ESPNU 150, Kalis is a tough player that has dominated his competition in Ohio as he finishes through each block.
Next to Jenkins-Stone, Kalis may be the player that is most ready to contribute to the Wolverines right away.