UFC 143 Star Ed Herman: "I Was Afraid I Would Never Fight Again"
February 2, 2012

Ed Herman was afraid.
Afraid of never strapping on his gloves again. Afraid of never having that feeling of entering the Octagon in front of tens of thousands of fans.
But most importantly, Herman was afraid of never having the opportunity to compete again.
Herman recently weighed in with Bleacher Report's Garrett Derr on his sleepless nights and the resiliency he showed in order to overcome a serious knee injury he endured a little over two years ago.
"The first injury I had I was pretty bummed out. I had to get surgery, but I was confident that I could and would make a comeback," stated Herman. "But, then I re-injured it again in my fight against Aaron Simpson at UFC 102 and really questioned if I would ever make the return."
"It was one of the hardest times in my life," shared Herman.
But, after the surgery I started to heal up. I stayed mentally positive. At that point I knew that I was going to come back and fight again. I had a lot of doubts at first whether or not I was going to come back at all. But, I was resilient and I came back. I spent a lot of time in rehab and went at it really hard," shared Herman. "It's great to be back."
Herman's injury proved to be an eye-opener as it allowed him to take a step back and examine how he wanted the rest of his career to play out.
In just his first fight back, Herman defeated Tim Credeur by way of knockout just 48 seconds into the very first round at the Ultimate Fighter Season 13 Finale.
His success continued into his very next bout when he met Kyle Noke at UFC Live: Hardy vs. Lytle when the UFC traveled to Milwaukee, Wisc.
Once again, it was Herman who finished off his opponent in the opening round—this time by submission.
"I was able to step back from the injury and realize how close I was to losing my career and never fighting in the UFC again. I'm extremely lucky to be there today. I'm able to compete and the two wins over Credeur and Noke felt great. It was great to come back and be healthy," said Herman. "Not only to win but to come back and win in impressive fashion."
Herman will attempt to tie his longest winning streak since joining the UFC in 2006 when he takes on Clifford Starks (8-0) at UFC 143.
But, in order to do so, Herman will have to get by the unbeaten Starks, who is coming off his Octagon debut, where he defeated Dustin Jacoby at UFC 137.
Starks has yet to fall to defeat in his mixed martial arts career, but he's yet to face a complete fighter with the skill set of Herman.
While Herman certainly respects every opponent he encounters, he feels he brings something to the table that Starks cannot—the entire table.
"I feel that I have the advantage everywhere in my mind. He's mainly a wrestler and that's really what he's known for. I looked up his college credentials and when I took a look at them I noticed he was a 50/50 wrestler in college. I think my wrestling is just as good, if not better than his," stated Herman. "My striking is also better."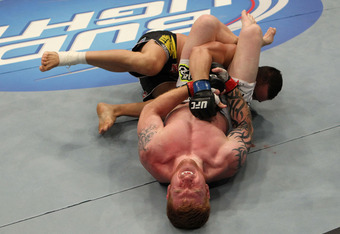 "I would love to knock him out. But you know, I feel that I am real well-rounded. So, if I can knock him out, then great, but if not, I'll take him down and submit him," said Herman. "If he takes me down, I'll submit him from my back."
Not only is Herman one of the more well-rounded middleweights in the UFC today but according to those around him—he's short-tempered.
"You know, growing up I was always short-tempered. I was that short-tempered, red-headed kid," laughed Herman.
"Chris Leben and Chael Sonnen actually came up with it when I was starting amateur and didn't really have a nickname at that point in my career. So, it kind of just stuck ever since then," said Herman. "All of a sudden, people who knew me forever kind of thought it was perfect for me."
While Herman's mind is set on Starks and only Starks, he often finds himself envisioning what his future may hold.
And, in that future is the UFC middleweight championship.
"I for sure feel that I can someday win the title. I think my skills are coming together more than ever. I've really matured a lot physically and mentally over the years. My mind is better than it has been in the past," shared Herman.
"Half the battle is mental, so I feel I'm more mentally prepared than ever. I thank Clifford for taking the fight on short notice so that I can get back in there," said Herman. "This is just another step of the journey."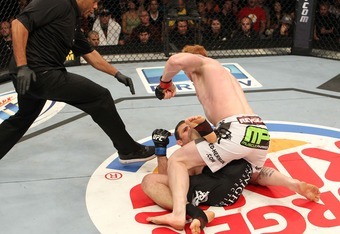 With the topic still burning like a winter fire, Herman shared his views of the Anderson Silva vs. Chael Sonnen dilemma, as he's formed a close relationship with the outspoken Sonnen.
"Of course, Silva is ducking Sonnen. Why would he want to fight Chael again? He got lucky by catching Chael in that triangle arm-bar the first time," stated Herman. "I'm not saying that he's faking the injury, but he definitely doesn't want to fight Chael again."
"Who would want to fight Chael? Anderson sure as heck doesn't want to fight Chael. I don't know if anyone does," shared Herman. "Chael is so tough."
As Herman continues to advance in his career, he remembers those who've helped him become the fighter he is today.
"I've had a lot of help along the way. Robert Follis has been my mentor from the beginning of my career. All the guys at Team Quest—Matt and Randy," said Herman. "Of course Chael, Chris Leben, and all of the guys who've helped me get better."
"Now I got my own team and gym and I have a lot of support coming from there. My family and friends are great and have always been there as well."
For additional information, follow Garrett Derr on Twitter.