The Undertaker Returns to WWE Raw Supershow...with a Terrible Wig
January 31, 2012

Not surprisingly, last night's post-Royal Rumble edition of WWE Raw Supershow featured the return of The Undertaker to confront Triple H and seemingly challenge him to a match at Wrestlemania.
Also, not exactly surprising but still off-putting was the fact that he was wearing an incredibly awful wig under his hat.
After photos circulated the Internet last year, it was no secret that the man whose paychecks (hopefully) say "Mark Calaway" shaved his head last year. Plenty of fans wondered why he did it and if his hair would grow back in time for his return.
So far, we don't have an answer to the former, but the answer to the latter is a definite "no."
Whoever assembled the photo gallery about the segment on WWE.com took care to only use photos in which the lighting or camera angle hid what was going on up there. Because of this, I used a screen capture for this article.
Look at that thing!  
Whoever worked on it didn't even bother to properly fit it on The Undertaker's head or style it to look like real hair. It's just sitting there, with curls at the bottom that imply he's updated his usual creepy, larger-than-life, wrestling-cowboy-zombie-funeral-director look by converting to Hasidic Judaism.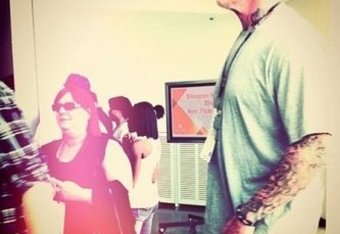 This all comes at the same time that The Undertaker's "brother" Kane is also wearing a wig, since he's gone back to his old masked look. However, if you didn't know that Kane had been rocking a shaved head for years, you'd think it was his real hair, as WWE has done a much better job with what's sitting on his head. 
The Undertaker's wig looks like part of a child's Undertaker Halloween costume.
WWE has tremendous resources at their disposal, and they gave us that.
Meanwhile, where do we go from here?
Is The Undertaker just wearing the wig until he has enough hair to add extensions that can be worn during a match?
Will WWE shoot an angle that leads to him wearing the mask he used after Mabel broke his orbital bone so he can attach the wig to it?
Will he wrestle with his hat on? Will Triple H accidentally pull the wig off at Wrestlemania, revealing that The Undertaker's newest magic power is alopecia?
Will WWE use fishing wire to have the hat and wig float off The Undertaker's head as Triple H looks on in horror?
The hell if I know.