Rob Gronkowski Injury Update: Gronkowski Seen Without Walking Boot at Media Day
January 31, 2012

Andy Lyons/Getty Images
For an hour Tuesday morning at the Super Bowl's media day, Rob Gronkowski was basically drilled about his high ankle sprain—we all could see that coming. However, Gronkowski brought something to new to the table, as he was not wearing his walking boot. 
Gronkowski has not been in his walking boot since Monday and told ESPN Boston's Mike Reiss at media day that he is unsure of his status for the game Sunday but is considered day-to-day: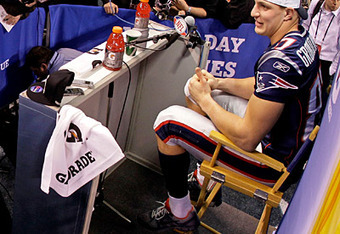 I don't know yet (if I'll be able to play Sunday) We're going day by day. Making new steps every day, feeling better every day. That's a positive sign and you just want to keep going in the right direction. I want to be out there with the team obviously. I want to help out the team obviously. Just taking it step by step, getting better every single day.
In other Patriots injury news from the Super Bowl's media day, I released a report indicating that the team's right tackle Sebastian Vollmer will play in Super Bowl XLVI, despite suffering back and foot injuries. 
Be sure to check out Tony Santorsa's blog: PatriotsPlus