Pittsburgh Pirates: 7 Greatest Power Pitchers in Franchise History
January 31, 2012

Justin K. Aller/Getty Images
Two weeks ago I looked at the top 5-tool stars in Pirates history and this week I will look into the top power pitchers in Pittsburgh Pirates history.  I will start out by laying down my criteria for selecting these players.  The pitcher in question must either be a current Pirate or have pitched a minimum of 350 or 1,000 innings for them.  The 350 number is for primary relievers and 1,000 for starters.  They also must have a strikeout per nine innings (K/9) ratio of at least five (5) for their career.
7. John Candelaria
With a career 124-87 record as a Pirate, "The Candy Man" had a successful time in the Steel City.  His 1,159 career strikeouts ranks him fourth in Pirates history. Candelaria pitched for the Pirates from 1975 through 1985 and then again in his final season in 1993.  During his Pirates career he compiled a 2.74 ERA and sported a 5.6 K/9 ratio and a very good 2.66 K/BB (strikeout to walk) ratio.  The lefty Candelaria ranked just once in the Top 10 of the National League in strikeouts—sixth in 1983 with 157.
Career Highlight: On August 9, 1976 Candelaria pitched a no-hitter against the Los Angeles Dodgers at Three Rivers Stadium.
6. Doug Drabek
As a Pirate from 1987 to 1992, Drabek went 92-62 with a 3.02 ERA and also contributed 820 strikeouts.  Following the '92 season, Drabek left the Pirates for the Houston Astros for the next four years and ended his career with one year stays in both Baltimore and with the White Sox. Drabek, a right handed pitcher, posted solid ratios of 5.4 K/9 and 2.43 K/BB while with the Pirates and placed in the Top Five once in strikeouts in 1992 with a career high of 177.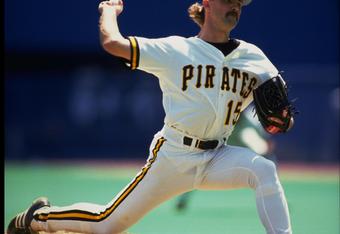 Rick Stewart/Getty Images
Career Highlight: Drabek became the Pirates second Cy Young award winning in 1990, joining Vern Law who won the award in 1960.  That year Drabek went 22-6 with a 2.76 ERA with 131 strikeouts.
5. Bob Moose
Moose was a lifetime Pirate as he pitched from 1967 through 1976 wearing the same No. 38 Bucco jersey. Moose compiled 827 strikeouts in his career (125 average a season) to a 76-71 career record and 3.50 career ERA.  During his Pirate career he split time as a starter and a reliever but still put together ratios of 5.7 K/9 and 2.14 K/BB.
Career Highlight: Moose threw a no-hitter on September 20, 1969 in Shea Stadium against the New York Mets.  He also holds the Pirates' record of strikeouts in a game by a right-handed pitcher with 14 against the Phillies in 1969.
4. Elroy Face
Elroy Face donned the Pirates jersey from 1953 through 1968 and compiled 188 saves during his Pirate career. The right-handed Face went 100-93 with a 3.46 ERA over his 15 seasons with the Pirates, even throwing six complete games during his short stint as a starter to start his career.  Face struck out 842 batters to the ratios of 5.8 K/9 and 2.43 K/BB.
Career Highlight: Face attained the MLB record of 18 wins as a relief pitcher in 1959 with another record of 17 consecutive wins by a relief pitcher.  He also holds the record for single-season win percentage, set in that same 1959 season with an 18-1 record (.947).  Face is also a three-time save champ with 193 saves ranking him 44th all-time.
3. Rod Scurry
Pitching with the Pirates from 1980-1985, Scurry, a left-handed reliever, put up a 17-28 career record with a 3.15 ERA.  He struck out 345 batters during 377.1 relief innings with the Pirates.  Good for a 8.2 K/9 ratio.  However, he did give up a lot of walks too, which is the norm with power pitchers as he only had a 1.54 K/BB ratio.
Career Highlight: Pirates single-season record of 95 strikeouts as a lefty reliever.
2. Joel Hanrahan
Since receiving the 6'4", 245-pound Hanrahan from the Washington Nationals in a trade on June 30th, 2009 that sent Nyjer Morgan and Sean Burnett and also brought over Lastings Milledge, Hanrahan has recently been the best reliever for the Pirates.  Hanrahan, a 30 year-old right-hander, has a 5-6 record, 2.55 ERA, and 46 saves in about 170 career innings with the Pirates. In 2010, Hanrahan posted an impressive 12.9 K/9 ratio as he struck out 100 batters in just under 70 innings.  For his career he has a 9.8 K/9 ratio and an also impressive 2.37 K/BB ratio.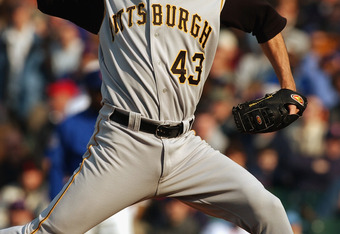 Jonathan Daniel/Getty Images
Career Highlight: The 2011 season was his best season as he made the National League All-Star team, posted a 1.83 ERA and produced 40 saves, becoming only the third Pirate to do that and the first since 2004.
Notable Players That Didn't Make the List and Pirates Power Team Records
The 1969 Pirates set the club record with 1,124 strikeouts as a team that season, and in 1984 they had six pitchers eclipse the 100 strikeout plateau.
Bob Friend: Team career mark of 1,682 strikeouts over his Pirates career.  K/9 inning ratios on the low side for the list.
Jose DeLeon: Missed the mark with only 479.1 inning pitched as a Pirate starter, but holds the record of 14 strikeouts by a right-hander, which he set in 1985 against the Mets.  Ratio of 8.1 K/9 and 431 strikeouts in his Pirate career.
Kris Benson: Pirates single-season record holder of 184 strikeouts in a season for a right-handed pitcher in 2000.  Missed the 1,000 inning cut-off with only 782 innings as a Pirate.  553 career Pirate K's and a K/9 ratio of 6.4.
Rich "Goose "Gossage: Pitched one season (1977) with the Pirates and set the Pirate record for most strikeouts in a season by a right-handed reliever with 151.  His 10.2 K/9 ratio that year was the best in his career.
Mike Williams: Missed the cutoff with the Pirates at 321.2 innings, had a 8.7 K/9 ratio and totaled 140 saves and 312 K's.  He was one of three Pirates pitchers with 40 saves in a season (Hanrahan and Jose Mesa).
And finally...the top power pitcher in Pirates history...
1. Bob Veale
Veale ranks second in Pirates history with 1,652 strikeouts, only behind Bob Friend's 1,682 K's.  The left-handed Veale pitched just 11 seasons with the Pirates compared to Friend's 15.  Veale posted a 116-91 career record and has a 3.06 ERA.  He also holds the current Pirate career record of 7.96 K/9 inning rate (minimum of 700 innings pitched).
Veale split time in his career as a starter and reliever, and averaged 150 strikeouts a season during his time in Pittsburgh, but as a full-time starter that number climbed to a staggering 214 a season. From 1964 through 1966 he placed in the National League top three of strikeouts, including leading the league with 250 in 1964 and a career-high 276 in 1965.  He also walked a lot of batters and regularly placed in the Top Five in walks per season.

Career Highlight: Set the Pirates record of 16 strikeouts in a game set in 1965 against the Phillies.  The lefty also struck out 16 against the Reds in 1964.  Pirates single season record of 276 strikeouts during the 1965 season.