Brandon Jennings Gives Bucks Hope
January 31, 2012

Mike Zarrilli/Getty Images
If this already shortened NBA season were to end today the Milwaukee Bucks would be in the playoffs, sneaking in as the eight seed. If you're a Bucks fan, that's something you should not be happy about.
Although their record at 9-11 suggests that they're a near .500 level ball club, they simply don't have the moving parts to contend anytime soon with this roster. With the deepest draft class in years coming out in this upcoming draft, if there was ever a time to root for them to lose, now's the time.
The future simply isn't there for Milwaukee at the moment. General manager John Hammond built this team around Andrew Bogut. At least he tried to. The problem is that Bogut simply isn't a franchise cornerstone.
While he's a top five center in the league because the position is so weak, he's not someone who's going to go out there and get you 20 points, ten boards and a couple blocked shots a game. He's simply not the offensive presence most thought he'd be when he came out of Utah.
For his career he's now averaging just 13 points per contest with nine rebounds a game added as well. He's been a defensive presence when he's been on the court averaging nearly two blocks a game, but by no means is anyone going to confuse him with Dwight Howard on that end.
When the guy who everyone in charge sees as the cornerstone of your franchise isn't putting up those numbers, but is also as injury plagued as Bogut has been, that's a bad combination. Bogut's currently out with an ankle injury, and there has been talk that he might miss the rest of the season.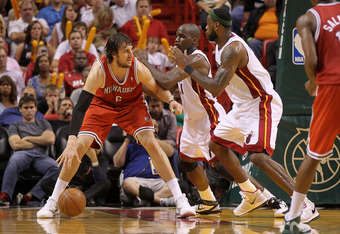 Mike Ehrmann/Getty Images
In 2008-09, Bogut only played in 33 games because of back troubles. Then in April of 2010, Bogut suffered a freak incident involving Amar'e Stoudemire where Bogut's elbow and arm got messed up pretty bad.
He had a dislocated right elbow, a broken right hand and a wrist sprain. Since then he's continued to complain about having pain, and you can't help but wonder if he'll ever be the same player he once was before the injury.
While realizing Bogut isn't the answer is something Milwaukee would be smart to do, they've also done a pretty poor job of surrounding him with talent. They were lucky enough to land Brandon Jennings a few years ago. Every team needs a leader at the point guard position that can score and set others up. Jennings fits that role, just not in Scott Skiles' slow motion offense.
If you're a Bucks fan it's hard to forget Jennings' 55-point performance as a rookie against the Golden State Warriors at home. The guy's a streaky shooter, it's as simple as that. He needs to have the confidence to do it though. I've seen it up close and in-person. When he's not confident in his abilities, he's off.
While maturity issues may be at play with Jennings as well given his previous altercations on Twitter, he seems to have taken on more of a leadership role this season. That's one of the reasons this Bucks team was just so bad last year. They had lost two huge leaders in that locker room when they lost Luke Ridnour and Kurt Thomas via free agency.
Anyone who wants to argue that the John Salmons drop off was the reason they didn't do very well—you simply weren't there. Salmons was the quietest guy in that locker room. Meanwhile Kurt Thomas would be passing his knowledge on to guys they had just picked up a few days previous via waivers like Darnell Jackson at the time.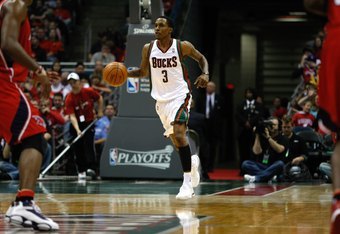 Scott Boehm/Getty Images
Through 20 games so far this season, his third in the league, Jennings is averaging over 20 points, five assists and three rebounds a game. What's been the difference this season from the past? His confidence. Look at the numbers. In his first two seasons, Jennings shot 37 percent and 39 percent from the field. In his third year, he's shooting 45 percent.
He's also averaging nearly two steals per contest, proving that he's a viable defender as well. Let's compare those numbers Jennings has to some of the best point guards in the league right now. Last season's Most Valuable Player, Chicago's Derrick Rose, is averaging 23 points, eight assists and three rebounds per contest. That's not too far off from Jennings' numbers this season.
Let's take a look at another player similar to Jennings' game in Okalahoma City's Russell Westbrook. Westbrook is averaging 21 points, six assists and five rebounds per contest. Once again, not that far ahead of Brandon Jennings' numbers.
The point is this, although no one is talking about him this season, Jennings is right up there with the best floor generals in the league this year. He's only in his third season and will continue to grow. Brandon Jennings is the cornerstone the Bucks need to build around.
So let's review the formula to win in the NBA. Contending teams have two stars, one rock solid player and role players. The Thunder have Kevin Durant, Russell Westbrook and James Harden. The Lakers, Kobe Bryant, Andrew Bynum and Pau Gasol. The Heat have LeBron James, Dwyane Wade and Chris Bosh. Who does Milwaukee have?
Andrew Bogut can be that Chris Bosh type of player, but they're still lacking that other guy to play alongside Jennings. With Bogut possibly out for the season, you can't help but think this team maybe should tank the rest of the year. I'm not saying they should fully give up, but give the minutes to younger players, not someone like a Drew Gooden in Bogut's spot.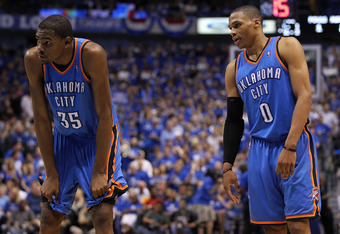 Ronald Martinez/Getty Images
John Hammond clearly had the same thought I did before the season started, as he made the move for Stephen Jackson. The problem is Hammond clearly never took into account the thought that Jackson would be a clubhouse cancer. I'm not sure why. He admittedly has been in the past, including just last year, where he admitted he stopped caring about games in Charlotte after Gerald Wallace was traded away at the deadline.
Instead of taking someone who is young and can light it up from outside in Klay Thompson, Milwaukee decided to move their pick so they could bring in guys like Beno Udrih, Stephen Jackson, Shaun Livingston and the pick that eventually wound up being Tobias Harris.
Tobias Harris isn't a difference maker and his ceiling isn't as high as Thompson's. The move made no sense for a team that was clearly not going to contend anytime in the near future. This team has done a nice job of finding role players though. Drew Gooden, as bad as people want to bash him, would be the perfect addition if the Bucks were actually contenders.
He's a blue collar type of guy who always goes out and gives it his all. Guys like Carlos Delfino, Mike Dunleavy and Ersan Ilyasova are nice role players who can stretch the floor with their shooting abilities. They're still one player off though.
If the Bucks were to start losing more, could they get lucky enough where the ping pong balls would come out their way and they could get someone like a Harrison Barnes from North Carolina? He would have been given consideration for the No. 1 overall pick in last year's draft.
How about someone like Jared Sullinger from Ohio State? He'd come in and be an immediate starter for the Bucks, another player who would have been given consideration for the No. 1 overall pick last year. How about Austin Rivers, provided he doesn't stay at school? While he hasn't exactly lit up Duke the way freshman Kyrie Irving did last year, he seems to have a very high ceiling.
Looking at the Bucks now, the only two guys they have locked into that starting lineup unquestionably, who are starters provided their health, are Bogut and Jennings. They need another player like that. If they can get a guy who can slash his way to the basket and shoot from outside like North Carolina's Barnes, this team may actually have a very bright future.
I'm not saying I expect the Bucks to contend with the Bulls or Heat for the Eastern Conference crown anytime soon. What I'm saying is that the future isn't so bad for Milwaukee as some may think. That is of course, provided they start losing some more. Odd situation, isn't it?