UFC 143 Fight Card: 12 Predictions You Can Take to the Bank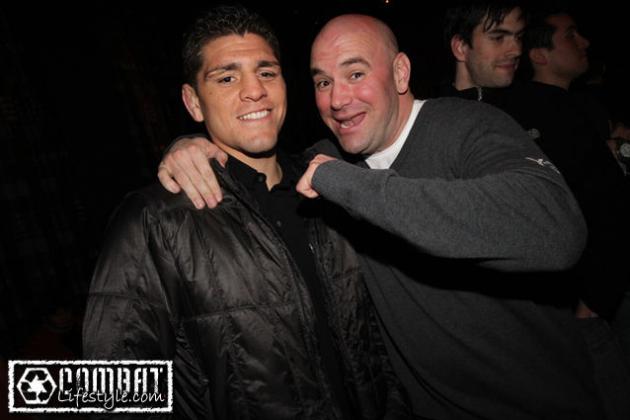 Nick Diaz (L) - Tracy Lee/Combat Lifestyle
UFC 143 comes to a head this weekend as Strikeforce transplant Nick Diaz takes on top contender Carlos Condit.
The two will serve as the headline for the pay-per-view event, where the duo will vie for the organization's interim welterweight title, as champion Georges St-Pierre continues to rehab a lingering knee injury.
Many battles and multiple story lines will ensue this weekend at the Mandalay Bay Events Center in Las Vegas, though here are some predictions you can take to the bank.
Photo Taken By Tracy Lee of Combat Lifestyle.
Begin Slideshow

»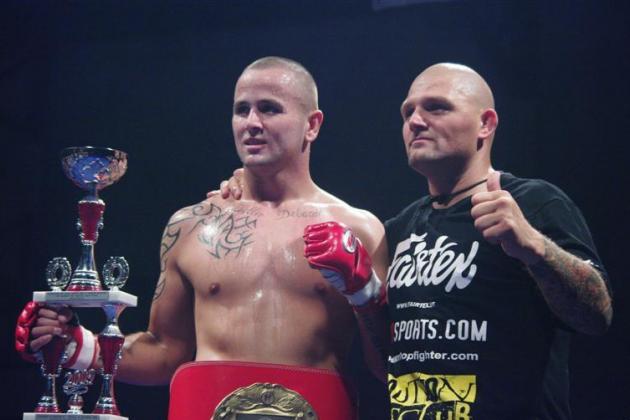 Michael Kuepir (left); photo cred: kempenactueel.be
One of the youngest fighters in the UFC, Holland's own Michael Kuiper has long been regarded as one of the top prospects in the sport.
He will be making his Octagon debut this Saturday against Renzo Gracie protege Rafael Natal.
Though Natal is a submission whiz himself, the dynamic and whirlwind dervish that is Kuiper will be too much for the Brazilian. The 22-year-old will dominate Natal, finishing him off with a powerful array of strikes inside of the first round.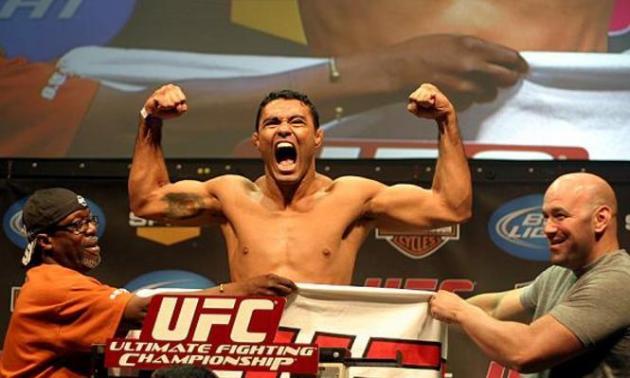 Rafael Natal (center); photo cred: tapology.com
Initially, a knockout victory over former The Ultimate Fighter season four winner Travis Lutter brought Natal to the UFC with much praise. However, the heavy-hitting middleweight has failed to live up to any of those expectations.
Natal has been lukewarm in the UFC, going 1-1-1 in his last three outings with the organization. After a decisive loss to Kuiper in his next outing, expect Natal to be promptly released, receiving the infamous UFC pink slips.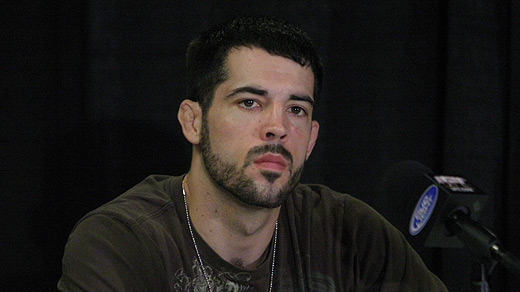 mmaweekly.com
Save for some awesome takedown defense and mediocre striking skills, there just isn't a whole lot going for TUF vet Chris Cope.
However, there is a lot going for hard-hitting bruiser Matt Brown, and Cope will become familiar with that.
Though Brown's up-and-down lifestyle in the UFC has kept things interesting, the welterweight standout will show that he's on a different level than Cope altogether as he rocks and drops "C-Murder" early, finishing him off with some vicious ground-and-pound blows in the first.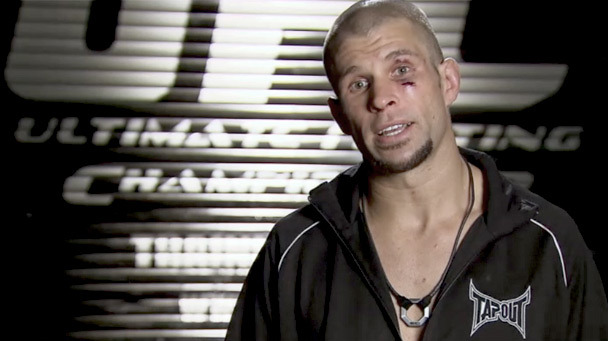 Chris Cope; photo cred: ultimatefighter.com
His decisive loss to Che Mills showed that Cope is not only susceptible to getting knocked out, but he just doesn't have the right set of tools to compete with UFC-caliber opposition.
Matt Brown will give him a friendly reminder of that. As the Californian succumbs to his second consecutive loss, expect him to be ousted from the organization altogether.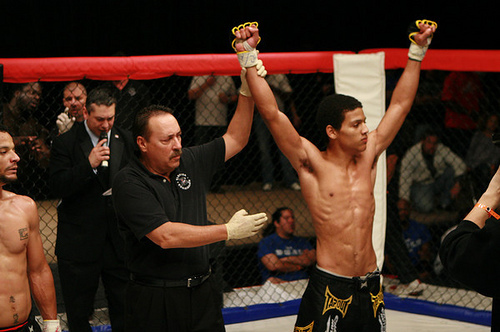 Alex Caceres (right); photo cred: MMABay.co.uk
These two bantamweight dynamos have proven that, given the right opponent, they can turn in very fan friendly performances.
In his last outing, Caceres proved that he belonged in the Octagon when he turned in a one-sided beating of former WEC champ Cole Escovedo, picking up his first UFC victory.
Figueroa, meanwhile, managed also to secure his first win when he defeated Jason Reinhardt, dominating the 23-fight veteran with a second round barrage of strikes, courtesy of punches and elbows galore.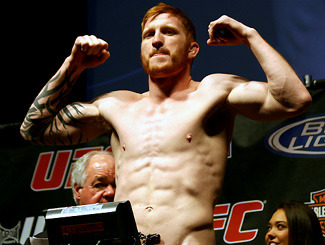 mmajunkie.com
You'd think that after turning in back-to-back dominant performances against Tim Credeur and Kyle Noke, Ed Herman will be granted a notable opponent. Instead, The Ultimate Fighter season three finalist has been pitted against Clifford Starks.
Though his strong suit is wrestling, Starks' skills can barely hold a candle to that of Herman, who has proven that if he can't knock you out on the feet, you are just moments away from having something ripped off of you on the mat.
Starks will be thoroughly dominated by "Short Fuse," who notches his third straight victory since a near two-year absence from the sport.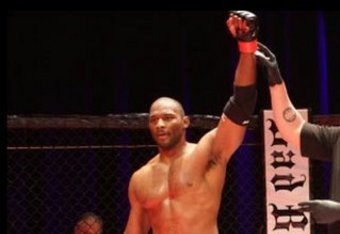 Clifford Starks (left); photo cred: themmacorner.com
An undefeated fighter will finally get a taste of what the upper echelon is like this Saturday, though he won't find this an enjoyable experience, to say the least.
In his first outing inside the Octagon, Starks turned in arguably the worst performance of any fighter at UFC 137 last October. In a three-round snoozer, Starks took home a boo-worthy decision over fellow newcomer Dustin Jacoby.
With okay wrestling and poor stand-up in his repertoire of skills, Starks just doesn't have the gusto to compete with the best, let alone Ed Herman—will be deftly defeated by the Californian, who will be two-and-done with the UFC following the loss.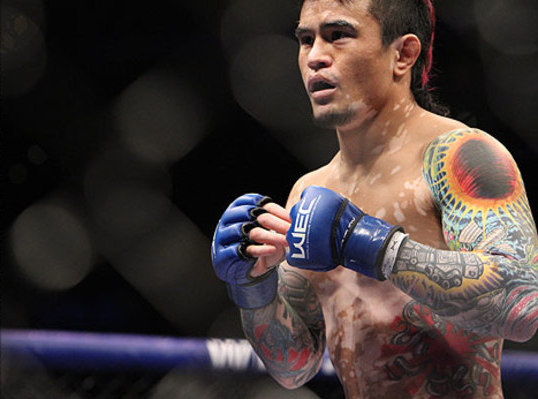 mmaweekly.com
If you've seen either Renan Barao or Scott Jorgensen fight before, than you'll know that this fight won't go to the score cards.
Both men wield knockout power and are excellent grapplers. Though Jorgensen hails from a wrestling background and Barao from that of jiu-jitsu, both are heavy handed foes who have become two of the bantamweight's most coveted contenders.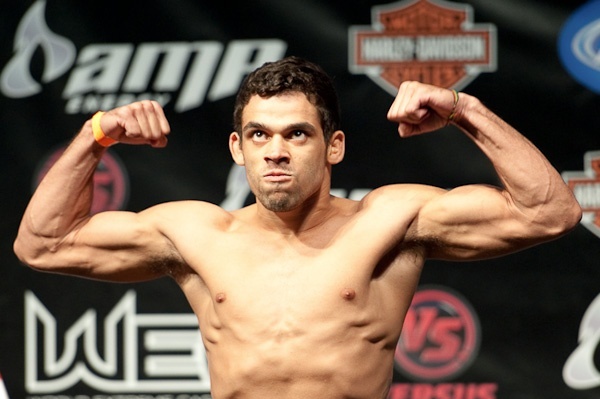 Renan Barao; photo cred: Sherdog.com
There's a reason that in 29 fights, Barao has only been defeated once.
The dynamic Brazilian has lots of tools at his disposal. Though he's finished most of his bouts by submission, his last outing proved that the Nova Uniao star is equally versed on the feet, as he rocked and dropped the heavy-hitting Brad Pickett with strikes, submitting him soon after via rear-naked choke.
The "Fight of the Night" performance opened up the eyes of the UFC brass, who pitted Barao into this bout with Jorgensen for a reason. The 24-year-old is the next big thing at 135-pounds and will soon be contending for the belt.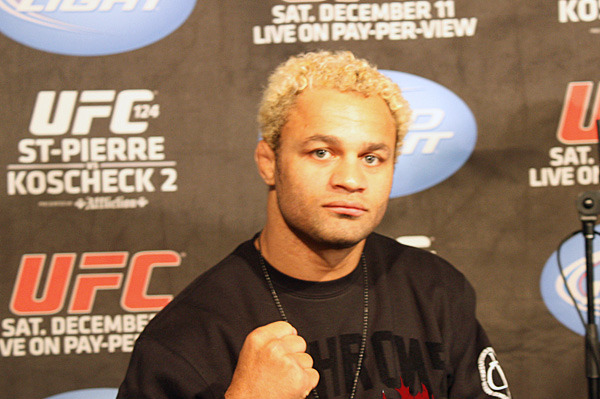 Josh Koscheck; photo cred: mmehfighter.com
Against Mike Pierce, Josh Koscheck finds a smaller and less intimidating version of himself.
The hard-hitting welterweight has made quick work of lesser competition, which is exactly what Pierce represents. As long as Pierce can work his opponents to the mat, he will always have a decided advantage, but that won't be the case against Koscheck, a four-time NCAA Division I All-American and former national champion.
Pierce will stalk early looking for the take down, to which Koscheck will avoid, side step and lunge forward with a huge right hand, setting up the beginning of the end for Pierce, who will succumb to ground-and-pound blows soon after.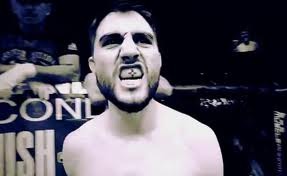 Carlos Condit; photo cred: mmatko.com
As these two dynamic welterweights step into the cage, both Nick Diaz and Carlos Condit will engage in what could be an early "Fight of the Year" candidate.
The finishing rate of Condit is ridiculous. Of his 27 victories, 26 have failed to reach the judges, as the New Mexico native has secured 13 wins by submission and 13 by knockout—with Jake Ellenberger remaining to be the only man to survive the onslaught of Condit.
Diaz, meanwhile, may not always be able to finish his opponents, but he is in constant pursuit of the finish, which has made him arguably the most dangerous and most fan friendly fighter in the welterweight class.
His recent victory over former world champion BJ Penn proved that Diaz is on another level entirely than most, with his high pace and boxing skills wilting most of his opponents.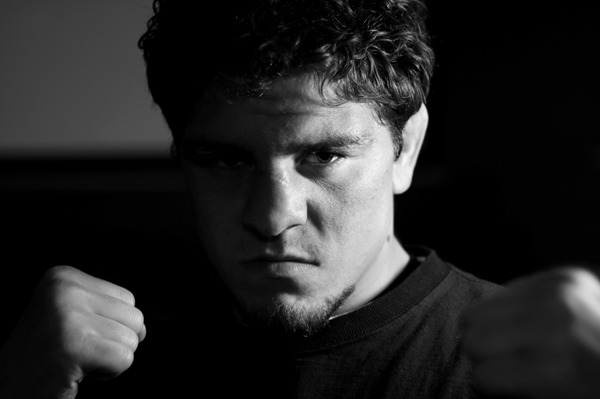 Nick Diaz; photo cred: mmarantstoday.com
You can't knockout Nick Diaz. You can't submit Nick Diaz and you certainly can't outwork the Stockton fighter.
For five rounds, the Cesar Gracie protege will be in your face for 25-mintues of hell. Though Condit is no slouch as far as conditioning is concerned, he too has wilted in five round bouts and nobody has been able to push the pace of Condit like Diaz has done to so many others before.
If Condit can keep up with the pace of Diaz, it will just mean that "The Natural Born Killer" will survive long enough to eat accumulated punches to the head and body, which will eventually take their toll.
In a close-knit battle, Diaz will edge Condit and become the UFC's interim welterweight champion, awaiting a blockbuster battle with Georges St-Pierre in the future.