Super Bowl Media Day 2012: Latest Twitter Reactions to Best Moments of Media Day
January 31, 2012

Michael Heiman/Getty Images
Well, ladies and gentlemen, we've reached that part of the Super Bowl pregame festivities that everyone loves:
Media Day!
Well, some of us love it at least. (I mean, it's better than the Pro Bowl, right?) In honor of this glorious day of interviewing and snarky tweets from members of the media, I'll be compiling some of the best tweets of the day right here in this article.
So make sure you check back regularly, as I'll update this several times throughout the day.
You'll hear what the players think. Now see what the media thinks about what the players think, and more than likely, what they want to eat for lunch.
Ralph Vacchiano (@TheBlueScreen)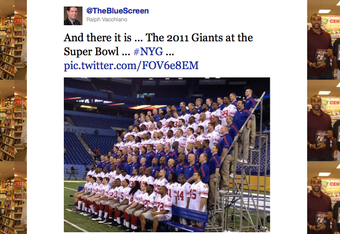 Wrapping things up with a team photo.
Dan Levy (@DanLevyThinks)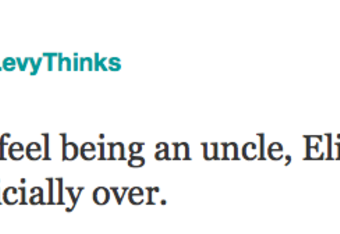 Yup.
Daniel Kaplan (@dkaplanSBJ)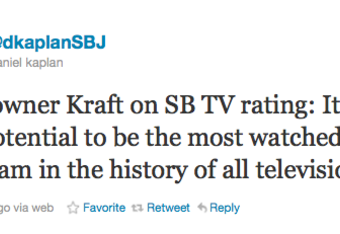 It's a compelling matchup. I think Kraft might be right about this.
Bart Hubbuch (@NYPost_Hubbuch)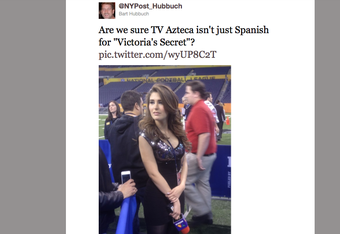 Somebody get this man a Pulitzer already!
Darren Rovell (@darrenrovell)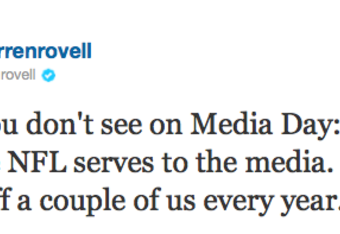 It's like I always say: Don't bite the hand that feeds you, but feel free to poison the mouth that criticizes you.
OK, so I've never actually said that, but it's going to be my new thing going forward.
Ralph Vacchiano (@TheBlueScreen)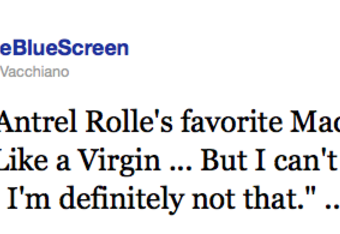 Antrel Rolle is officially the Media Day MVP.
Brandon Spikes (@bspikes55)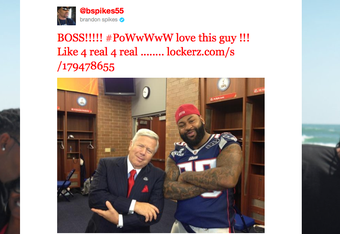 This picture of the New England linebacker and owner Robert Craft is by far the best photo from the day. Well, other than the shots of Marisol Gonzalez, that is...
Rich Cimini (@RichCimini)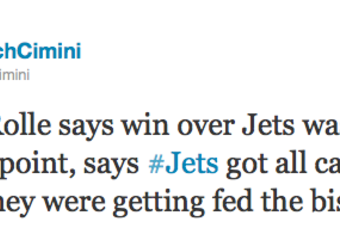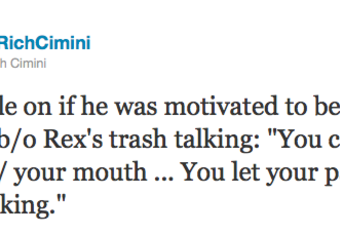 So to recap: Biscuits were being consumed on the field and pads were talking. What is this, Alice in Wonderland?
Ralph Vacchiano (@TheBlueScreen)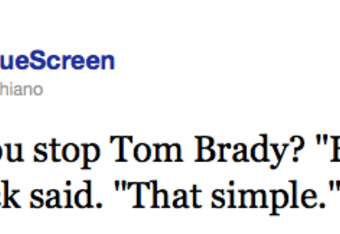 From the author that brought you "How to Stop Elite Quarterbacks in the NFL...For Dummies."
Mike Triplett (@miketripletttp)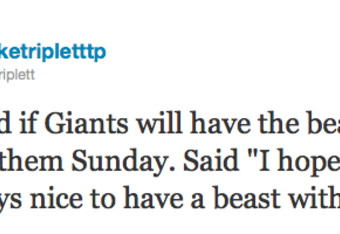 That's what she...nope, not going there. This is a family program, people!
National Football Post (@FootballPost)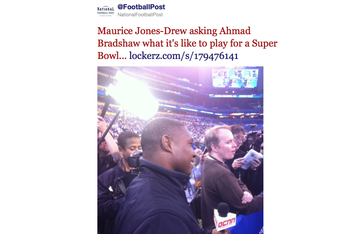 For my money, MJD is the coolest player in the NFL. He's a well-known fantasy addict, he's interviewing guys at the Super Bowl...It's clear he really loves the game.
Jeff Duncan (@JeffDuncanTP)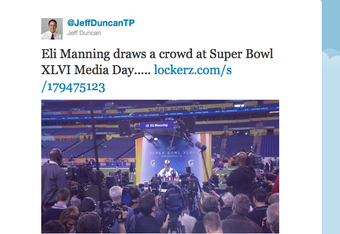 And Eli takes the stage.
Andy Gray (@si_vault)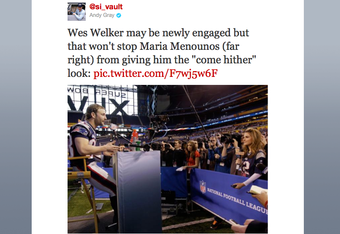 It's the mustache, I bet.
Pete Abraham (@PeteAbe)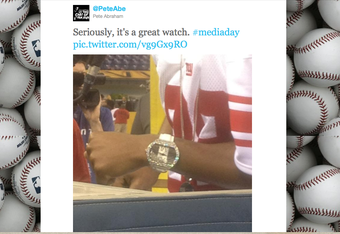 Whether he gets the ring or not remains to be seen. But Hakeem Nicks certainly already has the Super Bowl bling.
Ralph Vacchiano (@TheBlueScreen)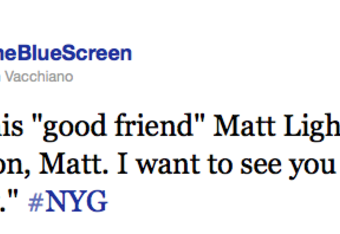 Matt Light is an offensive tackle for the Patriots, of course.There hasn't been nearly enough trash talking at Media Day, and this is probably as close as we'll get.
Dan Levy (@DanLevyThinks)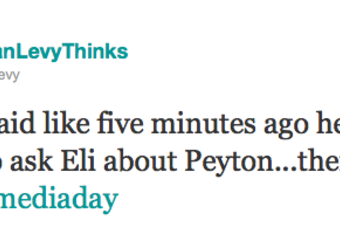 Yup.
Will Brinson (@willbrinson)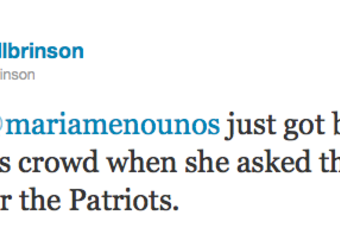 Wait, what the hell did she expect would happen?
Bart Hubbuch (@NYPost_Hubbuch)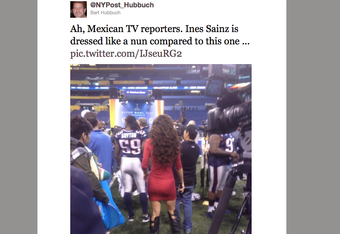 That's good reporting right there, Bart Hubbuch. Thankfully, Busted Coverage has picked up on this story for everyone.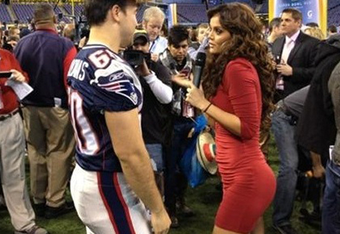 And we have a name: Marisol Gonzalez. Move over, Ines Sainz; there's a new girl in town.
WEEI New England (@WEEI)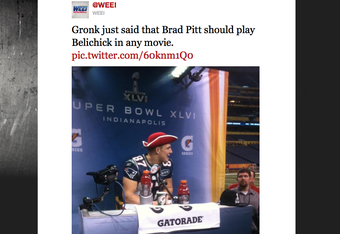 Think I'd go Paul Giamatti, but that's just me.
Ohm Youngmisuk (@NotoriousOHM)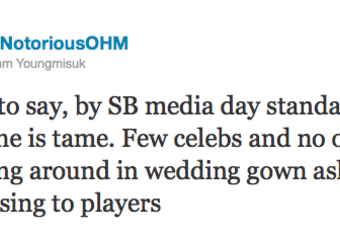 Then again, Tom Brady did tell someone to "Keep your dragon to yourself" today during his time on the podium (I will find proof of this for you, dear readers), so there's always that.
Mike Reiss (@Mike Reiss)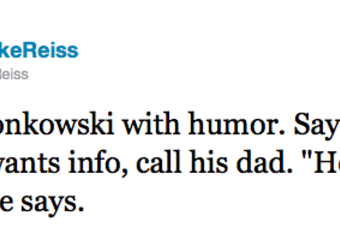 GRONK SAYS HELLO TO MOM NOW ALSO! GRONK LOVES MOM!
Stevel Politi (@StevePoliti)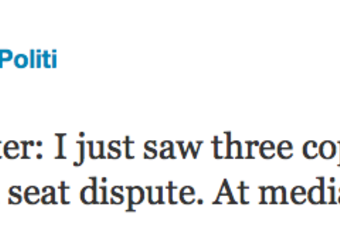 And thus answers the eternal question, "What happens when you finally let fans attend Media Day?"
Albert Breer (@AlbertBreer)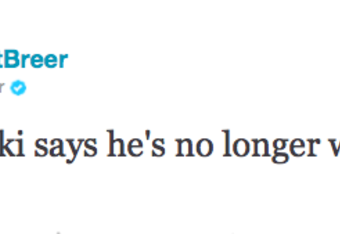 GRONK SHOW MEDIA HE TOUGH!
Pete Abraham (@PeteAbe)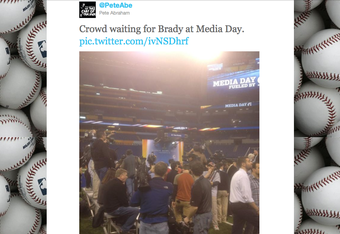 Look at those media members, gathered around early like nerds waiting all day for a Stan Lee panel at Comic-Con.
Darren Rovell (@darrenrovell)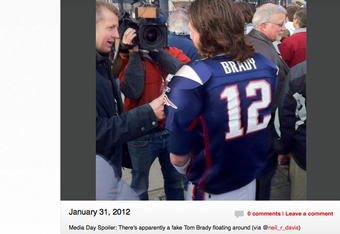 Sports nerds...assemble!

Doug Farrar (@SC_DougFarrar)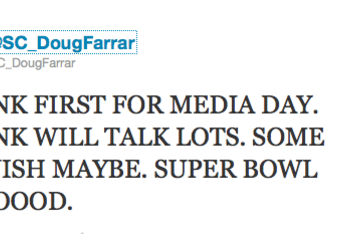 GRONK ALREADY TIRED OF ANSWERING QUESTIONS ABOUT ANKLE! GRONK ANNOYED!
Gregg Doyel (@greggdoyelcbs)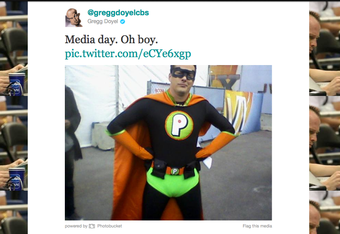 What the hell is going on down there?
James Walker (@espn_afceast)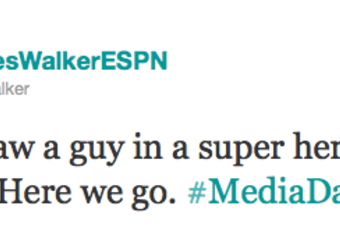 Just in case you didn't believe there were actually people dressed like superheroes, I got a second source for you.
Will Carroll (@injuryexpert)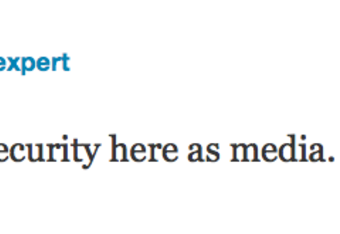 What's the need for so much security when you have superheroes prowling the premises?
Tom E. Curran (@tomecurran)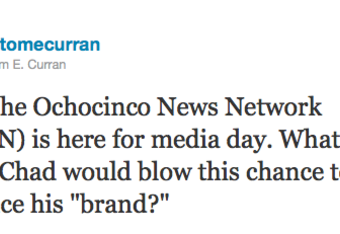 Well, he might as well get on television before the game since he likely won't make a memorable appearance during it.
Darren Rovell (@darrenrovell)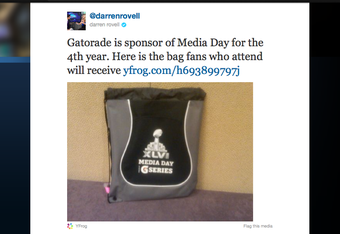 That's right, media members—get that swag!
 Ralph Vacchiano (@TheBlueScreen)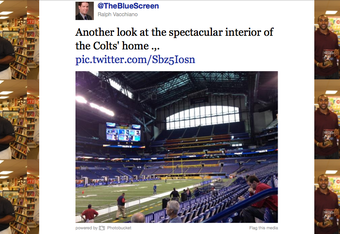 The calm before the storm.
Keep it here for more Twitter updates throughout Media Day at the Super Bowl.
Hit me up on Twitter—my tweets are chicken soup for the Internet soul.