Blake Griffin Dunk: A Great Play That Has Already Been Overhyped
January 31, 2012

For NBA players, coaches and fans who at any point have been concerned that people spend more time watching the NBA for style than substance last night provided a succinct answer.
"You're right."
That's because from the late night all the way into the early morning the sum total of every lead on SportsCenter was this Blake Griffin dunk.
It's an impressive dunk. It was one of the better dunks that you'll see. It also occurred at a point in the game when the Clippers were already winning by a score of 70-51 with under nine minutes remaining in the third quarter.
In other words it was in the general scheme of things totally meaningless.
That dunk may have been rated a " 10" on a scale of 1 to 10 but it was still worth the exact same amount as any normal basket. It was even worth the same as two free throws, something that Griffin himself may or may not realize since he's currently shooting under 51 percent from the free-throw line this season.
The much improved Clippers are probably headed to the playoffs this season and when they get there those dunks will be far less common place. In their place will be Griffin getting fouled, and fouled hard. He'll go the line and once you're on the free throw line you only make a highlight if you do this.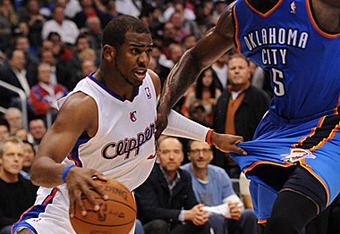 For those who have forgotten, the highlights that the NBA Finals provided last season were not exactly a non-stop dunk fest. Made free throws, tough contested jump shots and defensive stops provided the game ending and crucial plays of last year's finals.
That's because basketball at its most competitive level is not a game of dunking. It's about taking and making extremely tough shots. The highlights of the greatest NBA Finals performances are littered not with dunks but with clutch shots. Often those shots aren't from close range.
The league has seen Blake Griffin before as well. His name was Shawn Kemp. Kemp wasn't as prolific a scorer but he was a similar dunker. Ferocious, intimidating, tall, strong and at times spectacular. 
Kemp was also a better defender who averaged over a steal and a block a game for his career, something Griffin has yet to accomplish in spite of playing the same position and being one of the league's best athletes. Kemp was also a better free-throw shooter early in his career hitting over 70 percent from the line. Griffin shot 64 percent last season as a rookie which is much higher than the aforementioned 51 percent clip this year
Having watched more than just that dunk last night there were some far more impressive moments in that Clippers vs. Thunder game from the standpoint of actually figuring out the two teams.
First of all in the aftermath of that dunk Griffin would go on to commit several turnovers and make some mental mistakes on the floor as well. The Thunder were even able to make a mini-run and cut the lead before the Clippers were able to finally ice the game.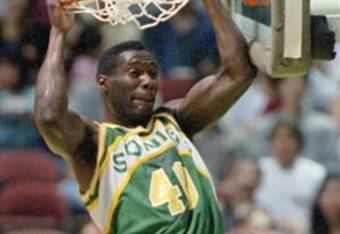 The key player for the Clippers last night was not the guy that you see leading highlights, dominating twitter or your facebook news feed. It was Chris Paul, who in spite of not making any YouTube worthy dunks totally controlled the offensive pace of the game.
Paul shot 12-of-16 from the floor and had 26 points and 14 assists with only two turnovers. Paul was involved in nearly every key play on the offensive side of the floor last night. Many of the good looks at the basket that players like Griffin and Caron Butler (22 points on 9-of-16  shooting from the floor) were able to take advantage of last night were provided by Paul breaking down the defense with his deft ball handling and fantastic passing skills.
This Los Angeles Clipper team is much improved but their final place in this NBA season will not be determined by dunks from Blake Griffin. There's a much better chance that with a big game on the line in the playoffs Griffin will find himself on the free throw line. If that happens then Griffin could end up on the highlights, but for all the wrong reasons.