10 Ways Madonna Could Actually Make Super Bowl Halftime Entertaining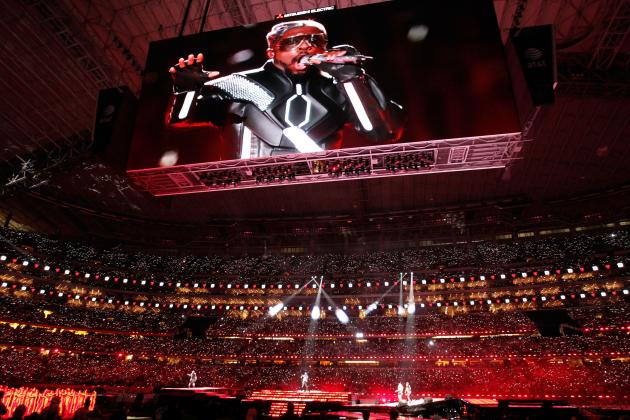 Christopher Polk/Getty Images

The annual Super Bowl halftime show has been one of the most polarizing aspects of the world's biggest sporting event.
While it may be the one moment of Super Bowl Sunday that appeals to those non-fans being forced to watch the game, it remains a glorified toilet/beer/hot dog break for the rest of us.
Last year's Black Eyed Peas performance was unsurprisingly met with utter confusion by commentators who in most instances still consider the Jersey Boys soundtrack to be loud and frivolous youth music.
But hey, it has given us some funny moments despite the typically horrendous performances. With Madonna gearing up to provide the entertainment this Sunday, perhaps funny moments are all we can hope for.
However, if you happen to be reading this Madge, Bleacher Report is here with a few tips on how you can hold the attention of a football crowd for a minute or two at least.
Here are 10 ways Madonna could actually make Super Bowl Halftime entertaining...
Begin Slideshow

»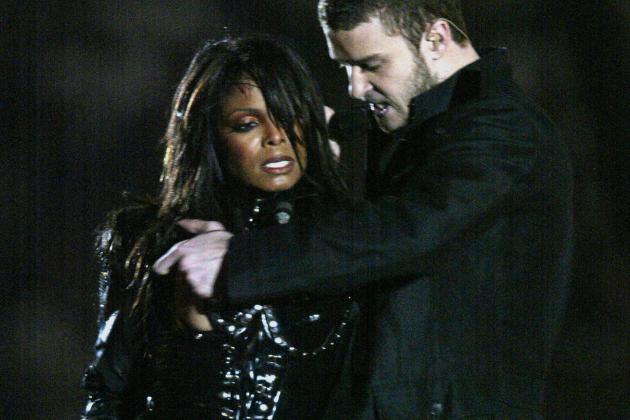 Donald Miralle/Getty Images

Yes, it had to feature on this list. Let's get it out of the way right now.
When the Patriots and the Panthers met in Super Bowl XXXVIII, who could have imagined that the enduring image from that game would come in the form of Janet Jackson's right nipple.
Whether intentional or not, Janet Jackson grabbed the attention of the world, and ever since then producers have been living in hope that a wardrobe malfunction of the same sort might happen again.
Madonna will likely match Janet in the "horrendous and needlessly provocative attire" standings, putting a lot more flesh on display than any of us would have hoped.
While a Janet Jackson-esque debacle would get everyone talking, I can't help but feel that there is simply nobody in the world that wants to see 53-year-old Madonna take her clothes off.
So if a wardrobe malfunction is off the table, what is the best alternative?
It's safe to say that it's always funny when someone falls over (barring our fragile older folks and grandfolks).
Serious injuries aside, there is little that entertains us—an audience of Joe Average's—more than a celebrity crash landing back to Earth in front of a sea of laughing people.
Now I wouldn't wish to hurt the feelings of a bona-fide musical icon like Madonna, but if her falling on-stage, mid-song can bring joy to millions of people around the world, then it is worth her suffering a few seconds of embarrassment.
There's little doubt heading into Sunday that Madonna will be practicing her lip-syncing technique from dawn until dusk.
So how can lip-syncing make the show more entertaining?
Well, Madonna could suffer the same fate as Ashlee Simpson back in 2004. Simpson famously played the a track she didn't intended to perform with hilarious consequences.
Could an embarrassing error of this sort happen at an event as huge as the Superbowl? Unlikely.
However, music legend Elton John had strong words for Madonna ahead of her performance:
Make sure you lip-sync good...I've never seen a decent one—never ever...Of course you have to play live, but I don't think you can. In all fairness to everyone who's done one before, you may be able to sing live but it's really hard to play live.
Tim Tebow recently joined Brad Paisley on stage in Denver for a bit of a duet, receiving loud approval from the audience despite his sub-par performance.
Timmy Tebow dominated sports media for the most part of the 2011 season, and following a disappointing playoff departure in New England, Tebow withdrawal symptoms are widespread.
What better way to get Tebow some more air time than to have him join Madonna on stage at the Super Bowl to sing one of her biggest hits.
Like a Virgin.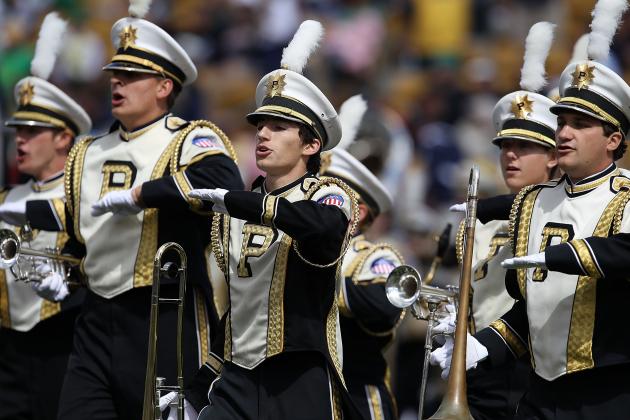 Jonathan Daniel/Getty Images

The first decade of Super Bowl halftime shows were largely made up of marching bands, which are now seen as a college-sports institution.
There's nothing better than a marching band playing popular music as Ohio State showed us here.
With a musician like Madonna performing (who couldn't be more different to the rock music that would normally be associated with football), what better way to enhance her music?
Since the Super Bowl is in Indianapolis, we could even have the Boilermakers marching band face off with Notre Dame. Madonna can do her best Ed Hochuli impression in the middle.
Marching bands make everything better...even Madonna.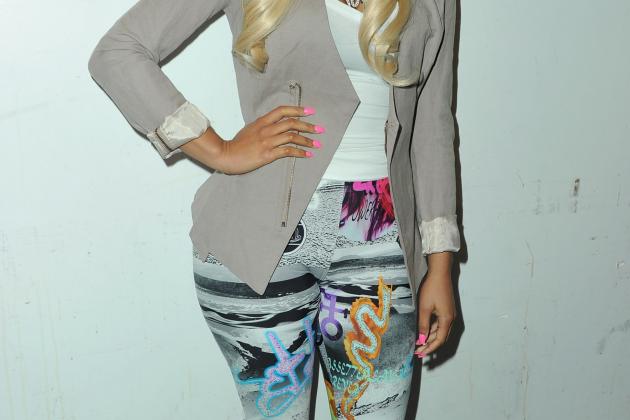 Alberto E. Rodriguez/Getty Images

With British rapper MIA (singer of Paper Planes), and the technicolor Nicki Minaj joining Madonna on stage on Sunday to perform their new track, Give Me All Your Luvin, the focus will be taken off of Madonna—for one song at least.
The video for the song (which is to be revealed on American Idol this week), features stars that draw in a global audience.
Minaj is worth tuning in for.
You might catch a glimpse of a new color somewhere on one of her outfits. And she's not a bad performer either.
MIA will bring some British grit to the stage and could put in a performance that isn't entirely unwatchable.
Either way, both have their merits and will add some sparkle to a Madonna performance that will likely draw cringes from the vast majority of viewers.
You've more than had your time Madonna; let these young stars have their moment.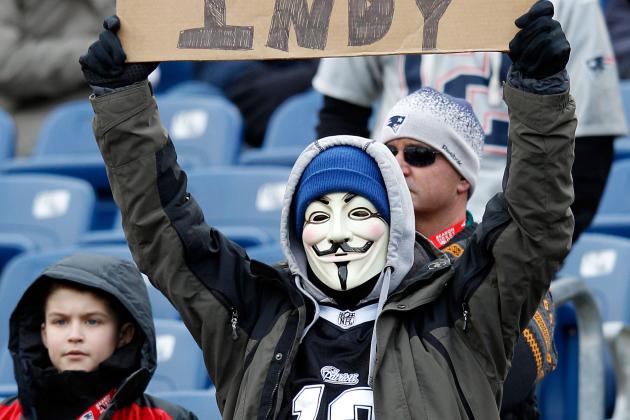 Rob Carr/Getty Images

With their cause starting to lose the interest of the media and the youth, the 99% need some publicity.
There is no bigger stage than the Super Bowl, and I'm sure they would relish the opportunity to get their message out to the world alongside the singing sensation that is Madonna.
Known to attach herself to various political and philanthropic movements, it wouldn't surprise us if Madonna used the Super Bowl halftime show to make some kind of statement, and the occupy movement seems to be the issue of the moment.
It would be fun to see Osi Umenyiora and Jason Pierre-Paul laying into the protesters' tents in an effort to remove them from the field.
How do you make Madonna seem incredible at age 53, lip-syncing and playing to an audience that doesn't care?
You put Rebecca Black on stage to croon her infamous single, "Friday." That's how.
As a collective of drunken sports fans, we would be outraged by the atrocity that is that song.
Compared to Rebecca Black, Madonna will go down as the best halftime performer in history.
The famous runaway cart that haunts Cowboys Stadium would make a welcome addition to any Madonna concert and especially her Super Bowl performance.
Whilst Madonna plows through a selection of her greatest hits, fans could watch as the runaway cart flails about the field on its way towards her, leaving us to wonder if contact will be made.
Madonna could also benefit from an encounter of this ilk.
Avoiding a few runaway cart tackles would likely see her benefit in the upcoming draft, with the Bengals very much in need of a RB who can actually avoid tackles.
Deion Sanders' reaction in the above video tells you all you need to know.
Mile High halftime show legends, this monkey and dog combo, took the world by storm. How they haven't been asked to play the Super Bowl continues to baffle everyone?
What better accompaniment to a Madonna song nobody has ever heard before than something funny to watch.
I literally have nothing more to say than this...
Dog...riding...monkey.