Super Bowl 2012 Predictions: Why Stephen Gostkowski Is Crucial to Winning
January 31, 2012

Stephen Gostkowski is 28 years old and is good from 50 yards out on a good day. On a regular day, he's good from about 45.
Heading into the 2011 season at 85.1 percent, he had the most accurate leg in the history of the Patriots' franchise. Currently, he's kicking at 84.8 percent. This season, he nailed 28 out of 33 field goal attempts and led the AFC in points for kickers.
He's had success in crunch time. In 2006, Gostkowski nailed a clutch 31-yard shot against the Chargers that sent the Patriots to the AFC Championship. And in 2010, he defeated the Ravens with a pressure-packed 35-yard game winner.
When the Giants and the Patriots met earlier this season, Gostkowski hit two out of his three field goal attempts. The miss was a chip shot in the second quarter from 27 yards out. Wide left. Does this sound vaguely familiar? Remind you of any recent happenings in the postseason? 
This is crucial information. If history has taught us anything, it's that the more things change, the more they stay the same. This is especially true for a Patriots team that lives or dies by three points.
If Rob Gronkowski is healthy enough to perform at a high level in the fourth quarter, Brady has a good chance of getting him the ball to win the game. But if he isn't healthy, the outcome of this game will fall on Gostkowski.
In the tense week leading up to Super Bowl XLVI, it's natural for Patriots fans to wonder how this current team stacks up to their three championship teams from 2001, 2003 and 2004.
Your natural impulse may be to give the edge to the dynasty teams. That's fair. With guys like Tedy Bruschi, Mike Vrabel, Adam Vinatieri, Willie McGinest and a young Tom Brady, it's difficult not to side with that crew.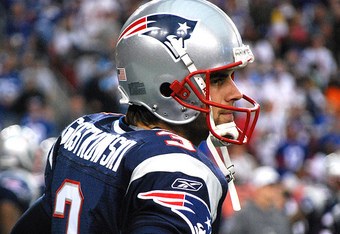 But consider this: As dominant as the dynasty Patriots were, they only won their Super Bowls by a combined total of nine points. All three games came down to the last play, and each game was won by three points. Two of those games were decided by last-second field goals by Vinatieri.
Super Bowl XLII followed a similar script, but with a different ending: The game went down to the wire, and this time it was the Giants who won by three points.
So what does that tell us? Well, it tells us that Super Bowl XLVI is going to give fans of either team an ulcer. But it also tells us that dominance is relative and fleeting; the 11-5 Patriots from 2001 can win by three as easily as the 16-0 Patriots from 2007 can lose by three.
After the Giants and the Patriots squared off in Super Bowl XLII, both teams went into hibernation. In the past three seasons, neither team has won a single playoff game.
Midway through the 2011 season, that trend seemed likely to continue. Now, all of a sudden, the Giants and the Patriots are back in the Super Bowl.
How on earth did that happen? Both teams were outplayed by their opponents in the NFC and AFC Championships, and yet they both managed to squeak by on the backs of truly unbelievable occurrences.
Eli Manning threw 255 yards on the Patriots in Super Bowl XLII. In their rematch earlier this season, one may have expected him to have a field day against New England's questionable secondary. Instead, Manning threw a virtually identical 250 yards.
Despite the fact that Manning is more than capable of throwing over 400 yards, his two carbon copy performances against New England cannot be ignored. If history has taught us anything, it's that he won't explode for 400 yards on Sunday. It's likely that Super Bowl XLVI will come down to three points.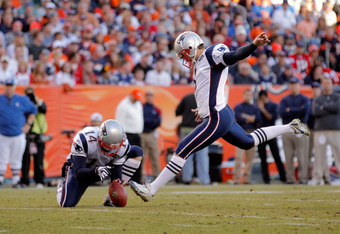 The Patriots will not allow Manning to have the final possession of the game with a chance to win it all. Not again. Therefore, reason has it that Lawrence Tynes will not have the final say. 
Tynes sent the Giants to the Super Bowl by making a field goal. Billy Cundiff sent the Patriots to the Super Bowl by missing one. Gostkowski is the heir to the empire that Vinatieri helped build. Tom Coughlin loves icing kickers. Jason Pierre-Paul loves blocking field goal attempts. All signs are pointing at this game ending in a very tense showdown over three points from New England.
There's a good chance that Gostkowski will be the most important man on the field on Sunday. In a game that feels destined to be close, his leg may very well decide everything.