3 Moves That Will Ensure the Thunder Take Their Division by Storm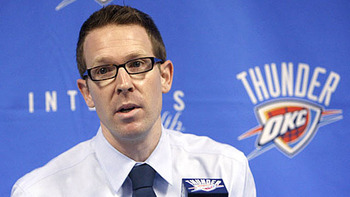 Oklahoma City GM Sam Presti
The Oklahoma City Thunder enter the month of February as arguably the best team in the NBA. As winners of eight of their past ten, they remain on track to win their division.
Although they currently sit at the top the Northwest Division and the entire Western Conference with a 16-4 record, there are some issues that this team still needs to address.
Here are three moves the Thunder can make to guarantee themselves a Pacific-Northwest crown.
Number 3: Trade for Reggie Williams (SF)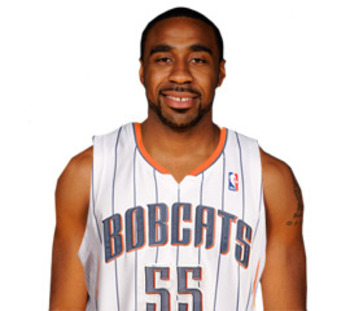 As of January 31st, Kevin Durant averages 36.9 minutes, a 31.9 usage percentage, and 18.6 field goal attempts per game – enough to rank in the top 12 in each category.
In a condensed 66-game season that features 19 sets of back-to-back games (including one back-to-back-to-back) with six in February, four in March, and four in April still remaining, the Thunder would be wise to trade for an offensive threat to alleviate some of the scoring burden from the shoulders of Durant.
At his current rate of usage, it would not be absurd to assume Durant might get injured or just simply wear out come playoff time which the Thunder cannot afford. After all, they want to be playing in June.
Enter Reggie Williams.
It's a bit ironic how the Charlotte Bobcats (the worst team in the league), can do a tremendous service for one of the league's best. By trading away one of their multiple first round draft choices, the Oklahoma City should have no problem attaining Reggie Williams if they choose to pursue him.
Williams has career averages of 10.6 points in 23.2 minutes of play.
His ability to shoot the three-pointer and take care of the ball would make him a welcome addition to a Thunder team that averages a little less than 17 turnovers per game.
Williams is scheduled to earn $2.5 million this year and would be the scoring-threat alternative that Nate Robinson once provided.
Number 2: Trade for J.J. Hickson (PF)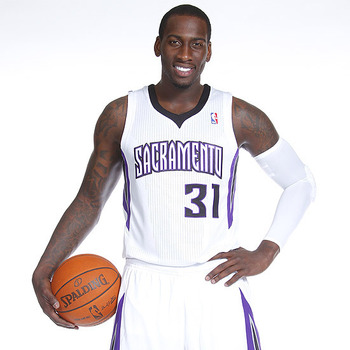 The Thunder are already one of the most complete teams in the league, built around a core of athletic and experienced youth mixed with doses of veteran toughness.
Kevin Durant, Russell Westbrook and James Harden are the most dangerous trio of offensive perimeter players the league has to offer. Together, they combine to average 64.5 points per game, which makes up more than 64 percent of their team's scoring total.
To compliment their outside threats, Oklahoma City features a rotation of five interior players.
The issue with Kendrick Perkins, Serge Ibaka, Nick Collison, Nazr Mohammed, and Cole Aldrich is that they don't offer much more than dunks and put-backs on offense.
In order to salvage some frontcourt scoring, head coach Scottie Brooks has played Kevin Durant at power forward for extended periods of time.
Simply put: Durant's 235-pound frame is not built to thrive in post.
In order to preserve their leading scorer, the Thunder must trade for a player who can consistently score with his back to the basket and within a half-court set.
Carl Landry of the New Orleans Hornets would fit extremely well with this team, but his $8.75 million contract would scare off general manager Sam Presti.
Enter J.J. Hickson.
Although Hickson averages only 6.2 points for the Sacramento Kings, he would be an ideal fit for the Thunder. Sacramento removed Hickson from the starting lineup on January 18th, so he does appear expendable.
In return, the Kings could net second-year center Cole Aldrich and a second round pick, at the very least.
Both players have similar salaries – making the fruition of this deal very realistic.
Number 1: Don't Start James Harden
Brett Deering/Getty Images
Starting shooting guard Thabo Sefolosha sat out in Monday night's loss to the Los Angeles Clippers due to a foot injury.
Sixth Man-of-the-Year frontrunner, James Harden, started in his place.
Not a bad replacement, right?
Wrong.
While starting alongside Kevin Durant and Russell Westbrook, Harden looked hesitant and passive.
The super-sub managed to take only two shots in the opening period, while the two superstars combined for 15 of the team's 21 total attempts. Together, Westbrook and Durant scored the team's first 21 points, until Nick Collison made a layup with 33 seconds remaining.
To begin the second quarter, the Thunder floored a lineup of Harden, Nick Collison, Daequan Cook, Reggie Jackson, and Nazr Mohammed.
Before Westbrook and Durant returned at the 8:39 mark, Harden was decisive and aggressive. He put pressure on the Clippers' back court, and drew fouls on three consecutive possessions while driving to the basket, After Durant and Westbrook returned, however, Harden finished the quarter off with a single shot attempt and a turnover.
While I'm not suggesting that his teammates are detrimental to his play, it's clear that Harden is better served as a bench player who plays "starter" minutes.
Coach Scottie Brooks' decision to start Harden proved to have a ripple effect.
In his start, Harden logged over 42 minutes of play, but scored only 7 points. In comparison, Sefolosha has season averages of 20.9 minutes and 5.2 points per game.
To account for Harden's 16.4 points off the bench, the Thunder turned to Cook. Although Cook scored 12 points in his extended role, all of his points came on three-point shots during the 4th quarter – well after the outcome had been decided.
Even though the Thunder roster three dangerous scorers, they seem better suited in their normal rotation.
Harden spent the majority of his playing time on the court with Durant and Westbrook. The duo combined for 49 of the Thunder's 78 total field goal attempts (62.8 percent).
With those two dominating the ball so much, it's no wonder why Harden had such a hard time finding his rhythm.
Keep Reading

Oklahoma City Thunder: Like this team?