Ranking Michael Pineda and the 25 Best MLB Pitchers 25 and Under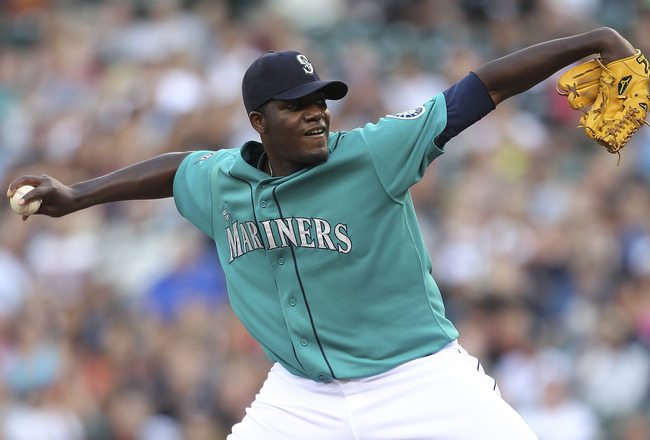 Otto Greule Jr/Getty Images
Michael Pineda joins the New York Yankees in 2012, having been part of arguably the sexiest MLB trade all winter. He should have won the American League Rookie of the Year award in 2011, and even though he didn't, he proved that he is more than a prospect: He's a solid No. 2 starter with a scary fastball and plenty of command over it.
He's also only 23 years old.
That last fact is not least in evaluating Pineda. Pitchers do not age in a linear fashion, so it's not always certain that younger is better.
However, as the sagas of Roy Oswalt and Edwin Jackson help demonstrate, MLB teams continue to select young pitchers over older, more proven ones, and they are not wrong to do so.
Without an elite young arm or two, no organization has much chance of sustaining major success anymore. That's why last January, I began an annual habit of ranking the top 25 pitchers in MLB, 25 years of age and under. To qualify, a pitcher's "baseball age" (his age as of July 1 of the season in question) must be 25 or younger, and he must have at least appeared in the big leagues.
Since last year, eight of the top 25 have lost eligibility, and three have fallen off the list after setback seasons. The order of those left has changed a bit, too.
Here is the new list for 2012, though, of course, this takes into account more than the coming season's projected value.
25. Mike Leake, Cincinnati Reds
Joe Robbins/Getty Images
Maturity in baseball means more than growing into one's power or finding the right grip on a changeup. It means what it means for everyone else in the world. It means finding a mental balance, learning to adjust and to control oneself.
Mike Leake, as it turned out, had something to learn. He famously skipped the minor leagues when he joined the Cincinnati Reds rotation in spring 2010 and pitched well even as he split the season between the rotation and the bullpen.
However, 2011 began on a series of ugly notes.
During spring training, Leake shoplifted some T-shirts and was duly arrested. He began the season with the Reds, but after six starts and three relief appearances, he had a hideous 5.70 ERA. The Reds demoted him for two weeks, and after Leake returned, he had a 3.36 ERA in 20 starts to close out the season. He struck out 86 batters and walked only 25.
The ceiling here is that of a mid-rotation starter; that's the bad news. The good news is that, at age 24, Leake is already there. He's fully matured, at least as a ballplayer.
24. Drew Storen, Washington Nationals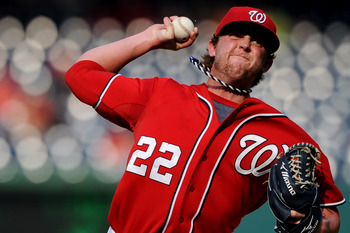 Patrick Smith/Getty Images
After a season's work primarily in a setup role, Drew Storen got the closer's gig in Washington at the tender age of 23 in 2011. It was sad to see even the vague possibility of a return to the starting rotation go by the boards; it was great to see Storen save 43 games with a 2.76 ERA.
He throws a hard sinker to go along with his more pure fastball. Both pitches hover around 95 mph. His wipeout pitch, though, is a sweeping slider. He needs to refine that offering in order to miss so many bats as to become an elite closer.
But in the meantime, he's certainly a higher-impact arm than back-end starters still struggling to establish themselves in the big leagues.
23. Arodys Vizcaino, Atlanta Braves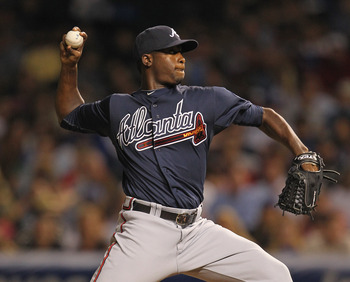 Jonathan Daniel/Getty Images
Youth is on Vizcaino's side. He debuted in 2011 at age 20 and has a world of upside based on his pitch blend.
He pitched exclusively out of the bullpen for the Braves in 2011, and likely will do so again in 2012. But he could make a Neftali Feliz-type move to the rotation in a year or two.
Of course, the viability of that potential move depends upon Vizcaino's secondary offerings. He has a fastball that sits in the mid-90s and can touch 100 mph. He also has a curveball that can baffle batters of either side of the plate when it's right.
That curve is the subject of some ambiguity. According to one pitch-classification system, Vizcaino throws it roughly a third of the time, and bends it in two different ways, but at a fairly constant speed. However, the Pitchf/x system views the "pitch" as two distinct offerings, a slider and a curve. Both come in at roughly 81 to 83 mph, and have similar horizontal movement, but the curve dips down more and bends a bit.
If Vizcaino has three pitches (he also has a changeup, but it will never be more than a marginal pitch and cannot make him a starter on its own), he might make that leap back to the starting corps. If the curve stands alone, and the observed differences in his two breaking balls smooths away, he's probably a closer.
Either way, he has terrific value.
22. Henderson Alvarez, Toronto Blue Jays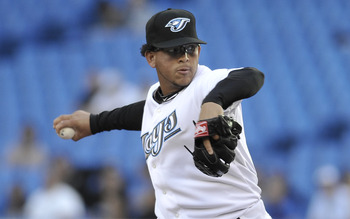 Brad White/Getty Images
Alvarez replaces fallen star Kyle Drabek, both as the unproven youngster the Blue Jays will rely on as the season begins and as No. 22 on this list.
He throws hard, but Alvarez is not going to miss a ton of bats. His repertoire consists mostly of a mid-90s straight fastball, a two-seamer at roughly the same speeds, a changeup with some upside and a usable but unimpressive slider.
Command and ground balls define him, as was in evidenced in 2011. He pitched 63.2 innings and walked only eight batters, while over half the batted balls against him were on the ground.
Alvarez will be just 22 in April, so he still has room to improve upon a solid mid-rotation profile. Given his lack of swing-and-miss stuff, though, he is not a future ace.
21. Jarrod Parker, Oakland Athletics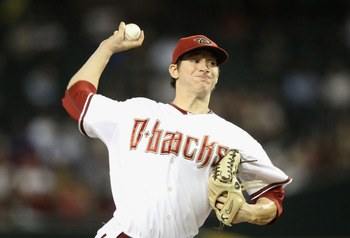 Christian Petersen/Getty Images
Parker has just one big league game under his belt. He rallied from Tommy John surgery with a strong 2011 that got him to the show, and he allowed only five baserunners (none of whom scored) in 5.2 innings there.
Health concerns, along with a lack of a shiny third pitch, lead some to wonder whether Parker will end up as a starter or a closer. In this case, that's actually a good thing.
It increases the likelihood that Parker will become either a good front-line starter or a good closer. Pitchers like Drew Storen and Neftali Feliz get shuffled to the bullpen too quickly sometimes, limiting their upside.
Others, like Daniel Cabrera, get way too many chances to start, when they belong in the bullpen. Parker clearly will get every opportunity to start, but his injury history and the whisper that he might someday drift to the closer's role should help ensure that the A's use their new acquisition in the optimal role for him developmentally.
20. Daniel Hudson, Arizona Diamondbacks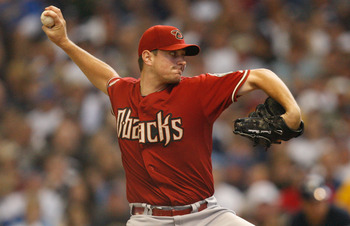 Jared Wickerham/Getty Images
On pure skills, Hudson belongs higher on this list. He had a terrific breakout season in 2011, and was the true staff ace despite Ian Kennedy's big wins total and media-darling status.
Hudson has three average-or-better pitches, including a slider and a changeup that keep batters very off balance. He gets excellent extension at both ends of his delivery, maximizing velocity, movement and deception.
Therein lies the rub. The extraordinarily long levers in Hudson's delivery are good, but the whipping action of his throwing arm throughout is ominous. Many project Hudson as a burn-bright, burnout candidate. He could pitch at a No. 2 level for a few more years, but then again, his arm could pinwheel off in a month or two.
There's risk there, but there's also the potential for great reward.
19. Brandon Beachy, Atlanta Braves
Kevin C. Cox/Getty Images
Of every seven batters who took the plate against Brandon Beachy in 2011, two walked back to the dugout holding their bats by the barrel and shaking their heads.
For the Braves, Beachy has become yet another sensational young hurler and remarkable find by what may be the game's best scouting department.
Beachy dazzled without truly elite stuff. He throws a fastball that can touch 95 mph, but usually hovers in the low 90s. His slider can be nasty; his changeup is good.
For the most part, though, he derives value from a deceptive, long and downhill delivery and a fastball that Beachy consistently spotted on the outer third of the plate to batters on both sides of the plate.
He remains largely unknown and a certain degree of risk for regression exists. But Beachy proved in 2011 that he has the upside of a front-line starter.
18. Chris Sale, Chicago White Sox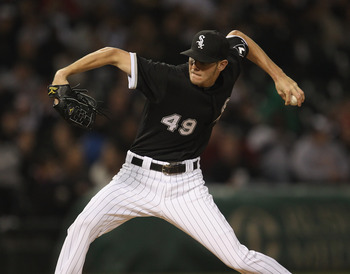 Jonathan Daniel/Getty Images
Sale blazed his way to the big leagues within three months of the White Sox's decision to grab him in the 2010 draft, and a year and change in the bullpen has returned fine results. The Sox kept Sale there in the name of competing, prioritizing optimization of their roster over Sale's development.
Now, he will be asked to take his funky delivery and humming heat to the starting rotation, as the White Sox shift into rebuilding mode and finally ask for a full workload of their top 2010 pick. It may be a messy first circuit.
Sale is somewhat vulnerable against right-handed batters. He'll likely adjust his approach and improve in 2012, but his fastball/slider combo is not necessarily conducive to small platoon splits. The White Sox's all-out pursuit of the playoffs has certainly set back their top young pitcher. Sale should recover nicely nonetheless.
17. Jeremy Hellickson, Tampa Bay Rays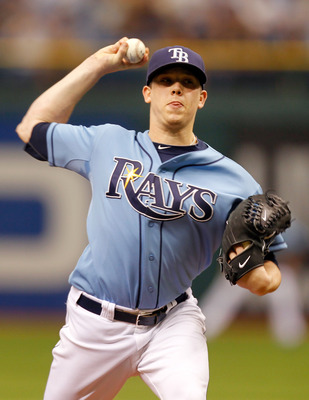 Mike Ehrmann/Getty Images
Excellent command and an unusually diverse arsenal has set Hellickson apart. He won the AL Rookie of the Year award last year, thanks to a 2.90 ERA. He didn't strike out enough batters to truly merit the honor or the numbers, but he should only improve.
Hellickson has a plus changeup and is working on a cutter that could be just as good. He may be one of those hurlers that peaks after his second or third season, given his ability to dodge hard contact and his supernal control.
16. Drew Pomeranz, Colorado Rockies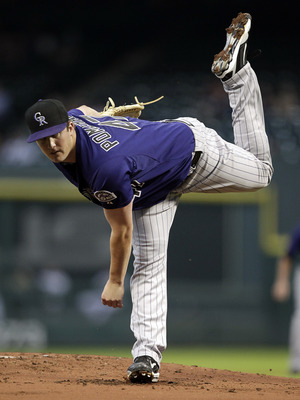 Bob Levey/Getty Images
When the Rockies put Ubaldo Jimenez on the trade block last summer, they said they would not lose him for anything less than top dollar in return. When the Cleveland Indians offered up their top two pitching prospects, the Rockies decided they'd found their buyer.
Pomeranz was the heart and soul of the deal. His numbers in a brief audition for Colorado in September did not impress, but his left-handed power arsenal should serve him well for years to come. It would be a shock if he doesn't make the starting rotation out of the gate this spring.
15. Trevor Cahill, Arizona Diamondbacks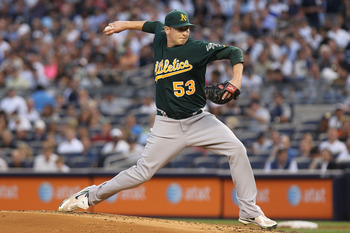 Nick Laham/Getty Images
Jarrod Parker is an Oakland Athletic, of course, and that's so as a result of a deal that sent Cahill to the Diamondbacks. Cahill is a small step forward for the Diamondbacks and has a lower overall ceiling than Parker.
Fortunately for Arizona, Cahill is already in his prime. He has two full seasons of solid work already on his record. He's a solid ground-ball pitcher, shown by having only four pitchers keeping a larger percentage of batted balls on the ground over the past two seasons than Cahill.
He may not be a superstar, but what he does well, he does very well.
14. Jaime Garcia, St. Louis Cardinals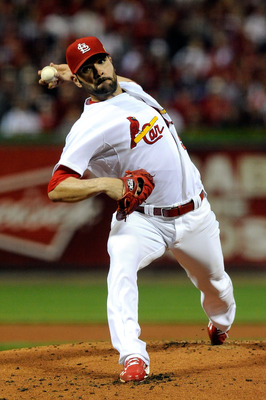 Pool/Getty Images
After Tommy John surgery set him back on his way to the big leagues, Garcia looked sure to be delayed until at least 2011 before establishing himself in the big leagues.
Improbably, he won a job in 2010 posting a 2.70 ERA and winning 13 games.
In 2011, he won 13 more games, and although his ERA got worse, he pitched more and walked fewer batters. His curveball is blossoming into one of the better single-pitch weapons in the league, and his sinker continues to make him relatively homer-proof.
Garcia is a much better complementary piece in the Cardinals rotation than most give him credit for.
13. Derek Holland, Texas Rangers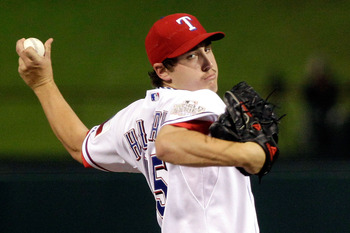 Pool/Getty Images
Known best for his goofiness and his stellar World Series start, Derek Holland is actually growing into one of the game's most promising left-handed starters. He's inconsistent, but when he is good, he's usually very, very good.
Holland features a hard, tailing fastball on which he found a few extra ticks of velocity last season. He also has a curve, a change and a slider, all of which are serviceable big league pitches.
He upped the use of the curve last season and, when he had command of it, it was a difference-maker for him. Holland projects as the Rangers' third starter in 2012, but would be a perfectly useful second for many teams.
12. Jacob Turner, Detroit Tigers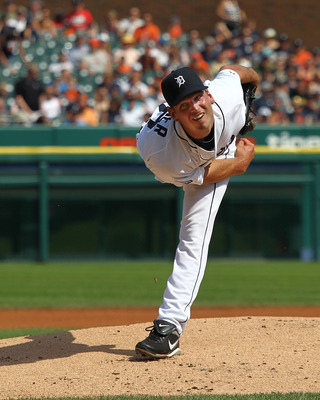 Dave Reginek/Getty Images
Despite uneven performances and a struggle to hold runners on base during his first taste of MLB in 2011, Turner is a first-class pitching prospect. He has fantastic command of his fastball and a curve with terrific bite, and should be able to push his way into the Tigers rotation by Opening Day.
The question about Turner is his ceiling. He will be no worse than a solid mid-rotation starter when he reaches his peak. But it's fair to wonder (absent an unforeseen development in his changeup) if he can ever become an ace or even a first-division second starter.
11. Craig Kimbrel, Atlanta Braves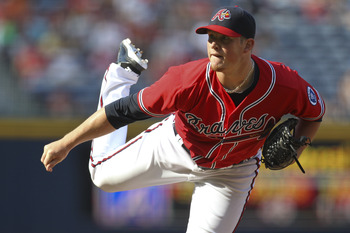 Daniel Shirey/Getty Images
Craig Kimbrel is filthy.
He'll never be more than a closer, but then, he might well be the best closer in the league for a few years. His stuff is electric and his frame is built to sustain a heavy workload.
His fastball-slider combo is as potent as any in baseball, largely because his delivery looks exactly the same regardless of which pitch he throws. His slider also snaps more than some of the others in his league, like Carlos Marmol and Vinnie Pestano.
The shelf life of elite relievers is usually brief. But given the spin Kimbrel generates on that slider, his might run a bit longer than most.
10. Aroldis Chapman, Cincinnati Reds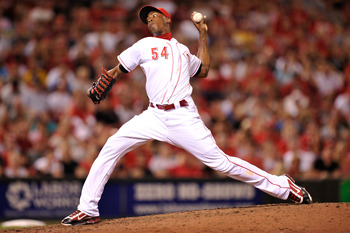 Jamie Sabau/Getty Images
After a full season in the bullpen, Aroldis Chapman should be in the starting rotation for the Reds in 2012.
His fastball-slider combination is certainly up to that task. He may have the most devastating blend of the two of any left-handed pitcher in the game, and in terms of sheer stuff, there is no debate on the topic.
Unfortunately, Chapman does not have the command to make that stuff operate at full effectiveness. He walked nearly 20 percent of the batters he faced in 2011, and keeping batters off base will be even more challenging in 2012 if he finds himself facing 30 batters per appearance.
He will need to use his changeup more to deal with the increased number of right-handed batters he will face, and refining that pitch could take a while.
Remember, though, that no pitcher in the game has as much to gain by harnessing his stuff. Chapman's changeup averaged over 93 mph in velocity last year.
9. Neftali Feliz, Texas Rangers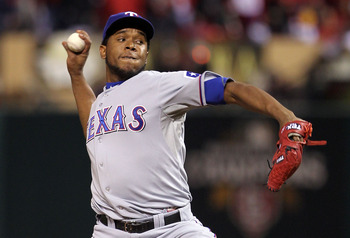 Ezra Shaw/Getty Images
As a closer, Feliz was able to rely almost completely on his easy fastball and late-dropping curve.
As he transitions into the starting rotation, he will need to refine and emphasize his changeup.
That pitch has the potential to be an average weapon against left-handed batters, and if he succeeds in developing it that way, Feliz should be a top-notch co-ace to Yu Darvish and Derek Holland.
If the change comes up short, he will still be a solid, useful, mid-rotation guy because his curve is a pitch left-handed hitters also struggle to hit.
8. Julio Teheran, Atlanta Braves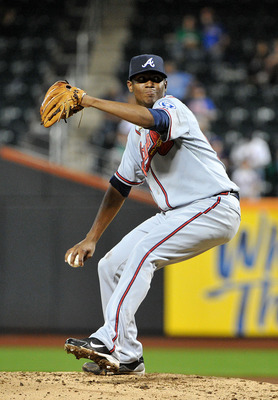 Christopher Pasatieri/Getty Images
Even more tender of foot than Vizcaino, Teheran projects as a top-of-the-rotation talent.
He has a natural feel for a changeup, spins the ball well to create break and throws loose and free. He might be the best right-handed pitching prospect in the game.
Teheran has growing to do, but his command and general feel suggest he will mature into an ace. His delivery is so effortless that he should have no problem staying healthy for the long-term. It helps that the Braves, baseball's most pitching-rich franchise, have no need to tax his arm.
7. Tommy Hanson, Atlanta Braves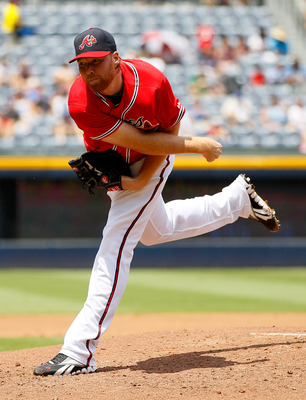 Kevin C. Cox/Getty Images
When healthy, Hanson is already a front-line right-handed starter. Unfortunately, he did not finish 2011 on a healthy note.
Hanson suffered from shoulder tendinitis in June, but returned to pitch well during July and early August. At that point, though, he suffered an impingement in the shoulder, and he did not pitch again. A year after piling up over 200 innings of terrific ball, Hanson fell back to only 130 innings.
Durability has now become a concern. But Hanson gets major credit for having already established himself as a star.
6. Michael Pineda, New York Yankees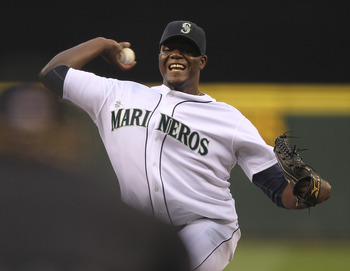 Otto Greule Jr/Getty Images
A strong fastball-slider blend is a nearly universal theme for this list and Michael Pineda is another who fits that mold.
His fastball command is exceptional. Pineda's fastball also has unusual velocity and movement, even for this prestigious list. He used that skill set to strike out 173 batters against 55 walks in 171 innings last season.
He did all that at age 22, so great things may very well be in store. That's the bet the Yankees made when they dealt top slugging prospect Jesus Montero to land Pineda this month. The dangers are that Pineda, who had elbow problems that set him back badly in 2009, might struggle to stay healthy or that his fly-ball proclivity might lead to too many home runs allowed at Yankee Stadium.
5. Matt Moore, Tampa Bay Rays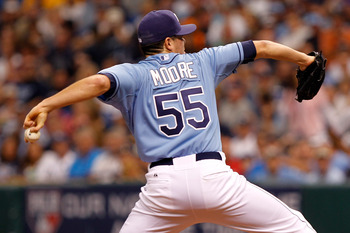 Mike Ehrmann/Getty Images
These top five pitchers are tricky; they could be rearranged in nearly any order. It all depends on how one values risk, reward, stuff command, durability and efficiency.
In the case of Moore, no apparent risk weighs on the equation. His delivery is easy and smooth, and he doesn't rely on any pitch that places undue torque on his elbow or shoulder.
Moore has great stuff, too. He pitches in the high 90s when he wants to, has great control and leverages his frame well. He should be an ace, a top-three option even on this elite list.
The flip side, of course, is that Moore hasn't done anything at the big league level yet. It remains to be seen whether he can translate his huge success in the minor leagues into the same thing in Tampa Bay. He might, for instance, struggle to miss bats early on, the way David Price, Wade Davis and Jeremy Hellickson all have.
4. Mat Latos, Cincinnati Reds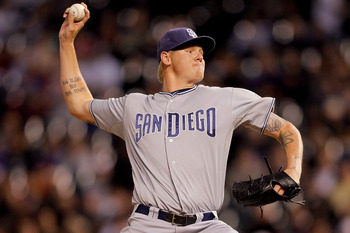 Justin Edmonds/Getty Images
Though there was a disconcerting drop in Latos' velocity last season, he is an elite hurler.
Since the start of 2010, he has 374 strikeouts in 379 innings and has walked only 112 batters. He has two solid fastballs, a slider, a curve with plus potential and a changeup on which ride his hopes for thriving with his new club in Cincinnati.
Latos rarely throws that change, but when he does, the results have generally been ugly. He needs to keep his velocity from dropping any further, and he has some issues with what scouts call "mound makeup."
But Latos' stuff makes him a top-flight option nonetheless.
3. Madison Bumgarner, San Francisco Giants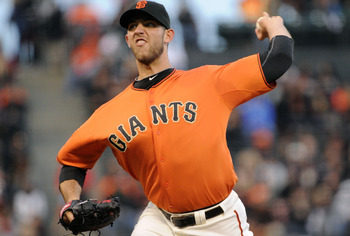 Thearon W. Henderson/Getty Images
Though he didn't turn 22 until August, Bumgarner had a very veteran season in 2011. He struck out 191 batters against 46 walks in just under 205 innings, using a devastating combination of stuff and some extraordinarily quirky mechanics.
Bumgarner throws more or less the way Daniel Hudson wishes he threw. He has Hudson's long, low-angled delivery, but he does it with better extension and substantially less effort. He's also left-handed, which helps him work a vicious slider across the plate in a broad sweep. He uses that to get his fastball across and in on right-handed batters, as well, tying them in knots.
2. Stephen Strasburg, Washington Nationals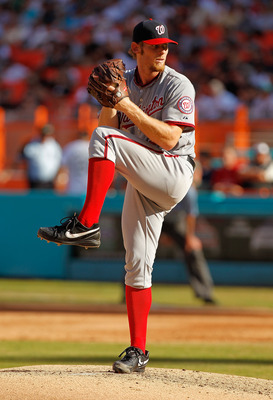 Mike Ehrmann/Getty Images
He throws 100 mph. He has a sinking two-seam fastball that also sits around 93 mph. He adds a devastating changeup, a sweeping slider and a sturdy frame that should prevent future injury.
After Tommy John surgery claimed a year of his rise to fame, Strasburg pledged to change up his repertoire and delivery. There was little evidence of that when he came back in September 2011, but Strasburg remains a good bet because, barring injury, he has the stuff and the command to be one of the best pitchers in decades.
It's wild to think about it, but despite the setback, Strasburg has 92 innings of big league work under his belt. In those 92 frames, he has 116 strikeouts and has walked only 19 batters. He has allowed 71 hits and has a 2.54 ERA.
If you're picking anyone else for the NL Cy Young in 2012, go on without me.
1. Clayton Kershaw, Los Angeles Dodgers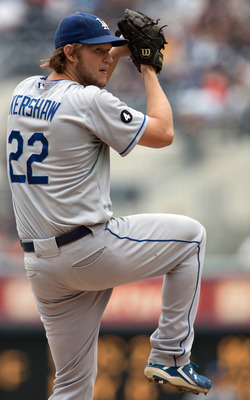 Kent Horner/Getty Images
Kershaw's raw stuff has been excellent since day one. But he took over two years of big league service time to fully realize his potential.
Until 2011, Kershaw used his fastball more than all but a few pitchers in baseball. His secondary offering during those years was his curveball, a fine but not deadly selection.
Last year, though, he lessened his reliance on the fastball, went to his slider more than his curve and drastically increased his efficiency. He slashed his walk rate by mixing his pitches more and getting opposing hitters to follow his breaking pitches out of the strike zone after getting ahead.
Kershaw is the best blend of safe and talented among all young pitchers in MLB right now.
Keep Reading