NFL Draft 2012: 5 Prospects That Can Help the Philadelphia Eagles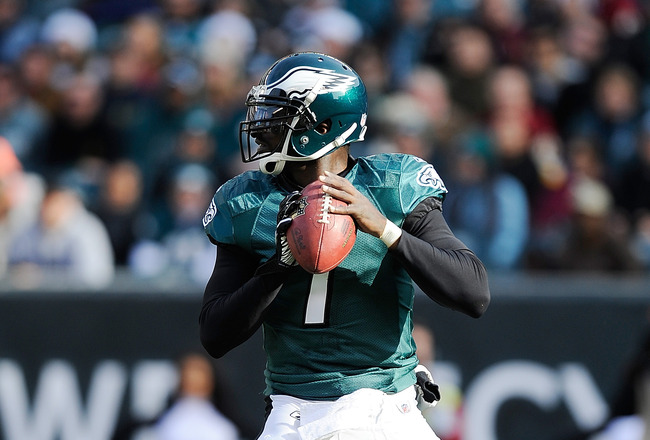 Patrick McDermott/Getty Images
The "Dream Team" turned into a 4-8 nightmare right before everyone's eyes in 2011.
The Philadelphia Eagles did finish up on a good note, however, winning their last four games and will return a (for better or worse, i.e. Andy Reid) collection that people thought was a lock for the postseason.
Despite a disappointing 2011, the Eagles still have one of the more talented rosters in the NFL, but with a few key and much-needed additions via the 2012 NFL draft, it could make the supposed "Dream Team" notion actually come to pasture and give the Philadelphia faithful a football championship.
Prospect No. 1: Luke Kuechly (LB/Boston College)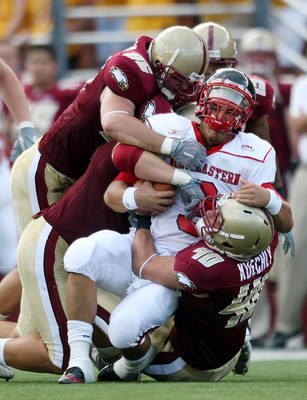 Elsa/Getty Images
This is the only choice for the Eagles at No. 15. It is such a desperate need it's not even funny.
I know Eagles fans will be a little apprehensive about putting a rookie in the middle of the defense for the second year in a row, but this is a different situation.
Kuechly was a highly successful linebacker at Boston College as opposed to Casey Matthews, who was not nearly as decorated a college player.
He is a sure tackler, which is something the Eagles were sorely lacking in 2011. He's aggressive around the ball and can actually shed blocks, unlike what the Eagles linebackers did last season.
I'm not saying he's going straight to the Pro Bowl next season, but I think he will be a great addition to a linebacking corps that needs all the help it can get.
He led the nation last season with 191 tackles, was an AP and Sports Illustrated first-team All-American selection, the Butkus Award winner and ACC Defensive Player of the Year.
Picking a linebacker this early in the draft is against the Eagles' track record during the Andy Reid era, but this has to be a no-brainer.
Prospect No. 2: Nick Foles (QB/Arizona)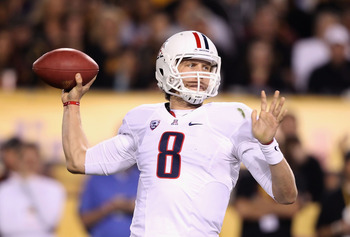 Christian Petersen/Getty Images
Vince Young is clearly not the answer as a backup quarterback to Michael Vick. Why not go out and draft a young guy to groom to eventually take the place of Vick?
I know, it sounds very similar to the Kevin Kolb/Donovan McNabb situation, but this is definitely needed.
As Eagles fans know by now, Vick has had a history of being injury prone and usually misses a couple games per season.
I'm not sure if Eagles fans could handle some more of Young trotting out for relief duty.
With Mike Kafka still on the roster, Nick Foles (whom I have the Eagles taking in the second round) wouldn't be immediately slotted in as the No. 2 guy, so you let Foles and Kafka battle in out in camp for the No. 2 spot. Foles would likely come out on top in the end.
Foles showed me some things while at Arizona, completing nearly 70 percent of his passes and throwing 28 touchdowns. One cause for concern could be his 14 interceptions, but your next best option at this point may be cross-state rival Brock Osweiler from Arizona State, who threw 13.
If I had my choice, I would take Foles.
Prospect No. 3: Kevin Zeitler (G/Wisconsin)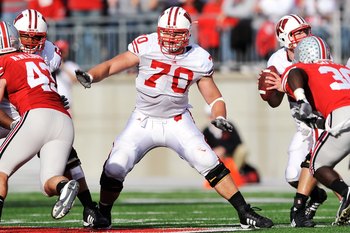 Jamie Sabau/Getty Images
If the Eagles do not go with a quarterback in the second round, they could try to beef up the offensive line.
The offensive line got off to a rocky start but improved as the season progressed and helped LeSean McCoy reach the Pro Bowl.
But at the same time, some of McCoy's runs were escape acts because he had to fight off numerous defenders behind the line of scrimmage.
The Eagles are pretty set at the tackle position with Jason Peters and Todd Herremans. The Eagles did draft guard Danny Watkins in the first round last year but the could use some depth.
There's nothing wrong adding to one of the more important parts of the team, especially one that's protecting injury-prone Michael Vick.
The only thing about Zeitler is that he comes from a run-heavy offense at Wisconsin so he will have to make an adjustment to the pass-first style of the Eagles.
If not Zeitler, then Brandon Washington out of Miami or Senio Kelemete from Washington, both of which are used to pass protection more so that Zeitler, but Zeitler would not be a bad choice.
Prospect No. 4: Aaron Henry (FS/Wisconsin)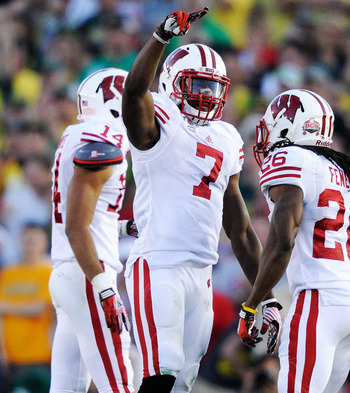 Kevork Djansezian/Getty Images
The Eagles have good safeties but could still use an upgrade. It's important that the Eagles have good cover safeties so they can actually take advantage of the talent they have at corner and play them in a man-to-man defense.
Enter Aaron Henry from Wisconsin, who was a former cornerback-turned-free safety in college. He has most of the prerequisite skills of a cover corner, but also with the physicality and instincts of a safety.
Henry should be available for the Eagles between the third or fourth rounds and could add some much-needed depth to the safety position.
Prospect No. 5: Tommy Streeter (WR/Miami)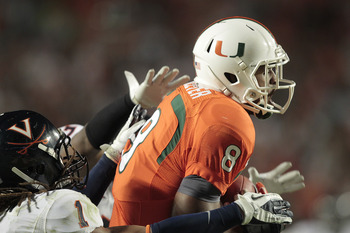 Joel Auerbach/Getty Images
With the DeSean Jackson situation up in the air, this may turn out to be a very good pick up for the Eagles.
But with contract situations aside, it actually makes a lot of sense for the Eagles to take a serious look at Tommy Streeter.
He stands at 6'4" and would give the Eagles an actual red-zone target, something Jackson and Jeremy Maclin have not provided during their tenures in Philadelphia.
He can also stretch the field as well, as he averaged 17 yards per catch in 2011.
He's big and he went to Miami, so you know he has some speed. Seems like someone the Eagles could use going into 2012.
Streeter isn't projected to be taken until the third or fourth rounds so he can be turn out to be a diamond in the rough.
Keep Reading

Philadelphia Eagles: Like this team?