2012 NHL All-Star Game: Top 5 Players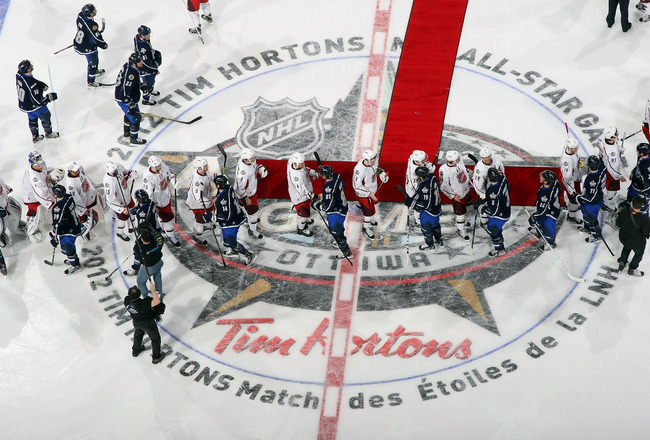 Christian Petersen/Getty Images
Watching 42 of the NHL's best provided an afternoon of fun, exciting and high-scoring action for NHL fans across the world.
The NHL puts on a truly unique event for both its diehard and casual fans.
Marian Gaborik finished the game with three goals and an assist to win the MVP award.
But, Gaborik wasn't the only star to shine on Sunday—several other players displayed jaw-dropping skill sets that can only be admired by fans around the world.
Marian Gaborik (Team Chara)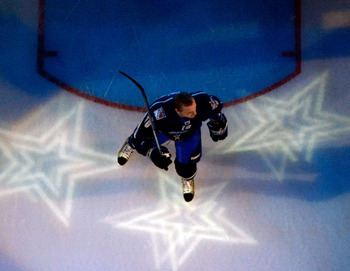 Gregory Shamus/Getty Images
Marian Gaborik sure left an impression on the NHL after his hat trick in Ottawa and deservedly walked away with the game's MVP award.
He played on a line with fellow Slovak Marian Hossa and superstar Pavel Datsyuk. It was almost unfair.
Gaborik scored all of his goals by going to the net and really enjoyed beating New York Rangers teammate Henrik Lundqvist, twice.
Gaborik is playing on another level this year in New York on a line with Brad Richards.
If he can stay healthy, he might finally develop into the superstar the Rangers hoped for when they signed the winger in 2009.
Daniel Alfredsson (Team Alfredsson)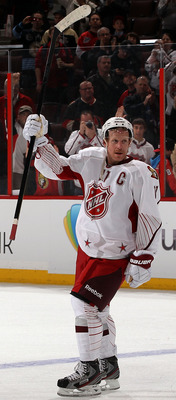 Christian Petersen/Getty Images
It was hard not to cheer for 39-year-old Ottawa Senators winger Daniel Alfredsson. He couldn't buy a hat-trick goal in the game's waning moments.
The 16-year NHL veteran (all with Ottawa) and future Hall of Famer put on quite a show for his hometown fans. He scored twice, assisted on another goal and received a huge ovation despite captaining the losing side.
His team is playing extremely well right now, which is good news for the aging winger who hopes for a Stanley Cup victory to cap his stellar career.
Zdeno Chara (Team Chara)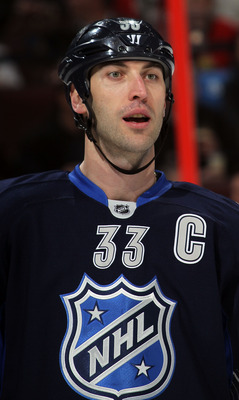 Bruce Bennett/Getty Images
A day after setting a new world record (beating himself) by shooting a puck 108.8 miles per hour, Zdeno Chara captained his team to a 12-9 win in the 2012 NHL All-Star Game.
He scored only one goal, but he (and defensive partner Brian Campbell) finished with a plus-7 rating.
Plus-7! That's some pretty good defensive play for an offense-focused contest.
Tim Thomas (Team Chara)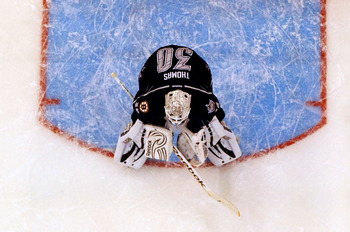 Gregory Shamus/Getty Images
Tim Thomas proved he is among the NHL goaltending elite by winning a Stanley Cup with the Bruins last year, and when 20 of the league's best players knocked 21 shots at him in his period of play, the 37-year-old stood tall.
He finished with 18 saves and a third consecutive NHL All-Star game win.
Not bad for the Flint, Michigan native and 217th overall pick in the 1994 NHL Entry Draft.
Scott Hartnell (Team Alfredsson)
Gregory Shamus/Getty Images
Scott Hartnell finished with two assists, but I included him on the list because A) I needed another player from Team Alfredsson and B) he played for a noble cause.
Every time Hartnell took a spill, he donated $1,000 to a charity promoting the game of ice hockey to inner-city Philadelphia.
He fell four times (good for $4,000) and gave fans quite a laugh while trying to skate away from Philadelphia Flyers and Team Alfredsson teammate Claude Giroux, who was trying to trip "Hartsy" to add to his donation total.
Keep Reading