5 Ugliest NHL Uniforms of All Time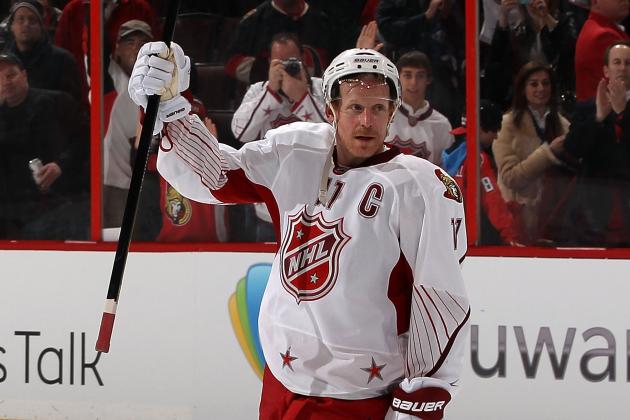 Christian Petersen/Getty Images

The conclusion to this season's NHL All-Star Game couldn't come fast enough.
As we go through the motions leading up to the imminent puck drops Tuesday night, I thought I'd give you all something to help pass the boredom.
Ugly uniforms are but a footnote in the NHL's history. With all the trade rumors and second-half predictions spiraling out of control, here is something to give you a change of pace.
Allow me to present my "5 Ugliest NHL Uniforms of All Time."
Begin Slideshow

»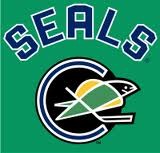 For purposes of this presentation I zoomed into the logo as best I could. Simply because the team's name was the Golden Seals—yet that thing looks nothing like a seal.
If I didn't know the Partridge Family aired in the 1970s, three years after this abstract disaster, I'd have thought this was some sort of attempt to steal the show's thunder.
Then again, that is supposed to be a seal—not a bird—right?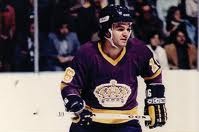 More like Los Angeles Kings of Laughing Stock. Just what the heck is that thing?
What...couldn't they run down to a local Burger King and get a kid's crown, trace it out and slap it on the uniforms?
Kings fans had to be so relieved when their team went to the Black and Silver theme.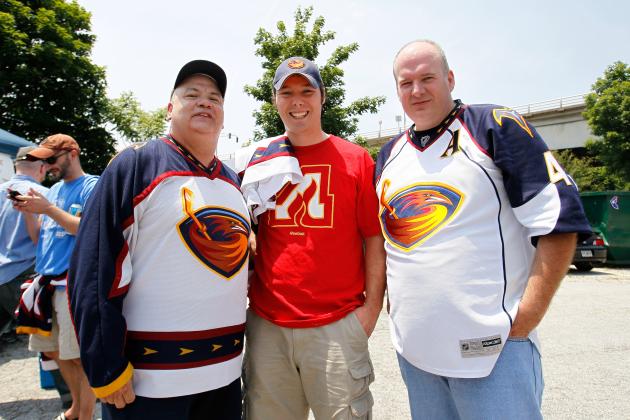 Kevin C. Cox/Getty Images

The guy in the middle is wearing the Atlanta Flames jersey, in case you didn't know.
I thought it would be nice to see that one sandwiched in between the latest NHL franchise to fail in the A-T-L.
Before the Flames were in Calgary they too occupied space as the town's red-headed franchise.
That thing just makes me think barbecue sauce. At least the other two had some laugh factor; this is just plain awful.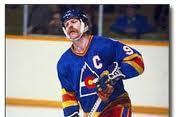 No, not the baseball team.
This uniform was terrible in every sense of the word.
It makes me think of two things: the Chicago Cubs, and that song dads teach their kids about yellow snow. (You know, the one that starts about watching where the huskies go.)
I'll leave the rest to your imagination.
As bad as this thing is, there is one even worse.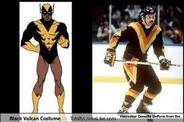 This has to be the ugliest thing not only in hockey, but all of sports. I'm sorry, Canuck fans, but if you guys object, I don't know what to tell you.
This thing takes roll on your face laughing to a whole other level. This thing was bad back in the day, let alone now.
Add in the implications with the V mini-series on TV with the Black Vulcan super-hero jokes, and this thing might have actually been some sort of psychological ploy by its designers.
Perhaps the design team felt opponents would laugh so hard looking at this that the Canucks would just skate around them while they writhed on the ice in laughter.
Anyway this thing sums up my list.
Feel free to leave questions, comments and complaints below.
You can follow me on Twitter @jriding4evr!