2012 Steelers: Tomlin & Rooney's High Stakes Gamble with Running Game
January 31, 2012

Jeff Gross/Getty Images
Art Rooney II and the Pittsburgh Steelers organization have doubled down on 2012, re-orienting themselves towards a ground game that has taken a back seat to a Bruce Arians' pass attack powered by Ben Roethlisberger's arm.
Intent on reclaiming their running roots, the Steelers are faced with more adversity than any other year of the Mike Tomlin administration in Pittsburgh. Here's a brief look at the state of the Steelers' core.
RASHARD MENDENHALL
Mendenhall started 2012 off with a terrible injury. He was carted off the cold and hard field in Cleveland after a five-yard gain. His unique combination of power and speed made up for a fractured and ever rotating line. It provided a very solid dose of stability for the Steelers to lean on. 
He missed his third-straight 1,000-yard season by 110 yards. More importantly, he missed the playoffs with his season ending injury. How fast and how well he'll be able to rebound from this sort of injury remains to be seen. It could take more time than an offseason to get his power and burst back to 100 percent.
If history is any indication, Mendenhall can come back—but might not find the same blast of power until at least the middle of the 2012 season, if not 2013. 
MEWELDE MOORE
The 29-year-old Moore is a go-to third-down back who had 11 receptions for 104 yards and 22 carries for 157 yards in 12 games. He suffered a MCL sprain during the Monday Night debacle in San Francisco, and was sidelined the rest of the season and the playoffs.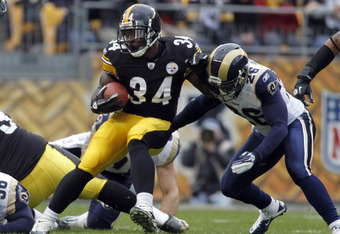 Justin K. Aller/Getty Images
The upside is that he knows the system and has proven himself to be a solid contributor, but the pool of running backs looks to be very crowded. With Baron Batch coming off of an injury, combined with his unrestricted free agent status—don't be surprised if Moore is wearing another jersey this fall.
BARON BATCH
The dazzling rookie out of Texas Tech had been sidelined during summer camp in Latrobe, tearing his ACL—thus deferring his dreams of playing for the Steelers in their 2011 campaign. His non-contact injury happened on the turf field that the Steelers were forced to practice on due to the wet grass in Latrobe. 
The 23-year-old sixth-round pick showed promise in the backs-on-backers drill during the first week of camp. He was expected to compete for a back up role against Dwyer, Clay and Redman. His steadfast faith and work ethic could be a tremendous boost to the Steelers both on and off the field.
ISAAC REDMAN
In the moments after Rashard Mendenhall went down, Redman was called on to carry the load.  The big, bruising back Redman rushed for 92 yards and scored on a seven-yard run. The downside was that he fumbled the ball twice in critical possessions, and the Steelers won in spite of—and not because of that effort.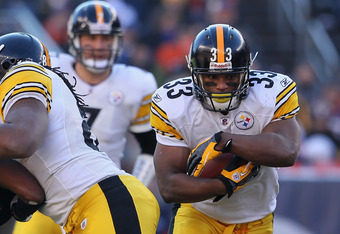 Jeff Gross/Getty Images
Believing in himself capable of a No. 1 back in the league next year, Redman plans on increasing his speed through cutting weight and maintaining his power.
In an exit interview on Steelers.com Redman shared: "If I cut a little bit of weight I'll have a quicker step and still be able to have (that) power."
The battle should be a fierce one between him and a recovering Mendenhall set on regaining his No. 1 position on the depth chart. 
JONATHAN DWYER
The former Georgia Tech running back went down with a broken foot and was put on injured reserve in the first week of December. The former sixth-round pick in 2010 just posted on his Twitter account that he's in the last days of week of rehab—from a broken foot he sustained in the loss to arch rivals the Cincinnati Bengals in week 13.
His 2011 totals were 123 yards on 16 carries, including a 107 showing against the Jacksonville Jaguars. He'll have a lot of competition from above and below on the depth chart with Redman, Mendenhall Clay and Batch all jockeying for position. 
JOHN CLAY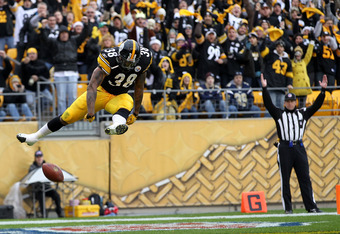 Karl Walter/Getty Images
Rookie running back John Clay, who comes in at (6'1″ and 248 lbs), went from being a hair away from getting cut from the team entirely—to becoming a practice-squad grinder to having some high-stake runs in the waning games of the 2011-12 frame.
Last August, Clay walked away from practice and had to be XX to return by Steelers' staff. The undrafted free agent was in a busy pack of veteran backs and trying to find his place. 
After Dwyer and Mendenhall went down, Clay's name was called and he answered admirably. He needs to tighten up his big frame if he hopes to be a back that can last in a league filled with men 100 pounds heavier and bent on bringing him down. 
He was able to learn enough of the playbook in two weeks—thanks in part to the pro-style offense his alma mater Wisconsin ran. He showed an aptitude for pro-running, and might just find a place for himself on the Steelers' roster next season and beyond.
With Redman making a move to lighten up, Clay could indeed become a nice compliment to a ground and pound game the Steelers are hoping to find in 2012. 
KIRBY WILSON

The biggest issue of the offseason is the recovery of five-year running backs Coach Kirby Wilson. The 50-year-old Wilson remains in critical condition in the Trauma Burn Center at UPMC Mercy in Pittsburgh after being severely burned on over 45 percent of his body, that he sustained from a house fire on the morning of January 6, at his home in Seven Fields.
In addition to the non-life threatening burns, he sustained lung injuries that will require surgical procedures according to a statement released by the family and posted on the Steelers.com website. The tremendous human tolls aside, the injury leaves in question—the very real logistical concerns of replacing Wilson. He was in the first group of coaches that Coach Tomlin installed when he arrived in Pittsburgh. 
The 50-year-old Wilson, who is known as a tireless and high-energy element in the organization, will be attending to issues of chemistry as they break in a new offensive coordinator and possibly more coaches by the end of the offseason.
It's possible the Steelers will retain nearly all of their backs, and look to build their running game from the front with some high-profile offensive line drafts. Then again, they might try to insure success by going for broke with a high-round draft pick that could completely explode the model in Pittsburgh. Either way, the Steelers have a lot of work to do to find their new identity. 
-Tell me what you think in the comments below