WWE Divas: 5 Ways to Make the Most of Kharma's Return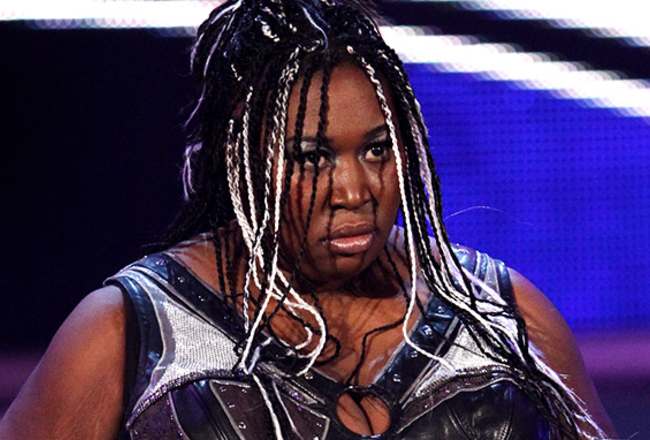 Photo from wwe.com

Kharma has returned, and her presence automatically strengthens and helps legitimize the Divas division. Fans may no longer be so quick to use Divas matches as their designated "get a snack from the fridge" time.
What will WWE have her do now that she's back?
As a fan who bemoans the horrid quality of WWE's women's wrestling, seeing Kharma come down the aisle at the Royal Rumble excited me to no end.
Kharma is an imposing and enthralling wrestler. She's not only the most powerful female wrestler, she's impressively agile. She also possesses the elusive "it" factor that many talented wrestlers lack.
Kharma looks like a menacing gladiator out of some sci-fi movie, which makes her stand out in a league of Barbie dolls. WWE's going to have to be creative in making full use of their newly returned asset.
Beth Phoenix Feud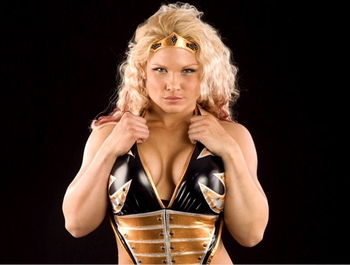 Let's start with the obvious one.
With Natalya a close second, Beth Phoenix is the best female wrestler on the WWE roster not named Kharma.
Unless WWE is planning on having Kharma provide the role of squasher in a series of squash matches, it makes the most sense to have Phoenix and Kharma battle for the Divas title.
Phoenix is strong and physically imposing enough to at least stand up to Kharma.
Most of the divas would look silly mounting any kind of offensive roll against Kharma. If the Bella Twins or Kelly Kelly stole a victory from her with an inside cradle, the ensuing groan would rattle the arena.
Instead, WWE should have their two best females trade the title over the next few months.
Fend off a Mob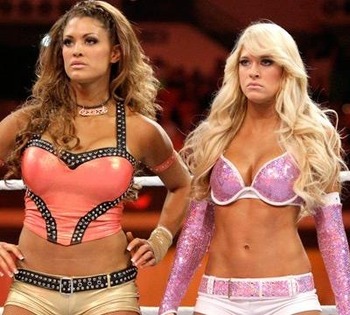 Kharma can't wrestle Beth Phoenix forever.
In order to utilize the female faces on the roster, WWE should have Kelly Kelly, Alicia Fox, Eve and Tamina gang up on Kharma.
Perhaps they're intimidated by her, knowing that they'll have a shot at the Divas title as long as she's around. Or maybe they spout off how she's not feminine enough to be a true diva and try to oust her from the company.
This one-on-four feud could present some intriguing match options.
While no one is interested in Kharma vs. Kelly Kelly, a gauntlet match where Kharma has to take one each of the ladies on in succession would be far more interesting.
Handicap matches are another option, as well as a battle royal where everyone tries to zero on Kharma.
Bring in an Old Rival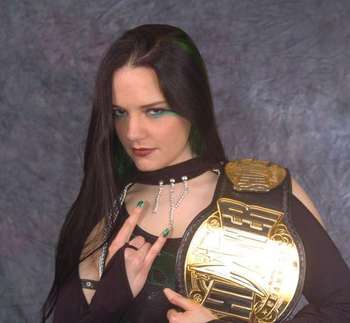 Holding out hope that WWE will decide to sign more talented divas is a disappointment waiting to happen, but Kharma and the company itself would benefit from an influx of talent, even it is on a temporary basis.
During her time in Japan, Kharma had some excellent battles with Aja Kong, Ayako Hamada and Manami Toyota. MsChif and Sara Del Rey from Shimmer also worked well with her.
She had great chemistry with all of them and would provide much better matches than the current crop of women.
A full-scale Diva turnover is unlikely, but perhaps one or two of these talented women could show up for one night only or some kind of cross-promotion with a Japanese promotion or Shimmer.
Accordion Rack Challenge
In the vein of Chris Masters' Masterlock Challenge and before that Sgt. Slaughter's Cobra Clutch demonstrations, Kharma could challenge men and women both to withstand her painful Accordion Rack submission hold for a designated amount of time.
Kharma would get the opportunity to be on TV even when she didn't have a match and it would help build her as an overpowering behemoth.
Various feuds and angles could eventually and easily be birthed from the challenge. Kharma could injure a diva with the move, angering one of said diva's allies or the woman who finally wins the challenge starts to talk smack, inciting Kharma.
The Accordion Rack starts at 1:15 in the video.
Elimination Chamber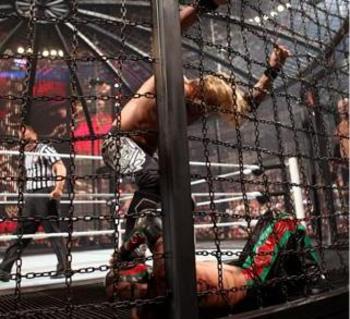 In the way that Chyna and Beth Phoenix and eventually Kharma herself broke the gender barrier at the Royal Rumble, there is no one better to make history at an Elimination Chamber match.
Not only would she hold her own, but her power moves would work quite well inside the demonic structure.
The build up to the match could have one or more of the other participants talk about how Kharma doesn't belong in the match. Kharma could respond by talking about creating her own destiny, being a trailblazer and exceeding everyone's expectations.
Those are all things she's already done and we'd love to see more.
Keep Reading