2012 Fantasy Baseball Second Base Rankings
January 31, 2012

Nick Laham/Getty Images
Robinson Cano was my top-rated second baseman last year. The view hasn't changed from the top of the Lester's Legends 2012 fantasy baseball Second Base rankings. Here's the initial list.

1. Robinson Cano, New York Yankees: No way he's moving from the top of the class after posting a .302-104-28-118-8 line. Not getting the stolen bases you need from a second basemen? Make it up elsewhere.
2. Dustin Pedroia, Boston Red Sox: If Cano weren't sooo good, Pedroia could have a shot at No. 1. There is nothing to be ashamed of his .307-102-21-91-26 line. He was good for everything last year.
3. Ian Kinsler, Texas Rangers: The ultimate Risk/Reward option. When he can stay healthy, he delivers. His .255 average makes you cringe, but his 121 runs, 32 HR, 77 RBI, and 30 SB more than make up for it.
4. Brandon Phillips, Cincinnati Reds: Phillips was Pedroia lite. His .300-94-18-82-14 line is solid across the board. Nothing elite, but he doesn't harm you anywhere.
5. Dan Uggla, Atlanta Braves: Uggla was ugly for the Braves hitting .233. He did score 88 runs, slug 36 HR and drive in 82 runs though. He also hit .296 with a .948 OPS after the All-Star break. Things are going to get better.
6. Ben Zobrist, Tampa Bay Rays: Zobrist bounced back from an ugly .238-77-10-75-24 2010 to a solid .269-99-20-91-19 2011 season. As long as he isn't one of those players that alternates good and bad year, you should be fine.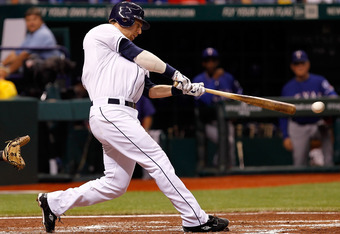 J. Meric/Getty Images
7. Chase Utley, Philadelphia Phillies: Utley is 33 and has missed 106 games in the past two seasons. His health is clearly a concern. So is the fact that his OPS has decreased every year since 2007.
8. Rickie Weeks, Milwaukee Brewers: Losing Prince Fielder and potentially Ryan Braun for 50 games puts a damper on Milwaukee's offense. Weeks posted a .269-77-20-49-9 line. He'll likely be in line to drive in more runs this year.
9. Dustin Ackley, Seattle Mariners: Ackley had some high expectations and delivered for the most part. Despite a .219 September he finished with a .273-39-6-36-6 line in 90 games.
10. Howie Kendrick, Los Angeles Angeles: His .285-86-18-63-14 was solid. Add Albert Pujols to the mix and he should be even better in 2012.
11. Jason Kipnis, Cleveland Indians: Kipnis' cup of coffee went very well as he hit .272 with 24 runs, seven HR, 19 RBI and five stolen bases in 136 at bats.
12. Neil Walker, Pittsburgh Pirates: Walker proved his .296-57-12-66-2 2010 line wasn't a fluke by posting a .273-76-12-83-9 line last year.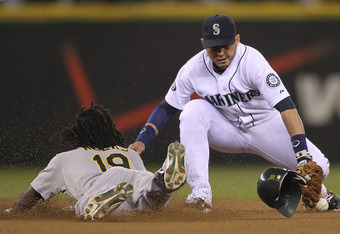 Otto Greule Jr/Getty Images
13. Jemile Weeks, Oakland A's: Weeks is your stolen base specialist. In 97 games he swiped 22 bases. He didn't just steal bases, though, as he hit .303 with 50 runs. He'll basically be a three-category player, but there is value in that.
14. Omar Infante, Miami Marlins: The re-made Marlins feature Jose Reyes and Hanley Ramirez. Infante had a down year by his recent standards, but should post solid numbers, especially in the batting average category.
15. Danny Espinosa, Washington Nationals: Granted, his .236 average isn't making anybody happy, but he was one of five second basemen with 20 HR and 15 stolen bases last year.