5 Candidates to Replace Edmonton Oilers Coach Tom Renney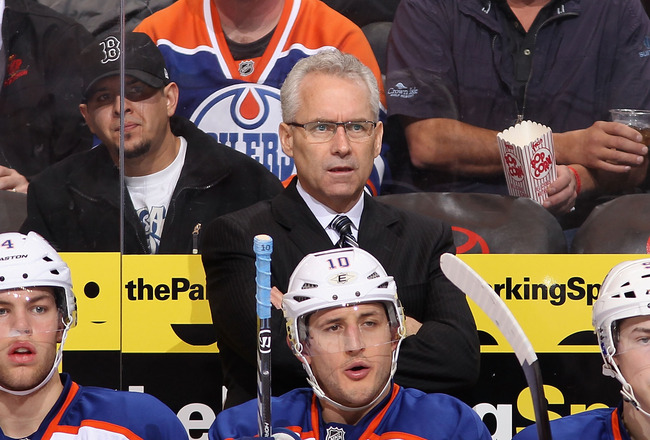 Whose to blame for the Oilers recent woes?
Christian Petersen/Getty Images
The Oilers have a grand total of three wins in this 2012 calender year. It looks as though that it isn't going to get much better despite some key players returning from injury.
The role of the coach is to keep players in check and maintain accountability.
Somewhere along the way, Coach Tom Renney, became unable to convince his team to compete every night.
We've seen glimpses of hard work and even brilliance. But those windows have been very small.
With only months remaining on his coaching contract with the Oilers, will this be the end of the road for Tom Renney? If it is, there are plenty of candidates that could be the right man for the job.
Todd Nelson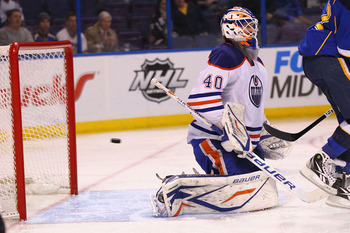 Dilip Vishwanat/Getty Images
He's probably the least-known coach on this list, but he's my first choice. In fact, he's so unknown, Bleacher Report doesn't even have a picture of him in their database.
Let me introduce you to Todd Nelson.
He's currently the head coach of the AHL Oiler-affiliate, the Oklahoma City Barons. He's done a remarkable job in forming a culture of winning in OKC. In just the second year of the team's existence, Nelson has the Barons in first place.
He understands young players and gets a lot out of his veterans.
This Barons team is by no means the most talented in the AHL, but his leadership behind the bench has taken them to tops in the league.
If the Oilers don't hire Todd, then someone else will.
Winning pedigree?
This guy has it. Won back-to-back Colonial Cups while head-coaching the Muskegon Fury of the UHL. When he's behind the bench, all he does is win. Something that the Oilers would like to do.
Randy Carlyle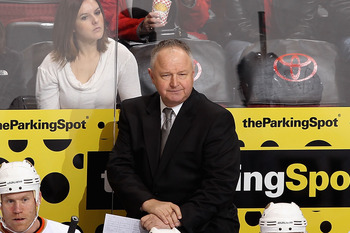 Christian Petersen/Getty Images
If we're talking accountability, then look no further than Randy Carlyle.
During twelve years of head coaching, Randy has missed the playoffs twice.
He's known to get the most out of his players. However this season came to a crashing end with his former Ducks. But that may have had something to do with Jonas Hiller's slow start.
He's a no-nonsense coach that doesn't find excuses for not winning at the end of the day. The Norris trophy-winner of 1980-81 could be exactly what the Oilers need to help speed up the rebuilding process.
Kelly Buchberger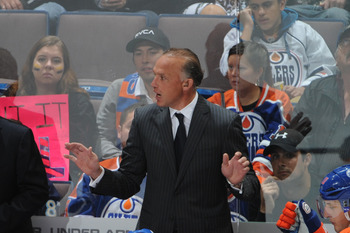 Dale MacMillan/Getty Images
Kelly Buchberger was undoubtedly one of the hardest working Oilers to ever don the blue and orange.
He was known for his grit and leadership on and off the ice.
Of all the potential candidates, he has the least head coaching experience. His only kick at the head coaching-can came in Springfield when he coached the Oilers-affiliate, the Falcons, to a .500 record in 2007-08. They missed the playoffs.
He's spent the past three seasons as an assistant coach of the Oilers, where he's observed the team struggle but at times shown flashes of what could be.
What he lacks in experience, he makes up in communication skills.
A professional throughout his career, he understands what it takes to win–he himself won two Stanley Cups with the Edmonton Oilers.
Andy Murray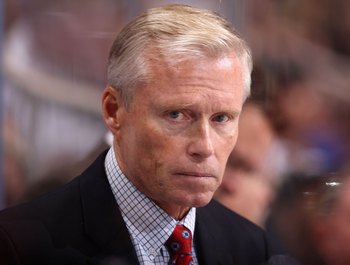 Christian Petersen/Getty Images
Andy Murray is one of the most underrated coaches in the business.
He's currently the head coach of the Western Michigan Broncos who currently play in the CCHA.
That's Division I NCAA hockey.
He's a hockey coach; that's what he does. He can't stand being unemployed, so he took a job in Kalamazoo, Michigan.
In fact, he's the only coach in IIHF history to coach the national team to three World Championships–leading Canada to gold in 1997, 2003 and 2007.
His teams are tough to play against.
He's a no-nonsense coach. This quality seems to be the theme of selecting Renney's successor (if there is to be a successor). He's taken average teams from Los Angeles and St. Louis to the playoffs; imagine what he could do with a soon-to-be above-average Oilers squad?
Bob Boughner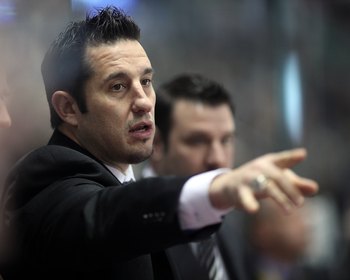 Claus Andersen/Getty Images
The most charismatic of all these candidates is Bob Boughner.
Only 40 years of age, his resume is extremely impressive for a young coach.
He's been named the most outstanding coach in the CHL twice already and has hoisted two Memorial Cups with the Windsor Spitfires. Yup, that also happens to be Taylor Hall's Spitfires. The "Boogieman" helped shape the player Taylor Hall is today.
He took a stab at assistant coaching in the NHL with the Columbus Blue Jackets but returned to Windsor for the 2011-12 season as head coach and president of the club.
Never considered a very talented NHL hockey player, what he lacked in skill he made up in heart–we've seen players like this become very good NHL coaches.
If the opportunity presented itself to team up with Taylor Hall and potentially begin a dynasty in the "City of Champions", Bob Boughner would strongly consider leaving his friendly confines of Windsor to coach in Oil Country.
Keep Reading

Edmonton Oilers: Like this team?