Philadelphia Flyers: 5 Predictions for Down the Stretch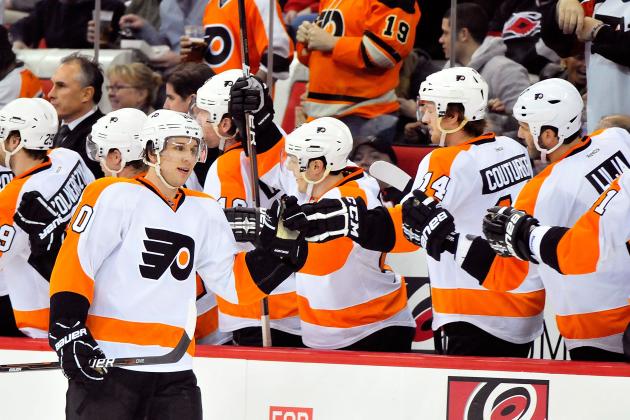 Grant Halverson/Getty Images

The first part of the 2011-12 Philadelphia Flyers' campaign has certainly been an interesting one, as injuries have piled up and rookies have stepped up big time to fill the void. The team's best defenseman and captain, Chris Pronger, is lost more than likely for good with a nasty concussion and a corps of veteran leaders and emerging star Claude Giroux combine to keep the ship on course.
And of course, there was even a bogus "goaltending controversy" to boot, but this is Philadelphia, where there is always a goaltending controversy. In 1976, Wayne Stephenson was the goaltender of choice of a much larger part of the fanbase than he should have been.
With an eventful first part of the season—which saw members of the team become national cable television stars thanks to HBO's 24/7 and that crazy, fun-filled weekend that led to an outdoor game that no one really cares about in hindsight behind them—here's a look forward to what awaits the team down the stretch.
Begin Slideshow

»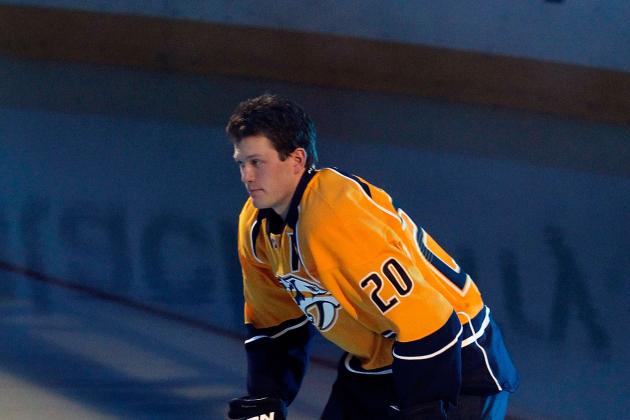 Gregory Shamus/Getty Images

Every year the trade deadline approaches in the NHL and a flurry of rumors lights up the Internet, the media and talk radio. This year will be no different. Like many years past, the Flyers will be rumored to be making a big splash to gear up for the playoff run.
Ever since Chris Pronger went down the Flyers have been rumored to be looking for his replacement and the smart thinking is they would pursue Nashville Predators defenseman Ryan Suter.
Unfortunately, it won't happen.
The Flyers don't have many pieces to move and you know the way the rookies on the team have played this season that management is noticing they have something special with the team's youth.
The only really tradeable asset the team has that could get them a big-name player in return is backup goaltender Sergei Bobrovsky who currently resides in the hearts of the "Grass Is Always Greener" sect of the Flyers fanbase.
But, Nashville happens to have Pekka Rinne who they just signed a seven-year contract and who just so happens to be one of the best goaltenders in the game today. Nashville is unlikely to want to take on Bobrovsky and his $1.75 million cap hit as a spectator.
The Flyers will probably keep this team intact, see how far they go in the playoffs and make the necessary adjustments in the offseason.
Once Pronger was lost it pretty much threw all plans for the 2011-12 season into chaos.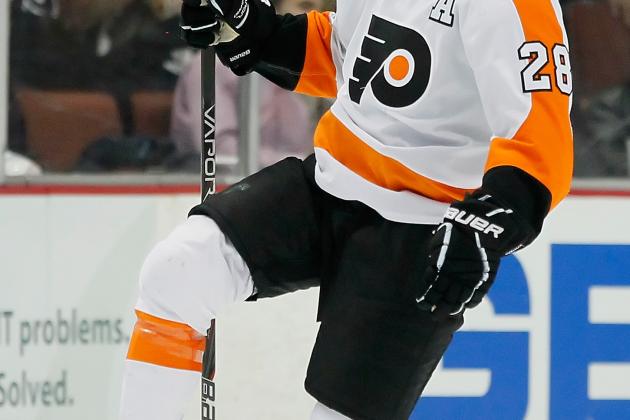 Jeff Gross/Getty Images

Claude Giroux has 55 points so far this season. He missed some games with a concussion and the last three weeks have seen him go into a bit of a slump, yet he's still second in the league in scoring.
Giroux is becoming the ultimate competitor for the Flyers and he has amazingly skilled hands and playmaking abilities. Look for him to break out of his current slump big time and ride that momentum the rest of the season.
Giroux is currently scoring 1.14 points per game. If he plays all 34 of the remaining games for the Flyers and keeps that pace he will finish with 93 points. As the postseason gets closer and the games become that much more important, look for Giroux to feed off that energy and slightly improve his offensive output.
This will put him over the 100-point mark and he'll become the first Flyer to do so since Eric Lindros scored 115 points in 1996.
It doesn't hurt having Jaromir Jagr on his wing either.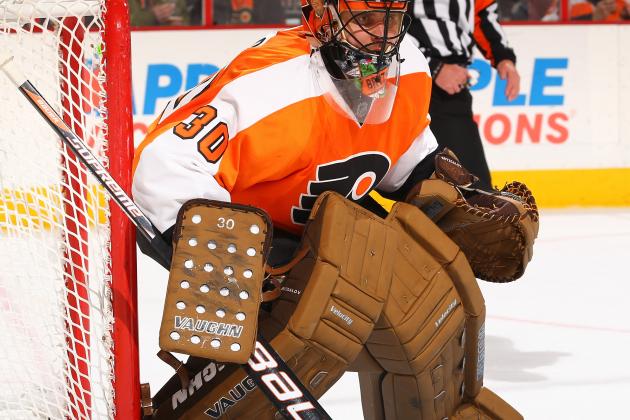 Al Bello/Getty Images

Ilya Bryzgalov was acquired to be the No. 1 goaltender for the team and that's precisely what he has been so far, and he will cement that designation as February turns to March.
There is a contingent of the controversy-loving press and the reactionary section of the fanbase that believes Bryzgalov should be earning his $9 million a year opening and closing the bench door for line-changing defensemen. You all know these people; this is the same portion of the Philadelphia fanbase that thought AJ Feeley was an NFL starting quarterback and that Ryan Howard should be benched as well.
They point to backup goaltender Sergei Bobrovsky's solid play as evidence that Bryzgalov is failing in Philadelphia and should be benched—34 games into a nine-year deal, no less.
They bring up Bobrovsky's better stats failing to mention that of Bobrovsky's 11 wins this season three have been against teams with winning records and that almost half of his wins have come against the horrid New York Islanders and the equally woeful Carolina Hurricanes combined.
They point to how bad Bryzgalov is in the shootouts (although Bobrovsky's not much better, his dance steps notwithstanding) but last time I checked there were no shootouts in the playoffs.
Also Bryzgalov's—and Bobrovsky's—struggles in the shootout allow them join a club that includes: Bob Esche, Antero Niittymaki, Martin Biron and Brian Boucher. Since the shootout was introduced the Flyers as a whole have struggled with it no matter who the goaltender was.
The backup goaltender is always popular in this town. A segment of the fanbase wanted Wayne Stephenson over the oft-injured and struggling Bernie Parent in 1976. That's not to compare Bryzgalov to Parent, but to demonstrate how crazy Flyers fans can be when it comes to their goaltenders.
Bryzgalov has done the heavy lifting this season, backstopping the injury-riddled Flyers who have seen their best defenseman, Chris Pronger, miss all but 13 games this season and their second-best blueliner, Kimmo Timonen, play with injury for almost all of the season.
Peter Laviolette is on record saying that Bryzgalov was brought here to be the man and will get a heavier workload as the season progresses.
Bryzgalov, who is used to playing between 60 to 68 games a season, has struggled mainly after sitting out a game. As Peter Laviolette increases Bryzgalov's workload, look for him to get better the more he plays.
Bryzgalov has in the past thrived the more work he gets; this was also evidenced early in the season.

He already put together a seven-game win streak for the Flyers this season between November 23rd and December 13th—and then he was inexplicably kept on the bench against the Montreal Canadiens.
He had seven shutouts last season for the Phoenix Coyotes and eight the season before that. It took him only two games to record his first shutout with the Flyers.
Seventy-three games into his Flyers career Bobrovsky is still searching for his first one. The Flyers play the Islanders three more times this season, so no doubt he'll get his chance.
As for the rest of the competition and the playoffs, look for Bryzgalov to be between the pipes for the Flyers.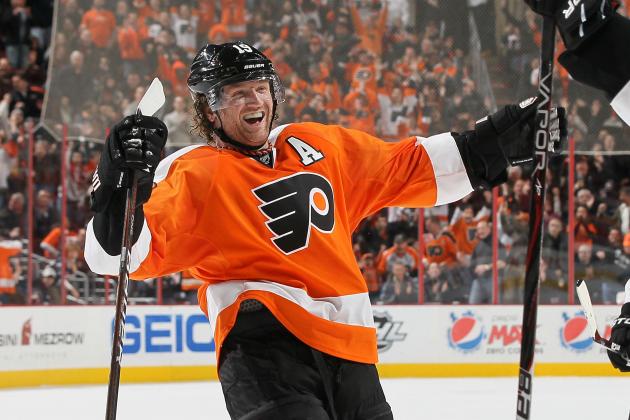 Jim McIsaac/Getty Images

Scott Hartnell was—like Bryzgalov—once much maligned in this town.
He was called "Bozo the Clown" by the commentariat because of his bushy, curly, reddish-brown hair. He was called a few other classless nicknames, but we'll leave those out of this article.
It was claimed he took dumb penalties and that he couldn't skate. A whole meme grew up around his falling to the ice with the phrase "Hartnell Down" blowing up on the Internet and even receiving it's own Twitter feed. Hartnell, much to his credit, had a sense of humor about this and turned the whole "Hartnell Down" sensation into a charity drive.
At the beginning of the season he wasn't getting a lot of ice time and he complained to the press about this. The popular logic was that Hartnell would waive his no-trade clause and join the other members of the Olde City Mafia who left town over the summer.
Then Peter Laviolette put Hartnell on the wing with Claude Giroux and Jaromir Jagr and ever since, Hartnell was become a scoring power forward. Giroux-Hartnell-Jagr is arguably one of the best lines in all of hockey this season.
His 25 goals through January is only five away from tying his career-best mark of 30 that he set in the 2008-09 season.
He needs only 15 more to reach the 40-goal milestone. With Giroux and Jagr on his line, look for him to eclipse that mark by early March.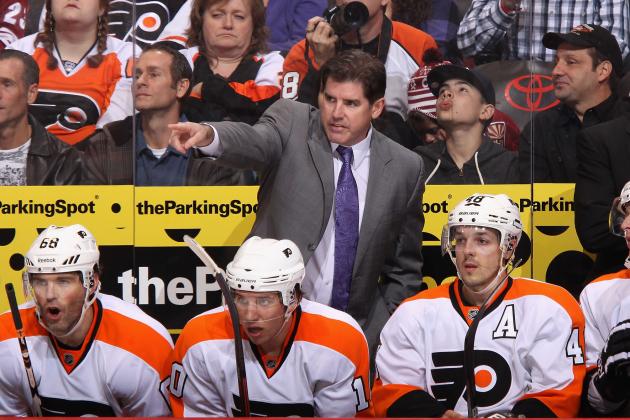 Christian Petersen/Getty Images

The Flyers have pretty much been decimated by injuries all season. You can count on one hand the games during which they had a fully healthy roster.
Superstars such as Jaromir Jagr, Danny Briere, Chris Pronger and even Claude Giroux have missed multiple games due to injury and the concussion epidemic on the team is truly mind-boggling—no pun intended. Not to mention other players like Kimmo Timonen, who has played while suffering through many injuries, and rookies Sean Couturier and Brayden Schenn have missed significant time as well.
The Flyers have had to rely on the emergence of a number rookies and minor league call-ups to maintain the level of success they have had. That increased pressure and ice on such a young lineup is bound to take its toll especially over a season as long as the NHL's. That does not bode well for a deep playoff run in 2012.
Eventually, the injuries, the team's youth and inexperience (especially on defense) will catch up to them. Expect a second-round exit from the playoffs this year...an exit which will be the result of injuries and youth but will no doubt be blamed (by the media and fans at least) on the goaltender—it is Philadelphia, after all.
That being said, don't be surprised at all if the Flyers are skating the Stanley Cup around the ice in June of 2013.