Ranking All SEC Teams by Obnoxiousness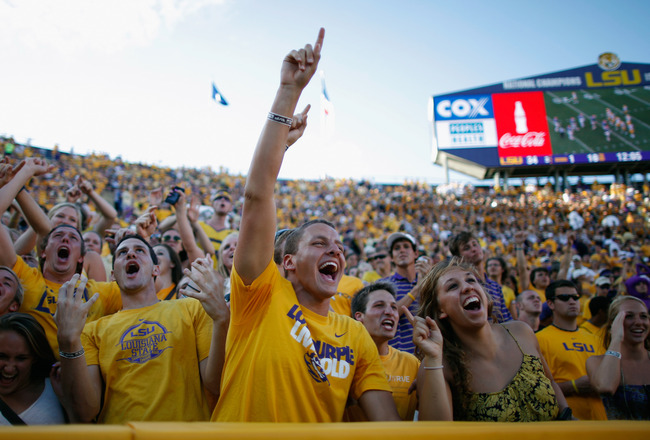 Chris Graythen/Getty Images
As an SEC fan, I need to be able to laugh at myself every once in a while. We all do really.
The SEC extended its National Championship streak once again this year, and people seem to be raging even harder about us fans. Though in their defense, we have banded together more than usual.
The main complaint I hear is how we are obnoxious. Well, that is true in most aspects. Every university is obnoxious to a certain point and to certain people.
Well, these are the ones in the SEC that gain that dubious distinction of being called "obnoxious." I'll rank every SEC team (including Missouri and Texas A&M) by the level of bragging their fans do.
14. Ole Miss Rebels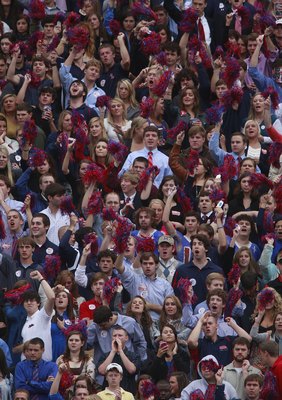 Dave Martin/Getty Images
Congratulations Ole Miss! You finally succeeded in being the winner of something in the SEC!
I kid, I kid. Though I'm not kidding when I say that Ole Miss has been spotty as of lately, with regard to winning and success.
While they used to be a dominant foe back in the 60's, they are now but a shell of their former selves. They had a resurgence in the early 2000's, but that faded pretty quickly. They still do hold an overall positive winning record though.
The Ole Miss fans are very nice, both in their own stadium and in others. They really do display that "southern hospitality" that is often quoted. The only time they may get a little crazy would be the Egg Bowl versus their rivals Mississippi State. Even then, they tend to be a little less crazy than other schools.
13. Missouri Tigers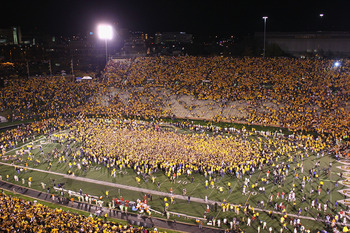 Dilip Vishwanat/Getty Images
Newcomer Missouri holds this spot mostly because I haven't been to a game against them, and may not have the best perspective. From what I hear though, they are fairly nice.
Playing in the Big 12 with Texas and Oklahoma fans seems to have strengthened the Mizzou mindset because there are not a lot of people complaining of incidents that happened between them and Tigers fans.
Missouri holds a pretty good record, but nothing really stands out besides the number of conference titles they have, which is 15. They hope to make a successful jump to the SEC and immediately start winning. Hopefully they aren't that naive when they enter.
Once again, one sore spot for them may be their rivalry with Kansas, which is a very big deal. I saw some people in absolute shock that the Kansas-Missouri rivalry may not be continued. I agree as it is one of the legendary rivalries in college football history.
12. Mississippi State Bulldogs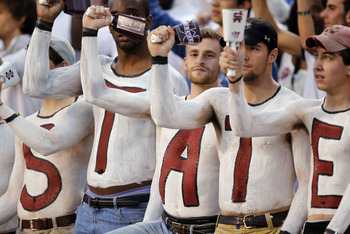 Butch Dill/Getty Images
Coming in at No. 12 are the Bulldogs, who just couldn't let Ole Miss win anything. But in all seriousness, this tends to be the team that people forget about in the SEC.
There is a good reason for that. The Bulldogs aren't exactly what you think of when you hear the term "SEC dominance." They have found some success in the first decade of the 2000's, having been ranked 12 and 15 in the decade.
Perhaps the biggest highlight is the positive bowl record they have, which is pretty nice when you consider that they have beat teams like the Michigan Wolverines and Texas A&M. Looking into the future, the Bulldogs do look to make a name for themselves.
Remember what I said about Ole Miss and their big rivalry, the Egg Bowl? Well pretty much everything said there applies to the Bulldogs. These two teams just seem to have a problem with each other. That is perfectly fine because we love seeing these two teams battle it out every year for some sort of redemption.
But you know what we don't love? THOSE GOD FORSAKEN COWBELLS. AAAAAGGGHHHH MAKE THEM STOP!
11. Kentucky Wildcats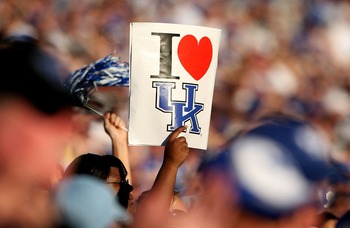 Andy Lyons/Getty Images
Ah, Kentucky. Unless you are old enough to recount food rations during World War II, you probably don't remember the last time Kentucky was...well...good.
The owners of the 1950 National Championship haven't exactly progressed much past that point. They haven't gone to any significant bowl game, and the ones they went to they lost. Most of the Wildcat fans look forward to basketball, which is something they do seem to excel at.
When I first started typing this slide, I had to think long and hard about if there actually is a Kentucky football fan. I kid once more! Honestly though, I don't think they have too many fans to really be obnoxious. They are pretty nice on average and are never too rowdy or aggressive.
They would probably be on top, if it wasn't for that one game every year: Tennessee. It's understandable that they're mad. They hadn't beaten Tennessee in 26 years and they were sore. In the 26 years before that, they certainly made it known that they didn't like the Vols.
Well, they're certainly laughing now. I know one of my friends is laughing because he called me every hour the day UK beat UT this year. All the way into next morning. Ugh.
10. Vanderbilt Commodores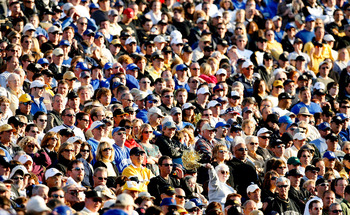 Kevin C. Cox/Getty Images
You may also know them as "that other SEC team in Tennessee." The Commodores have never really excelled in football, having only two bowl games win and an overall losing record.
Vanderbilt is one of the perennial bottom feeders of the SEC who can't seem to beat their conference foes (except maybe Kentucky) and don't find themselves in bowl games a lot. They do have a great recruiting class though, so they may soon be able to turn their football program around.
Their fans are abundant, which is mildly surprising. Maybe it is their military background that makes people so proud of their team. They are never troublemakers and are rarely rude to other teams. Though there is one trait they do seem to display a lot: snootiness.
By that, I mean that they act like they're better than everyone else. They are widely known as being the smartest school in the SEC, and boy do they make sure you know it. Whenever another team visits, you can expect to hear the word "uneducated" or "redneck" thrown around a lot.
9. Texas A&M Aggies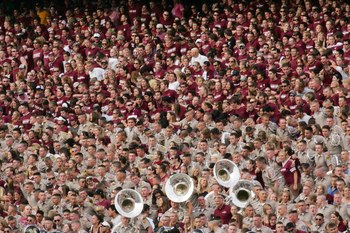 Ronald Martinez/Getty Images
The second new team to join is one that I have also not seen in person, so I will have the go off the testimonies of friends and other internet commentators alike.
The Aggies are one of those teams that you would expect to be a lot better than they actually are. They have won a national championship, but it was way back in 1939. They have gone to 33 bowl games, but have only won 14 of them. The main story of this season was the potential they had, but were unable to succeed with.
This has been especially hard on their fans, who have many traditions. A few off the top of my head are the 12th man, the bonfire (not continued) and the midnight yell. Their fans were certainly yelling when they embarrassingly lost to Texas at Kyle Field this year. They do have a good future ahead of them, which I hope the fans realize.
When their team is good and is winning, the fans are pretty nice and don't harass or taunt. But when their team loses, then they get a little sore and start to run their mouths a bit. This is most evident in the Texas games, where you can see people in maroon clothes with red faces.
8. South Carolina Gamecocks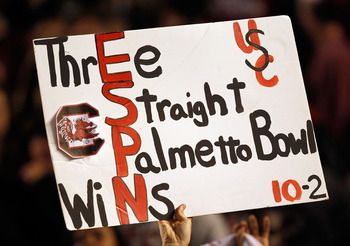 Streeter Lecka/Getty Images
I'm sure Steve Spurrier haters would love to call me an idiot and curse my name, but the Gamecock fans are actually pretty decent.
South Carolina is no longer a joke in the SEC, having risen from the bottom and worked its way to the top of the SEC East, regularly competing for a spot in the SEC Championship. This has given the fans some new confidence, but not enough to really rank high in obnoxiousness.
When other SEC teams come to play, the fans are decent. They respect you at least, and aren't big name-callers or even braggarts. They realize that they are working their way up and will need some serious success before any trash-talking.
I would absolutely hate to be a Clemson fan going into the Gamecocks stadium. That rivalry is one of the most intense I've seen, and you get the sense that both teams really do not like each other. These fans have been offending and trashing each other since before the turn of the century.
7. Georgia Bulldogs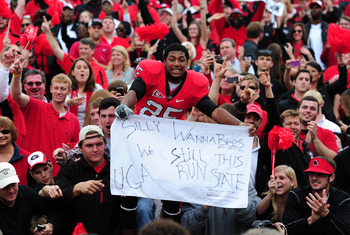 Scott Cunningham/Getty Images
I have never really had a problem with Georgia fans, but supposedly a lot of other people have. Since I have to look at other people's opinions, I'm going to have to rank them in the middle.
The Bulldogs have periodical success, having won two national championships 38 years apart. Some claim they have five national championships, but the ones before polls were organized are tricky. I'll give them the benefit of the doubt and just say that they have five national championships. One can never be sure.
Their fans are at the very middle of the pack when it comes to the way they act around other teams. They aren't aggressive, but they don't go out of their way to be nice to someone. I have heard of fans using not-so-nice language to people, but those aren't very numerous.
Georgia Tech and Auburn are the two main rivalries, and you can tell it. There is a reason that the game with the Yellow Jackets is called "Clean, Old-Fashioned Hate." These two teams really rough each other up when they play, and so do the fans. Tech seems to have that "we're smarter than you" attitude and that is what Georgia hates.
I'll tell you what I hate. That stupid barking their fans do. Seriously guys, it's funny the first time or two, but when you're winning late in the fourth, you need to stop.
6. Arkansas Razorbacks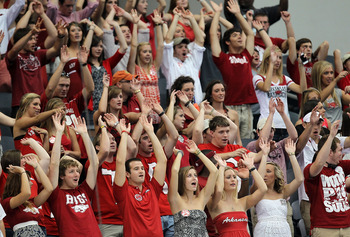 Ronald Martinez/Getty Images
It puzzles me as to why the Razorback fans are not nice to other teams. They only have one national championship and have a 13-23-3 bowl record. But whenever they play somebody, they seem to think that they have so much leverage over that team.
Arkansas hasn't really been relevant nationally in years. They just got to their first BCS bowl in 2010, and they lost to Ohio State (though sanctions now require that all wins be vacated from the Buckeyes during that season.)
The Razorbacks have not been relevant in the SEC West for a while, and when they are, they always drop a game to lose it. This most recent year they had a great offense and a pretty good defense, but still got creamed by LSU and Alabama. Their fans certainly talk a lot with not much to back it up.
When Arkansas and LSU (you'll see them later) meet up, it's like the Russians and the Germans in World War II. Never have I heard or seen such obscenities yelled at people. They might as well fight it out, because they are dang near close to doing so every year.
Perhaps the only thing worse than the MSU cowbells is the Pig Sooie cheer from the Razorback fans. It fills the stadium and makes you want to tape everybody's mouth shut.
5. Auburn Tigers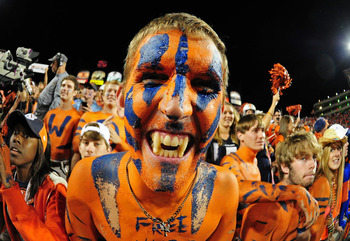 Scott Cunningham/Getty Images
My grandfather played for the Tigers, so I don't really like to trash the team. It would be hard to, because they have had a lot of success that they can back up their talk with.
They own only two national championships but have 11 conference championships, a very good bowl record and three Heisman winners. While most of their success were in the past, they have started to be really good lately. Don't expect the attitude to tone down one bit.
I started noticing around the 2010 season that Tigers fans were picking up the talk. They did win the national championship and they made sure you knew every player on the team that was part of it. I think it is sort of an inferiority complex to Alabama (don't say that word around them) that makes them want to brag a lot.
Their fans just don't like other teams. When you go into their stadium, they yell at you and tell you to go home. They have some sort of feeling that they are the smarter school in Alabama which they can't seem to shake.
Do I even need to talk about the Iron Bowl? There is way too much hate to fill in this one slide. Just watch the documentary from ESPN.
4. Tennessee Volunteers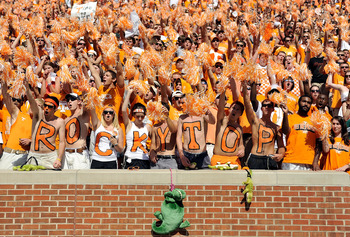 Grant Halverson/Getty Images
Yes, I am a Tennessee fan. Yes, there may be some bias here, but I think that I would know the fan base a lot better than others. That is why we have a spot in the top five.
Let me get this out of the way first: I know we have not been the best program for a few years. However, our historic success is undeniable. Six national championships, 16 conference championships, second most bowl appearances with a positive bowl record. Those are all only from the top of my head. We have had so much success that we have almost become spoiled. Who am I kidding, we are spoiled.
As part of the Tennessee crowd, I have noticed that we aren't that bad versus out-of-conference teams. But when other SEC foes come, I can hear the screaming and shouting that other fans do. I don't yell much because I let our team do the talking (boom!). But honestly, I have heard some pretty bad things. I heard one writer quip that Tennessee is the example of "southern football arrogance." I would concur.
While people think that the Crimson Tide are the team that we yell at the most, I would actually disagree. Both fan bases know that our two teams basically created what the SEC is today. It's the Gators that I hear the worst things being said and have seen some pretty bad stuff go down. Speaking of the Gators...
3. Florida Gators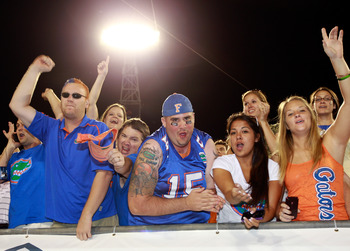 Sam Greenwood/Getty Images
Congratulations Gators, you finally cracked the top three in something! Sorry, had to open this slide with a zinger.
Hopefully you read the previous slide and picked up how I said that the worst things I have heard or seen have come from Gator fans. I'll try to keep the one-liners under control for this slide.
The Gators have had tons of success since the 1990s. That's about it. All three of their national championships are in the 90s and first decade for the 2000s. They did not win the conference until 1991. Their most recent bowl win versus Ohio State just gave them a positive bowl record (something they did not have for a long time).
Gators fans seem to think that they started college football, like they have always been the best team in the south. Anyone over 30 knows this isn't true. So do a lot of younger people like myself, but the Gators fans don't.
Their fans are unbelievably rude, especially if you're in the Swamp. If you want to hear your family get called every single racial/homosexual/offensive slur you can think of by some drunk frat boy, just take a visit.
As an FSU fan also (I was pretty much born to not like the Gators), I have seen with my own eyes Gator fans throwing beer bottles at opposing fans. One of them kicked a girl, so yeah, I bet that guy thinks he is really cool. I can't talk about this anymore, it makes me mad reminiscing on everything that I have witnessed.
2. LSU Tigers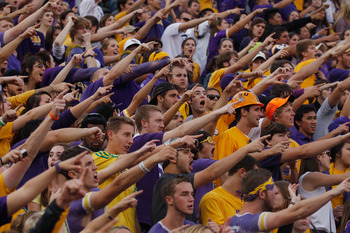 Chris Graythen/Getty Images
My hypothesis as to why the Tigers fans are so rowdy is that they live in generally crazy places. Baton Rouge and New Orleans are pretty happening places. They are also full of weird, rowdy people. I think my hypothesis is on the right track.
LSU's record jumps around a lot by the looks of it. They have three national championships (two in the past decade and one in 1958), 14 conference titles and a very good overall record. Their success does seem to come and go very periodically though. Kind of like their trash-talking.
I have noticed that when LSU is bad, their fans are very quiet. They don't speak a lot and go on the down low. But when LSU is good, my god, they will drill that point home. In their minds, LSU is better than sliced bread at that point. They scream and holler at other fans because they feel that they have a total right to.
The LSU-Alabama rivalry, especially in recent years, has heated up to the point where both fan bases are literally assaulting each other. I have read some disgusting reports on what people have done to each other. Speaking of Alabama, guess who is number one on our list...
1. Alabama Crimson Tide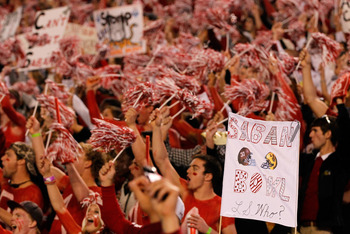 Kevin C. Cox/Getty Images
Alabama just couldn't let another team be number one. They just have to try and excel at everything. Well, here you go Alabama fans. Another number one ranking you can list.
If you say one bad thing about Alabama, they will absolutely make sure that you know they have 14 national championships, 26 conference titles and the most bowl appearances. Look, we get it, you were extremely good and are starting to get good again.
The thing that pushed the Crimson Tide fans to number one in obnoxiousness is their absolute refusal to admit they have ever been bad. Every time they have had a bad season, they will say "we are still better, we just made more mistakes." You could beat them 50-0 and they will refuse to admit defeat. It just gets plain sad to listen to.
Newsflash, every team has bad years, and yours is no exception. Their love for their team goes beyond the field and sadly has translated into ideas like this that offend people.
Now of course, these ranking are all pretty subjective. Maybe you have had different or even opposite experiences. If so, sound off in the comments!
Keep Reading