2012 NFL Mock Draft: Players Who Will Help Playoff Teams Succeed Next Season
January 31, 2012

Al Messerschmidt/Getty Images
We like to think of the NFL draft as this magical thing that makes bad teams not suck anymore. 
The draft is magical to that extent, but good teams get in on the fun, too. In fact, the draft represents a chance for good teams to get even better.
The only real question concerning the good teams in the draft is whether or not their picks will contribute right away. After all, good teams are good because they already have good players. It is not a given that their top rookies will be handed a chance to start or contribute in any major way right out of the gate.
In looking ahead to the 2012 draft, it's already clear that a couple of this year's playoff teams are going to be looking for instant upgrades in the draft. Let's take a look at which ones will find the players they're looking for.
'Tis time to mock the draft.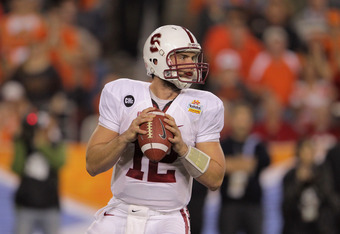 Doug Pensinger/Getty Images
1. Indianapolis Colts (2-14): Andrew Luck, QB, Stanford
Ho hum. Andrew Luck has been my pick for the Colts for a long time now, and I'm not about to change it. It's looking more and more like Luck will start right away in 2012, and he'll be in for tough sledding if he does. Down the line, though, he's going to be great.
2. St. Louis Rams (2-14): Michael Brockers, DT, LSU
Michael Brockers is a borderline top-10 guy now, and he'll climb even higher at the combine. He'll be in play for the Rams whether or not they stay at No. 2. Strengthening the middle of their front seven is a major priority, and let's not forget that Jeff Fisher is a defensive guy.
3. Minnesota Vikings (3-13): Matt Kalil, OT, USC
This is another pick I'm not budging from. The Vikings need a permanent replacement for Bryant McKinnie, and Matt Kalil is supposed to be the best there is. He'll step right in and become Christian Ponder's blindside protector. 
4. Cleveland Browns (4-12): Trent Richardson, RB, Alabama
The Browns are going to have a tough call to make if Trent Richardson, Robert Griffin III and Justin Blackmon are all there for the taking. Richardson would be the best pick for them, as they're going to need a running back if Peyton Hillis leaves as a free agent. It helps that Richardson is a can't-miss prospect.
5. Tampa Bay Buccaneers (4-12): Morris Claiborne, CB, LSU
The Buccaneers' top priority this offseason is upgrading their defense. There are a number of avenues they could pursue in this regard, but cornerback is the way to go. Morris Claiborne could step right in and start, and he would be a good guy to have in the pass-happy NFC South.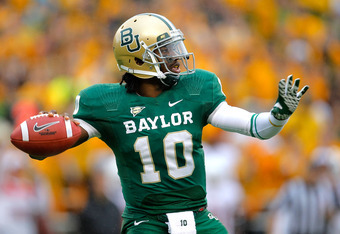 Sarah Glenn/Getty Images
6. Washington Redskins (5-11): Robert Griffin III, QB, Baylor
Robert Griffin III will probably end up being picked No. 2 overall, but this would be an easy pick for the Redskins to make if nobody trades up to get RG3. The Redskins are a franchise QB away from being a good team, and they're not going to be able to do better than RG3.
7. Jacksonville Jaguars (5-11): Quinton Coples, DE, North Carolina
This would seem to be an obvious landing spot for Justin Blackmon, but let's not forget that the Jags are in dire need of a pass-rushing defensive end. I have issues with Quinton Coples' motor, but the skills and the physical tools are there. He'll be especially hard to pass up after the combine.
8. Carolina Panthers (6-10, pending coin flip with Miami): Justin Blackmon, WR, Oklahoma State
If the Jags do pass on Blackmon, the Panthers wouldn't pass up a chance to draft him. Wide receiver is not a huge area of need for them, but putting Blackmon alongside Steve Smith would be too perfect. With the two of them to throw to, Cam Newton would be even better.
9. Miami Dolphins (6-10, pending coin flip with Carolina): Riley Reiff, OT, Iowa
Joe Philbin's top priority as Miami's new head coach should be turning the Dolphins back into an elite offensive team. They have some good pieces already in place, but their offensive line needs an upgrade. Riley Reiff would be an easy pick.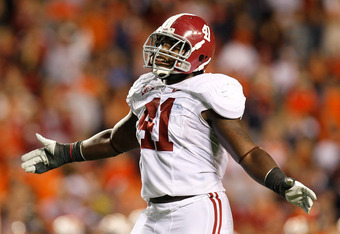 Kevin C. Cox/Getty Images
10. Buffalo Bills (6-10): Courtney Upshaw, OLB, Alabama
The Bills scored when they drafted Marcell Dareus last year, but the next level of their defense needs a similar upgrade. Courtney Upshaw is the pass-rushing menace the Bills haven't had since...um, drawing a blank here.
11. Kansas City Chiefs (7-9, pending coin flip with Seattle): Jonathan Martin, OT, Stanford
I've maintained that the Chiefs needed offensive line help in last year's draft and that they would be foolish to pass on drafting a lineman again. It just so happens Jonathan Martin is a perfect fit for their offensive philosophy.
12. Seattle Seahawks (7-9, pending coin flip with Kansas City): Melvin Ingram, DE, South Carolina
The Seahawks have a solid defense, but they could use another pass-rusher up front. Melvin Ingram is one of the best there is, and he would fit right in on Seattle's defensive line. 
13. Arizona Cardinals (8-8): Michael Floyd, WR, Notre Dame
The Cardinals would love to get some offensive line help here, but there's nobody worth reaching for. Instead, the Cardinals would be best-served drafting a No. 2 wide receiver, and Michael Floyd would be a great pick. Larry Fitzgerald would be glad to finally have some help.
14. Dallas Cowboys (8-8): Dre Kirkpatrick, CB, Alabama
The Cowboys are another team that has a strong defense, but they could stand to make it stronger. One way to do that would be to add a cornerback, and Dre Kirkpatrick would be practically impossible to pass up. He's a borderline top-10 guy.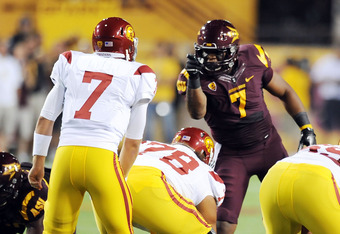 Norm Hall/Getty Images
15. Philadelphia Eagles (8-8): Vontaze Burfict, ILB, Arizona State
I have mixed feelings about Vontaze Burfict, but the dude definitely has talent. Andy Reid would have his hands full if the Eagles drafted Burfict, but he's worth a roll of the dice. The Eagles need a middle linebacker pretty badly.
16. New York Jets (8-8): Chris Polk, RB, Washington
This is higher than Chris Polk is projected to go, but the truth is he's a perfect fit for the Jets. They need a running back who fits with their ground-and-pound scheme, and Polk is the perfect guy for the job. He's also more versatile than he gets credit for.
17. Cincinnati Bengals (from 8-8 Oakland Raiders): Janoris Jenkins, CB, North Alabama
This is the highest I've had Janoris Jenkins so far. He had a great week at the Senior Bowl, and it sounds like his character concerns are no longer all that concerning. He fits with the Bengals because they need a permanent replacement for Johnathan Joseph.
18. San Diego Chargers (8-8): Mike Adams, OT, Ohio State
The Chargers have question marks at both tackle positions, so they would be wise to draft a guy who could play both left and right tackle if need be. Mike Adams is a good guy for the job. The only man who made him look bad at the Senior Bowl was Courtney Upshaw, and Adams can be forgiven for that.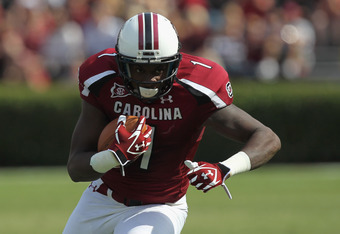 Streeter Lecka/Getty Images
19. Chicago Bears (8-8): Alshon Jeffery, WR, South Carolina
The Bears have needed a big wide receiver for a couple years now, so Alshon Jeffery would practically be a godsend if he were to last to the Bears. They have bigger needs than wide receiver, but Jeffery would be too good to pass up. Who could be afraid of a Jeffery?
20. Tennessee Titans (8-8): David DeCastro, G, Stanford
The Titans are going to need a corner if they don't re-sign Cortland Finnegan, but right now their biggest priority is upgrading the interior of their offensive line. At this spot, David DeCastro would be an absolute steal.
21. Cincinnati Bengals (9-7): Lamar Miller, RB, Miami*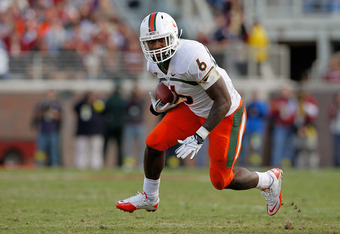 Mike Ehrmann/Getty Images
Okay, let's finally stop and talk about a playoff team.
I have the Bengals picking Janoris Jenkins at No. 17, but the truth is their defense will be solid with or without him. The bigger question mark surrounding their outlook for next season is how balanced their offense is going to be.
Offensive balance is something that came and went for the Bengals in 2011, and it's looking like Cedric Benson won't be back with the team in 2012. They're going to need a running back.
They won't be able to do better than Lamar Miller. His production at Miami wasn't outstanding, but Miller's got all the skills and tools he needs to succeed in the NFL. He could start right away, and he would allow Cincinnati's offense to stay balanced.
22. Cleveland Browns (from 10-6 Atlanta Falcons): Cordy Glenn, G/T, Georgia
I could see the Browns going for a wide receiver here, but they're going to need somebody to help pave the way for Trent Richardson. Cordy Glenn can play guard and tackle, so the Browns really couldn't miss with this pick.
23. Detroit Lions (10-6): Stephon Gilmore, CB, South Carolina
The Lions have bigger needs than cornerback, and they're going to be fine even if they don't draft one, but drafting one is in their interest anyway. Somebody's gotta help the Lions cover all of Green Bay's receivers, and Stephon Gilmore could be that somebody.
24. Pittsburgh Steelers (12-4): Dont'a Hightower, ILB, Alabama
The Steelers would love an offensive lineman here, but there are none worth reaching for. They're better off finding help for their aging defense, and Dont'a Hightower is a guy who could do that. He wouldn't make an immediate impact, but he seems like a perfect Steeler.
25. Denver Broncos (8-8): Jerel Worthy, DT, Michigan State*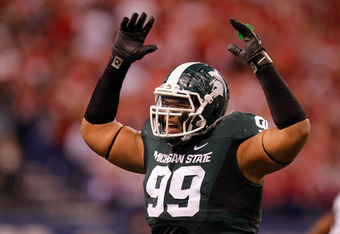 Gregory Shamus/Getty Images
Last year, it almost seemed like a foregone conclusion that the Broncos were going to draft Marcell Dareus. They needed a defensive tackle, and he was the best there was.
They ended up drafting Von Miller instead. Thankfully, he panned out, to say the least.
The Broncos still need help at defensive tackle, though. They got by with subpar DTs all season, and that's something they'll need to address if they expect to continue their defensive revival.
Jerel Worthy would be a great pick. He's got the perfect size for DT duty in a 4-3 defense, and he also packs plenty of strength and overall explosiveness. He's not a perfect DT prospect, but that means he has plenty of room to improve.
Denver's defense would be glad to have Worthy. The guys on the defensive side of the ball have to know they're going to be cleaning up after Tim Tebow in 2012, so they need as much help as they can get.
26. Houston Texans (10-6): Kendall Wright, WR, Baylor*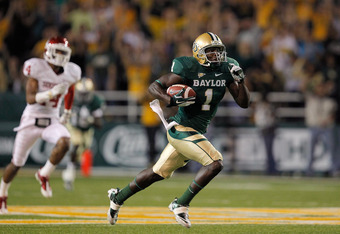 Sarah Glenn/Getty Images
The Texans had a great season in 2011, but you get the feeling they were successful in large part because they caught so many teams by surprise.
In 2012, the Texans will have a target on their back. They're going to have to be even better.
The best upgrade the Texans can hope for is that of a speedy wide receiver they can use opposite Andre Johnson. This would help spread the defense apart, something the Texans had difficulty doing in 2011.
Kendall Wright is the best man for the job. He's got plenty of speed, but he's also underrated as a route-runner and a pure pass-catcher. He made RG3 look good, and he could do the same for Matt Schaub.
If they draft Wright, the Texans' offense would go from being great to being elite.
27. New England Patriots (from 13-3 New Orleans Saints): Devon Still, DT, Penn State
Devon Still would definitely help the Patriots' defense, but they're going to be successful no matter whom they draft. As long as they have Tom Brady, they're good.
28. Green Bay Packers (15-1): Zach Brown, OLB, North Carolina*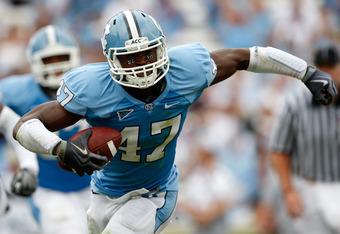 Streeter Lecka/Getty Images
The Packers are going to be just fine in 2012, but it's not a lock that they're going to be as dominant as they were in 2011. More than anything, they need to upgrade their defense.
The Packers could choose to address their secondary in this regard, but they also need help in their linebacking corps. Clay Matthews is great, but he needs some help.
Zach Brown is a guy who would fit right in with the Packers. He's a tremendous athlete, and few linebackers can run like he can. He's billed as a 4-3 guy, but there would be a place for him in Green Bay's 3-4. With his athleticism, there's no end to the ways Dom Capers could use him.
And that would be a scary prospect for the rest of the league.
29. Baltimore Ravens (12-4): Nick Perry, OLB, USC
The Ravens are going to be successful in 2012 as long as they bring Ray Rice back. If he re-signs, the team will be just fine. Drafting Nick Perry would be drafting for depth, but the Ravens would also be getting a player with a tremendously high ceiling.
30. San Francisco 49ers (13-3): Mohamed Sanu, WR, Rutgers*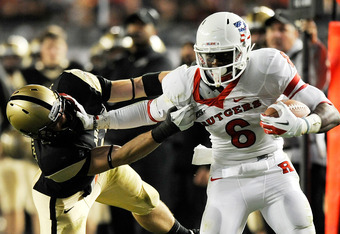 Patrick McDermott/Getty Images
It became obvious in the NFC Championship Game just how badly the 49ers need another wide receiver. Michael Crabtree was basically all on his own out there.
Pickings will be pretty slim by the time the 49ers are on the clock on draft day, but Mohamed Sanu will draw their attention. He's a big, physical wide receiver who happens to have outstanding pass-catching abilities.
I don't know if I see Sanu as a No. 1 receiver down the line, but his attitude would mesh perfectly with Jim Harbaugh's. Because of that, San Francisco would be a great place for him to develop, not to mention a place where he could start and contribute right away.
31. New York Giants (9-7): Luke Kuechly, ILB, Boston College
We gave the Giants' defense a hard time this season, but we're being reminded right now of just how good it is when everyone is healthy. Still, they could use an inside linebacker, and Luke Kuechly would be a perfect fit. He's a tackling machine, and the Giants could use one of those.
32. New England Patriots (13-3): Alfonzo Dennard, CB, Nebraska*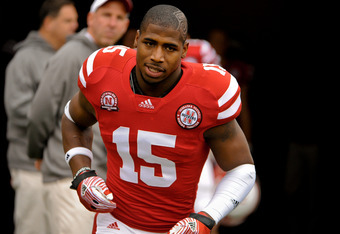 Eric Francis/Getty Images
I mentioned earlier that the Pats are going to be good as long as they have Brady, and to that I hold.
But man do they need help in their secondary. They've done well to get as far as the Super Bowl, but it's pretty pathetic that they're down to using Julian Edelman in coverage. He's a worse corner than he is a wide receiver.
The Pats are going to have to find secondary help in the draft. Plain and simple. To this end, they could do a lot worse than Alfonzo Dennard.
Dennard did not have a great week at the Senior Bowl, but he's still a borderline first-rounder. He plays tougher than his size would indicate, and he's got pretty good instincts. That means he would be just fine on New England's defense.