Alabama Recruiting: Commitment List Has Troubling Lack of Defensive Linemen
January 30, 2012

Kevin C. Cox/Getty Images
Alabama's 2012 recruiting chart is considered "stacked" and looks to be the best class in the nation when February 1 rolls around. However, there is a serious void on the defensive line.  
This should be a troubling scenario for the Tide, as the defensive line may be the most important—and most demanding—part of the defense.  
Fortunately, the Tide defensive line is all set for the 2012 season with my projected starters Damion Square and Quinton Dial at defensive end, and Jesse Williams at nose tackle all returning. The problem is that they will all be seniors. Losing the entire defensive line in one fell swoop could be devastating.
What could be more devastating is that there aren't a lot of big names to take their place. Such is the story of Alabama defensive line under Nick Saban.
Elite linebackers and defensive backs seem to flock to the Capstone, but defensive linemen seem to be hard to come by, and who can blame them?
If you were a highly-touted defensive lineman, would you want to play in a system where the linebackers got all the credit for your hard work? Alabama fans may say, "Sure!"—but an 18-year-old kid may not feel that way.
It's a tough situation. They are told they will have to work harder and get less recognition. Defensive linemen don't like the idea of being double-teamed on almost every play while a linebacker blows somebody up.
There's a reason why 5-star defensive/offensive lineman Arik Armstead chose the Oregon Ducks, and it's not just national championship hopes. If it were about a national championship, he would have committed to Alabama. The Ducks offered to let him play on their four-man front defensive line.
Game over, man.  
Alabama's current recruiting roster contains only three defensive linemen, and they are all 3-stars. The star ratings don't always tell the whole story, but a 3-star rating is the difference between a "stud" and a "future stud."
Darius Philon is the lone defensive end, and he really needs to add some bulk to play on Kirby Smart's defensive line. 265 lbs. is a decent starting weight for a 4-3 defense, and he would be almost ideal to play as Alabama's Jack linebacker. With the depth at linebacker and the lack thereof on the defensive line, that is not likely, however.  
Dakota Ball is the first of two defensive tackles on the list. At first glance he makes you think of current senior Nick Gentry. He has good size at 6'2", 295 lbs., and will certainly increase that under strength coach Scott Cochran. He's still a 3-star prospect, but it's tough to get better recognition when you play on a mediocre team like his, the Pepperell Dragons.  
The "crown jewel" of the defensive line commits is Darren Lake from Sumter County High School in York, AL. Sure, he's a 3-star as well, but there's a heck of a lot of potential in him.
He is 6'3" and 328 lbs. That's a lot of weight, especially for a guy in high school. Former Alabama standout Marcell Dareus weighs 340 lbs. right now, but he left high school as a 275 lb. lightweight.
Let not your hearts be trouble, however. Lake is 328 lbs. of muscle. As you can see from the picture, he is not a pile of fat. He has the gut typical of all defensive linemen, but it's not a bulbous paunch.
Lake is a potential star to be certain, he just needs the right coaching to make it happen.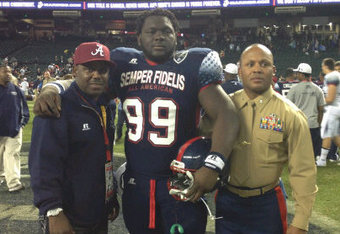 Though all three of these recruits could have great, hidden potential, the signing class is still lacking an elite defensive lineman.  
Nick Saban had to resort to the junior college ranks several times to fill his defensive line needs with Terrence Cody, Jesse Williams and Quinton Dial. It's a trend that looks to continue and guys like Terrence Cody and Jesse Williams don't come out of junior colleges very often.  
The difficulty the coaches face in recruiting defensive linemen may not end, but it may prove to be irrelevant. New defensive line coach Chris Rumph has proven to be just what the Tide needs. 
Rumph and his defensive line are, in my opinion, the main reason for the Tide's defensive success in 2011. The outstanding (though largely unrecognized) play by the defensive line allowed the linebackers to go on a tear and let the defensive backs roam around in coverage.  
The defensive line commits may all be 3-star prospects, which in itself is a bit concerning, but you can't always judge a book by its cover.  
If any team can turn a 3-star into a superstar, it's the Alabama Crimson Tide.