Would Deron Williams Ever Re-Sign with the Utah Jazz?
January 31, 2012

Christian Petersen/Getty Images
Unless it is to play in a ceremonial day or game in order to retire as a Utah Jazz, Deron Williams has most likely played his last game as a member of the home team in EnergySolutions Arena or whatever it will be named at the time.
And even that scenario may be highly unlikely if Williams wins a championship with the Brooklyn Nets, the Dallas Mavericks or the next team he decides to sign a long-term deal with.
Before trading Williams, Jazz owner Greg Miller had this to say:
"The concern that we as a franchise have had all along is if you look at what happened with LeBron James in Cleveland, and Amar'e Stoudemire in Phoenix, and Chris Bosh in Toronto, there seems to be a trend developing where those marquee players get away," Miller said. "In the case of those three teams there was very little at the end to show for it. I was very concerned that the same thing would happen to us if Deron left."

"At the end of the day, I never heard him say he was going to stay or go," Miller said. "Just going with my gut, I just felt like he would likely be moving on.''
Miller, along with general manager Kevin O'Connor, spoke of having conversations with both Williams and his representatives and how they remained noncommittal to the Jazz.
It was understandable to see why Williams was noncommittal. In the 2009-10 season, solid contributor Ronnie Brewer was traded midseason. Then in the 2010 offseason, three of his teammates—Carlos Boozer, Kyle Korver, Wesley Matthews—left for bigger deals, which Utah declined to match; Boozer's deal was turned into a sign-and-trade.
Williams was left with a shell of the former team that he had led to the second round of the playoffs just a season ago.
The Jazz did what they had to do; they did what any other small-market team would have done. They looked for cheaper alternatives to fill their roster up in order to get under the salary cap.
Williams does not have to deal with cost-cutting moves anymore now that he is in a bigger market.  While he has not signed an extension, it would have made little financial sense to; he has said all the right things about his commitment to the Nets.
That is, if they get the talent around him. Dwight Howard, anyone?
Whether it is the Nets or the Mavs or any other big-market team, Deron's next team will give him something the Jazz could not: owners with deep pockets and a destination where other stars want to be.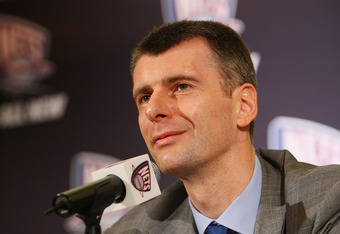 Mike Stobe/Getty Images
Unless a star is actually from Utah, can anyone picture any star saying he wants to sign with the Jazz? Sorry, Salt Lake City.
Williams is already seeing the financial benefits in playing in the New York area as he has signed on with Red Bull, getting the royal treatment here. Something tells me this wouldn't happen in Utah.
He is also getting his voice heard, something he struggled to do with former Jazz head coach Jerry Sloan and current Jazz general manager Kevin O'Connor.
'Coach Avery Johnson said it's "the best communication I've had with a player," and last week said that Williams' suggestion altered the team's morning shootaround routine. Williams has said that two of the Nets' recent signings—Shawne Williams and DeShawn Stevenson—came at his recommendation. He is also a driving force in the recruitment of Howard.
All Williams' new team has left to offer is winning, which will come soon. While he was winning when he was with the Jazz, that winning came with a lower ceiling.
Deron has gotten the taste of the big-market team and will not be headed back to Utah anytime soon unless it's for a family ski trip.