Fantasy Baseball 2012: 13 Late-Round Picks Who'll Perform Like First Rounders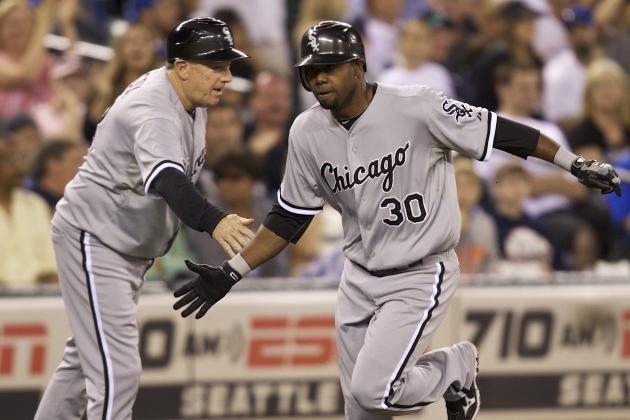 Stephen Brashear/Getty Images
Alejandro De Aza will be a great value late in the draft.
While your first couple picks are the most important, it is the later rounds that can often win or lose your season. Finding a great value at the end of the draft is huge and will put you over the top.
Last year, some key late-round draftees included Alex Gordon, Freddie Freeman and J.J. Hardy.
Everyone is always looking for the new crop of sleepers. There's nothing better than cashing in on a low-risk, high-reward player.
Here's a list of the late-round picks who have the potential to perform like first rounders.
ADP stands for average draft position. These numbers are based off Rotochamp's findings for drafts already held. ESPN early rankings are also included.
Begin Slideshow

»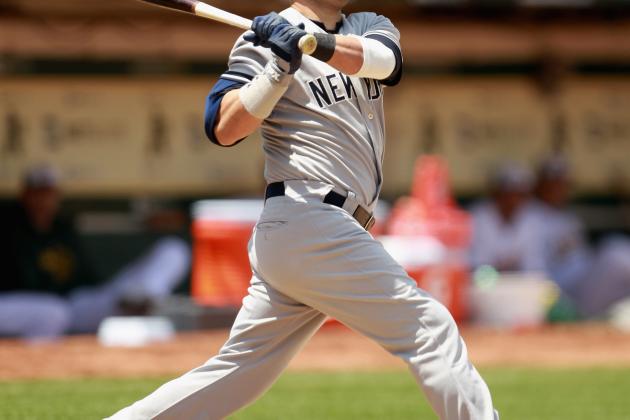 Ezra Shaw/Getty Images
Swisher is an OBP machine.
ESPN Rank: 98
Rotochamp Rank: 149
ADP in a 12-team league: 10th round
Nick Swisher is definitely the biggest household name on the list.
Swisher was Billy Beane's main target for one reason: his OBP. Beane selected Swisher with the 16th overall pick and watched him thrive in his "moneyball" system.
The approach has always stuck with Swisher. While Swisher's career batting average of .254 is very pedestrian, he also averages 28 home runs per season with a .360 OBP.
Keep this in mind come draft day. Swisher ranked ninth in the MLB in OBP last year, was 16th in 2010 and 15th in 2009. For OPS, Swisher was 18th last year, eighth in 2010 and 14th in 2009.
Swisher's career OPS of .826 is higher than Jacoby Ellsbury's .807, and Ellsbury will most likely go in the first round.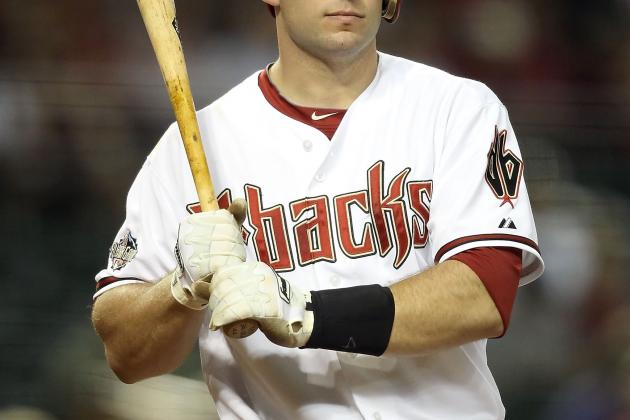 Christian Petersen/Getty Images
After making his debut last year, Goldschmidt could have a huge '12.
ESPN Rank: 140
Rotochamp Rank: 126
ADP in a 12-team league: 11th round
With an abundance of great first basemen, Paul Goldschmidt can be a steal late in the draft.
Goldschmidt was called up in September last year and had nine doubles and eight home runs in 156 at-bats. Now, he'll start the year as the D-backs first basemen.
Goldschmidt has the tools to give you good numbers with a pick outside of the 10th round. The average will be pretty low (expect around .250), but he'll hit close to 30 homers. Plus, he'll most likely be hitting seventh behind Upton, Montero, Young and Kubel, so he'll have plenty of RBI chances.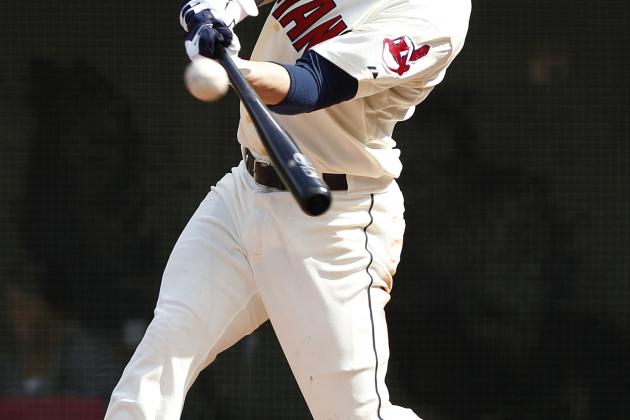 David Maxwell/Getty Images
Kipnis is ready for a breakout season in 2012.
ESPN Rank: 127
Rotochamp Rank: 93
ADP in a 12-team league: 13th round
For some reason, Jason Kipnis isn't getting enough attention. With the rankings from ESPN and Rotochamp, Kipnis should be taken in the top 10, but owners are afraid to draft him.
Kipnis hit .270 with seven home runs in 36 games last year. The lefty-hitting second baseman is in for a solid season. Expect Kipnis to come close to a 20/20 year as a 25-year-old.
Keep in mind that second base is very shallow, and only two second basemen were 20/20 last year (Kinsler was 32/30 and Pedroia was 21/26). There were only three other players relatively close: Kelly Johnson (21/16), Howie Kendrick and Brandon Phillips (both were 18/14).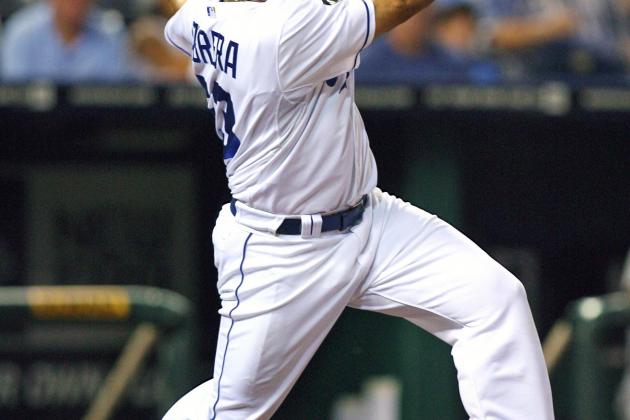 Tim Umphrey/Getty Images
Cabrera hit full-stride in Kansas City last season.
ESPN Rank: 174
Rotochamp Rank: 115
ADP in a 12-team league: 14th round
After having several unimpressive seasons with the Yankees, Melky Cabrera transformed into a fantasy gem last year.
Cabrera hit .305 with 18 home runs and 20 stolen bases a year ago. While his stats might not jump off the page, Cabrera was just one of four outfielders last year who hit .300 or better and had 20 or more stolen bases (Braun, Kemp and Ellsbury were the other three).
You can expect Cabrera's numbers to fall in 2012, but if you can snag him in the 14th or 15th round, he'll be a good pickup for a .285 batting average, 15 home runs, 15 stolen bases and 90 runs scored.
Norm Hall/Getty Images
Trout can put up great numbers even without starting Opening Day.
ESPN Rank: 216
Rotochamp Rank: 296
ADP in a 12-team league: 17th round
Even if Mike Trout only gets 400 at-bats, he can still give your fantasy team an extra boost.
Chances are that Trout won't make the team on Opening Day, but that shouldn't mean he should go undrafted.
If you spend a late-round pick on him and let him sit on your bench until he is called up, then he'll reward you. It all depends if you have the luxury of waiting.
Trout can be close to a 20/20 guy without even playing all of the year. And, if he is called up earlier, then he's a must-have.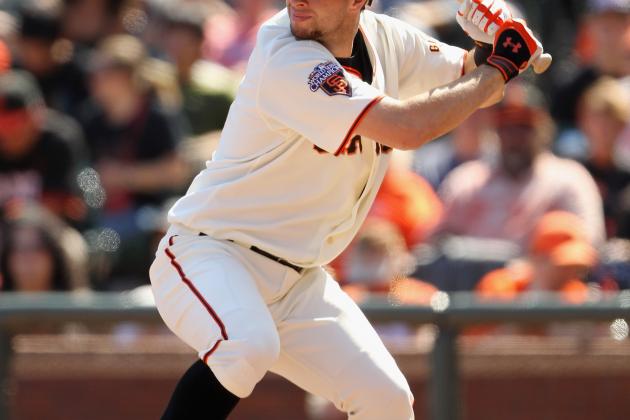 Ezra Shaw/Getty Images
Belt will look forward to 2012 after a forgetful debut in '11.
ESPN Rank: N/A (not in top-250)
Rotochamp Rank: 195
ADP in a 12-team league: 17th round
Brandon Belt might have been rushed to the Big Leagues last year, and he never got comfortable. He finished with a .225 batting average with nine home runs in 63 games played.
I'd expect more from the 23-year-old this season. If there's one thing to take from last year, it was his progression in the second half.
After hitting .184 in April, Belt returned to the Giants in the second half and ended up hitting seven of his nine homers in the last two months of the season. Plus, in the last seven games Belt played, he hit .318 with a home run.
Belt could hit 25 home runs with 75 RBIs and 10 stolen bases. Even though I am a Goldschmidt fan, Belt's numbers could rival Goldschmidt and you can get him later in the draft.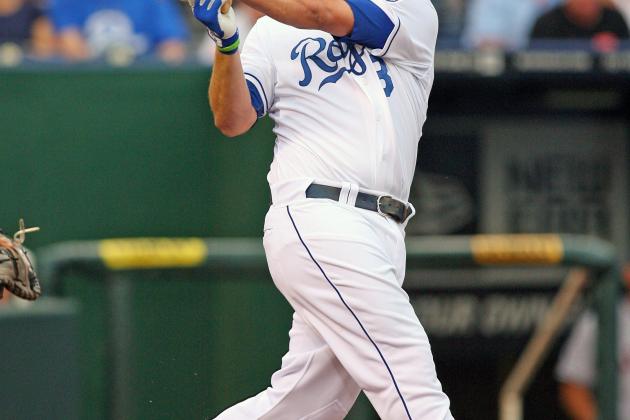 Tim Umphrey/Getty Images
Moustakas' hot September should be remembered.
ESPN Rank: 200
Rotochamp Rank: 193
ADP in a 12-team league: 17th round.
After a very slow start, Mike Moustakas finished the year on fire.
The Royals called up the 23-year-old third basemen in June last year, and he struggled in his first two months. Moustakas hit just .199 in June and July.
But when September rolled around, Moustakas found his stroke. Moustakas hit .352 with four home runs and 12 RBIs in the last month.
Moustakas should hit 20 home runs this year and there were only five third basemen who hit 20-plus homers in 2011 (Reynolds, Beltre, Longoria, Ramirez and Sandoval).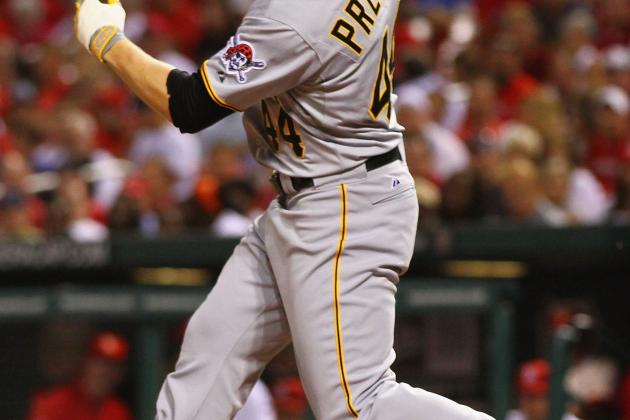 Dilip Vishwanat/Getty Images
Presley will be a good source of BA and SBs.
ESPN Rank: N/A (not in top-250)
Rotochamp Rank: 245
ADP in a 12-team league: 18th round.
Alex Presley isn't the sexiest pick, but if you're in the market for a good batting average and a bunch of stolen bases, he can be your guy late in the draft.
Presley hit over .300 in two different months during his rookie season in 2011. He hit .343 in July and then hit .308 in August after being recalled.
Because of Presley's wheels, he'll get a bunch of triples, so his slugging and OPS won't kill you. He was 9-for-12 in stolen bases a year ago, so expect 20 in 2012.
Finding a guy who will hit .300 with 20 stolen bases and 10 home runs in the 18th round is a bargain.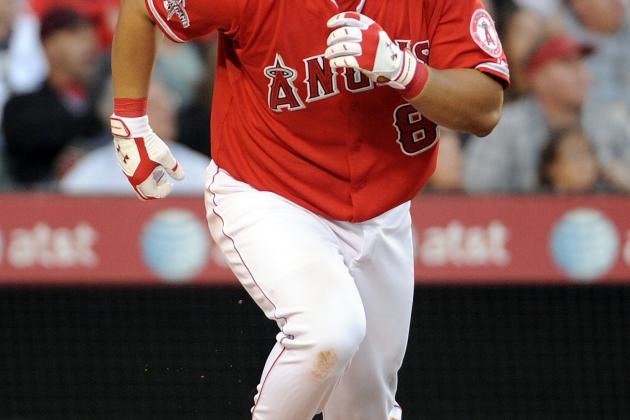 Harry How/Getty Images
Morales can make an impressive return in 2012.
ESPN Rank: N/A (not in top-250)
Rotochamp Rank: 137
ADP in a 12-team league: 19th round
Kendrys Morales was putting up good numbers before he broke his ankle after celebrating a walk-off home run in 2010.
In his last 203 games played, Morales compiled a .302 batting average with 45 homers and 147 RBIs.
It's hard to say what to expect with Morales coming off two surgeries and battling Mark Trumbo and Bobby Abreu for playing time. But, if he's still available in the 19th round (like he has been for most drafts), he will be a great addition.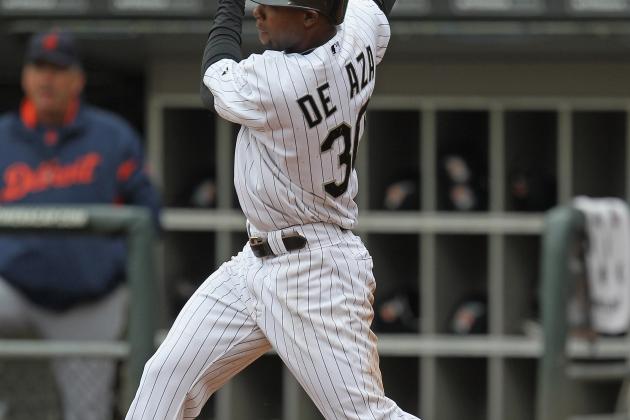 Jonathan Daniel/Getty Images
De Aza flew under the radar in 2011.
ESPN Rank: N/A (not in top-250)
Rotochamp Rank: 113
ADP in a 12-team league: 20th round
When Carlos Quentin got injured last year (again), Alejandro De Aza stepped right in.
De Aza hit .329 with four homers and 12 stolen bases in 54 games last year. And while De Aza isn't a home run hitter, he still carried a .520 slugging percentage and a .920 OPS. You can thank his 11 doubles and three triples for that.
De Aza should find himself batting leadoff for the White Sox this season. You can expect around a .285 average with 10 home runs, 30 stolen bases and 85 runs scored. That's a great value if he's still on the board by the 20th round.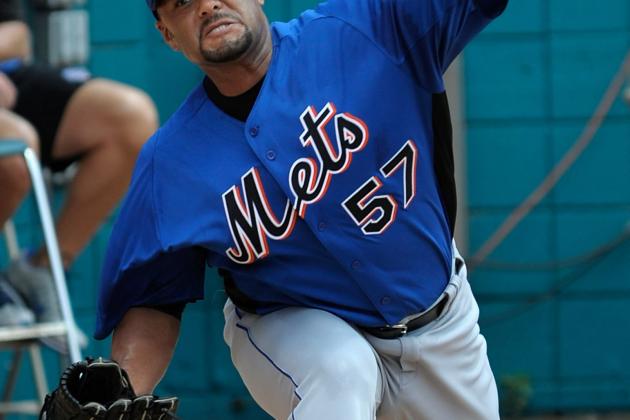 Sarah Glenn/Getty Images
After a long rehab, Santana will return as Mets ace.
ESPN Rank: N/A (not in top-250)
Rotochamp Rank: 232
ADP in a 12-team league: 21st round
After having successful shoulder surgery, Johan Santana is optimistic he'll be ready for spring training.
Santana was supposed to return to action last year, but he encountered too many setbacks. In his two rehab starts at High-A, Santana gave up one run in five innings while striking out five and walking none.
The shoulder is a huge concern, but Santana will be available in the late rounds. If anyone has the ability to return to form after surgery, it's Santana.
I wouldn't be surprised if Santana won 12 to 14 games with a sub-3.30 ERA.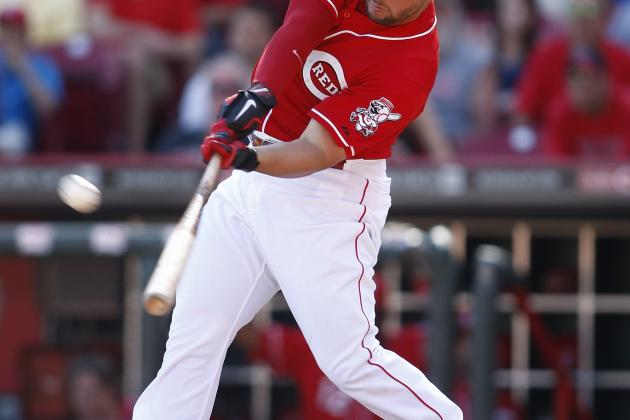 John Grieshop/Getty Images
Alonso will finally get his chance to show what's he's made of.
ESPN Rank: N/A (not in top-250)
Rotochamp Rank: 178
ADP in a 12-team league: 24th round
After trading away their other prospect first baseman Anthony Rizzo, the Padres will hand the starting job over to Yonder Alonso.
It's shocking to see that Alonso is being drafted so late. The home run numbers certainly won't project going from Cincinnati to San Diego, but Alonso is still very capable of hitting 20 home runs.
Alonso, a former U of Miami standout, hit .330 with five home runs in 47 games last year. I do expect Alonso's average to drastically fall, but if you need a first basemen at a very low price, Alonso has the potential to be a big-time sleeper. Finding a guy who hits around .280 with 20 homers in the 24th round is unheard of.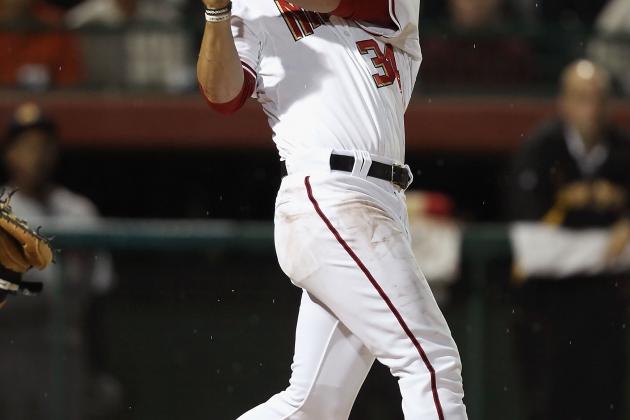 Christian Petersen/Getty Images
Harper was named as MLB's second-best prospect in 2012.
ESPN Rank: N/A
Rotochamp Rank: N/A
ADP in a 12-team league: N/A
Bryce Harper is ranked as the MLB's second-best prospect for 2012. Harper is only behind Matt Moore, and he jumped Mike Trout as the top outfield prospect.
Although Nationals manager Davey Johnson said Harper has a chance to make the team out of spring training, I don't think he will (mostly because of the money).
Harper is just 19 years old and he's 6'3", 225 pounds and can flat out hit. He's a slow starter, but if Harper plays 60 games this year, he could hit .265 with 10 home runs and 10 stolen bases.
If you take the risk by drafting Harper in the last couple of rounds, he'll definitely perform when he's called up.