Super Bowl 2012: 3 Records That Will Be Shattered
January 31, 2012

Elsa/Getty Images
With the 2012 Super Bowl just a few days away, it's time to go over the record book and see which obtainable records will be broken this time around.
While there are many that can never be broken, there are a few that are right in the grasp of the perennial Super Bowl-participant Patriots.
All of the following records have a chance to be broken on Sunday, but don't be surprised if other records fall as well. It could be a wild game.
Bill Belichick Will Tie Chuck Noll With Four Super Bowl Wins
While Pittsburgh Steelers legend Chuck Noll has held the record for most Super Bowls won by a coach for a long time, his long rein at the top will not have some company.
When Bill Belichick leads the New England Patriots to another Super Bowl win this Sunday, he will join Noll as the winningest Super Bowl coach in NFL history.
Tying the record is by no means shattering it, but the company is elite enough where he is shattering plenty of other coaches' records in the NFL. It's good enough for me.
Fewest Field Goals Attempted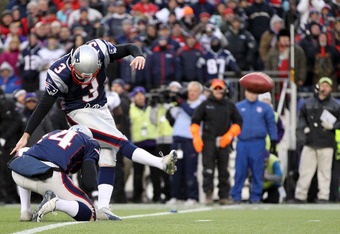 Jim Rogash/Getty Images
The last time the New York Giants played the Patriots in the Super Bowl, they tied for the lowest amount of field goals attempted in a Super Bowl with just one. They will not attempt any on Sunday.
I know that is an extremely bold statement, but both defense showed last week that they can be stingy. While they are tougher than most give the credit for, the defenses are both susceptible to the big play.
With the big arms of Tom Brady and Eli Manning, I could see the score falling in the range of 21-14 with no field goals. It's a long shot, but a very real possibility.
Aaron Hernandez Will Score Four Touchdowns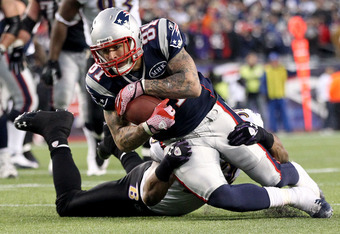 Jim Rogash/Getty Images
The NFL record is three touchdowns by one player in a game, but Tom Brady and the Patriots will let tight end Aaron Hernandez eclipse that with four touchdowns on Sunday.
With touchdown machine Rob Gronkowski nursing an ankle sprain, he will be blocking and acting as a decoy as the Giants defense forgets about Hernandez.
While four may be a reach, two is very likely with three not out of the realm of possibility. If and only if Brady eats his Wheaties, Hernandez will break the record. We can all just hope.
Check back for more on the National Football League as it comes, and check out Bleacher Report's NFL Page to get your fill of all things football.