Australian Open 2012: What We Learned from the Tournament and About 2012
January 30, 2012

Mark Kolbe/Getty Images
The Australian Open 2012 is over and Novak Djokovic is still king of tennis and king of the slams. It's been a thrilling fortnight with many epic battles. And if there ever was a worthy final and a worthy winner, this was it. Let's take a look at what we learned. 
The Big Four Still Rules Tennis
Many, myself included, have speculated whether the time was ripe for the non-"Big Four" players such as Jo-Wilfried Tsonga, Juan Martin del Potro, Tomas Berdych and so on to step it up and make a semi. It wasn't. The Big Four has now occupied 18 of the last 20 semifinal spots going back to the Australian Open 2011. 
If that is not dominance, I do not know what is.
Berdych came close and was a volley away from leading Rafael Nadal two sets to none. But, he didn't convert and Rafa played his way out of trouble. Roger Federer took Delpo apart in a clinic. And Tsonga fell to Kei Nishikori, whose run to the quarters has taken him to his first top-20 ranking. 
The two prodigies with the most potential, Milos Raonic and Bernard Tomic, didn't do much better. Raonic somehow managed to lose to a rejuvenated Lleyton Hewitt, while Tomic was overawed and clinically disposed of by his idol Federer. Tomic did very well to get there though, toughing out some long five-setters on his way.  
We Still Have a Big Two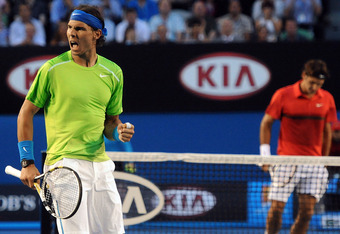 Pool/Getty Images
While it makes sense to talk of the "Big Three" or the Big Four, it also makes sense to talk of the "Big Two." Rafa and Djokovic have occupied 10 of the last 12 slam final spots with four slams going to Novak and two to Rafa. 
Both Federer and Murray had their chances to make the final, but Rafa and Novak found a way to win when it mattered most.  
We saw that Federer still has game, even in the best-of-five format, but that it is next to impossible for him to take out his longstanding nemesis in a best-of-five match. Somehow Rafa plays better and Roger plays worse. It probably doesn't help Roger's game that Rafa gets everything back with interest.
The Murray-Lendl Relationship Just Might Work
When was the last time the British press was upbeat about a Murray defeat? I don't know, but they sure were after his five-setter in the semifinal. In that match, Murray showed he can go the distance in a best-of-five match with the best of the best. He had a 2-1 lead on Djokovic, but you can't really blame him for not finishing Novak. 
If there's one thing that has characterized Novak's last 12 months or so, it is that he always finds a way to win. He did it against Murray in Rome, against Federer in the US Open and against Murray and Nadal here at the Australian Open. Nothing to say but too good and hats off.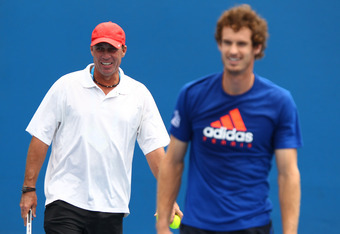 Clive Brunskill/Getty Images
The encouraging thing for Murray was the he was calm, more aggressive and if not outright positive at all times, then also not beating himself as he has done so many times in years past. 
Novak Still Owns Rafa and the Big One
Since the Paris Masters in 2009, Novak has gone 10-2 against Rafa. A year ago, he was 0-5 against Rafa in finals and 0-9 on clay. Now, he's still only 2-9 on clay, but he's 7-5 in finals. There might be something similar in the history of tennis, but I cannot think of a more complete turnaround in a rivalry between the two best players of the world. 
Let's not forget that Rafa won three slams as late as 2010 and was projected to keep winning 2-3 a year for at least a couple of years. Rafa is, judging solely by age, in the smack of his prime, but he's still down 0-7 in the last seven meetings with Djokovic. That's got to hurt. 
Rafa Can Take Heart from This Loss
While yet another final defeat does hurt, I'm quite confident that Rafa feels he's on the right track to solving the Novak puzzle. His on-court demeanor and his post-match interview is evidence of that.
He should have lost the match in four, but found a way to turn it around and come back from sure defeat.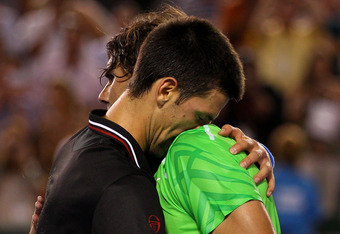 Scott Barbour/Getty Images
Then, up 4-2 in the fifth, he failed to go up 30-15 on a very makeable pass. Would he have won that game and then the match? The way Novak was returning, 40-15 is not a safe lead, nor 5-2. But 40-15 would certainly have given Rafa a better chance than 30-30. 
But instead of beating himself up over that, Rafa can console himself with the fact that he came closer than ever in their last seven matches (well, Miami was as close) to actually winning. 
Moreover, he successfully employed a bigger serve than we saw at the US Open and at times, he was hurting Novak with it. 
But perhaps most encouraging was his amount of unforced errors. Why? Because they are proof that he's trying to go for more winners and alter his game. Before the final, he and Novak were dead even with winners for the tournament. 
Novak hit more winners than Rafa in the final, and so did Federer and Berdych in the semis and quarters, but not by much as in years past. 
Sure, for much of the final Rafa converted to his old self, the comfort zone five to 10 feet behind the baseline. That's just not enough to get it done against Novak.
The good thing for Rafa and his fans is that Rafa knows this and he's trying new strategies such as going more up the line with both backhand and forehand, serving bigger and going for more. 
The bad part is that we still don't know whether it will be enough against the superman of tennis, Novak Djokovic. Remember, yesterday, he was probably still physically drained from the Murray match.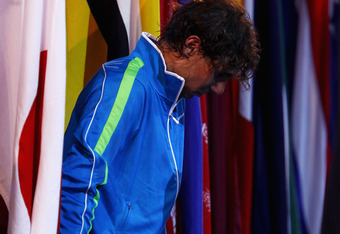 Clive Brunskill/Getty Images
Novak Is Still the King and Firmly on His Way to Legendary Status
If there were still doubters out there who believed 2011 was some sort of fluke (we did see such articles on this site not more than a month ago) and 2012 would see the tennis world get back to normal with Fedal domination, Djokovic firmly lay any such doubts to rest. 
While he had to battle harder than usual against both Murray and Nadal, winning both matches in the fifth 7-5 and spending 10 hours and 43 minutes on court over two days, he did what he's been doing for the past year: coming up with the goods when it matters and refusing to back down. 
And if there was doubt whether he could hang with Nadal in the fifth of a best-of-five, he also got rid of that. 
He now owns four of the last five slams and has an outstanding chance at going for four in a row at the French. Where both Roger and Rafa have failed, Novak has a more-than-decent shot to succeed. 
Last year, he won four out of four sets on clay against Nadal, whom he had never beaten on clay before. Had Roger not played an outstanding semifinal, Novak would have been my odds-on favourite in the final at last year's French. 
There are still five months left to the French Open and anything can happen between now and then. Murray, Federer and Nadal can all potentially win against Djokovic on clay. But Djokovic can win too and if he does, he will have done something incredibly special in the world of tennis. 
Then again, he already has. 
The Djokovic-Nadal rivalry will continue on the American hard courts and then the European clay courts will see the fight intensify. Will Nadal finally turn it around? Or will Djokovic make it 8-0, 9-0 and 10-0 before Nadal manages a win? 
We'll know in a few months time.