Super Bowl 2012: Friendly Twitter Rules of Etiquette for Covering and Watching
January 30, 2012

Michael Heiman/Getty Images
It's Super Bowl week, which means hundreds upon thousands of sports media members will descend upon Indianapolis in an effort to inform their readers, viewers and listeners about the goings-on at the world's biggest annual sporting event.
Undoubtedly, every single one of them will tell us something about the weather.
Twitter is a great and useful media tool. It has changed the way we cover sports. Sadly, it has also created a 24-hour avenue for reporters and pundits to communicate with their followers about anything and everything on their minds.
I am as guilty as anyone, surely. Search any five-minute span of my Twitter feed and you will see posts on anything from the NFL to soccer to what Muppet-related show my kids are watching at the time ("Abby in Wonderland," if you were wondering). Twitter allows us to share everything, even if the people with whom we share don't particularly care very much. 
But I have thousands of followers! They must want to know about my life! (Hint: They probably don't. I know that. I just don't care.)
And it's okay if you don't care either. If you have thousands of people who have taken to following you—heck, it doesn't matter if you have three or 300,000 people following you—you should be able to write about whatever you like. People can always unfollow you, right?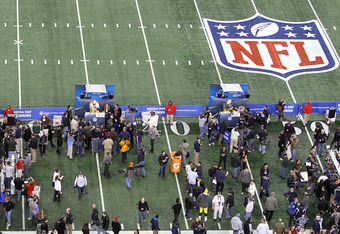 Michael Heiman/Getty Images
Right. And wrong. Let's take this back to those covering the Super Bowl. Yes, I could unfollow you if I think your incessant tweets about the weather and press box food are unbearable. I could, but then I would miss out on the actual important information you provide on Twitter. You may be a breaking news resource or a valuable analyst. You may be a PR professional working for one of the networks or a beat writer covering a team. 
So yes, we could unfollow you. Or, we could try to convince you to respect the role you play for most of your followers and stick to the script. You are at the Super Bowl to work, not tell us what kind of rental car you were saddled with because you didn't get to town until Wednesday. Tell that to your editor, not your followers on Twitter.
With that, let's offer a few quick suggestions for our sports media friends lucky enough to be covering the Super Bowl this week (and at the risk of this sounding like Darren Rovell's 100 Twitter Rules to Live By):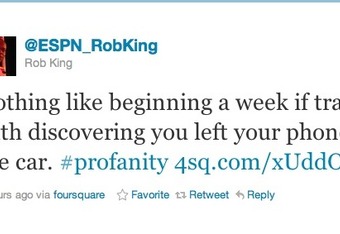 • Remember your phone. You will probably need it. 
• Remember you are there to work. Yes, it's cool to have fun while working, and surely you are entitled to some down time, but we don't necessarily need to hear about every minute of it.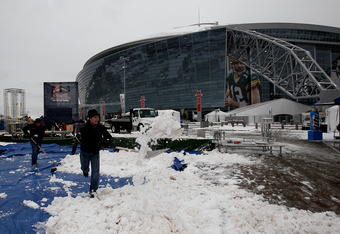 Win McNamee/Getty Images
• Refrain from any references to the weather. We understand last year's game was in Dallas, so the ice storm was a bit unexpected and moderately newsworthy. This year, you are in Indianapolis. It should be cold. It may snow. It could be sunny. We don't need to be bombarded by tweets (and especially photos) of what the weather is like. You aren't in Hawaii. You aren't on the moon. We can all imagine what weather in Indianapolis feels like. It probably sucks and so do those tweets.
• Along those lines, nobody cares about the traffic either. You are at the Super Bowl. There are more than 50,000 additional people in town this week. There is going to be traffic. It's going to take you extra time to find a cab. You may have to walk longer distances than your shoes can handle. Don't complain about these things because, as you don't need to be reminded, you are working the Super Bowl and we aren't.
• If you take a photo to tweet to your followers, make sure it's not blurry or underexposed. You are a member of the media for crying out loud, learn how to use your mobile device properly or don't tweet out the photo.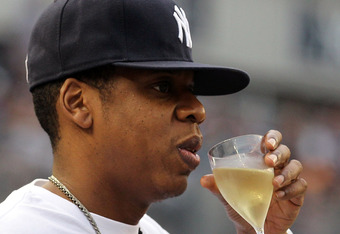 Al Bello/Getty Images
• If you go to one of the Super Bowl parties, only tweet out the celebrities you see if you can get them in a photo. You just saw Jay-Z walk by you and order an appletini? Prove it or shut up. (Note: thanks to all the Twitter followers who suggested drinks for this, including Zima, Cosmopolitan, banana daquiri, grasshopper, Shirley Temple, Sex on the Beach, anything involving the word "spritzer" and something called a pink squirrel. If Jay-Z is drinking any of those this week, you better get a Twitpic.) 
• Speaking of that, feel free to enjoy the parties you go to. Don't spend the entire night on your phone telling us how much fun you are supposedly having. Just go have the fun, then tweet us a top two or three moments when you're drunk and in a cab at the end of the night. It will be better for all of us.
• The next few rules are for those at the game or at home. First, if you tweet news leading up to Super Bowl Sunday, make sure to properly source that news and, if possible, retweet or include a link to the original work. 
There will be news broken this week, or any week. Make sure to properly credit that news.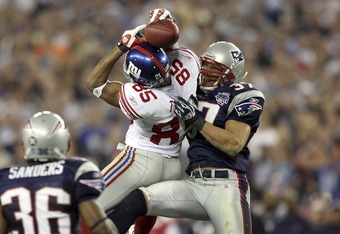 Andy Lyons/Getty Images
• Last, and most importantly, we are all watching the game. All of us. It's safe to assume that more than half the entire population of the United States could be watching this year's Super Bowl. That means, no matter how many followers you have, almost every single person is watching.
You get it? We are all watching. So tweeting "WOW!" isn't necessary. I'm not saying you shouldn't have fun, give insightful thoughts or add snarky comments about the action (or commercials). I'm saying, adding nonsense like "WOW!" is wasting everyone's time and API. Give us more than "WOW!" please.
Take the extra three seconds it takes to think of something interesting to write before you tweet. Or (you may be sensing a theme here) fix yourself an appletini and keep your "WOW!" to yourself.