NFL Draft 2012 Predictions: Expectations vs. Reality for Robert Griffin III
January 31, 2012

Brett Deering/Getty Images
Click here to watch movie clip from 500 Days of Summer. 
A chick flick in a football article. Have I gone crazy?
Maybe. 
Hear me out, though. 
In the movie scene, Tom (played by Joseph Gordon-Levitt) goes to a party carrying expectations that are never met.
Reality brings him an awkward hug instead of a first kiss. Silence from his jokes instead of laughter. A lonely night as an observer instead of one next to the girl he likes.
It's relatable—a place familiar to each of us.
Much like Tom, we've all gone on that date with high expectations only to be slapped in the face by the firm hand of reality, seen that critically-acclaimed movie only to leave the theater with a stomach full of disappointment and buttered popcorn and followed that Yelper's five-star review only to have a one-star experience. 
Sports, especially the NFL draft, are all about the ongoing battle of expectations versus reality. Without it, there would be no busts and no steals. No big disappointments and no pleasant surprises.
We expect so much from these unproven prospects, but reality always has its own story to tell.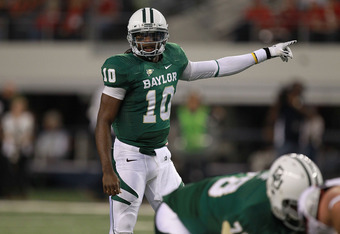 Ronald Martinez/Getty Images
Sometimes good; sometimes bad.
Expectations
Robert Griffin III's 2011 campaign has seen him transform from an unknown into a clear Heisman Trophy winner.
The junior quarterback had an impressive season, racking up 4,293 yards passing, 699 yards rushing and 47 total touchdowns while helping Baylor win 10 games. More importantly, he displayed unequivocal accuracy, completing 72.4 percent of his passes.
Griffin has shown the ability to precisely deliver short, intermediate and downfield throws. The combination of athleticism, arm strength and accuracy have scouts drooling, envisioning him as a possible Cam Newton and Drew Brees hybrid. 
Griffin will be looked upon to step in and quickly contribute, much like Newton has for the Carolina Panthers. His team will rely on him to be a sturdy foundation for future success and multiple postseason berths with an eye on a Super Bowl. 
At 6'2" and 210 lbs., Griffin may be slight in size, but he has evolved plenty during his stay at Baylor. As an underclassman, he was generally viewed as a better runner than passer, but has made leaps and bounds in becoming more complete.
The imperfections remain (poor mechanics and loose release), but they are overshadowed by his poise in the pocket, potential and intelligence. Griffin graduated from Baylor with a degree in political science with plans to enroll in law school. 
He is currently projected as a Top 10 pick, and experts foresee him going as high as the first or second selection depending on pre-draft workouts. Impressive performances there will only balloon the young quarterback's expectations. 
Will he become a star in the NFL, or will the sharpness of reality pop the inflated expectations?
Reality
I'll start with the bad news so that the eventual good news can provide promises of comfort.
Success at the college level never guarantees a smooth transition to the pro game, especially at the quarterback position. And especially with Heisman winners, who have historically struggled on the NFL stage.
In fact, since 1992, there have been 13 quarterbacks to win the award, and among those, only two (Tim Tebow, Carson Palmer) have even started an NFL playoff game. The majority of them struggled mightily in their brief, forgetful careers in the league.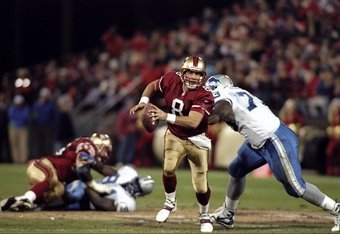 Jed Jacobsohn/Getty Images
Also, quarterbacks of Griffin's mold (elusive as a runner and still raw as a passer) can deliver big wins during the season, but tend to fail in the playoffs and Super Bowl. 
Michael Vick has come close, but remains empty-handed. 
Randall Cunningham never even made it to a Super Bowl during his illustrious career. 
Even Frank Tarkenton, one of the greatest scramblers ever, lost in all three of his Super Bowl appearances. 
Now, the good news; some quarterbacks that began their careers in this mold were able to make the necessary adjustments to become Lombardi Trophy winners. 
Steve Young was atrocious during the early stages of his career, compiling a 3-16 record as a starter in his first two seasons. He then blossomed, won a Super Bowl and owns the third-highest career passer rating (96.8). 
More recently, Ben Roethlisberger enjoyed a similar transformation. He has gone from a game manager who relied on his defense and run game to a quarterback that wins with his arm. 
The reality is that Robert Griffin will land somewhere in the middle. He's raw as sushi, but the potential is undeniable. He's also an intelligent young man with a great work ethic. Those, combined with natural talent, will take him far.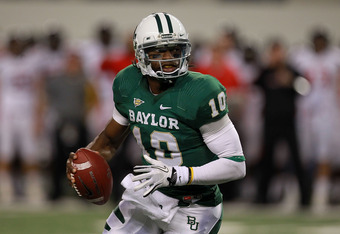 Ronald Martinez/Getty Images
Griffin will win big games, play in a Super Bowl and appear on several Pro Bowl teams. 
Most Likely Destination
The Miami Dolphins, once in the "Suck for Luck" sweepstakes, are now "Fishin' for Griffin."
After starting the season 0-7, the Dolphins rebounded to become proud owners of a 6-10 record. Bad record aside, they are a talented team only a few moves away from the playoffs.
Inconsistency at the quarterback position is a glaring weakness in need of fixing. Matt Moore was able to step in and provide some stability, but an upgrade is requisite. 
The Dolphins have shown interest in acquiring veteran Peyton Manning, but if a deal is not made, the team may turn to the NFL draft for their quarterback of the future. 
Enter Robert Griffin III. Not a bad consolation prize.