2012 NFL Mock Draft: Realistic Dallas Cowboys 7-Round Projections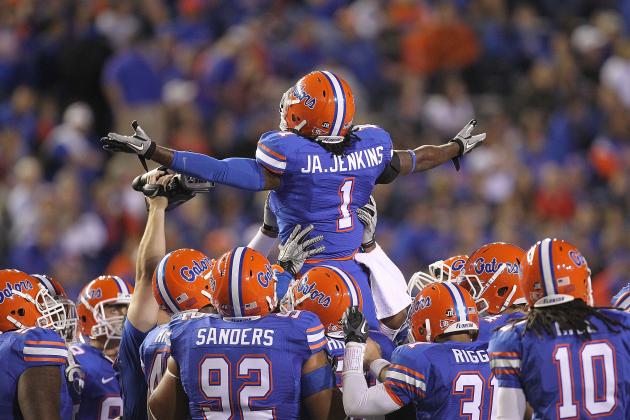 Mike Ehrmann/Getty Images

Dallas Cowboys fans are looking to Jerry Jones to make the right picks to retool the Cowboys roster. The Cowboys missed the playoffs once again in 2011 despite their strong passing game, the dynamic pass-rush of DeMarcus Ware and a top-10 rush defense.
A few things were missing in 2011.
First, the offensive line lacked depth and gave up a disappointing number of sacks. Second, Cowboys cornerbacks failed in coverage. Third, the Cowboys pass-rush was often absent despite Ware placing second in the NFL in sacks.
Cowboys fans likely wonder whether Jones will draft the players they're hoping for or if he'll pick players for flash and brilliance. Will he fill needs or go for talent? How many players will be drafted above their projection?
Following is a prediction of how Jones will approach the draft for the Cowboys.
Begin Slideshow

»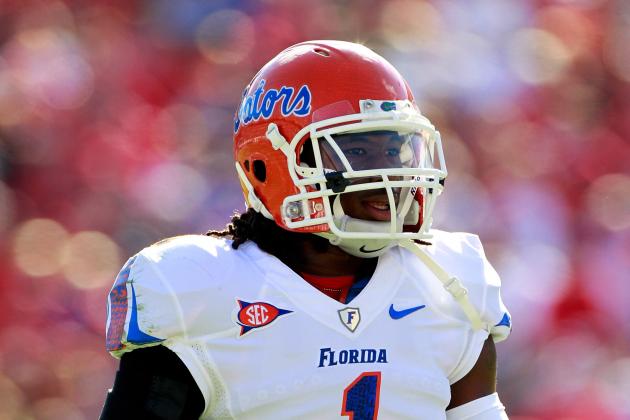 Sam Greenwood/Getty Images

Janoris Jenkins is an attractive talent for the Cowboys.
He can jam receivers, make big defensive plays and tackle aggressively.
Jenkins' criminal background won't force Jerry Jones to turn away from him.
He impressed Cowboys personnel, who took the time to meet with him, at the Senior Bowl.
While some may be concerned about the level of competition Jenkins faced at North Alabama last season, his Senior Bowl performance showed that he can hang with the best.
Even though he had to operate outside the press coverage in which he excels, Jenkins displayed great coverage ability. He was fast and broke up passes.
Jenkins' talent will shine brighter in Jones' eyes than his off-the-field issues.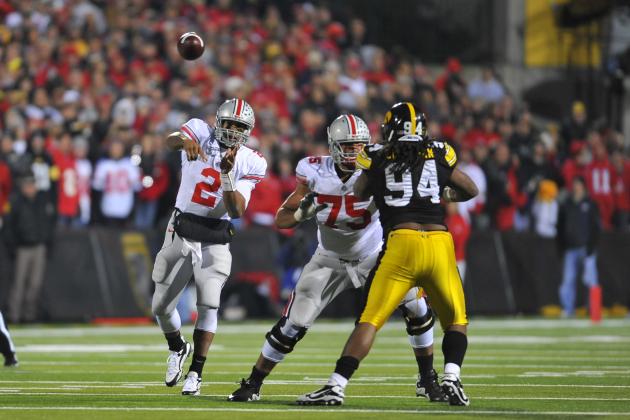 David Purdy/Getty Images

Jerry Jones has a thing for Ohio State players.
The Cowboys have drafted five Ohio State players since 2000.
This year, Jones will tab Buckeye Mike Adams to help on the offensive line.
Adams is rated the No. 31 overall prospect, but the Cowboys could see him fall to them in the second round.
Adams is the prototypical lineman. He is huge at 6'7" and 323 pounds. Also, he has long arms, is strong and great at using his hands in blocking. He's quick off the snap and has good feet.
In 2010, he earned a first-team All-Big Ten appearance.
Drafting Adams would provide the Cowboys with better positioning on the line. Putting Adams at left tackle would allow Tyron Smith to stick to right tackle, where he is better suited.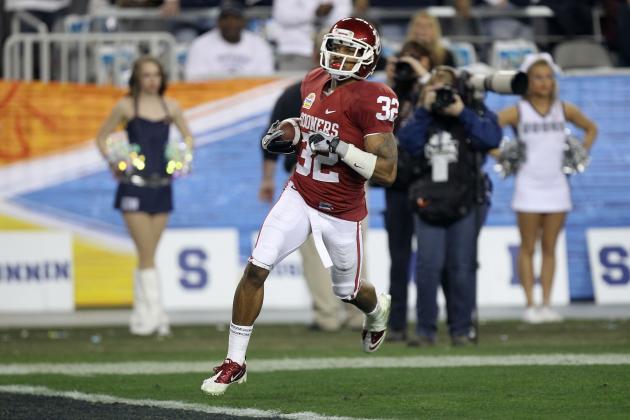 Ronald Martinez/Getty Images

The Cowboys could use multiple cornerbacks to fill depth needs.
Thus, Jerry Jones will go for Jamell Fleming of Oklahoma in the third round.
Fleming is a solid cover cornerback.
He has requisite quickness and nice physicality. While he tackles well, Fleming often goes for the strip.
Stripping ball-carriers is a useful skill, one that Cowboys defenders don't use often enough.
Fleming had only one interception in 2011, but he has the strong hands and ball skills to get more in the NFL.
In the Senior Bowl, Fleming pleased scouts with his speed.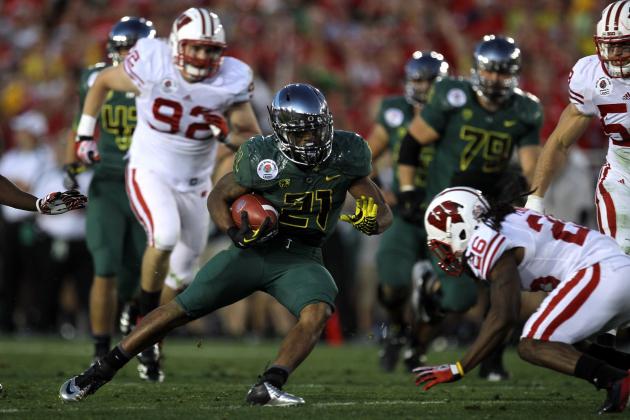 Stephen Dunn/Getty Images

While running back isn't a great need for the Cowboys, Jerry Jones won't be able to resist drafting James when Jones sees James on the board in the fourth round.
James had an outstanding career at Oregon.
He ran for 1,805 yards and 18 touchdowns in 2011.
For his Ducks career, James put up 5,082 yards and 54 touchdowns, both conference records. In 2010 and 2011, James was named an AFCA All-American.
James is a great runner. He prefers running inside, and despite being only 5'9", he is tough and elusive.
Still, he's capable of cutting back and breaking away once at the sidelines. Also, James can break tackles better than most.
James wasn't used much as a pass catcher, but he's capable of catching balls out of the backfield.
By the way, James is fast, running the 40-yard dash in 4.42 seconds.
Many look down on James due to his size, but he has the tools to succeed in the NFL.
Looking to help Jay Ratliff at defensive tackle, Jerry Jones will go for Akiem Hicks from the University of Regina in Regina, Saskatchewan, Canada.
For a defensive tackle, Hicks is a huge, quick guy.
He stands 6'5" and 324 pounds and runs the 40-yard dash in an impressive 4.98 seconds.
Also, Hicks is extremely long with an 84-inch wingspan. Hicks has the strength to push aside blockers.
In 2010, he was a Canada West All-Star, gathering four tackles for loss and forcing two fumbles. In 2011, he had 29 solo tackles, including 13 for loss, along with 6.5 sacks and two forced fumbles.
Since the Cowboys could improve depth at cornerback by a mile, Jerry Jones will go for a dynamic playmaker from a little-known school of the affiliation for which it's named.
Justin Bethel is a small guy at 5'11" and 196 pounds, but he plays big.
The Presbyterian product set a Big South record with 196 solo tackles and nine blocked kicks in his Blue Hose career.
Also, Bethel intercepted four passes in 2011. In the above video, Bethel takes an interception to the house against California in the second quarter of a 63-12 loss.
He earned the College Football Performance Elite Punt Return Award for returning both of his 2011 punt returns for touchdowns.
Additionally, Bethel earned a spot on Phil Steele's FCS All-America team.
Jones would love to have a playmaker like Bethel in the Cowboys secondary. Bethel showed that he could make plays against big-time competition by getting an interception against a major DI-A team.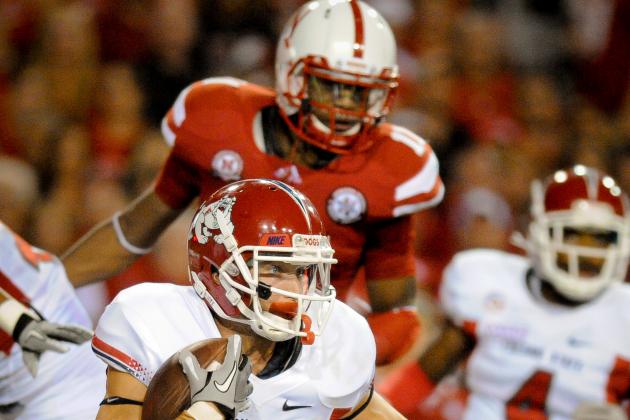 Eric Francis/Getty Images

Finding a decent seventh-round pick is difficult.
Jerry Jones may or may not hit with this pick.
Devon Wylie is an all-or-nothing prospect.
The Fresno State product could either break out as a star return man, or he could disappear in a year due to injury.
Devon Wylie played his only full season in 2011. He caught 56 passes for 716 yards and a touchdown. More impressively, he achieved a 15.4-yard punt-return average.
He missed a significant amount of time due to injury in each of his first four years at Fresno State.
Some players are their 40-yard dash time. Wylie is one of those guys. At 5'9" and 182 pounds, he's a small, fast guy. His listed 40 time is 4.38 seconds. In the summer of 2009, he clocked a 4.25-second heat.
Looking to get back to that form, Wylie told the Fresno Bee, "My overall goal is to show my speed. I want to get under 4.3."
Wylie himself seems to acknowledge that he's pure speed. With that, his ceiling is to be a burner in the return game.
He probably won't line up much as a receiver, but the Cowboys could pin their return game on him, especially after placing 27th in punt-return average and 20th in kick-return average.