Super Bowl 2012: Eli Manning Will Be Better Than Peyton After This Year
January 31, 2012
Doug Pensinger/Getty Images
Eli Manning and Peyton Manning will each have played in two Super Bowls after Sunday. The two brothers, both No. 1 overall picks six years apart, have long been separated by Peyton's brilliance under center.
He's considered one of the best quarterbacks, not only in the league today, but in the history of the game.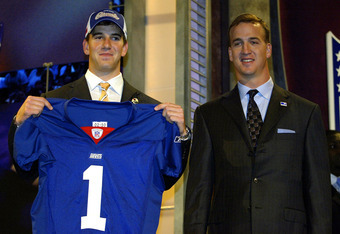 Chris Trotman/Getty Images
There has never been a true competition between the two until Eli won his first ring in Super Bowl XLII.
Even then it wasn't very close.
That has changed quickly in the first year that Peyton wasn't able to take the field though. Not only is Eli the only Manning playing quarterback this season, but he is playing it at a level we've never seen him play at before.
Statistically, he's closing in on Phil Simms as the best to ever wear blue and he's only four quarters away from wearing more Super Bowl rings than his big brother.
Super Bowl wins are not the only way quarterbacks are judged, but it is one of the most heavily-debated factors.
Eli won't have better numbers than Peyton when this year's over, but he'll have taken a significant chunk out of the lead that Peyton has built up.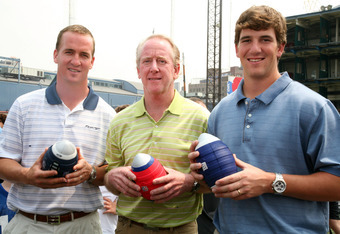 Astrid Stawiarz/Getty Images
There is a case, in fact, to make an argument that Eli may even be better than his big brother.
A ring would have to play a big part in it. If Eli loses on Sunday, both he and Peyton will have one win and one loss in the Super Bowl. Naturally, a win gives Eli a big boost up.
But what truly sets it apart is the fact that Eli is peaking right now. As said earlier, he's playing at an entirely different level then we've ever seen from him before.
He's not just avoiding mistakes or completing insane plays like in Super Bowl XLII, but he's winning games by making ridiculously good throws time after time.
Eli Manning is the reason the New York Giants were get into the playoffs, now he's on track to truly lead them to another Super Bowl.
When we enter 2012, regardless of which team Peyton is playing for, it won't be surprising to hear Eli ranked ahead of his brother going into the season.
The argument for Eli over Peyton after this season is not only possible, but legitimate.