2012 NFL Stat Projections for Every Starting Quarterback in the League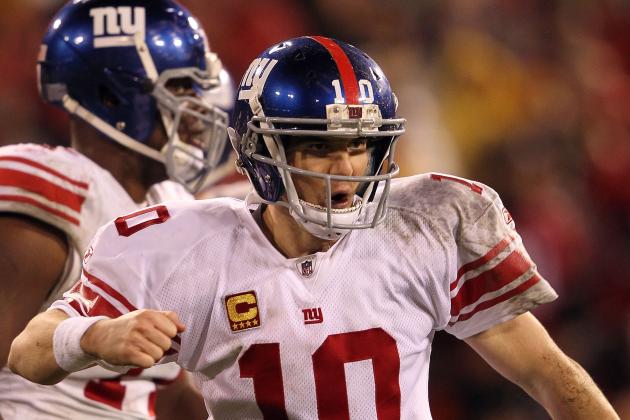 Jamie Squire/Getty Images

This is one of the perks of writing for a sports-opinion site like Bleacher Report: Being able to make wild predictions way far in advance in hope of sparking conversation.
In this article, we're going to focus on all 32 NFL starting quarterbacks next season, complete with predicted stats based on what players teams could lose in free agency and what teams do with their draft picks.
It's a bit of a stretch to be doing this so early, but where would the fun be if we didn't?
The list of 32 also includes some wild cards. Certain players up for free agency will be shown with new teams I think could realistically sign them. Oh, and Peyton Manning is on the list—and you'll never guess where.
Without any further ado, let's dive into the list of 2012 starting quarterbacks and their projected stats.
Begin Slideshow

»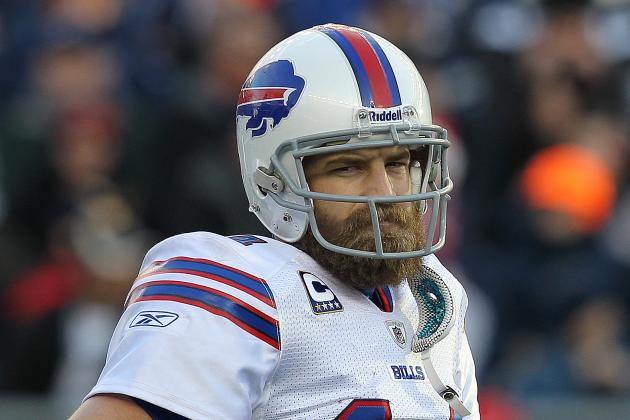 Jim Rogash/Getty Images

Projected Stats: 3,600 yards, 21 TD, 17 INT
The 2011 season was kind to Fitzpatrick, especially in the early season. He was able to land a big-money contract extension after starting hot the first five games. If he begins to regress in 2012, the Wilson family will regret the long-term signing.
All numbers will be down as the Bills are losing weapons to free agency.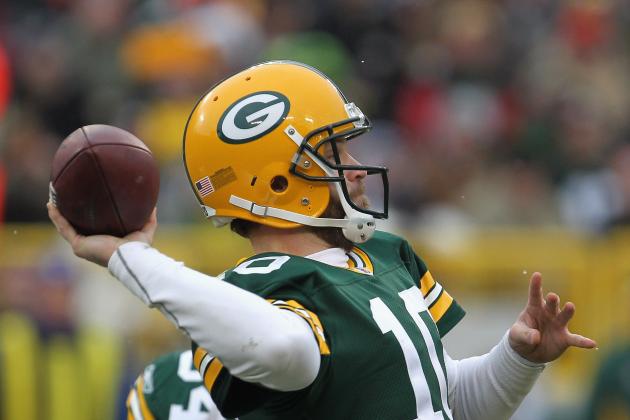 Jonathan Daniel/Getty Images

Projected Stats: 3,400 yards, 24 TD, 12 INT
In the first projection of the offseason, I could easily see Matt Flynn going to the Miami Dolphins. After hiring former Packers offensive coordinator Joe Philbin and former Green Bay head coach Mike Sherman as the team's new offensive coordinator, the Green Bay ties make so much logic.
Flynn is now due a big-money deal as he's ready to become a starter. The Dolphins are the most likely landing spot with the comfort behind him.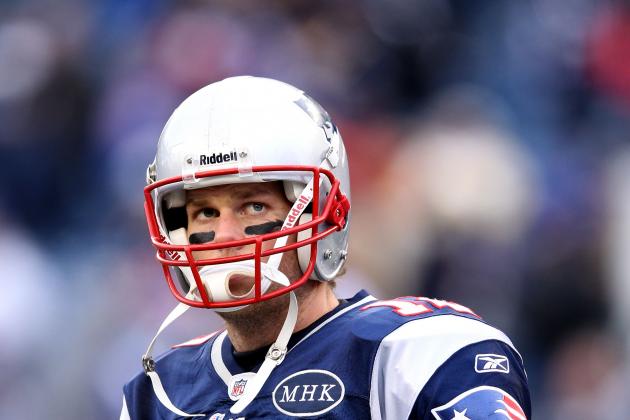 Elsa/Getty Images

Projected Stats: 4,900 yards, 28 TD, 10 INT
The standard for all quarterbacks himself, Tom Brady. This is an obvious passing offense led by a prolific player. The season New England runs the ball more times than they throw will be the day hell freezes over. Expect greatness from Brady yet again.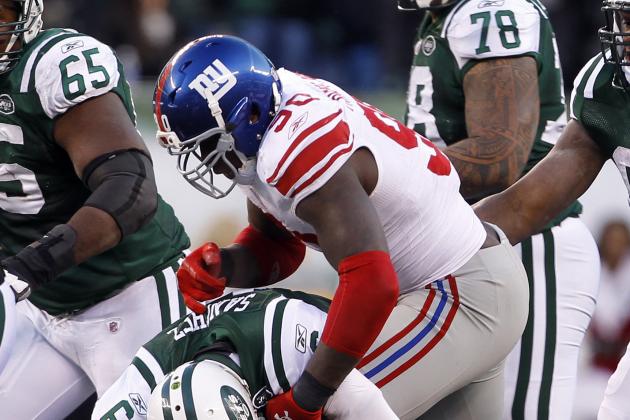 Rich Schultz/Getty Images

Projected Stats: 3,200 yards, 16 TD, 20 INT
No quarterback is sizzling out faster than Mark Sanchez. He's regressing at an alarming rate.
The 2012 season will be a huge test for Sanchez. If he fails to play like an elite QB as the Jets expect him to, he could find himself on the street in the very near future.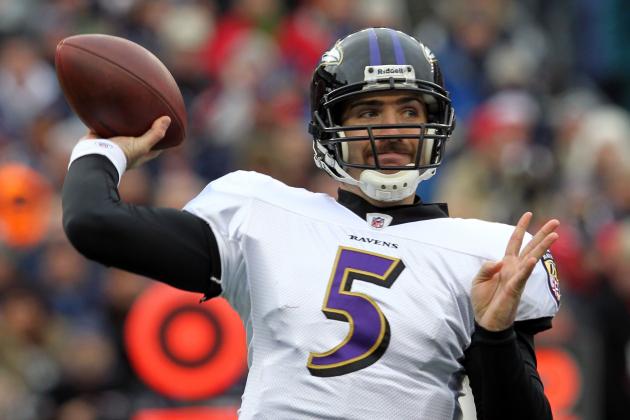 Jim Rogash/Getty Images

Projected Stats: 4,200 yards, 24 TD, 13 INT
Joe Flacco has always been as close to a top-10 quarterback as you can get without having the "it" factor to crack the list. Flacco's career has been aided by a ferocious defense. Any QB's stats will look better when they have ideal field position and lots of additional drives.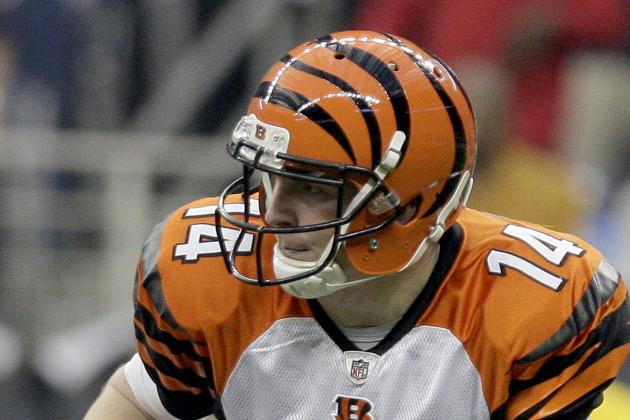 Thomas B. Shea/Getty Images

Projected Stats: 3,800 yards, 21 TD, 14 INT
If it weren't for Cam Newton's outstanding rookie season, Andy Dalton would be the NFL Offensive Rookie of the Year. Dalton did a fine job with limited playmakers, getting the Bengals to the AFC playoffs in a division where the Steelers and Ravens play.
With an upgrade at tight end and addition of a young running back, Dalton could have repeated success in 2012.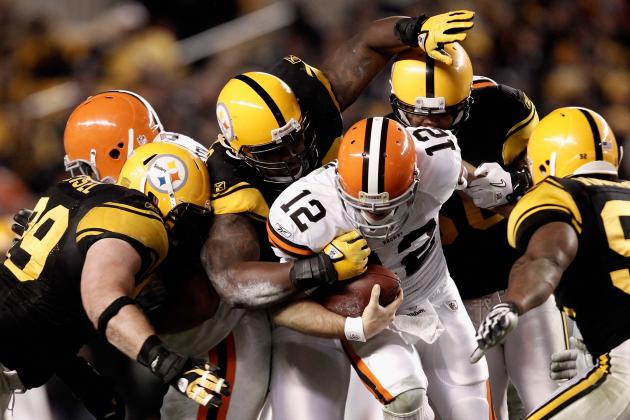 Jared Wickerham/Getty Images

Projected Stats: 2,900 yards, 15 TD, 16 INT
It's hard to win as a Browns quarterback when you have no receivers and a running back who flickered out of relevance in 2011.
Colt McCoy is stuck between a rock and a hard place because he is capable of being an NFL quarterback, but he has to have weapons. Cleveland has a lot of nice, high draft picks, but what will they do with them to improve the offense?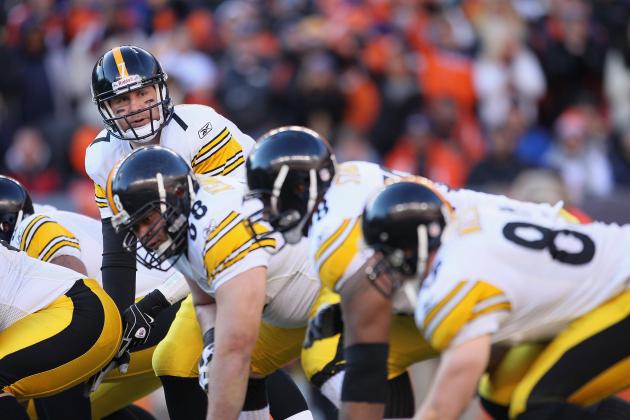 Jeff Gross/Getty Images

Projected Stats: 3,700 yards, 25 TD, 17 INT
Big Ben is hoping Mike Wallace, a restricted free agent, will remain with the Black and Yellow. Wallace could be the top free-agent receiver if he hits the market should the likes of Vincent Jackson, Dwayne Bowe, DeSean Jackson and Wes Welker re-sign or take franchise tag contracts. Either way, Roethlisberger's 2012 season depends on him staying put.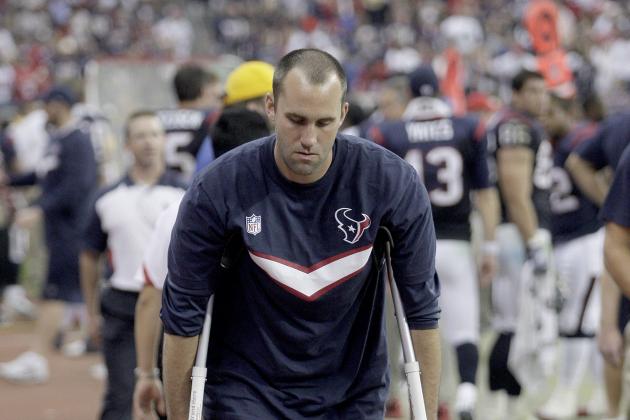 Thomas B. Shea/Getty Images

Projected Stats: 4,600 yards, 31 TD, 14 INT
Schaub failed to see the fantastic 2011 Texans' season to the end. His foot injury cost him the end of the season, and he was placed on IR. Schaub should be fine to go by the time training camps open.
With a great tailback like Arian Foster behind him, Schaub has the advantage of play action opening up downfield passing plays.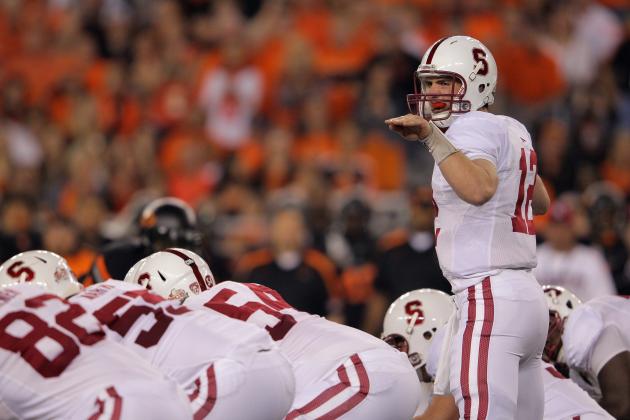 Doug Pensinger/Getty Images

Projected Stats: 3,500 yards, 26 TD, 19 INT
It looks as if the Peyton Manning era is coming to an end in Indianapolis, meaning the Colts will be selecting Andrew Luck No. 1 overall in the draft. Assuming he starts immediately (incredibly likely with his salary), Luck will be changing with the rest of the team. It's basically baptism by fire.
Al Messerschmidt/Getty Images

Projected Stats: 3,000 yards, 15 TD, 18 INT
Big things are in store for Gabbert and the Jaguars, if they can only find a way to bring some passing weapons into Jacksonville.
This is an ideal offseason for the Jags with such great talent available in free agency. Even if the Jaguars splurge for a weapon, how attractive is an empty arena on Sundays to free agents? Poor Gabbert.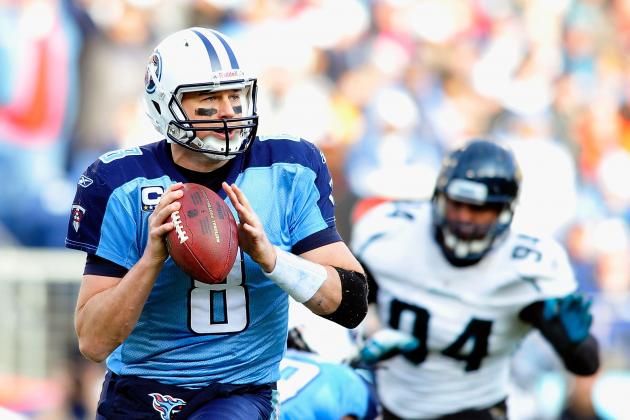 Grant Halverson/Getty Images

Projected Stats: 2,800 yards, 12 TD, 8 INT
I have Hasselbeck's numbers so low because I believe he will be relieved by Jake Locker at some point in the season. The plan last summer was to sign Hasselbeck to a three-year deal and draft Locker from Washington.
Eventually, Locker will be handed the car keys and told to drive the Titans. Why not wean Locker into starting this season and spend Hasselbeck's third year with Tennessee as the backup just in case?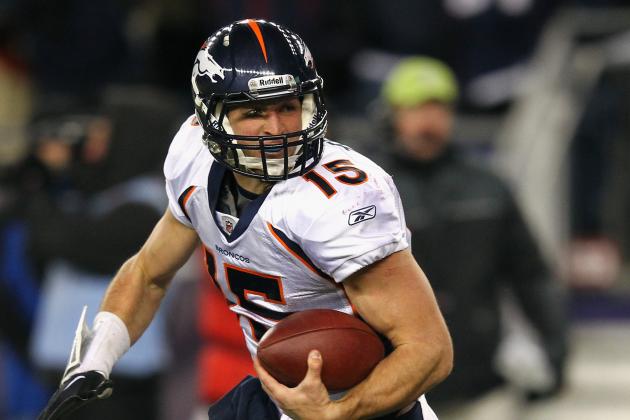 Al Bello/Getty Images

Projected Stats: 2,100 yards, 28 TD, 7 INT
The stats look tremendous, expect for the passing yards. Tim Tebow is highly effective at holding onto possession of the football. Turnovers aren't his thing.
The yardage and accuracy, however, are a totally different issue. Tebow doesn't do much downfield, but he does score touchdowns. It will be incredibly interesting to see what 2012 has in store for Tebow.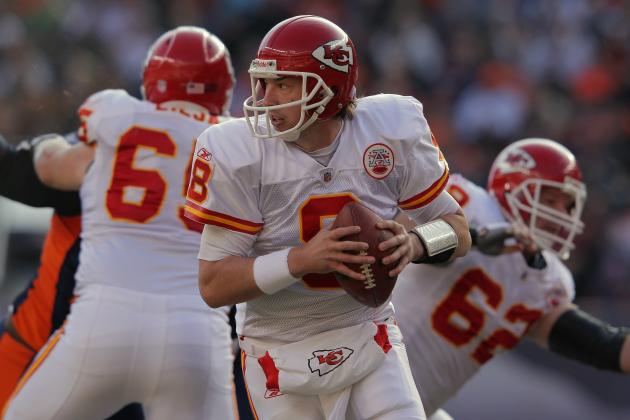 Doug Pensinger/Getty Images

Projected Stats: 3,900 yards, 26 TD, 13 INT
Kyle Orton was able to give the Chiefs a late-season boost. Even without a quarterback for the second half of the season, the Chiefs were in it until there were two weeks left.
Orton will likely remain with Kansas City, but Dwayne Bowe has to be the priority. If the two parties can't work out a deal, they'll likely use the tag to hold on to the team's best player.
Ezra Shaw/Getty Images

Projected Stats: 3,400 yards, 20 TD, 16 INT
The Oakland Raiders gave up a whole lot for Carson Palmer and are paying him a considerable amount of money to play under center. The Raiders were in the driver's seat for the AFC West title and had their engines stall. Palmer's play was partially to blame.
Oakland had a great rushing game, but with a new coaching staff, who knows what the Raiders will do in 2012? Palmer's stats hang in limbo.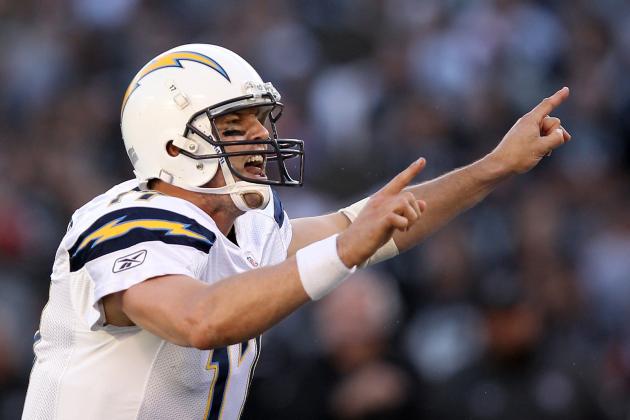 Ezra Shaw/Getty Images

Projected Stats: 4,200 yards, 27 TD, 15 INT
The final AFC quarterback is Philip Rivers of the Chargers. Rivers and head coach Norv Turner have had public disagreements that have escalated on the sidelines into a nice public war of words. Will Rivers and Turner co-exist for another season, or will another infamous San Diego slow start spell the end for one of these men?
Biggest thing for Rivers in 2012 is to cut down on the picks.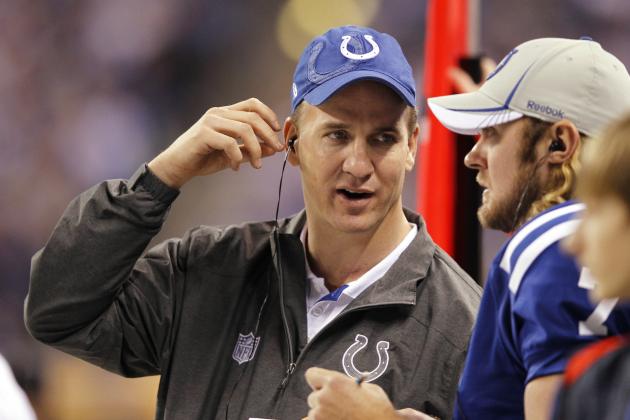 Joe Robbins/Getty Images

Projected Stats: 4,600 yards, 29 TD, 13 INT
Alright, folks, hear me out. This would be a terrific landing spot for Peyton Manning. Cowboys owner Jerry Jones would pay Manning every penny of the $28 million the Colts would have to owe him if they retained him.
The end is near for Tony Romo as he fails to get the Cowboys to the playoffs year in and year out. Plus, wouldn't it be great to see Eli play Peyton twice a season?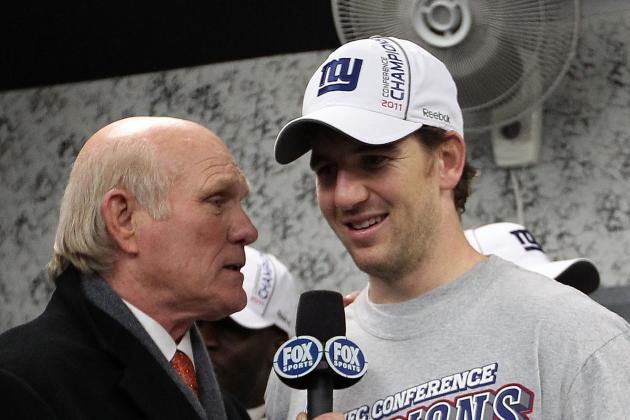 Ezra Shaw/Getty Images

Projected Stats: 4,700 yards, 33 TD, 12 INT
Speaking of brother Eli, here is the NFC's representative in Super Bowl XLVI. With the evolution of Victor Cruz across from Hakeem Nicks, Eli has plenty of threats at receiver. He had record numbers in 2011 with wideouts like Nicks and Cruz, and 2012 should be no different. What a situation to be in right now.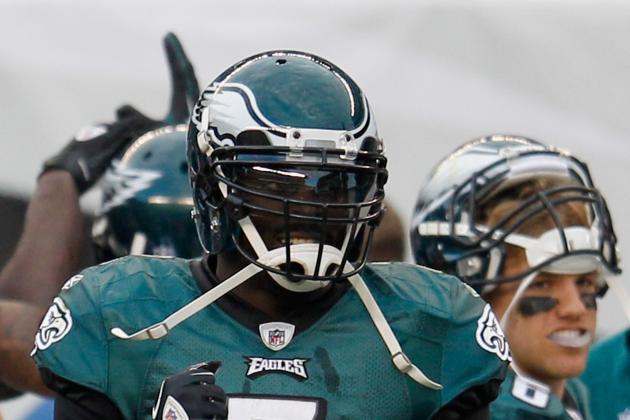 Rob Carr/Getty Images

Projected Stats: 3,200 yards, 25 TD, 12 INT
What does Michael Vick have in store for next season? After the Eagles started 1-4, it seems the team finally started to sync and play as a unit. A strong finish couldn't quite make up for a slow start.
Vick could be in trouble if DeSean Jackson decides to test the waters of free agency. Vick might be praying for a replacement if he does.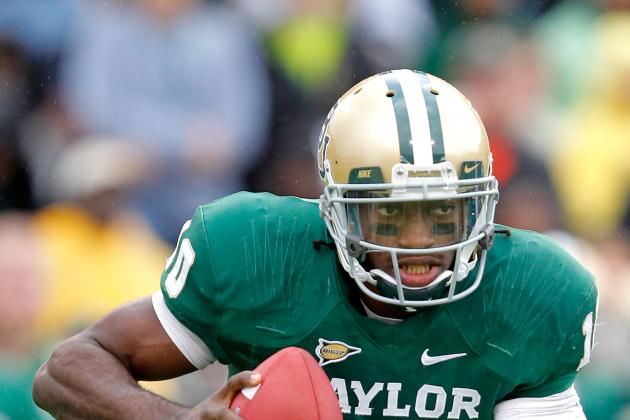 Sarah Glenn/Getty Images

Projected Stats: 3,300 yards, 20 TD, 14 INT
Where the Redskins stand in the draft and with the needs they have, it would be shocking if Washington doesn't end up with Griffin. The only way I could see him going somewhere else is if a team trades up ahead of the Redskins to pick up Griffin. Is he worth the price of trading up, or will he fall to Washington?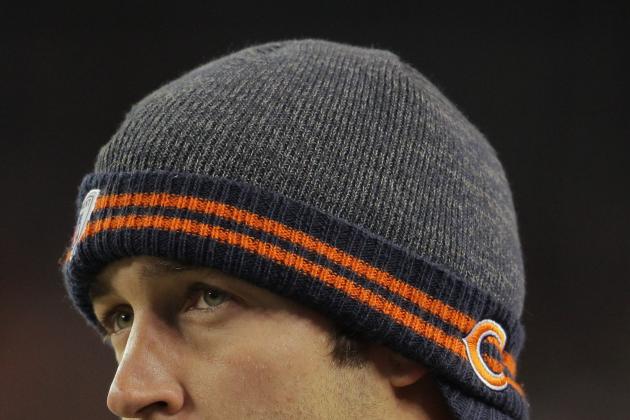 Doug Pensinger/Getty Images

Projected Stats: 3,500 yards, 22 TD, 11 INT
No team in 2011 stalled more without their starting quarterback than the Chicago Bears did. The Bears at 7-3 looked to have a wild card spot locked up, but a 1-5 finish against a schedule comprised mostly of the AFC West sunk their ship.
Cutler's thumb should be okay for training camp, but will new general manager Phil Emery make new offensive coordinator Mike Tice's plan more explosive by adding weapons?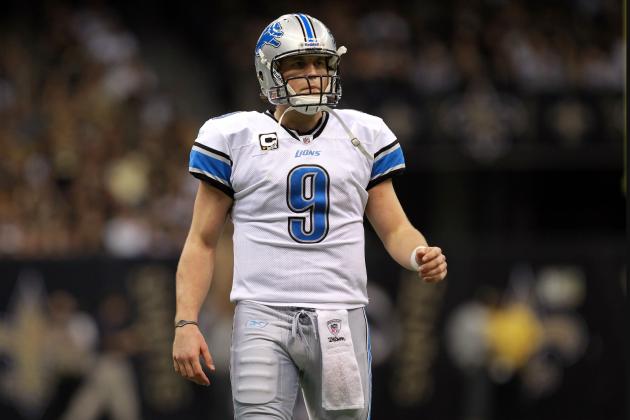 Ronald Martinez/Getty Images

Projected Stats: 4,700 yards, 28 TD, 15 INT
At least Lions fans now know what they have in Matthew Stafford. The first fully healthy season for Stafford took Detroit to new heights and even to the playoffs. How will he follow that up? Likely a shoulder injury, but we can't wish injury on people like that.
For Stafford's 2012 campaign, he won't quite repeat his 2011 success but he will still do alright.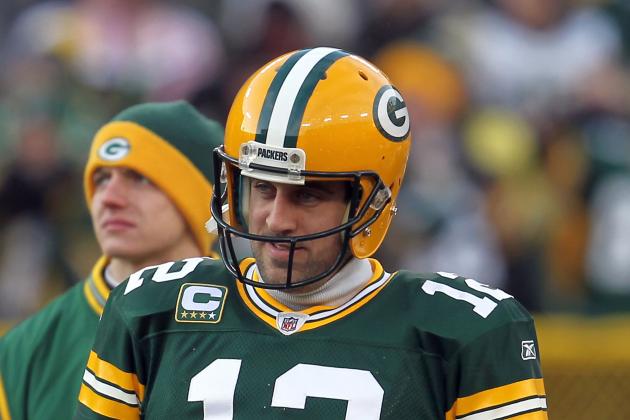 Jonathan Daniel/Getty Images

Projected Stats: 5,500 yards, 34 TD, 16 INT
Think Aaron Rodgers won't take a bad taste in his mouth into the next season? Think again. Rodgers and his Packers will be out for revenge against whoever stands in their way.
Drew Brees broke Dan Marino's long-standing record for passing yards in a single season in 2011. I'm calling for Rodgers to surpass that mark in 2012. This should be a fun year for the Pack.
Hannah Foslien/Getty Images

Projected Stats: 3,000 yards, 15 TD, 16 INT
I'm actually quite curious to see where Christian Ponder goes in the future. I wouldn't be surprised to see a little quarterback battle brew in Vikings camp before the season even starts.
Joe Webb has proven once again he can do the job for Minnesota. Healthy competition is never a bad thing, especially for young quarterbacks. Ponder will only benefit from Webb being right behind him on the depth chart.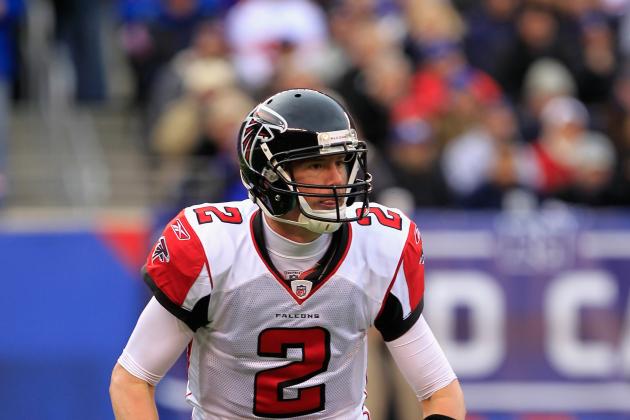 Chris Trotman/Getty Images

Projected Stats: 4,500 yards, 26 TD, 14 INT
Tough break, Falcons fans. Under Matt Ryan's direction, the Falcons are now 0-3 in the playoffs. Could this finally be the breakout season Atlanta is looking for from Ryan? Even with the No. 1 seed in the NFC playoffs a year ago, Atlanta couldn't get the job done and fell to the Pack at home.
Ryan has to prove he is a top NFL quarterback and is capable of achieving success in the postseason. What better time than now?
Chris Graythen/Getty Images

Projected Stats: 3,800 yards, 14 TD, 14 INT
How fun was this guy to watch last year? Cam Newton has shown that the college spread offense can score points in the NFL when run properly and with the right guys in place.
His numbers will always look a little skewed for the simple reason that he calls his own number so often in the red zone. He's capable of hurling 14 scores but could probably rush for 20.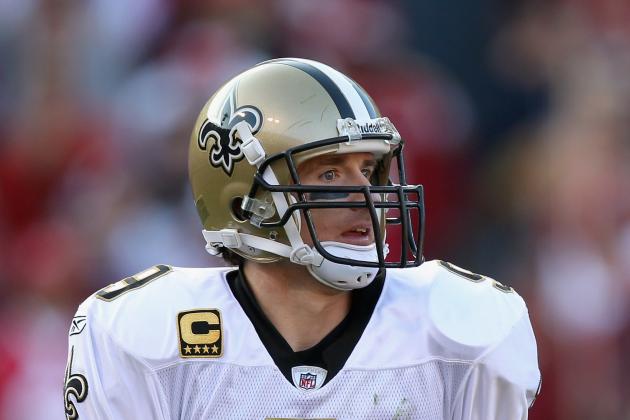 Jed Jacobsohn/Getty Images

Projected Stats: 5,100 yards, 36 TD, 9 INT
Seriously, what the hell can you do for an encore if you're Drew Brees? After knocking down NFL passing records like they were nothing, how can you follow up that performance by doing anything but the same?
Tough news—that's damn near impossible. Can't another 5,000-plus yard season do it like usual?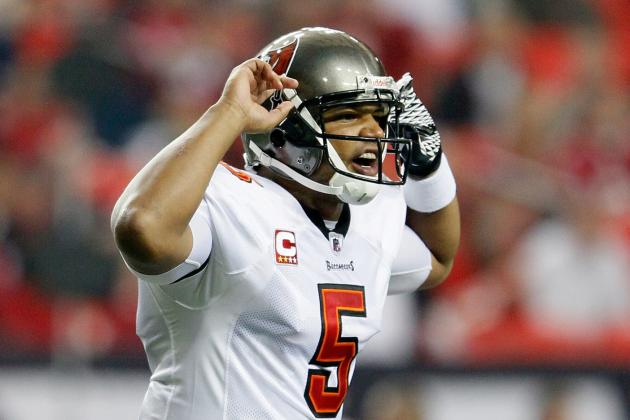 Kevin C. Cox/Getty Images

Projected Stats: 3,700 yards, 16 TD, 14 INT
The clock is ticking on Josh Freeman to become a reliable, consistent starter for the Buccaneers. The pieces are there, the scheme is favorable, the time is now.
Freeman needs to step up and have a big 2012 with better numbers than I'm predicting him to have, or the Bucs may have to sit down and ponder making a change they didn't think they'd have to make anytime soon.
Norm Hall/Getty Images

Projected Stats: 4,000 yards, 21 TD, 15 INT
Everything for Kevin Kolb will depend on his health. It's no surprise he was so banged up last season. Just look at his offensive line.
Luckily for him, that's where the Cardinals could be going in the draft. With their high first-round pick, I could see a left tackle or wide receiver coming to Arizona. Either would be an upgrade and would make life that much easier for Kolb.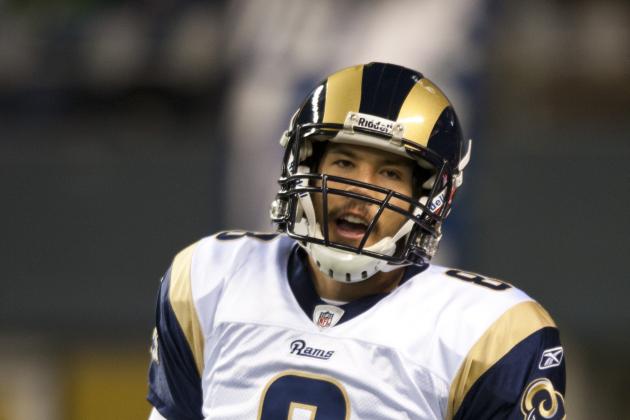 Jay Drowns/Getty Images

Projected Stats: 3,400 yards, 20 TD, 14 INT
What will the hiring of Jeff Fisher do to the third season for Sam Bradford? We know when he had Pat Shurmur, now with the Cleveland Browns, Bradford was explosive and dangerous.
I think the entire 2011 season was a letdown for the Rams as an organization when they started dropping wide receivers like flies. Bradford needs consistency. No quarterback in this league wins with constant change. Just ask the guy on the next slide.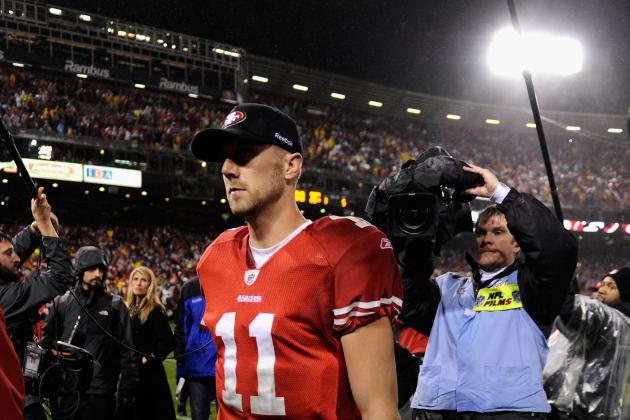 Thearon W. Henderson/Getty Images

Projected Stats: 3,300 yards, 18 TD, 8 INT
It took seven seasons, seven offensive coordinators and 17 different starting receivers before the San Francisco 49ers finally found something that former first-overall draft pick Alex Smith can thrive with.
The darlings of the 2011 season went as far as the NFC Championship game—a feat that very few outside of California would've predicted for the club.
What will Smith do for an encore? Will we see more breakout success or continued mediocre play?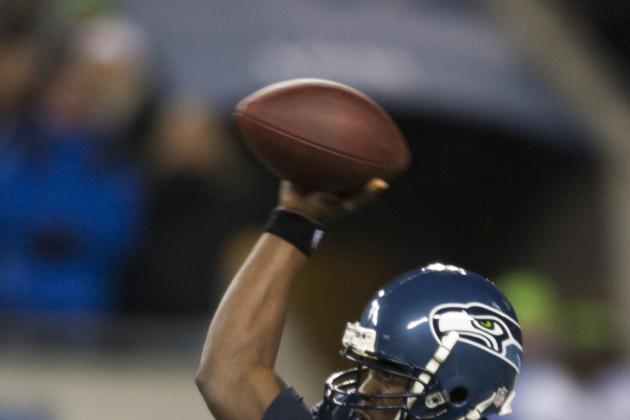 Jay Drowns/Getty Images

Projected Stats: 3,600 yards, 17 TD, 13 INT
In my opinion, this guy is the most forgotten starter in the entire league. You'd swear he signed with Seattle via free agency a year ago just to get away from national media.
Nonetheless, Jackson is the starter for the Seahawks and didn't do horribly in his first year with that role. Add in some offseason reps, and I think this is a young man who could turn a lot of heads in 2012.
Brett Lyons is a Featured Columnist for Bleacher Report. Unless otherwise noted, all quotes were obtained firsthand or from official interview materials.
Follow Brett Lyons on Twitter @BrettLyons670.