2012 NFL Draft: Most Likely 1st-Round Busts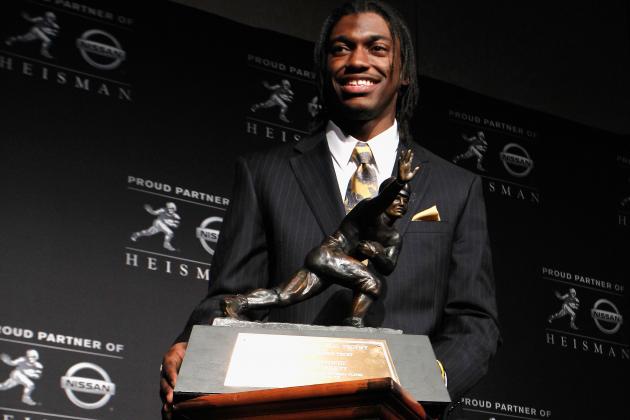 Jeff Zelevansky/Getty Images

The NFL Draft is a risky moment for franchises looking to fill holes in their roster. This is especially true in the first round.
Teams invest a lot of money on first rounders, hoping that they are able to significantly contribute early in their career. Those who are unable to live up to expectations can quickly earn the infamous "bust" label.
This article will predict first rounders who are future busts.
Begin Slideshow

»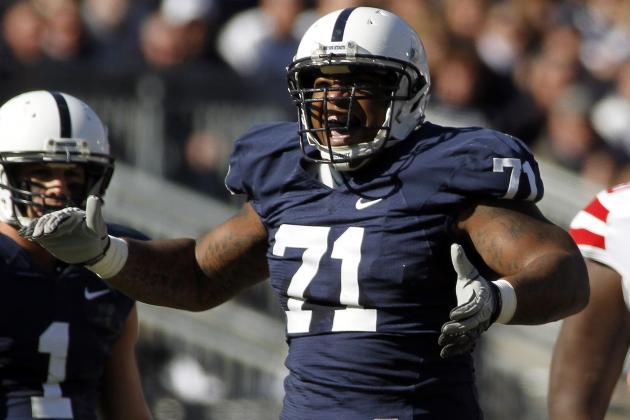 Justin K. Aller/Getty Images

In college, Devon Still wowed fans with his combination of size and speed. He routinely seemed to be able to get into the backfield with ease.
The big question mark for Still is whether or not he is able to be as dominant on the inside in the NFL as he was in college.
My prediction is a wishy-washy no.
Still will be a starter early in his career. He promises to develop into a solid run-stopper, but it is doubtful he will be able to get the same push towards the quarterback that he was able to get in college.
Still will be considered a bust because he will not put up eye-popping numbers during his NFL career.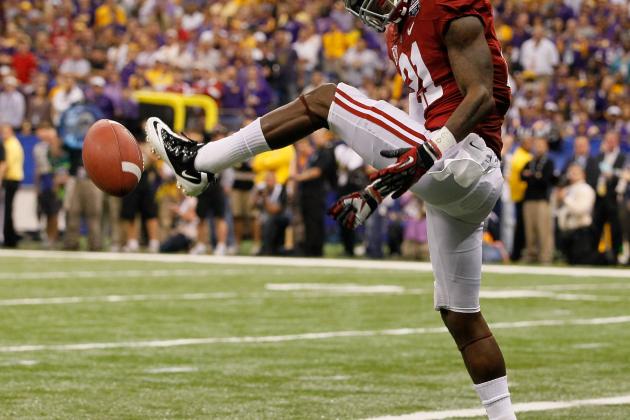 Kevin C. Cox/Getty Images

Dre Kirkpatrick was arrested this offseason for possessing marijuana. This is concerning for a future first-round pick.
As one of the top three cornerbacks in this year's draft, he knows he will be under the microscope. Yet Kirkpatrick clearly does not care, which shows a lack of focus.
Teams are looking for players who are completely dedicated to football. Kirkpatrick has a lot of time to rethink his priorities and set himself straight. But if he continues to dabble in pedestrian life, he risks not fulfilling his potential and thus becoming a bust.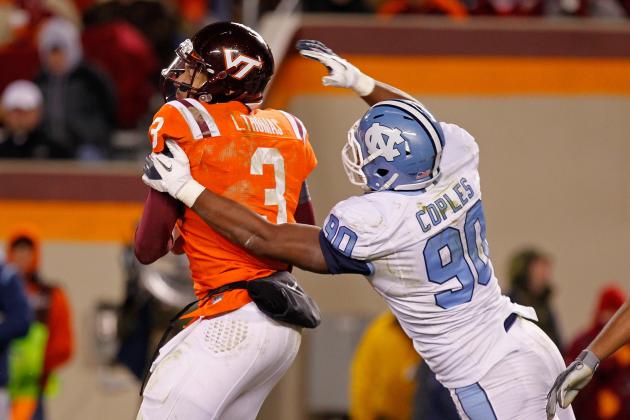 Geoff Burke/Getty Images

Quinton Coples wowed at the Senior Bowl. His expectations are soaring so high that it will be impossible to live up to them.
He had success getting past players such as Georgia's Cordy Glenn and Florida State's Zebrie Sanders in one-on-one drills in the Senior Bowl practices. However, Glenn projects to play guard and Sanders was victimized by almost every pass-rusher he faced in practice this last week.
Coples has been criticized for his drop off in production in his final season as a Tar Heel. This is due to the fact that he saw extra attention.
Critics of Coples say he gives up too easily on some plays. This is a concerning tendency for someone who is likely to be the first defensive lineman picked in the 2012 draft.
My prediction for Coples is that his NFL career will mirror his college career in the sense that once he establishes himself and starts getting double-teamed, his production will once again decline.
He will unanimously be considered a bust before the end of his fourth season.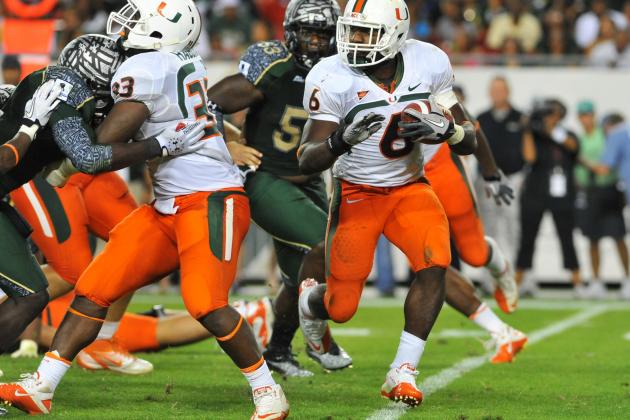 Al Messerschmidt/Getty Images

The University of Miami is known for producing quality NFL running backs. Lamar Miller hopes to be the next in a long line of productive Hurricane rushers.
As of now, Miller is projected to be picked in the later part of the first round.
This would be a grave mistake.
Miller is not the biggest running back at 5'11" and 212 pounds. He seems to be a quick and shifty speed back when in fact he is really just an average sprinter in pads who lacks elite elusiveness that would be necessary for his style of play.
Miller also has the habit of running upright instead of staying low and behind his pads. His running style will not only limit his productivity, but will result in him taking an unnecessary amount of punishment.
At best he will be a complimentary back behind a power runner. Hopefully, he excels in the kick return game or else he could set a franchise back a few years.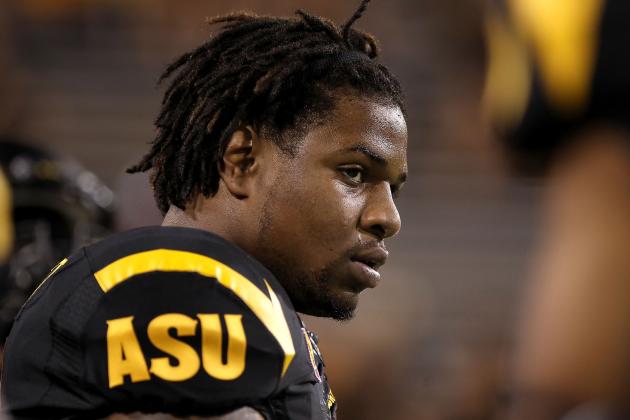 Christian Petersen/Getty Images

Vontaze Burfict began the 2011 season touted as one of the best linebackers in college. His draft stock has fallen a bit since then.
Burfict is still considered to be the best middle linebacker in the draft, but there are questions about his personality. He has earned the reputation as a dirty player who has the tendency to lose control on the field, resulting in dumb penalties.
If Burfict is not surrounded by an even-headed and mature supporting cast, he could easily continue to cause problems on the field, not to mention the locker room.
A fight during training camp or a dumb penalty during the preseason could cause coaches to decrease Burfict's playing time and thus curb his productivity.
Burfict will be a bust unless he is able to control his anger.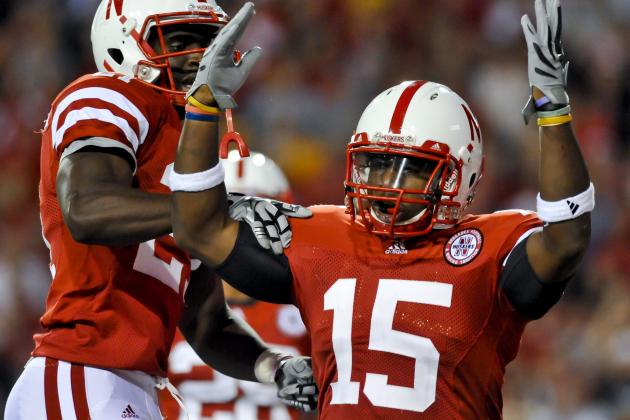 Eric Francis/Getty Images

Alfonzo Dennard's draft stock took a hit after the Senior Bowl. His coverage skills were disappointing and he suffered an injury.
However, Dennard will still be picked in the first round due to an increase in demand at the cornerback position. With more teams airing the ball out, defenses have been forced to play in nickel coverage more often.
Teams will hope that Dennard just had a bad week at the Senior Bowl after looking great at Nebraska all season. But the reality is that Dennard will only be average at best.
When he is asked to cover receivers who are streaking downfield, his weakness will be revealed.
Dennard simply will never be good enough to be the No. 1 cornerback on the depth chart, and that is why he will be a bust.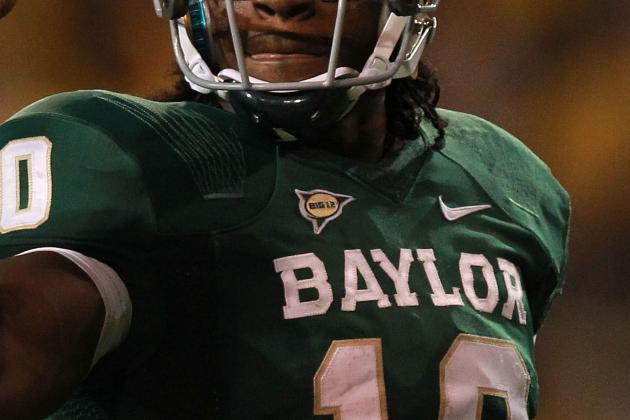 Ronald Martinez/Getty Images

I will begin by saying that Robert Griffin III will be a future star. However, he will struggle his first few years in the league.
RG3 will most likely be picked up by the Cleveland Browns or Washington Redskins within the first six picks of the draft.
Like many highly touted quarterback prospects drafted in the top ten, RG3 will suffer from a lack of a supporting cast whether he's picked by the Browns or Redskins.
People are comparing him to the anomaly which is Cam Newton. There is no denying Newton's talents, but it is hard to say that he was not helped out by playmakers Steve Smith, DeAngelo Williams and Jonathan Stewart. Not to mention Greg Olsen and Jeremy Shockey at tight end.
Neither the Browns nor the Redskins have the the explosive playmakers that Newton was lucky enough to have.
Also, if he is not given adequate protection in his first few seasons, injuries could easily derail his progression.
RG3 will have a hard time wowing the NFL in his rookie season, which will lead to some people prematurely calling him a bust. Give him two or three years though, and he will be a backup sitting on the bench at the Pro Bowl behind Cam Newton.