UFC: Is FOX Overly Censoring MMA?
January 30, 2012

We all live in a world with different systems of rules and regulations. In sports, companies and promotions are run in a business-like manner, thus decisions are made on how to best sell or present the product. 
The UFC is the premiere product of MMA. Dana White, the Fertitta brothers, Marc Ratner and others are all working to sell the UFC and MMA to the world, and most are happily complying. The UFC had a media milestone last year when they signed a deal with FOX Networks. This includes Fuel TV, FX and FOX predominantly. So far, the UFC has put on two FOX shows, one FX show, and prelims on Fuel. The Ultimate Fighter Live is coming soon to FX as well. 
With the new deal in place, FOX Networks and the UFC have hashed out a business plan, and fans are already seeing some of the negotiated actions. 
UFC on FOX 2 was held last Saturday in Chicago, and was the next FOX event after the inaugural Cain Velasquez vs. Junior Dos Santos. The prelims went underway, and turned out to be the highlight of the night, since the main card was received as rather lackluster. 
However, before the main card started on FOX, and in between fights, personnel ran into the Octagon and started wiping the mat down. This is to remove sweat and any moisture on the mat before the next fight, but it is also to clean up the blood. After wiping it down, three men brought in a machine that had a hose attached to a spray gun. They then proceeded to paint over the blood that was on the canvas. 
This was reported to have happened only so far for the first card last year, but now has reappeared at the second FOX event. The idea behind this is that FOX networks want to keep blood appearance to a minimum on their channels, seeing that they are major networks and are during prime hours. FOX has a wide variety of audience, and there are certain things they do not want going on under their banner.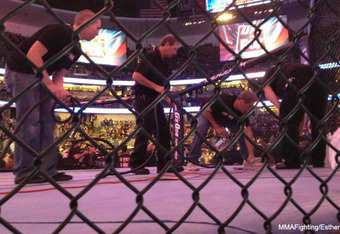 Most recently in MMA news, FOX has instructed that all sponsors associated with firearms will not allowed to be portrayed during their broadcasts of the UFC. Most notably is The Gun Store. The Gun Store has sponsored many fighters in the UFC and their logo has become just as recognizable as TapouT, and their business is one of great interest in Vegas. 
FOX, however, does not seem too thrilled with the business. FOX does not wish to condone firearms being represented and advertised on their channel. The concept is legit and one that is understandable to a degree, but the fighters who are sponsored by these censored companies are the ones getting hurt. 
Fighters may not get paid huge amounts when first starting off, but throughout their careers, sponsors are what help in tremendous ways. Sponsors help grow the sport, and act as a good percentage of a fighter's livelihood. When FOX says that fighters have to find other sponsors besides the major one that they have always been in business with, it leaves them in a bad spot. This kind of restriction could make or break some fighters jobs or opportunities early on. 
While there is no hard evidence toward it, some wonder about Chael Sonnen's remarks after his win at UFC on FOX 2. Sonnen is infamously known for creating controversy with his post-fight interviews with Joe Rogan. Either he talks some trash or he calls people out. Bisping is a man that he didn't particularly like, but even after beating him and putting himself in a position to call out others, he instead went on a narcissistic rant about himself. 
While this could just be Sonnen being his entertaining self in a different way than usual, it could also be under the instruction of the UFC brass and FOX executives to not engage in "disrespectful" or "mean" actions following his fight. Michael Bisping, who was very loudly booed when he gave the crowd the middle finger and mouthed expletives during the weigh-ins, was expected to react similarly when he walked out and into the cage. Both fighters kept their composure and just put on a good fight. 
Lastly, the main event and the co-main event were both fights to determine the next challenger for their respective Championships. Typically in this case, a fighter will win, and then they will bring in the champion to shake hands or stand in the Octagon with their next challenger. For Chael Sonnen, Anderson Silva was not in attendance, and for Rashad Evans, Jon Jones did not come into the cage. Jon Jones was there, but was involved with announcing and interviews. 
It is just a situation to wonder if they purposely kept Jones out of the cage, as to not stir up the conflict Jones and Evans have been having. FOX may perceive doing such a thing as risky—especially if they are trying to prevent a reoccurrence of Jake Shields and Jason Miller. That was a rare case, but risk to some companies is something that is treated like a certainty. 
This is completely speculation, but still food for thought. With the blood and sponsor restrictions already rearing their heads, what else are the FOX honchos telling the UFC to do during their broadcasts? Time will tell if there are more censoring clauses to their deal.
What Do You Think of FOX's Censoring? Leave thoughts below. 
Join the MMA Facebook Page and follow the @FightersCreed on Twitter!