Learning the ABCs of Alabama Crimson Tide Football: "X"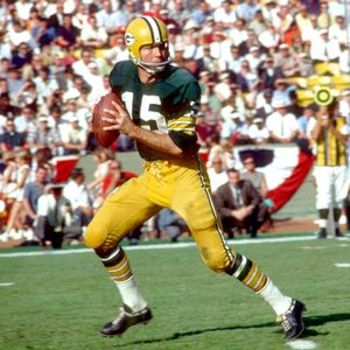 No player in Alabama football history has ever had a last name beginning with the letter "X." So, what can be said about Crimson Tide football and the letter "X"?
Since the Super Bowl is less than a week away, and each game since Super Bowl 10 has begun with the roman numeral "X," let's take a look how Alabama football has been a part of the big game.
Bart Starr: Super Bowl I, II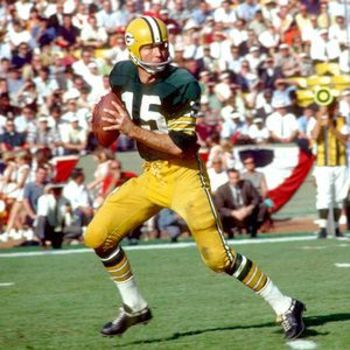 Bart Starr ('56) was a great investment by the Green Bay Packers at just $6,500.
The Super Bowl MVP award could easily be called the Bart Starr Award, considering his performance in the first two games.
In Super Bowl I against Kansas City, Starr finished 16-of-23 for 250 yards and two touchdowns in the Packers 35-10 victory. Both of his touchdown passes were caught by wide receiver Max McGee.
While Starr's numbers were not as good in Super Bowl II, he still finished 13-of-24 for 202 yards in the 33-14 triumph over Oakland. His lone touchdown pass was a 62-yard strike to Boyd Dowler. Starr again won MVP honors even though he left the game early in the fourth quarter after jamming his thumb.
Joe Namath: Super Bowl III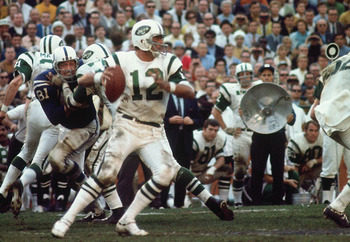 Perhaps no player has ever had a bigger effect on a Super Bowl than Joe Namath ('64).
Three days before Super Bowl III, Namath guaranteed a New York Jets victory over the heavily favored Baltimore Colts. It was predicted that the NFL's Colts would easily defeat the AFL's Jets, especially since Green Bay had easily defeated two AFL teams, Kansas City and Oakland, in the first two Super Bowls.
While Namath did not pass for a touchdown, he was 17-of-28 for 206 yards to earn MVP honors as New York stunned Baltimore, 16-7.
The victory and Kansas City's subsequent triumph over Minnesota in Super Bowl IV helped lead to the AFL-NFL merger in 1970.
Lee Roy Jordan: Super Bowls V-VI, X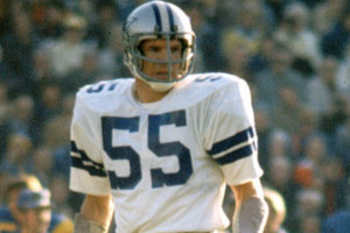 In 1961, Lee Roy Jordan ('63) helped lead Alabama to a national championship. As a member of the Dallas Cowboys, he was also a member of a championship squad.
In Super Bowl V, the Cowboys lost to former Crimson Tide receiver Ray Perkins and the Baltimore Colts, 16-13. The game is remembered for the 11 combined turnovers.
Dallas returned to the Super Bowl the following season to face Miami in Super Bowl VI. As a member of the "Doomsday Defense," Jordan and his teammates limited the Dolphins to a field goal as Dallas won their first Super Bowl, 24-3.
Jordan led Dallas with six interceptions during the 1975 season. He helped Dallas return to Super Sunday, but the Cowboys lost, 21-17, to Pittsburgh in Super Bowl X.
Ken Stabler: Super Bowl XI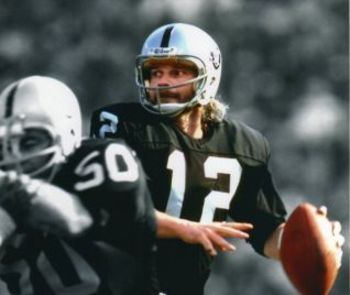 After getting close to the Super Bowl in the early and mid 1970s, Oakland finally returned to the big game to face Minnesota in Super Bowl XI at the Rose Bowl.
Ken Stabler was not MVP of the game, but he directed the Raiders offense flawlessly in a 32-14 win over the Vikings. One of Stabler's targets, wide receiver Fred Biletnikoff, was named the MVP.
Stabler finished 12-of-19 for 180 yards. He also tossed a one-yard touchdown pass to Dave Casper to give Oakland a 10-0 second quarter lead.
Don McNeal: Super Bowl XVII, XIX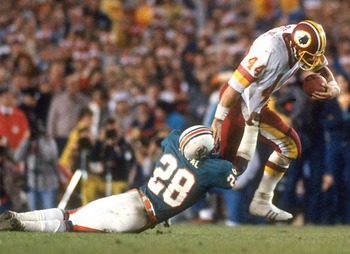 Defensive back Don McNeal ('80) won two national championships at Alabama and played in a pair of Super Bowls with the Miami Dolphins. However, he is recognized for a famous photo of him trying to tackle Washington's John Riggins.
With Miami leading 17-13 in the fourth quarter of Super Bowl XVII, Washington faced a 4th-and-1 at the Miami 43-yard line. Instead of punting, Redskins quarterback Joe Theismann handed off to Riggins, who broke free of McNeal's attempted tackle and ran 43 yards for a touchdown en route to a 27-17 Redskins victory.
McNeal also played in Super Bowl XIX as Miami batted San Francisco. Instead of the running attack, the Miami defense was unable to stop MVP Joe Montana, who finished with 331 passing yards and three touchdowns in the 49ers 38-16 win.
Charley Hannah: Super Bowl XVIII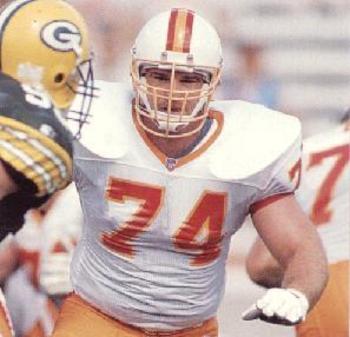 Super Bowl XVIII is remembered for the Los Angeles Raiders' convincing 38-9 win over the defending champion Washington Redskins. In addition, Marcus Allen rushed for 191 yards to earn game MVP honors.
But in order for Allen to compile his rushing yards, Charley Hannah ('77) was one of the Raiders offensive lineman to open up the holes against a solid Redskins defense.
Charley's brother, John, played in the Super Bowl two years later as a member of the New England Patriots. John's experience was less than memorable as Chicago dominated the Patriots, 46-10, in Super Bowl XX.
Cornelius Bennett: Super Bowls XXV-XXVIII, Super Bowl XXXIII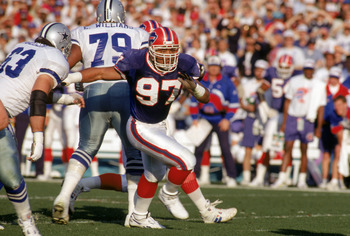 George Rose/Getty Images
The good news for Cornelius Bennett ('86)? He was a member of five conference championship teams, four in the AFC and one in the NFC. The bad news? He was 0-5 in Super Bowls.
Bennett's first appearance was with Buffalo in Super Bowl XXV. As it turned out, it was his best chance to earn a Super Bowl ring. Scott Norwood's missed field goal with eight seconds remaining gave the New York Giants a 20-19 win.
Bennett helped lead Buffalo to the next three Super Bowls, but the Bills lost each game by an average of 22 points.
In 1998, Bennett was a member of the Atlanta Falcons squad that upset Minnesota in the NFC Championship Game. Advancing to the Super Bowl against Denver, the Broncos won 34-19, and Bennett suffered his fifth Super Bowl defeat.
Keep Reading

Alabama Crimson Tide Football: Like this team?