Joe Paterno Reminded Us That Even He Was Still Human
January 30, 2012

Kevin C. Cox/Getty Images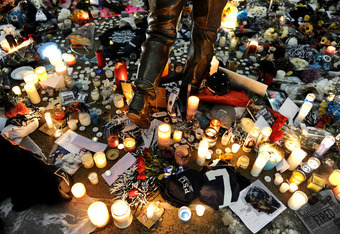 Patrick Smith/Getty Images
For death, there is never an easy way to cope, no matter how you deal with the matter.
On January 22nd, the grim reality and inevitable feeling that college football's former iron man would actually not be among us one day, became true.
Joe Paterno's death at 85 was not only sad because of the actual death itself, but because the surrounding events, the incredible downfall of one of college football's giants in Penn State, but also the result and one of the effects of deceit and cover up that the entire Penn State organization seemed to keep from the public for many years.
For Paterno, his legacy is unfortunately tarnished. For 46 years, he built Penn States program with his bare hands and became the face of the university.
With the indictment of Jerry Sandusky in November on child sex abuse charges, it was brought to attention that not only was Joe Paterno notified of alleged sexual misconduct of a 10-year-old boy in the shower, but that the university also knew and appeared to cover it up.
Paterno was soon fired, and for the remainder of his life everything he had accomplished, seemed to lose its relevancy and importance.
No way am I condemning Joe Paterno and the Penn State organization of the cover-up and attempting to put their glorious brand above the well-beings of these victims who have accused Sandusky of performing sexual acts on them.
But can we honestly say that we wouldn't have done the same thing Paterno did? Report it to our highest chain of command and if we don't hear progress leave, it alone?
The downfall of Paterno provided us the insight that no matter what our position of power, wealth or fame, we are all human, and, as humans, we make mistakes, no matter who we are.
We may sit in front of the TV screen saying what we could have done or what he should have thought of doing, but it is easier said than done.
Again, not condemning Joe Paterno's actions, but it shows that we as human's still do wrong when our mind says do right, which is evident with so many scandals have plagued schools across the NCAA from athletes, coaches, school officials and booster club members.
Joe Paterno had to spend the last two months away from the only thing he has concerned himself with for the majority of his lifetime. His diagnosis of lung cancer right at the time of his termination seemed, along with his guilt of the situation and his removal as head coach was too much for his aging body.
Sadly, Paterno didn't pass away with warmth in his heart. He passed away with his image in disarray, his feats and stature destroyed and an unfinished career ending. 
Paterno acted in a way that he shouldn't, but at the end of the day, we are still human.